Tuesday, 01 July 2014 - 20:00
Charts
Seed Weekly - Cash Alternatives
Today's article is a follow on from last week's where we looked at the advantages of investing across a range of asset classes. This week we look at the options available for companies and investors that hold large amounts of 'strategic' cash (typically long term holders of cash) for one reason or the other.
There is no free lunch in the investment world and this statement also holds true when looking to increase your yield/interest earned on cash type investments. In order to achieve higher yields we need to give up liquidity (longer notice periods), take on more credit risk, take on more capital risk, or accept a combination of the three. It is important to remember that whilst money market funds are generally seen as safe investments, they are not risk free. There have been money market funds in the past and there will be money market funds in the future which have capital draw downs.
When I speak to clients with large cash holdings, I try to ascertain what portion of their cash will be held for periods in excess of 6 months (strategic cash holdings) and it is this portion of the cash holdings that is pertinent to this article.
I have put together a mix of three income funds which have very different strategies when trying to extract that extra yield above money market. These funds are fairly uncorrelated and have given, and should continue to give, clients a good chance of outperforming money market funds without adding too much risk. Costs are hugely important when dealing in a low yield environment, so the moment you add on layers of cost like platform fees and financial advice fees, your probabilities of outperforming money market funds reduce.
A brief summary of the funds follows:
• The MET income Plus Fund is a credit fund with almost no duration risk. Whilst credit risk (i.e. the risk of a client defaulting) is easy to understand it is quite difficult to implement. The manager of this fund has a long track record in managing credit risk successfully. This fund is still new, but the Momentum Income Plus fund was previously managed by the same manager with the same mandate.
• The Prudential Enhanced Income Fund is a valuation based, tactical asset allocation fund that invests across a range of income producing assets including property, inflation linked bonds, and offshore exposure to increase the yield given to clients.
• The Cadiz Absolute Yield Fund is a combination of the above two funds and often mixes duration into the offering.
Each of these funds has had, and will continue to have, periods of relative out and underperformance, but the average return of the three is relatively smooth. The benefit of multi management, through manager diversification, is evident in the thought behind the blend chosen. The charts below show the performance of the 3 funds, as well as their equally weighted blend, versus a traditional money market fund, both on a cumulative basis and on a risk/return basis (where risk is defined as downside deviation).
For clients that have strategic cash requirements this mix of funds has been able to outperform money market on a consistent basis with very low volatility. In addition to this, the entire capital amount is available with three days' notice. It is important to note that while this is mix that is currently recommended, things do change (e.g. fund manager movements) and investors therefore need to remain on top of any changes.
Kind regards,
Barry Hugo
www.seedinvestments.co.za
info@seedinvestments.co.za
021 914 4966
Tue, 01 Jul 2014
Top News
South Africa's Labour Court issued an order on Tuesday barring the NUMSA union from striking at power utility Eskom's plants, a spokesman for the electricity firm said.

---

A U.S. car manufacturer was putting pressure on its South African unit to close due to labour troubles, an employers' body said on Tuesday as more than 220,000 engineering and metal workers launched a wage strike.

Sunnis and Kurds walked out of the first session of Iraq's new parliament on Tuesday after Shi'ites failed to name a prime minister to replace Nuri al-Maliki, dimming any prospect of an early national unity government to save Iraq from collapse.
World Markets (Spot Prices)
| | | | | |
| --- | --- | --- | --- | --- |
| Name | Time | RP | Move | % Move |
| JSE Overall | 17:00 | 51480.19 | 534.93 | 1.05% |
| JSE Top 40 | 17:00 | 46481.44 | 511.63 | 1.11% |
| JSE Gold | 17:00 | 1506.15 | 56.49 | 3.90% |
| JSE Financial | 17:00 | 37769.50 | 244.21 | 0.65% |
| JSE Industrial | 17:00 | 67581.58 | 357.10 | 0.53% |
| JSE Indust 25 | 17:00 | 59925.68 | 313.12 | 0.53% |
| JSE Resource | 17:00 | 58371.08 | 1403.13 | 2.46% |
| DJ Futures | 19:58 | 16915.00 | 175.00 | 1.05% |
| DJ Ind | 19:58 | 16989.37 | 162.77 | 0.97% |
| SP 500 | 19:58 | 1977.39 | 17.16 | 0.88% |
| Nasdaq | 19:58 | 4468.39 | 60.21 | 1.37% |
| FTSE 100 | 17:35 | 6802.92 | 58.98 | 0.87% |
| DAX | 18:08 | 9902.41 | 69.34 | 0.71% |
| CAC40 | 18:08 | 4461.12 | 38.28 | 0.87% |
| Nikkei | 08:30 | 15326.20 | 164.10 | 1.08% |
| Shanghai | 09:28 | 2050.38 | 2.05 | 0.10% |
| Hang-Seng | 30/06 | 23190.72 | -30.80 | -0.13% |
| All Ords | 08:38 | 5366.50 | -15.50 | -0.29% |
| NZSE 50 | 07:48 | 5146.26 | 4.78 | 0.09% |

| | | | | |
| --- | --- | --- | --- | --- |
| Name | Time | RP | Move | % Move |
| Gold $ | 19:59 | 1326.85 | .46 | 0.03% |
| Gold R | 19:58 | 14155.48 | 14155.48 | 0.00% |
| Gold R/kg | 19:58 | 454949 | 5681 | 1.26% |
| Silver $ | 19:59 | 21.0510 | .0740 | 0.35% |
| Platinum $ | 19:59 | 1509.80 | 26.10 | 1.76% |
| Palladium $ | 19:59 | 851.60 | 11.25 | 1.34% |
| R157 | 17:17 | 6.72 | .02 | 0.37% |
| R186 | 17:02 | 8.34 | .02 | 0.24% |
| R204 | 17:17 | 7.59 | .03 | 0.40% |
| R207 | 17:17 | 7.81 | .00 | 0.00% |
| Brent Crude | 19:58 | 112.06 | -1.24 | -1.09% |
| Rand / Dollar | 19:59 | 10.6713 | 0.0392 | 0.37% |
| Rand / Pound | 19:55 | 18.2700 | 0.1073 | 0.59% |
| Rand / Euro | 19:55 | 14.5965 | 0.0349 | 0.24% |
| Rand / NZD | 19:58 | 9.3715 | 0.0541 | 0.58% |
| Rand / AUD | 19:55 | 10.1339 | 0.1015 | 1.01% |
| Yen / Dollar | 19:59 | 101.5340 | 0.2230 | 0.22% |
| Euro / Dollar | 19:55 | 0.7304 | 0.0004 | 0.05% |
| Dollar / Euro | 19:59 | 1.3683 | -0.0010 | -0.07% |
| Pound / Dollar | 19:55 | 0.5825 | -0.0017 | -0.29% |
Click here for the Sharenet Spot Price page
The JSE Today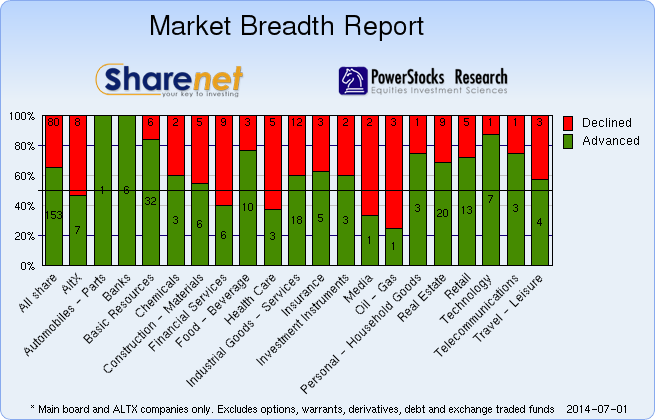 Trading Statistics
| Date | Adv. | Decl. | Unch. | Actives | Volume | Value | Trades | Orders |
| --- | --- | --- | --- | --- | --- | --- | --- | --- |
| 01/07/2014 | 236 | 117 | 52 | 405 | 162,848,974 | R10,601,571,255 | 130118 | 1195814 |
| 30/06/2014 | 229 | 130 | 62 | 421 | 164,343,772 | R11,958,925,195 | 164618 | 1202835 |
| 27/06/2014 | 180 | 158 | 60 | 398 | 171,071,447 | R9,563,048,246 | 130145 | 1019539 |
| 26/06/2014 | 224 | 119 | 60 | 403 | 188,298,630 | R12,980,603,793 | 142192 | 373361 |
| 25/06/2014 | 116 | 265 | 55 | 436 | 185,230,912 | R11,825,920,715 | 153161 | 385452 |
* Includes all listed instruments on the JSE
---
---
---
Index Summary
| | | | |
| --- | --- | --- | --- |
| Index Name | RP | Move | % Move |
| Top 40 | 46,481.44 | 511.63 | 1.11% |
| Industrial | 67,581.58 | 357.10 | 0.53% |
| Mid Cap | 64,273.42 | 499.20 | 0.78% |
| Small Cap | 54,472.67 | 185.94 | 0.34% |
| Resource 20 | 58,371.08 | 1403.13 | 2.46% |
| Industrial 25 | 59,925.68 | 313.12 | 0.53% |
| Financial 15 | 14,609.48 | 108.18 | 0.75% |
| Financial & Ind. 30 | 63,836.23 | 369.15 | 0.58% |
| All Share | 51,480.19 | 534.93 | 1.05% |
| Oil & Gas | 47,751.40 | -102.16 | -0.21% |
| Mining | 34,476.67 | 1044.95 | 3.13% |
| Gold Mining | 1,506.15 | 56.49 | 3.90% |
| Platinum Mining | 47.91 | 1.07 | 2.28% |
| GENERAL MINING | 10,066.11 | 309.36 | 3.17% |
| Oil & Gas Producers | 25,675.05 | -54.93 | -0.21% |
| Basic Materials | 30,480.97 | 850.17 | 2.87% |
| Chemicals | 25,131.77 | 37.34 | 0.15% |
| Forestry & Paper | 33,082.42 | 326.89 | 1.00% |
| Industrial Metals | 18,553.51 | 106.01 | 0.57% |
| Industrials | 45,977.42 | 76.47 | 0.17% |
| General Industrials | 145.36 | -.06 | -0.04% |
| Consumer Goods | 64,512.19 | 511.89 | 0.80% |
| Automobiles & Parts | 8,604.94 | 110.96 | 1.31% |
| Household Goods | 405.99 | 3 | 0.81% |
| Health Care | 82,330.70 | -742.62 | -0.89% |
| Beverages | 212.55 | 2.19 | 1.04% |

| | | | |
| --- | --- | --- | --- |
| Index Name | RP | Move | % Move |
| Food Producers | 78,560.71 | 1487.87 | 1.93% |
| Personal Goods | 1,118.61 | 1.29 | 0.12% |
| Consumer Services | 12,084.33 | 84.30 | 0.70% |
| General Retailers | 65,199.41 | 548.76 | 0.85% |
| Travel & Leisure | 5,807.04 | 28.94 | 0.50% |
| Media | 275.68 | 2.36 | 0.86% |
| Support Services | 2,821.79 | 16.92 | 0.60% |
| Telecommunications | 10,745.34 | 20.64 | 0.19% |
| Financials | 37,769.50 | 244.21 | 0.65% |
| Banks | 65,518.05 | 401.05 | 0.62% |
| Non-life Insurance | 49,257.86 | -510.44 | -1.03% |
| Life Insurance | 36,578.49 | 541.61 | 1.50% |
| General Financial | 3,778.44 | -22.44 | -0.59% |
| Technology | 43,987.27 | 135.23 | 0.31% |
| SHARIAH TOP40 | 4,352.56 | 78 | 1.83% |
| FTSE/JSE SHARIAH ALL | 4,466.63 | 76 | 1.73% |
| COAL MINING | 17,537.91 | 29 | 0.17% |
| FTSE JSE Fledgling | 6,832.01 | 7 | 0.10% |
| FTSE/JSE Alt X | 1,251.21 | -4 | -0.28% |
| SA LISTED PROPERTY | 516.78 | | 0.34% |
| CAPPED PROPERTY | 452.53 | | 0.37% |
| RESOURCE | 31,909.12 | 765 | 2.46% |
| DIVIDEND PLUS | 225.16 | 1 | 0.29% |
| FTSE/JSE RAFI 40 | 10,189.52 | 136 | 1.36% |
| Capped Top 40 | 24,616.52 | 258 | 1.06% |
| Capped All Share | 26,070.52 | 268 | 1.04% |
| JSE TABACO | 8,212.70 | 108 | 1.33% |
Click here for the Sharenet Index Summary page
---
Latest Consensus Changes**

| | | | |
| --- | --- | --- | --- |
| Code | Company Name | Status | Updated |
| BIL | BHP BILLITON PLC | BUY | 30/06/2014 |
| MDC | MEDICLINIC INTERNATIONAL | BUY | 30/06/2014 |
| AGL | ANGLO AMERICAN PLC | HOLD | 30/06/2014 |
| FSR | FIRSTRAND LIMITED | HOLD | 27/06/2014 |
| NPN | NASPERS LIMITED | BUY | 26/06/2014 |

Results Expected**

| | | |
| --- | --- | --- |
| Expected | Company Name | Fin. Date |
| 11/07/2014 | ROCKWELL | May 2014 (Q) |
---
Recent Dividends**

| | | | | |
| --- | --- | --- | --- | --- |
| Share Name | Dec-Date | LDT | Pay-Date | Amount |
| LIBHOLD11 | 30/06/14 | 04/07/14 | 14/07/14 | ZAR 0.0550 |
| TRUSTCO | 30/06/14 | 25/07/14 | 22/08/14 | NAD 0.0275 |
| PRESCIENT | 30/06/14 | 25/07/14 | 04/08/14 | ZAR 0.0260 |
| ILRPREF1 | 30/06/14 | 18/07/14 | 28/07/14 | ZAR 12.5638 |
| VIVIDEND | 27/06/14 | 11/07/14 | 21/07/14 | ZAR 0.0404 |

Ex Div**

| | | | | |
| --- | --- | --- | --- | --- |
| Share Name | Dec-Date | LDT | Pay-Date | Amount |
| TFG | 29/05/14 | 27/06/14 | 07/07/14 | ZAR 2.9300 |
| ALTRON | 14/05/14 | 27/06/14 | 07/07/14 | ZAR 0.8000 |
| ALTRON PP | 14/05/14 | 27/06/14 | 07/07/14 | ZAR 0.8000 |
| PNR FOODS | 19/05/14 | 27/06/14 | 07/07/14 | ZAR 0.6500 |
| ILLOVO | 26/05/14 | 27/06/14 | 07/07/14 | ZAR 0.6000 |
---
Upcoming AGMs**

| | | | |
| --- | --- | --- | --- |
| Code | Company Name | Date | Status |
| WEZ | Wesizwe Platinum Ltd. | 01/07/2014 | Confirmed |
| CRD | Central Rand Gold Ltd. | 01/07/2014 | Confirmed |
| GAM | Global Asset Management Ltd. | 01/07/2014 | Confirmed |
| CGR | Calgro M3 Holdings Ltd. | 02/07/2014 | Confirmed |
| CRG | Cargo Carriers Ltd. | 03/07/2014 | Confirmed |
---
Stock Exchange News Service
Click here for more SENS news
---