Tuesday, 03 June 2014 - 20:00
Charts
Seed Weekly - Starting Early
I was recently invited to speak at a corporate wellness day and one of the topics we discussed was how to secure a stable financial future from a young age. The most obvious point raised was that this doesn't happen by itself or overnight and requires a long term disciplined approach. The second point we discussed was the benefit of starting early and the subsequent implication of investing from a later age.
To bring across the second point I resorted to a few graphs based on a fictional 30 year old person who has no investment assets and would like to be in a position to retire with (today's equivalent of) R 30 000 a month at the age of 65. In order to reach this goal the person would need to have +- R 5.8m in discretionary assets at retirement in order to fund a 'pension' of R 30 000 per month, this amount is calculated by Seed's Retirement Planning Tool that uses past returns to calculate possible future values of assets. It is important to note that the asset values are in real terms. In order to fund this liability of R 5.8m the person would realistically need to have investment assets of R 6.9m available. The next step is to find out how it would be possible to reach this target of R 6.9m in 35 years, the answer is simply to invest R 4 500 per month into a balanced portfolio of growth oriented assets and increasing this amount by inflation + 2% each year. To show how this paragraph above can very easily be plotted graphically refer to the below:
With such on long time to go before this person would retire we don't assume to have one plan that can cover all eventualities, rather we would take the information at our disposal and put a plan in place that is to reviewed regularly.
The next and very important point we discussed was the issue of procrastination. To show the effects we went back to the previous person and asked what would happen if they waited 5 years before investing. If the goal of R 30 000 per month stays, the person would need to increase the contributions to R 6 000 per month with similar annual increases in order to reach a targeted asset base of +-R 6.5m. The same graph with the new assumptions is shown below:
At this point the discussion naturally went to the sometimes underestimated effect of compounding on your investment portfolio. The earlier you start investing the more likely it will be that compounding enhances the value of your portfolio. By taking the above 2 scenarios and plotting the cumulative investment values and growth on one graph it becomes very apparent that the earlier you start the more you stand to benefit.
The 1st graph is for the 30 year of and the second is for the 35 year old:
The orange portion of the graph is the growth achieved on the contributions and increases as the compounding effect becomes more pronounced over time. The orange part of the above graph is larger compared to the graph for the 35 year old investor.
At Seed we have a qualified team available for individual investment consultations whose aim it is to guide you through the process of setting financial goals and ensure that there is a plan in place to reach those goals. Based on the above analysis, and common knowledge, it pays not to procrastinate when beginning to save for retirement.
Kind regards,
Stefan Keeve
www.seedinvestments.co.za
info@seedinvestments.co.za
021 914 4966
Tue, 03 Jun 2014
Top News
South Africa's Association of Mineworkers and Construction Union (AMCU) is considering a government proposal to resolve a five-month platinum strike and will table it to its members this week, union president Joseph Mathunjwa said on Tuesday.

---

Global equity markets slipped on Tuesday from record or multi-year highs, while euro zone inflation data gave the euro some respite on relief that price growth in the single currency zone had not slowed even further.

Syrians voted on Tuesday in an election expected to deliver an overwhelming victory for President Bashar al-Assad but which his opponents have dismissed as a charade in the midst of Syria's devastating civil war.
World Markets (Spot Prices)
| | | | | |
| --- | --- | --- | --- | --- |
| Name | Time | RP | Move | % Move |
| JSE Overall | 17:00 | 49936.54 | 118.65 | 0.24% |
| JSE Top 40 | 17:00 | 44975.70 | 123.13 | 0.27% |
| JSE Gold | 17:00 | 1386.21 | 12.90 | 0.94% |
| JSE Financial | 17:00 | 36709.06 | -71.79 | -0.20% |
| JSE Industrial | 17:00 | 65875.97 | 282.14 | 0.43% |
| JSE Indust 25 | 17:00 | 58318.66 | 291.61 | 0.50% |
| JSE Resource | 17:00 | 55944.57 | 66.23 | 0.12% |
| DJ Futures | 18:38 | 16710.00 | -18.00 | -0.11% |
| DJ Ind | 19:58 | 16719.90 | -23.73 | -0.14% |
| SP 500 | 19:58 | 1923.07 | -1.90 | -0.10% |
| Nasdaq | 19:58 | 4229.64 | -7.56 | -0.18% |
| FTSE 100 | 17:35 | 6836.30 | -27.80 | -0.41% |
| DAX | 18:08 | 9919.74 | -30.38 | -0.31% |
| CAC40 | 18:08 | 4503.69 | -12.20 | -0.27% |
| Nikkei | 08:28 | 15034.25 | 98.33 | 0.66% |
| Shanghai | 09:48 | 2038.31 | -.90 | -0.04% |
| Hang-Seng | 10:32 | 23291.04 | 209.39 | 0.91% |
| All Ords | 08:38 | 5460.50 | -38.70 | -0.70% |
| NZSE 50 | 07:46 | 5164.12 | -14.32 | -0.28% |

| | | | | |
| --- | --- | --- | --- | --- |
| Name | Time | RP | Move | % Move |
| Gold $ | 19:59 | 1244.51 | .95 | 0.08% |
| Gold R | 19:59 | 13411.22 | 127.21 | 0.96% |
| Gold R/kg | 19:58 | 430961 | 2627 | 0.61% |
| Silver $ | 19:59 | 18.7760 | .0290 | 0.15% |
| Platinum $ | 19:59 | 1425.80 | -5.20 | -0.36% |
| Palladium $ | 19:59 | 836.10 | 7.10 | 0.86% |
| R157 | 16:48 | 6.72 | .06 | 0.90% |
| R186 | 16:48 | 8.40 | .03 | 0.36% |
| R204 | 16:48 | 7.61 | .04 | 0.53% |
| R207 | 16:48 | 7.91 | .04 | 0.51% |
| Brent Crude | 19:58 | 108.62 | -.21 | -0.19% |
| Rand / Dollar | 19:59 | 10.7757 | 0.0938 | 0.88% |
| Rand / Pound | 19:55 | 18.0138 | 0.1504 | 0.84% |
| Rand / Euro | 19:55 | 14.6805 | 0.1547 | 1.07% |
| Rand / NZD | 19:59 | 9.0812 | 0.0517 | 0.57% |
| Rand / AUD | 19:55 | 9.9708 | 0.0972 | 0.98% |
| Yen / Dollar | 19:59 | 102.5390 | 0.1560 | 0.15% |
| Euro / Dollar | 19:59 | 0.7338 | -0.0017 | -0.23% |
| Dollar / Euro | 19:59 | 1.3628 | 0.0029 | 0.21% |
| Pound / Dollar | 19:55 | 0.5967 | -0.0002 | -0.03% |
Click here for the Sharenet Spot Price page
The JSE Today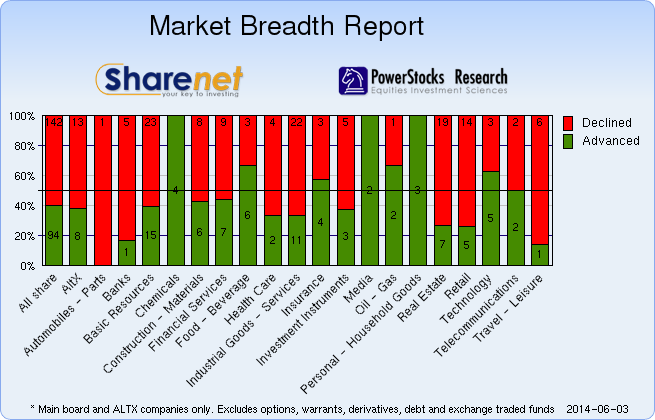 Trading Statistics
| Date | Adv. | Decl. | Unch. | Actives | Volume | Value | Trades | Orders |
| --- | --- | --- | --- | --- | --- | --- | --- | --- |
| 03/06/2014 | 191 | 175 | 74 | 440 | 232,401,091 | R15,169,267,651 | 206842 | 1523906 |
| 02/06/2014 | 190 | 156 | 58 | 404 | 170,005,171 | R11,805,815,859 | 144736 | 1570363 |
| 30/05/2014 | 189 | 165 | 66 | 420 | 395,962,508 | R25,058,418,619 | 204399 | 402897 |
| 29/05/2014 | 194 | 164 | 73 | 431 | 166,028,665 | R11,080,502,513 | 151318 | 1094469 |
| 28/05/2014 | 184 | 177 | 57 | 418 | 195,046,637 | R14,631,376,467 | 164393 | 1607978 |
* Includes all listed instruments on the JSE
---
---
---
Index Summary
| | | | |
| --- | --- | --- | --- |
| Index Name | RP | Move | % Move |
| Top 40 | 44,975.70 | 123.13 | 0.27% |
| Industrial | 65,875.97 | 282.14 | 0.43% |
| Mid Cap | 63,067.17 | 78.15 | 0.12% |
| Small Cap | 54,068.77 | -183.11 | -0.34% |
| Resource 20 | 55,944.57 | 66.23 | 0.12% |
| Industrial 25 | 58,318.66 | 291.61 | 0.50% |
| Financial 15 | 14,138.76 | -30.89 | -0.22% |
| Financial & Ind. 30 | 61,980.13 | 239.78 | 0.39% |
| All Share | 49,936.54 | 118.65 | 0.24% |
| Oil & Gas | 46,461.15 | 825.61 | 1.81% |
| Mining | 32,933.78 | -78.58 | -0.24% |
| Gold Mining | 1,386.21 | 12.90 | 0.94% |
| Platinum Mining | 49.06 | .88 | 1.83% |
| GENERAL MINING | 9,576.31 | -58.76 | -0.61% |
| Oil & Gas Producers | 24,981.30 | 443.91 | 1.81% |
| Basic Materials | 29,219.73 | -35.00 | -0.12% |
| Chemicals | 24,297.59 | 182.36 | 0.76% |
| Forestry & Paper | 32,725.13 | 455.69 | 1.41% |
| Industrial Metals | 18,570.62 | -300.58 | -1.59% |
| Industrials | 45,496.09 | -336.58 | -0.73% |
| General Industrials | 142.67 | -1.27 | -0.88% |
| Consumer Goods | 62,507.84 | 459.83 | 0.74% |
| Automobiles & Parts | 9,171.06 | -88.31 | -0.95% |
| Household Goods | 369.08 | 1 | 0.39% |
| Health Care | 81,009.26 | 945.22 | 1.18% |
| Beverages | 201.77 | 2.53 | 1.27% |

| | | | |
| --- | --- | --- | --- |
| Index Name | RP | Move | % Move |
| Food Producers | 74,249.69 | -329.54 | -0.44% |
| Personal Goods | 1,116.82 | 8.19 | 0.74% |
| Consumer Services | 11,614.74 | 31.31 | 0.27% |
| General Retailers | 62,612.10 | -953.70 | -1.50% |
| Travel & Leisure | 5,818.52 | -51.25 | -0.87% |
| Media | 260.06 | 3.78 | 1.47% |
| Support Services | 2,852.31 | -5.44 | -0.19% |
| Telecommunications | 10,736.45 | 18.86 | 0.18% |
| Financials | 36,709.06 | -71.79 | -0.20% |
| Banks | 63,173.84 | -376.75 | -0.59% |
| Non-life Insurance | 54,107.08 | -546.18 | -1.00% |
| Life Insurance | 35,412.76 | 81.87 | 0.23% |
| General Financial | 3,692.64 | -15.91 | -0.43% |
| Technology | 41,916.25 | 181.06 | 0.43% |
| SHARIAH TOP40 | 4,195.30 | 9 | 0.22% |
| FTSE/JSE SHARIAH ALL | 4,309.18 | 10 | 0.22% |
| COAL MINING | 17,542.97 | -105 | -0.59% |
| FTSE JSE Fledgling | 6,754.33 | -35 | -0.52% |
| FTSE/JSE Alt X | 1,268.23 | 5 | 0.42% |
| SA LISTED PROPERTY | 501.12 | | -0.17% |
| CAPPED PROPERTY | 443.32 | | 0.09% |
| RESOURCE | 30,592.32 | 48 | 0.16% |
| DIVIDEND PLUS | 222.32 | -1 | -0.24% |
| FTSE/JSE RAFI 40 | 9,888.04 | 17 | 0.17% |
| Capped Top 40 | 23,838.54 | 70 | 0.29% |
| Capped All Share | 25,294.46 | 62 | 0.24% |
| JSE TABACO | 8,183.83 | 8 | 0.10% |
Click here for the Sharenet Index Summary page
---
Latest Consensus Changes**

| | | | |
| --- | --- | --- | --- |
| Code | Company Name | Status | Updated |
| TBS | TIGER BRANDS LTD | BUY | 30/05/2014 |
| ABL | AFRICAN BANK INVESTMENTS ... | SELL | 29/05/2014 |
| NPN | NASPERS LIMITED | BUY | 27/05/2014 |
| LBH | LIBERTY HOLDINGS LTD ORD | SELL | 27/05/2014 |
| BAW | BARLOWORLD LIMITED | SELL | 27/05/2014 |

Results Expected**

| | | |
| --- | --- | --- |
| Expected | Company Name | Fin. Date |
| 04/06/2014 | CROOKES | March 2014 (Final) |
| 04/06/2014 | STRATCORP | February 2014 (Final) |
| 05/06/2014 | BRAIT | March 2014 (Final) |
| 05/06/2014 | BRAIT PREF | March 2014 (Final) |
| 05/06/2014 | MIXTEL | March 2014 (Final) |
---
Recent Dividends**

| | | | | |
| --- | --- | --- | --- | --- |
| Share Name | Dec-Date | LDT | Pay-Date | Amount |
| CADIZ | 02/06/14 | 27/06/14 | 07/07/14 | ZAR 0.0440 |
| TFG PREF | 29/05/14 | 12/09/14 | 22/09/14 | ZAR 0.0650 |
| BRAIT PREF | 29/05/14 | 12/06/14 | 23/06/14 | ZAR 4.4934 |
| TRADEH | 29/05/14 | 12/06/14 | 23/06/14 | ZAR 0.0550 |
| TFG | 29/05/14 | 27/06/14 | 07/07/14 | ZAR 2.9300 |

Ex Div**

| | | | | |
| --- | --- | --- | --- | --- |
| Share Name | Dec-Date | LDT | Pay-Date | Amount |
| HOLDSPORT | 06/05/14 | 30/05/14 | 09/06/14 | ZAR 1.4500 |
| LIFEHC | 13/05/14 | 30/05/14 | 09/06/14 | ZAR 0.6300 |
| AECI 5.5%P | 16/05/14 | 30/05/14 | 13/06/14 | ZAR 0.4794 |
| RAUBEX | 12/05/14 | 30/05/14 | 09/06/14 | ZAR 0.3500 |
| AFRIMAT | 15/05/14 | 30/05/14 | 09/06/14 | ZAR 0.2800 |
---
Upcoming AGMs**

| | | | |
| --- | --- | --- | --- |
| Code | Company Name | Date | Status |
| HWN | Howden Africa Holdings Ltd. | 03/06/2014 | Confirmed |
| SLM | Sanlam Ltd. | 04/06/2014 | Confirmed |
| SLMA | Sanlam Ltd. | 04/06/2014 | Confirmed |
| SLMP1 | Sanlam Ltd. | 04/06/2014 | Confirmed |
| SLMB | Sanlam Ltd. | 04/06/2014 | Confirmed |
---
Stock Exchange News Service
Click here for more SENS news
---