Thursday, 07 January 2016 - 20:00
Charts
Top News
Loss-making steelmaker ArcelorMittal South Africa said on Thursday that the South African government was extending tariffs on steel imports, sending its shares sharply higher.

---

South Korea is in talks with the United States to deploy U.S. strategic weapons on the Korean peninsula, a South Korean military official said on Thursday, a day after North Korea said it successfully tested a hydrogen nuclear device.

French police shot dead a man wielding a meat cleaver after he tried to enter a police station on Thursday, the anniversary of militant attacks in Paris, shouting "Allahu Akbar" (God is Great) and wearing what turned out to be a fake suicide belt.
Company Results
Revenue for the quarterly period grew to R27.2 million (R25.0 million). Gross profit rose to R9.4 million (R8.4 million). Operating profit lowered to R0.8 million (R1.7 million). profit and total comprehensive income attributable to owners dropped to R0.7 million (R1.2 million). In addition, headline earnings per share decreased to 1.57cps (2.81cps). Dividends paid and notice of declaration of dividend The following dividends were declared during the year to date: * A dividend of. . .
World Markets (Spot Prices)
| | | | | |
| --- | --- | --- | --- | --- |
| Name | Time | RP | Move | % Move |
| JSE Overall | 17:00 | 48052.78 | -1029.51 | -2.10% |
| JSE Top 40 | 17:00 | 43186.36 | -964.10 | -2.18% |
| JSE Gold | 17:00 | 1271.67 | 60.35 | 4.98% |
| JSE Financial | 17:00 | 38170.81 | -1059.88 | -2.70% |
| JSE Industrial | 17:00 | 75700.20 | -1365.66 | -1.77% |
| JSE Indust 25 | 17:00 | 68554.33 | -1189.25 | -1.71% |
| JSE Resource | 17:00 | 23739.08 | -699.55 | -2.86% |
| DJ Futures | 19:58 | 16592.00 | -246.00 | -1.46% |
| DJ Ind | 19:58 | 16682.88 | -223.63 | -1.32% |
| SP 500 | 19:58 | 1962.34 | -27.92 | -1.40% |
| Nasdaq | 19:58 | 4747.61 | -88.15 | -1.82% |
| FTSE 100 | 16:38 | 5942.47 | -130.91 | -2.16% |
| DAX | 19:08 | 9979.85 | -234.17 | -2.29% |
| CAC40 | 19:08 | 4403.58 | -76.89 | -1.72% |
| Nikkei | 08:34 | 17767.34 | -423.98 | -2.33% |
| Shanghai | 09:28 | 3125.00 | -236.84 | -7.04% |
| Hang-Seng | 10:28 | 20333.34 | -647.47 | -3.09% |
| All Ords | 07:36 | 5068.80 | -109.20 | -2.11% |
| NZSE 50 | 06:48 | 6213.39 | -49.13 | -0.78% |

| | | | | |
| --- | --- | --- | --- | --- |
| Name | Time | RP | Move | % Move |
| Gold $ | 19:59 | 1108.77 | 15.24 | 1.39% |
| Gold R | 19:59 | 17676.21 | 341.64 | 1.97% |
| Gold R/kg | 19:58 | 568212 | 12105 | 2.18% |
| Silver $ | 19:59 | 14.3630 | 0.3740 | 2.67% |
| Platinum $ | 19:59 | 878.42 | 5.00 | 0.57% |
| Palladium $ | 19:59 | 491.30 | -15.60 | -3.08% |
| R186 | 16:48 | 9.63 | 0.09 | 0.94% |
| R204 | 16:48 | 8.78 | 0.07 | 0.86% |
| R207 | 16:48 | 9.07 | 0.07 | 0.78% |
| Brent Crude | 19:58 | 33.90 | -2.52 | -6.92% |
| USD / ZAR | 19:59 | 15.9438 | 0.0898 | 0.57% |
| GBP / ZAR | 19:55 | 23.2116 | 0.0417 | 0.18% |
| EUR/ ZAR | 19:55 | 17.3278 | 0.2360 | 1.38% |
| NZD/ ZAR | 19:59 | 10.5945 | 0.0695 | 0.66% |
| AUD / ZAR | 19:55 | 11.1973 | -0.0116 | -0.10% |
| USD / JPY | 19:59 | 117.9630 | -0.5370 | -0.45% |
| EUR / USD | 19:59 | 1.0862 | 0.0088 | 0.82% |
| GBP / USD | 19:59 | 1.4587 | -0.0041 | -0.28% |
Click here for the Sharenet Spot Price page
The JSE Today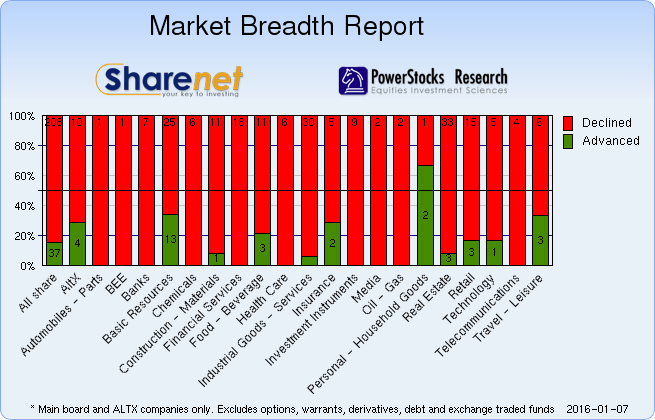 Trading Statistics
| Date | Adv. | Decl. | Unch. | Actives | Volume | Value | Trades | Orders |
| --- | --- | --- | --- | --- | --- | --- | --- | --- |
| 07/01/2016 | 92 | 293 | 42 | 427 | 341,084,700 | R24,254,038,013 | 301377 | 2430917 |
| 06/01/2016 | 112 | 226 | 49 | 387 | 207,655,523 | R16,879,826,566 | 210368 | 1958212 |
| 05/01/2016 | 206 | 137 | 49 | 392 | 174,430,994 | R13,129,349,272 | 202711 | 1819464 |
| 04/01/2016 | 98 | 262 | 54 | 414 | 179,374,639 | R14,151,523,100 | 200024 | 1830335 |
| 31/12/2015 | 139 | 121 | 51 | 311 | 63,455,634 | R4,542,840,244 | 45338 | 428111 |
* Includes all listed instruments on the JSE
---
---
---
Index Summary
| | | | |
| --- | --- | --- | --- |
| Index Name | RP | Move | % Move |
| Top 40 | 43,186.36 | -964.10 | -2.18% |
| Industrial | 75,700.20 | -1365.66 | -1.77% |
| Mid Cap | 61,314.18 | -883.81 | -1.42% |
| Small Cap | 51,348.95 | -1321.26 | -2.51% |
| Resource 20 | 23,739.08 | -699.55 | -2.86% |
| Industrial 25 | 68,554.33 | -1189.25 | -1.71% |
| Financial 15 | 14,092.32 | -375.68 | -2.60% |
| Financial & Ind. 30 | 70,804.48 | -1378.56 | -1.91% |
| All Share | 48,052.78 | -1029.51 | -2.10% |
| Oil & Gas | 7,195.69 | .00 | 0.00% |
| Mining | 14,468.47 | -331.33 | -2.24% |
| Gold Mining | 1,271.67 | 60.35 | 4.98% |
| Platinum Mining | 13.01 | -.27 | -2.03% |
| GENERAL MINING | 3,855.76 | -165.44 | -4.11% |
| Oil & Gas Producers | 38,689.88 | .00 | 0.00% |
| Basic Materials | 16,289.64 | -430.60 | -2.58% |
| Chemicals | 19,605.58 | -968.82 | -4.71% |
| Forestry & Paper | 50,413.56 | -361.67 | -0.71% |
| Industrial Metals | 2,339.32 | -186.41 | -7.38% |
| Industrials | 38,894.80 | -1155.48 | -2.89% |
| General Industrials | 145.40 | -4.56 | -3.04% |
| Consumer Goods | 79,479.05 | -95.30 | -0.12% |
| Automobiles & Parts | 5,473.20 | -414.39 | -7.04% |
| Household Goods | 521.23 | -13 | -2.45% |
| Health Care | 8,788.43 | -211.23 | -2.35% |
| Beverages | 319.68 | .41 | 0.13% |

| | | | |
| --- | --- | --- | --- |
| Index Name | RP | Move | % Move |
| Food Producers | 7,611.27 | -120.87 | -1.56% |
| Personal Goods | 1,060.39 | 4.70 | 0.45% |
| Consumer Services | 16,286.47 | -560.46 | -3.33% |
| General Retailers | 7,593.75 | -90.23 | -1.17% |
| Travel & Leisure | 5,451.56 | -226.90 | -4.00% |
| Media | 418.42 | -17.19 | -3.95% |
| Support Services | 2,377.98 | -29.56 | -1.23% |
| Telecommunications | 6,894.25 | -337.11 | -4.66% |
| Financials | 38,170.81 | -1059.88 | -2.70% |
| Banks | 5,702.78 | -170.08 | -2.90% |
| Non-life Insurance | 47,723.98 | 112.30 | 0.24% |
| Life Insurance | 35,151.37 | -918.73 | -2.55% |
| General Financial | 4,262.38 | -122.75 | -2.80% |
| Technology | 50,154.05 | -769.48 | -1.51% |
| SHARIAH TOP40 | 2,548.38 | -95 | -3.58% |
| FTSE/JSE SHARIAH ALL | 2,776.98 | -89 | -3.12% |
| COAL MINING | 5,309.54 | -405 | -7.08% |
| FTSE JSE Fledgling | 6,221.81 | -86 | -1.37% |
| FTSE/JSE Alt X | 1,523.30 | -17 | -1.07% |
| SA LISTED PROPERTY | 582.84 | | -3.43% |
| CAPPED PROPERTY | 540.60 | | -2.81% |
| RESOURCE | 12,997.48 | -344 | -2.58% |
| DIVIDEND PLUS | 166.04 | -4 | -2.44% |
| FTSE/JSE RAFI 40 | 7,980.87 | -170 | -2.09% |
| Capped Top 40 | 22,745.51 | -541 | -2.32% |
| Capped All Share | 24,353.16 | -534 | -2.14% |
| JSE TABACO | 10,939.58 | 41 | 0.38% |
Click here for the Sharenet Index Summary page
---
Latest Consensus Changes**

| | | | |
| --- | --- | --- | --- |
| Code | Company Name | Status | Updated |
| SGL | SIBANYE GOLD LIMITED | HOLD | 04/01/2016 |
| MND | MONDI LIMITED | BUY | 04/01/2016 |
| BVT | THE BIDVEST GROUP LIMITED | HOLD | 04/01/2016 |
| ARI | AFRICAN RAINBOW MINERALS | BUY | 04/01/2016 |
| SPP | THE SPAR GROUP LTD | HOLD | 04/01/2016 |

Results Expected**

| | | |
| --- | --- | --- |
| Expected | Company Name | Fin. Date |
| 12/01/2016 | ATLEAF | November 2015 (Q) |
| 12/01/2016 | ROCKWELL | November 2015 (Q) |
| 12/01/2016 | STOR-AGE | September 2015 (Interim) |
| 15/01/2016 | DELRAND | September 2015 (Q) |
---
Recent Dividends**

| | | | | |
| --- | --- | --- | --- | --- |
| Share Name | Dec-Date | LDT | Pay-Date | Amount |
| TELEMASTR | 06/01/16 | 22/01/16 | 01/02/16 | ZAR 0.0100 |
| ILPREF2 | 31/12/15 | 15/01/16 | 25/01/16 | ZAR 13.5376 |
| ILRPREF1 | 31/12/15 | 15/01/16 | 25/01/16 | ZAR 13.5376 |
| BRAIT PREF | 23/12/15 | 08/01/16 | 18/01/16 | ZAR 3.0203 |
| ECSP C3 | 22/12/15 | 08/01/16 | 18/01/16 | ZAR 1.3185 |

Ex Div**

| | | | | |
| --- | --- | --- | --- | --- |
| Share Name | Dec-Date | LDT | Pay-Date | Amount |
| PPC | 17/11/15 | 31/12/15 | 11/01/16 | ZAR 0.3300 |
| ILIAD | 15/12/15 | 31/12/15 | 11/01/16 | ZAR 0.2400 |
| AFORBES | 30/11/15 | 31/12/15 | 11/01/16 | ZAR 0.1500 |
| REX TRUE6% | 15/12/15 | 31/12/15 | 11/01/16 | ZAR 0.0600 |
| AF-OVR 6%PP | 15/12/15 | 31/12/15 | 11/01/16 | ZAR 0.0600 |
---
Upcoming AGMs**

| | | | |
| --- | --- | --- | --- |
| Code | Company Name | Date | Status |
| CML | Coronation Fund Managers Ltd. | 12/01/2016 | Confirmed |
| CMLP | Coronation Fund Managers Ltd. | 12/01/2016 | Confirmed |
---
Stock Exchange News Service
Click here for more SENS news
---