Tuesday, 11 November 2014 - 20:00
Charts
Seed weekly - Bond ValuationsSeed Weekly - The more things change... The more they stay the same
Those of you who know me, or have seen my photo, will know that whilst I am not "follicle impaired" like a lot of men my age, there is definitely a lot more salt than pepper on my head.
One of the main reasons for the abundance of grey is the fact that the returns in financial products are seldom linear (i.e. they don't move up in a straight line).
One of the most common products that financial planners use for long term growth is Multi Asset High Equity Funds which we used to call Balanced Funds. Below, I have attached a graph showing the average high equity manager's growth from December 1998 to date along with pre-tax money market returns and CPI. You will see that the growth in this investment over this period has been in excess of 700%. While nobody will disagree that this growth is more than acceptable, I would like to highlight a few areas which caused most of the aforementioned grey hairs.
If you look at the period from February 2000 to November 2000 nothing seems to be wrong. However, if you analyse the results for this period you will see than investors lost 1% over 9 months, when money market yielded 7.5% for the same period. The number of calls I got from clients wanting to switch out of their high equity investment to money market was incredible. The second period of concern, which also looks fairly innocuous now in hindsight, was from June 2002 to April 2003. In this 10 month period investors really started wondering about the wisdom of investing in balanced funds because they were down 6% in 10 months and my task as a Financial Coach/ Wealth Manager was really difficult because a lot of clients I had persuaded to stay in the Investment in 2000 were now really worried, fortunately we had a good run after that and markets increased beautifully. Then came 2007…. anybody who invested money in November 2007 would have lost 21.5% by February 2009. Imagine how many grey hairs this caused, both for me and my clients. But those clients that stuck it out were rewarded in spades with incredible growth for a number of years thereafter.
I hear a number of you asking what is this reminiscing got to do with me and my investment now. The answer is quite simple: you may have noticed that the top of the graph has now had a downward tendency for the last couple of months and clients are starting to worry once more!
The fact of the matter is I can't say whether the next 10 months are going to be like the flat period we had in 2000, the slight drop we had in 2003 or the major fall we had in 2008. We could even have a nice upswing like we had after September 2011, the fact is, returns are never linear and returns will always be variable over short time frames. Investors need to have a clearly defined plan and stick to it through the ups and downs of the market, those that have done so in the past have been richly rewarded, those that have panicked (and panic was rationally justifiable in 2008) have missed out on incredible growth.
Kind regards,
Barry Hugo
www.seedinvestments.co.za
info@seedinvestments.co.za
021 914 4966
Tue, 11 Nov 2014
Top News
Local markets A sudden selloff in resources shares saw the index retreat 1.91% which was responsible for the JSE All Share Index shedding 0.25% by close of business on Tuesday. Furthermore, local data revealed an 8% rise in Septemberís year-on-year local manufacturing output, w

---

Senior officials from Western powers and Iran started a one-day round of talks in Muscat on Tuesday, with a deadline for reaching a nuclear deal less than two weeks away and no imminent breakthrough in sight.

Japanese Prime Minister Shinzo Abe on Tuesday welcomed China's efforts this year on crafting a roadmap for the Free Trade Area of the Asia-Pacific (FTAAP) scheme, which he said should be based on bilateral and regional economic cooperation.
World Markets (Spot Prices)
| | | | | |
| --- | --- | --- | --- | --- |
| Name | Time | RP | Move | % Move |
| JSE Overall | 17:00 | 50355.38 | -128.71 | -0.25% |
| JSE Top 40 | 17:00 | 44980.97 | -180.17 | -0.40% |
| JSE Gold | 17:00 | 1016.12 | -16.83 | -1.63% |
| JSE Financial | 17:00 | 39991.14 | 232.54 | 0.58% |
| JSE Industrial | 17:00 | 69086.65 | 62.76 | 0.09% |
| JSE Indust 25 | 17:00 | 61156.00 | 10.57 | 0.02% |
| JSE Resource | 17:00 | 48551.49 | -946.41 | -1.91% |
| DJ Futures | 19:32 | 17560.00 | 7.00 | 0.04% |
| DJ Ind | 19:58 | 17602.06 | -11.68 | -0.07% |
| SP 500 | 19:58 | 2037.46 | -0.80 | -0.04% |
| Nasdaq | 19:58 | 4651.53 | -0.09 | -0.00% |
| FTSE 100 | 18:35 | 6627.40 | 16.15 | 0.24% |
| DAX | 19:08 | 9369.03 | 17.16 | 0.18% |
| CAC40 | 19:08 | 4244.10 | 21.28 | 0.50% |
| Nikkei | 08:52 | 17124.11 | 343.58 | 2.05% |
| Shanghai | 09:28 | 2469.67 | -4.00 | -0.16% |
| Hang-Seng | 06:28 | 23893.96 | -45.78 | -0.19% |
| All Ords | 07:40 | 5494.00 | -7.40 | -0.13% |
| NZSE 50 | 06:48 | 5490.79 | 20.45 | 0.37% |

| | | | | |
| --- | --- | --- | --- | --- |
| Name | Time | RP | Move | % Move |
| Gold $ | 19:59 | 1162.18 | 9.85 | 0.85% |
| Gold R | 19:58 | 13038.10 | 60.35 | 0.47% |
| Gold R/kg | 19:58 | 419005 | -1986 | -0.47% |
| Silver $ | 19:59 | 15.6940 | .1110 | 0.71% |
| Platinum $ | 19:59 | 1199.75 | 3.85 | 0.32% |
| Palladium $ | 19:59 | 770.40 | 9.50 | 1.25% |
| R157 | 22/09 | 6.99 | -.02 | 0.00% |
| R186 | 16:53 | 7.96 | .02 | 0.25% |
| R204 | 16:53 | 7.04 | .04 | 0.64% |
| R207 | 16:53 | 7.26 | .02 | 0.28% |
| Brent Crude | 19:58 | 81.16 | -2.23 | -2.67% |
| Rand / Dollar | 19:59 | 11.2264 | -0.0350 | -0.31% |
| Rand / Pound | 19:55 | 17.7930 | -0.0259 | -0.15% |
| Rand / Euro | 19:55 | 13.9810 | -0.0140 | -0.10% |
| Rand / NZD | 19:58 | 8.7538 | 0.0240 | 0.27% |
| Rand / AUD | 19:55 | 9.7349 | 0.0186 | 0.19% |
| Yen / Dollar | 19:59 | 115.7020 | 0.8830 | 0.77% |
| Euro / Dollar | 19:55 | 0.8026 | -0.0021 | -0.26% |
| Dollar / Euro | 19:59 | 1.2463 | 0.0039 | 0.31% |
| Pound / Dollar | 19:55 | 0.6295 | -0.0013 | -0.21% |
Click here for the Sharenet Spot Price page
The JSE Today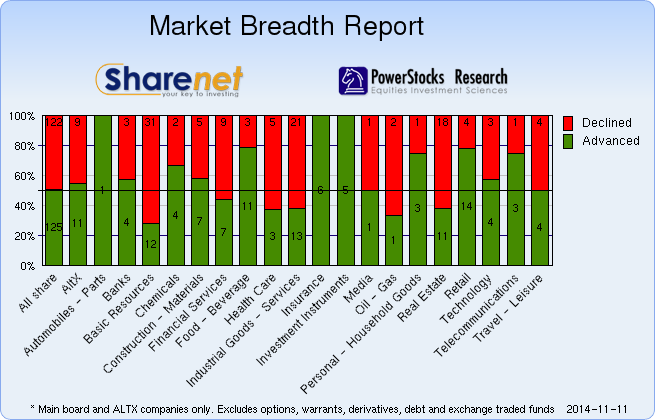 Trading Statistics
| Date | Adv. | Decl. | Unch. | Actives | Volume | Value | Trades | Orders |
| --- | --- | --- | --- | --- | --- | --- | --- | --- |
| 11/11/2014 | 170 | 183 | 64 | 417 | 210,098,739 | R13,598,985,102 | 203271 | 1253798 |
| 10/11/2014 | 234 | 113 | 62 | 409 | 236,495,992 | R16,430,671,388 | 247822 | 1357153 |
| 07/11/2014 | 190 | 163 | 75 | 428 | 245,552,119 | R16,221,298,478 | 257446 | 1139705 |
| 06/11/2014 | 159 | 184 | 61 | 404 | 199,655,150 | R14,492,887,900 | 179367 | 1409284 |
| 05/11/2014 | 140 | 211 | 71 | 422 | 237,006,017 | R16,040,251,567 | 195809 | 1505421 |
* Includes all listed instruments on the JSE
---
---
---
Index Summary
| | | | |
| --- | --- | --- | --- |
| Index Name | RP | Move | % Move |
| Top 40 | 44,980.97 | -180.17 | -0.40% |
| Industrial | 69,086.65 | 62.76 | 0.09% |
| Mid Cap | 66,501.47 | 282.42 | 0.43% |
| Small Cap | 56,461.77 | 445.84 | 0.80% |
| Resource 20 | 48,551.49 | -946.41 | -1.91% |
| Industrial 25 | 61,156.00 | 10.57 | 0.02% |
| Financial 15 | 15,380.63 | 88.87 | 0.58% |
| Financial & Ind. 30 | 65,382.48 | 66.72 | 0.10% |
| All Share | 50,355.38 | -128.71 | -0.25% |
| Oil & Gas | 41,090.53 | -530.48 | -1.27% |
| Mining | 28,157.24 | -599.75 | -2.09% |
| Gold Mining | 1,016.12 | -16.83 | -1.63% |
| Platinum Mining | 35.86 | -.97 | -2.63% |
| GENERAL MINING | 8,474.58 | -176.69 | -2.04% |
| Oil & Gas Producers | 22,093.62 | -285.23 | -1.27% |
| Basic Materials | 25,450.89 | -463.65 | -1.79% |
| Chemicals | 24,460.51 | 24.24 | 0.10% |
| Forestry & Paper | 33,846.39 | 285.11 | 0.85% |
| Industrial Metals | 15,541.79 | -383.88 | -2.41% |
| Industrials | 47,135.51 | 198.66 | 0.42% |
| General Industrials | 160.43 | 1.28 | 0.80% |
| Consumer Goods | 61,757.11 | -192.34 | -0.31% |
| Automobiles & Parts | 8,695.52 | 226.45 | 2.67% |
| Household Goods | 380.54 | 7 | 1.82% |
| Health Care | 10,071.73 | -5.49 | -0.05% |
| Beverages | 213.25 | -2.97 | -1.37% |

| | | | |
| --- | --- | --- | --- |
| Index Name | RP | Move | % Move |
| Food Producers | 8,736.00 | 156.72 | 1.83% |
| Personal Goods | 962.71 | -4.59 | -0.47% |
| Consumer Services | 13,275.88 | 35.15 | 0.27% |
| General Retailers | 70,545.68 | 618.78 | 0.88% |
| Travel & Leisure | 6,257.27 | 68.88 | 1.11% |
| Media | 305.54 | -1.24 | -0.40% |
| Support Services | 2,810.15 | -9.59 | -0.34% |
| Telecommunications | 11,095.21 | 91.26 | 0.83% |
| Financials | 39,991.14 | 232.54 | 0.58% |
| Banks | 68,492.90 | 321.35 | 0.47% |
| Non-life Insurance | 53,474.13 | 416.01 | 0.78% |
| Life Insurance | 38,274.37 | 319.57 | 0.84% |
| General Financial | 3,920.70 | 31.33 | 0.81% |
| Technology | 47,343.58 | 33.89 | 0.07% |
| SHARIAH TOP40 | 3,852.79 | -36 | -0.92% |
| FTSE/JSE SHARIAH ALL | 4,034.94 | -31 | -0.75% |
| COAL MINING | 14,348.39 | -651 | -4.34% |
| FTSE JSE Fledgling | 6,467.97 | -28 | -0.43% |
| FTSE/JSE Alt X | 1,347.67 | -3 | -0.19% |
| SA LISTED PROPERTY | 574.85 | | 0.18% |
| CAPPED PROPERTY | 499.16 | | 0.03% |
| RESOURCE | 26,333.55 | -516 | -1.92% |
| DIVIDEND PLUS | 224.53 | 1 | 0.30% |
| FTSE/JSE RAFI 40 | 9,675.42 | -28 | -0.29% |
| Capped Top 40 | 23,924.61 | -84 | -0.35% |
| Capped All Share | 25,525.30 | -64 | -0.25% |
| JSE TABACO | 8,280.30 | 48 | 0.59% |
Click here for the Sharenet Index Summary page
---
Latest Consensus Changes**

| | | | |
| --- | --- | --- | --- |
| Code | Company Name | Status | Updated |
| IPL | IMPERIAL HOLDINGS LTD | SELL | 10/11/2014 |
| TRU | TRUWORTHS INTERNATIONAL L... | BUY | 10/11/2014 |
| AMS | ANGLO AMERICAN PLATINUM C... | BUY | 07/11/2014 |
| IMP | IMPALA PLATINUM HOLDINGS ... | HOLD | 07/11/2014 |
| OCE | OCEANA GROUP LIMITED | HOLD | 07/11/2014 |

Results Expected**

| | | |
| --- | --- | --- |
| Expected | Company Name | Fin. Date |
| 12/11/2014 | ARCMITTAL | September 2014 (Q) |
| 12/11/2014 | EFFICIENT | August 2014 (Final) |
| 12/11/2014 | MITTALSAP | September 2014 (Q) |
| 12/11/2014 | PERGRIN | September 2014 (Interim) |
| 12/11/2014 | PERGRINP | September 2014 (Interim) |
---
Recent Dividends**

| | | | | |
| --- | --- | --- | --- | --- |
| Share Name | Dec-Date | LDT | Pay-Date | Amount |
| ARROWB | 10/11/14 | 28/11/14 | 08/12/14 | ZAR 0.1822 |
| TONGAAT | 10/11/14 | 23/01/15 | 05/02/15 | ZAR 1.7000 |
| ARROWA | 10/11/14 | 28/11/14 | 08/12/14 | ZAR 0.1822 |
| RAUBEX | 10/11/14 | 28/11/14 | 08/12/14 | ZAR 0.3500 |
| INVICTA | 10/11/14 | 28/11/14 | 08/12/14 | ZAR 0.8400 |

Ex Div**

| | | | | |
| --- | --- | --- | --- | --- |
| Share Name | Dec-Date | LDT | Pay-Date | Amount |
| REMGRO | 17/09/14 | 07/11/14 | 17/11/14 | ZAR 2.3300 |
| STEINHOFF | 09/09/14 | 07/11/14 | 17/11/14 | ZAR 1.5000 |
| ECSP C | 31/10/14 | 07/11/14 | 17/11/14 | ZAR 1.1253 |
| ECSP A | 31/10/14 | 07/11/14 | 17/11/14 | ZAR 0.8493 |
| OASIS | 16/10/14 | 07/11/14 | 17/11/14 | ZAR 0.4900 |
---
Upcoming AGMs**

| | | | |
| --- | --- | --- | --- |
| Code | Company Name | Date | Status |
| VIL | Village Main Reef Ltd. | 12/11/2014 | Confirmed |
| YRK | York Timber Holdings Ltd. | 12/11/2014 | Unconfirmed |
| YRKP | York Timber Holdings Ltd. | 12/11/2014 | Unconfirmed |
| WBO | Wilson Bayly Holmes - Ovcon Ltd. | 12/11/2014 | Confirmed |
| WBOP | Wilson Bayly Holmes - Ovcon Ltd. | 12/11/2014 | Confirmed |
---
Stock Exchange News Service
Click here for more SENS news
---