Tuesday, 04 September 2012 - 20:00
Charts
Does GDP Drive Stock Market Returns
A very common investor error is a fundamental belief that a strong and growing economy is required to drive a strong performance from that country's stock market. GDP stands for Gross Domestic Product and is an economic measurement of the market value of all final goods and services produced within a country in a given period, typically a year.
The premise of a direct link between economic growth and market performance, although proven incorrect as has been widely demonstrated, has a logic, which goes something like this:
• A growing economy is by definition an aggregate of a population that is seeing an improvement in their real wealth and increased output from that country's companies.
• If companies are selling and producing more they should be generating a higher profitability.
• Higher profitability translates into a good investment.
The logic however starts to break down with the assumption that a weak overall GDP automatically means all companies are not performing strongly. Over longer and even shorter periods of time, the empirical evidence indicates that there is no relationship between GDP and market returns. The charts below plots various country's GDP and that market's real return over a 30 year period with no positive relationship, either for developing or emerging markets.
Source: GMO, MSCI, S&P, Datastream

Source: GMO, MSCI, S&P, Datastream
In many cases investors tend to want to wait for "more positive economic news", "less uncertainty", or "the European political risk to settle down", before investing. However this is rarely, if ever, possible and indeed steady price moves up don't necessarily require positive news or strong GDP growth as reflected above.
Current news flow, which by definition tends to be negative, is already reflected in share prices and all things being equal will not push prices further down. But because prices are the discounted value of future returns, they are forward looking. That is why after a particular negative economic event as prices are pushed down sharply, it is generally a good time to invest. I.e. the news may continue to be negative for a while, but prices having fully absorbed the bad news start to anticipate an improvement.
A cursory look at the year to date will reflect a global economy that is still under plenty pressure. While into 2012 the IMF raised their growth expectations, in July these were slightly lowered to a global growth of 3.5% in 2012 and 3.9% in 2013. At the same time the global equity market as measured by the MSCI All Countries World (USD) is up 7.55% for the year to end of August 2012. This is very reasonable in a world of ultra-low interest rates and against a backdrop of weak GDP.
Warm regards,
Ian de Lange
www.seedinvestments.co.za
info@seedinvestments.co.za
021 914 4966
Tue, 04 Sep 2012
Top News
Revenue soared 87% to R80.4 billion (R43 billion). Operating profit before capital items jumped by 48% to R8 billion (R5.4 billion). EBITDA improved 48% R7.9 billion (R5.4 billion). Net attributable profit was up 10% to R5.7 billion (R5.1 billion). In addition, headline earnings per ordinary

---
World Markets (Spot Prices)
| | | | | |
| --- | --- | --- | --- | --- |
| Name | Time | RP | Move | % Move |
| JSE Overall | 17:00 | 35161.01 | -323.00 | -0.91% |
| JSE Top 40 | 17:00 | 30884.69 | -342.00 | -1.10% |
| JSE Gold | 17:00 | 2211.34 | -38.00 | -1.72% |
| JSE Financial | 17:00 | 27139.77 | -67.00 | -0.25% |
| JSE Industrial | 17:00 | 41995.17 | -305.00 | -0.72% |
| JSE Indust 25 | 17:00 | 35891.38 | -328.00 | -0.91% |
| JSE Resource | 17:00 | 45140.09 | -814.00 | -1.77% |
| DJ Futures | 19:42 | 13000.00 | -79.00 | -0.60% |
| DJ Ind | 19:58 | 13006.82 | -84.02 | -0.64% |
| SP 500 | 19:58 | 1400.09 | -6.49 | -0.46% |
| Nasdaq | 19:58 | 3056.27 | -10.69 | -0.35% |
| FTSE 100 | 17:35 | 5672.01 | -86.40 | -1.50% |
| DAX | 18:12 | 6932.58 | -38.21 | -0.55% |
| CAC40 | 18:12 | 3399.04 | -54.67 | -1.58% |
| Nikkei | 08:08 | 8775.51 | -8.38 | -0.10% |
| Shanghai | 09:28 | 2043.65 | -15.50 | -0.75% |
| Hang-Seng | 10:28 | 19429.91 | -129.30 | -0.66% |
| All Ords | 08:43 | 4325.60 | -26.00 | -0.60% |
| NZSE 50 | 07:48 | 3676.02 | 6.99 | 0.19% |

| | | | | |
| --- | --- | --- | --- | --- |
| Name | Time | RP | Move | % Move |
| Gold $ | 19:59 | 1694.50 | 2.40 | 0.14% |
| Gold R | 19:58 | 14270.83 | 97.63 | 0.69% |
| Gold R/kg | 19:58 | 458707 | 13131 | 2.95% |
| Silver $ | 19:59 | 32.2740 | .2040 | 0.64% |
| Platinum $ | 19:59 | 1564.00 | 15.00 | 0.97% |
| Palladium $ | 19:59 | 638.00 | 9.70 | 1.54% |
| R157 | 17:08 | 5.38 | -.11 | -1.92% |
| R204 | 17:08 | 6.14 | -.12 | -1.92% |
| Brent Crude | 19:58 | 114.33 | .10 | 0.09% |
| Rand / Dollar | 19:59 | 8.4243 | 0.0482 | 0.58% |
| Rand / Pound | 19:55 | 13.3323 | 0.0580 | 0.44% |
| Rand / Euro | 19:55 | 10.5757 | 0.0314 | 0.30% |
| Rand / NZD | 19:58 | 6.6842 | 0.0010 | 0.01% |
| Rand / AUD | 19:55 | 8.6085 | 0.0232 | 0.27% |
| Yen / Dollar | 19:59 | 78.3800 | 0.0970 | 0.12% |
| Euro / Dollar | 19:55 | 0.7958 | 0.0016 | 0.20% |
| Dollar / Euro | 19:59 | 1.2560 | -0.0027 | -0.21% |
| Pound / Dollar | 19:55 | 0.6297 | 0.0004 | 0.06% |
Click here for the Sharenet Spot Price page
The JSE Today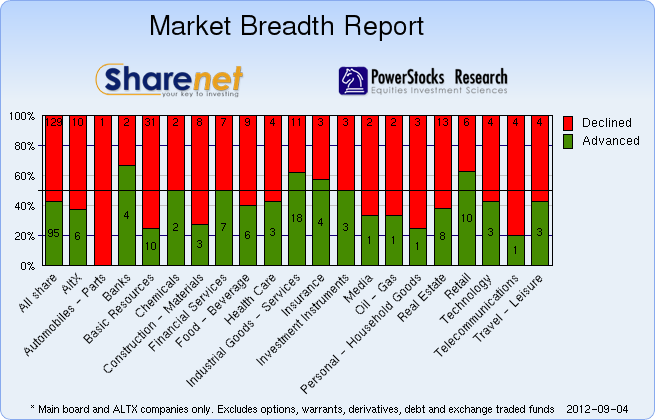 Trading Statistics
| Date | Adv. | Decl. | Unch. | Actives | Volume | Value | Trades | Orders |
| --- | --- | --- | --- | --- | --- | --- | --- | --- |
| 04/09/2012 | 136 | 196 | 81 | 413 | 178,390,233 | R9,043,644,597 | 87193 | 1280836 |
| 03/09/2012 | 228 | 132 | 66 | 426 | 126,770,897 | R6,827,834,991 | 74717 | 1204124 |
| 31/08/2012 | 162 | 169 | 82 | 413 | 211,186,822 | R12,738,115,810 | 111470 | 1680542 |
| 30/08/2012 | 119 | 196 | 64 | 379 | 173,772,900 | R10,169,334,916 | 71176 | 1221551 |
| 29/08/2012 | 164 | 178 | 87 | 429 | 209,860,507 | R9,994,221,777 | 110018 | 1469600 |
* Includes all listed instruments on the JSE
---
---
---
Index Summary
| | | | |
| --- | --- | --- | --- |
| Index Name | RP | Move | % Move |
| Top 40 | 30,884.00 | -342.00 | -1.10% |
| Industrial | 41,995.00 | -305.00 | -0.72% |
| Mid Cap | 51,606.00 | -3.00 | -0.01% |
| Small Cap | 37,964.00 | -56.00 | -0.15% |
| Resource 20 | 45,140.00 | -814.00 | -1.77% |
| Industrial 25 | 35,891.00 | -328.00 | -0.91% |
| Financial 15 | 10,088.00 | -26.00 | -0.26% |
| Financial & Ind. 30 | 39,211.00 | -304.00 | -0.77% |
| All Share | 35,161.00 | -323.00 | -0.91% |
| Oil & Gas | 27,507.00 | -427.00 | -1.53% |
| Mining | 28,599.00 | -509.00 | -1.75% |
| Gold Mining | 2,211.00 | -38.00 | -1.72% |
| Platinum Mining | 45.00 | .00 | -0.43% |
| GENERAL MINING | 7,396.00 | -127.00 | -1.70% |
| Oil & Gas Producers | 14,790.00 | -229.00 | -1.53% |
| Basic Materials | 24,554.00 | -398.00 | -1.60% |
| Chemicals | 15,515.00 | 76.00 | 0.50% |
| Forestry & Paper | 13,834.00 | -87.00 | -0.63% |
| Industrial Metals | 25,488.00 | 37.00 | 0.15% |
| Industrials | 35,229.00 | 36.00 | 0.10% |
| General Industrials | 99.00 | .00 | 0.94% |
| Consumer Goods | 36,521.00 | -450.00 | -1.22% |
| Automobiles & Parts | 6,600.00 | -124.00 | -1.85% |
| Household Goods | 172.00 | -1 | -1.03% |
| Health Care | 48,817.00 | 44.00 | 0.09% |
| Beverages | 126.00 | -1.00 | -1.14% |

| | | | |
| --- | --- | --- | --- |
| Index Name | RP | Move | % Move |
| Food Producers | 64,649.00 | -278.00 | -0.43% |
| Personal Goods | 517.00 | -3.00 | -0.68% |
| Consumer Services | 75,071.00 | -57.00 | -0.08% |
| General Retailers | 63,974.00 | 307.00 | 0.48% |
| Travel & Leisure | 4,266.00 | 34.00 | 0.82% |
| Media | 105.00 | .00 | -0.03% |
| Support Services | 2,116.00 | -5.00 | -0.25% |
| Telecommunications | 75,115.00 | -1264.00 | -1.66% |
| Financials | 27,139.00 | -67.00 | -0.25% |
| Banks | 48,863.00 | 46.00 | 0.10% |
| Non-life Insurance | 44,763.00 | 100.00 | 0.22% |
| Life Insurance | 22,380.00 | -19.00 | -0.09% |
| General Financial | 2,434.00 | -4.00 | -0.20% |
| Technology | 31,382.00 | -220.00 | -0.70% |
| SHARIAH TOP40 | 2,973.00 | -41 | -1.39% |
| FTSE/JSE SHARIAH ALL | 3,106.00 | -38 | -1.21% |
| COAL MINING | 19,048.00 | -16 | -0.09% |
| FTSE JSE Fledgling | 5,562.00 | 23 | 0.43% |
| FTSE/JSE Alt X | 1,047.00 | -3 | -0.31% |
| SA LISTED PROPERTY | 508.00 | | -1.06% |
| CAPPED PROPERTY | 403.00 | | -1.01% |
| RESOURCE | 24,887.00 | -434 | -1.71% |
| DIVIDEND PLUS | 196.00 | 0 | 0.05% |
| FTSE/JSE RAFI 40 | 7,162.00 | -74 | -1.03% |
| Capped Top 40 | 16,320.00 | -177 | -1.07% |
| Capped All Share | 17,789.00 | -162 | -0.91% |
| JSE TABACO | 5,563.00 | -122 | -2.15% |
Click here for the Sharenet Index Summary page
---
Latest Consensus Changes**

| | | | |
| --- | --- | --- | --- |
| Code | Company Name | Status | Updated |
| ANG | ANGLOGOLD ASHANTI LIMITED | BUY | 30/08/2012 |
| GRT | GROWTHPOINT PROPERTIES LI... | HOLD | 30/08/2012 |
| APN | ASPEN PHARMACARE HLDGS | HOLD | 30/08/2012 |
| IMP | IMPALA PLATINUM HOLDINGS ... | BUY | 30/08/2012 |
| WHL | WOOLWORTHS HOLDINGS LIMIT... | HOLD | 30/08/2012 |

Results Expected**

| | | |
| --- | --- | --- |
| Expected | Company Name | Fin. Date |
| 05/09/2012 | 1TIME | June 2012 (Interim) |
| 05/09/2012 | A-V-I | June 2012 (Final) |
| 05/09/2012 | A-V-I-P | June 2012 (Final) |
| 05/09/2012 | AFGRI | June 2012 (Final) |
| 05/09/2012 | AVENG | June 2012 (Final) |
---
Recent Dividends**

| | | | | |
| --- | --- | --- | --- | --- |
| Share Name | Dec-Date | LDT | Pay-Date | Amount |
| DSY B PREF | 04/09/2012 | 14/09/2012 | 25/09/2012 | R 4.1474 |
| STEINHOFF | 04/09/2012 | 23/11/2012 | 03/12/2012 | R 0.8000 |
| SHFINV-PREF | 04/09/2012 | 19/10/2012 | 29/10/2012 | R 3.7000 |
| KAP | 04/09/2012 | 28/09/2012 | 08/10/2012 | R 0.0600 |
| WBHO | 03/09/2012 | 12/10/2012 | 22/10/2012 | R 2.4200 |

Ex Div**

| | | | | |
| --- | --- | --- | --- | --- |
| Share Name | Dec-Date | LDT | Pay-Date | Amount |
| ABSABANK-P | 27/07/2012 | 31/08/2012 | 10/09/2012 | R 31.3470 |
| STANBANK-P | 16/08/2012 | 31/08/2012 | 10/09/2012 | R 3.4555 |
| NEDBANK | 01/08/2012 | 31/08/2012 | 10/09/2012 | R 3.4000 |
| ABSA | 27/07/2012 | 31/08/2012 | 10/09/2012 | R 3.1500 |
| TRUWTHS | 15/08/2012 | 31/08/2012 | 10/09/2012 | R 1.5700 |
---
Upcoming AGMs**

| | | | |
| --- | --- | --- | --- |
| Code | Company Name | Date | Status |
| DTC | Datatec Ltd. | 06/09/2012 | Confirmed |
| RACP | RECM - Calibre Ltd. | 07/09/2012 | Confirmed |
| SSK | Stefanutti Stocks Holdings Ltd. | 07/09/2012 | Confirmed |
| RACC | RECM - Calibre Ltd. | 07/09/2012 | Confirmed |
| AFP | Alexander Forbes Preference Share Invest... | 07/09/2012 | Confirmed |
---
Stock Exchange News Service
Click here for more SENS news
---