Wednesday, 12 March 2014 - 20:00
Charts
Seed Weekly - Emerging Markets ? Starting to Show Value?
As multi managers we are tasked with determining which asset classes are showing the most value and then finding those managers that are best placed to capitalise on the opportunities presented – thereby generating satisfactory risk adjusted returns for our clients.
Asset class, in this context, is an extremely wide term and can be defined as any asset class in any region (or grouping thereof). A few examples include, South African banking companies, global equity, European property, emerging market debt, precious metals, small cap equity, Asian technology companies, etc. As can be seen from the above, asset classes can either be very broadly (global equity) or narrowly (South African banking) defined. We typically allocate into broader asset classes, allowing the underlying manager to find the best opportunities, but there will be times when we'll make a special allocation to a more tightly defined asset class where we see a special opportunity.
Making these kinds of decisions requires a fair amount of research into the relative performance and valuations of the various asset classes, how the returns are correlated with other asset classes in our Funds, prospects for the asset class, whether there are any managers that have shown a proven ability in the specific asset class, etc.
Over the past few years, for instance, our global equity allocation has been allocated purely to high quality, globally branded companies that have delivered excellent – market beating – returns. While the returns have been great, we understand that all good things come to an end, and valuations of these companies are not as attractive as they were in 2011. We are currently in the process of reducing our allocation to high quality companies in favour of more a more cyclical allocation. Also on the radar is whether to move a portion into Emerging Market (EM) equities.
The chart below shows the relative performance of Developed Market (DM) and EM equities since the inception of the EM index (both in US$). The line going up represents EM outperformance and the line heading down represents DM outperformance.
Emerging Market equities have outperformed Developed Markets by 3.6% per annum over this period, but have been underperforming since October 2010. The underperformance has been a combination of high starting relative valuations (in local currency) being de-rated to more normal levels and the vast majority of EM currencies weakening against the US$ over the past 3 years or so. There naturally is risk that Emerging Markets can continue to underperform over the next couple years, but the entry point is getting more attractive both on a currency and a valuation viewpoint.
We are busy with the process of identifying a suitable EM manager and determining when the correct entry point will be, so that when the time is right we are ready to invest!
Take care,
Mike Browne
www.seedinvestments.co.za
info@seedinvestments.co.za
021 914 4966
Wed, 12 Mar 2014
Top News
South African stocks fell just over 1 percent on Wednesday, as concerns about slowing growth in China hit mining companies such as Assore and African Rainbow Minerals.

---

M alaysia's military has traced what could have been the jetliner missing for almost five days to an area south of the Thai holiday island of Phuket, hundreds of miles from its last known position, the country's air force chief said on Wednesday.
World Markets (Spot Prices)
| | | | | |
| --- | --- | --- | --- | --- |
| Name | Time | RP | Move | % Move |
| JSE Overall | 17:00 | 47188.84 | -423.97 | -0.89% |
| JSE Top 40 | 17:00 | 42607.46 | -448.53 | -1.04% |
| JSE Gold | 17:00 | 1594.72 | 21.29 | 1.35% |
| JSE Financial | 17:00 | 33318.37 | -300.38 | -0.89% |
| JSE Industrial | 17:00 | 61888.48 | -498.18 | -0.80% |
| JSE Indust 25 | 17:00 | 54862.02 | -497.40 | -0.90% |
| JSE Resource | 17:00 | 54975.16 | -628.36 | -1.13% |
| DJ Futures | 10/03 | 14331.64 | -100.36 | 0.00% |
| DJ Ind | 19:52 | 16322.77 | -28.48 | -0.17% |
| SP 500 | 20:00 | 1865.08 | -2.55 | -0.14% |
| Nasdaq | 20:00 | 4314.65 | 7.46 | 0.17% |
| FTSE 100 | 18:35 | 6620.90 | -64.62 | -0.97% |
| DAX | 19:08 | 9188.69 | -119.10 | -1.28% |
| CAC40 | 19:08 | 4306.26 | -43.46 | -1.00% |
| Nikkei | 08:38 | 14830.39 | -393.72 | -2.59% |
| Shanghai | 09:28 | 1997.69 | -3.47 | -0.17% |
| Hang-Seng | 10:28 | 21901.95 | -367.66 | -1.65% |
| All Ords | 07:39 | 5400.50 | -28.80 | -0.53% |
| NZSE 50 | 06:48 | 5096.53 | -5.41 | -0.11% |

| | | | | |
| --- | --- | --- | --- | --- |
| Name | Time | RP | Move | % Move |
| Gold $ | 19:59 | 1366.85 | 17.77 | 1.32% |
| Gold R | 19:59 | 14789.03 | 160.95 | 1.10% |
| Gold R/kg | 20:00 | 475499 | 5937 | 1.26% |
| Silver $ | 19:59 | 21.2200 | .3740 | 1.79% |
| Platinum $ | 19:59 | 1473.50 | 14.00 | 0.96% |
| Palladium $ | 19:59 | 774.00 | 7.00 | 0.91% |
| R157 | 16:34 | 7.06 | .03 | 0.43% |
| R186 | 16:34 | 8.60 | .04 | 0.47% |
| R204 | 16:34 | 7.95 | .04 | 0.44% |
| R207 | 16:34 | 8.23 | .03 | 0.37% |
| Brent Crude | 20:00 | 107.88 | -.20 | -0.19% |
| Rand / Dollar | 19:59 | 10.8205 | -0.0229 | -0.21% |
| Rand / Pound | 19:55 | 17.9487 | -0.0488 | -0.27% |
| Rand / Euro | 19:55 | 15.0491 | 0.0145 | 0.10% |
| Rand / NZD | 19:59 | 9.1800 | -0.0078 | -0.08% |
| Rand / AUD | 19:55 | 9.7226 | -0.0178 | -0.18% |
| Yen / Dollar | 19:59 | 102.6560 | -0.3490 | -0.34% |
| Euro / Dollar | 19:59 | 0.7192 | -0.0024 | -0.33% |
| Dollar / Euro | 19:59 | 1.3904 | 0.0047 | 0.34% |
| Pound / Dollar | 19:55 | 0.6015 | -0.0001 | -0.02% |
Click here for the Sharenet Spot Price page
The JSE Today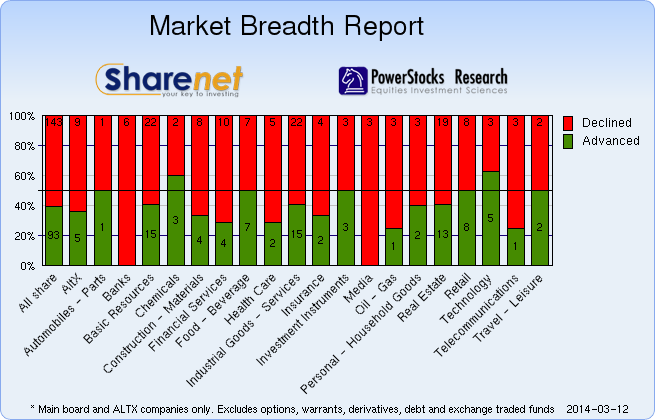 Trading Statistics
| Date | Adv. | Decl. | Unch. | Actives | Volume | Value | Trades | Orders |
| --- | --- | --- | --- | --- | --- | --- | --- | --- |
| 12/03/2014 | 155 | 220 | 61 | 436 | 220,844,039 | R17,299,493,592 | 165145 | 928215 |
| 11/03/2014 | 182 | 168 | 72 | 422 | 209,987,335 | R14,952,123,296 | 162283 | 1195191 |
| 10/03/2014 | 138 | 227 | 65 | 430 | 179,105,164 | R13,929,955,888 | 156002 | 1134524 |
| 07/03/2014 | 188 | 188 | 70 | 446 | 187,641,820 | R14,225,576,507 | 158383 | 348124 |
| 06/03/2014 | 220 | 138 | 58 | 416 | 201,584,426 | R15,537,671,662 | 157346 | 262660 |
* Includes all listed instruments on the JSE
---
---
---
Index Summary
| | | | |
| --- | --- | --- | --- |
| Index Name | RP | Move | % Move |
| Top 40 | 42,607.46 | -448.53 | -1.04% |
| Industrial | 61,888.48 | -498.18 | -0.80% |
| Mid Cap | 58,646.03 | -22.32 | -0.04% |
| Small Cap | 51,067.67 | -82.12 | -0.16% |
| Resource 20 | 54,975.16 | -628.36 | -1.13% |
| Industrial 25 | 54,862.02 | -497.40 | -0.90% |
| Financial 15 | 12,751.39 | -119.81 | -0.93% |
| Financial & Ind. 30 | 57,945.67 | -561.15 | -0.96% |
| All Share | 47,188.84 | -423.97 | -0.89% |
| Oil & Gas | 43,588.55 | -684.09 | -1.55% |
| Mining | 32,794.93 | -319.15 | -0.96% |
| Gold Mining | 1,594.72 | 21.29 | 1.35% |
| Platinum Mining | 49.34 | .12 | 0.24% |
| GENERAL MINING | 9,342.06 | -138.52 | -1.46% |
| Oil & Gas Producers | 23,436.76 | -367.82 | -1.55% |
| Basic Materials | 29,193.39 | -241.71 | -0.82% |
| Chemicals | 24,149.20 | -.73 | -0.00% |
| Forestry & Paper | 33,150.85 | 140.43 | 0.43% |
| Industrial Metals | 20,864.49 | 30.24 | 0.15% |
| Industrials | 41,546.77 | -69.73 | -0.17% |
| General Industrials | 130.41 | -.10 | -0.08% |
| Consumer Goods | 56,758.55 | -545.85 | -0.95% |
| Automobiles & Parts | 9,805.11 | -13.58 | -0.14% |
| Household Goods | 361.61 | -5 | -1.30% |
| Health Care | 72,957.12 | -425.52 | -0.58% |
| Beverages | 175.82 | -2.86 | -1.60% |

| | | | |
| --- | --- | --- | --- |
| Index Name | RP | Move | % Move |
| Food Producers | 63,800.14 | -179.10 | -0.28% |
| Personal Goods | 1,049.40 | -8.69 | -0.82% |
| Consumer Services | 11,872.06 | -161.95 | -1.35% |
| General Retailers | 55,739.77 | -5.76 | -0.01% |
| Travel & Leisure | 5,310.69 | 4.42 | 0.08% |
| Media | 289.16 | -6.33 | -2.14% |
| Support Services | 2,617.41 | -5.00 | -0.19% |
| Telecommunications | 9,736.94 | -33.75 | -0.35% |
| Financials | 33,318.37 | -300.38 | -0.89% |
| Banks | 55,536.99 | -902.90 | -1.60% |
| Non-life Insurance | 49,026.45 | 503.63 | 1.04% |
| Life Insurance | 32,636.92 | -270.52 | -0.82% |
| General Financial | 3,325.63 | -21.55 | -0.64% |
| Technology | 43,618.64 | 161.32 | 0.37% |
| SHARIAH TOP40 | 4,058.78 | -40 | -0.97% |
| FTSE/JSE SHARIAH ALL | 4,155.33 | -32 | -0.77% |
| COAL MINING | 17,922.22 | 161 | 0.90% |
| FTSE JSE Fledgling | 6,577.28 | 4 | 0.07% |
| FTSE/JSE Alt X | 1,196.31 | -1 | -0.09% |
| SA LISTED PROPERTY | 475.62 | | -0.55% |
| CAPPED PROPERTY | 418.89 | | -0.31% |
| RESOURCE | 30,116.42 | -327 | -1.07% |
| DIVIDEND PLUS | 204.28 | -1 | -0.34% |
| FTSE/JSE RAFI 40 | 9,382.73 | -83 | -0.87% |
| Capped Top 40 | 22,563.53 | -234 | -1.03% |
| Capped All Share | 23,895.92 | -213 | -0.89% |
| JSE TABACO | 7,460.45 | 26 | 0.35% |
Click here for the Sharenet Index Summary page
---
Latest Consensus Changes**

| | | | |
| --- | --- | --- | --- |
| Code | Company Name | Status | Updated |
| BIL | BHP BILLITON PLC | BUY | 10/03/2014 |
| RMH | RMB HOLDINGS LIMITED | HOLD | 10/03/2014 |
| FSR | FIRSTRAND LIMITED | BUY | 10/03/2014 |
| BVT | THE BIDVEST GROUP LIMITED | HOLD | 10/03/2014 |
| IPL | IMPERIAL HOLDINGS LTD | SELL | 10/03/2014 |

Results Expected**

| | | |
| --- | --- | --- |
| Expected | Company Name | Fin. Date |
| 13/03/2014 | AFGRI | December 2013 (Interim) |
| 13/03/2014 | EASTPLATS | December 2013 (Final) |
| 13/03/2014 | EHSV | December 2013 (Final) |
| 13/03/2014 | ELBGROUP | December 2013 (Interim) |
| 13/03/2014 | ELBGROUP6 | December 2013 (Interim) |
---
Recent Dividends**

| | | | | |
| --- | --- | --- | --- | --- |
| Share Name | Dec-Date | LDT | Pay-Date | Amount |
| SASFIN-P | 11/03/14 | 28/03/14 | 07/04/14 | ZAR 3.5351 |
| SASFIN | 11/03/14 | 04/04/14 | 14/04/14 | ZAR 0.6534 |
| ILIAD | 11/03/14 | 23/04/14 | 05/05/14 | ZAR 0.2000 |
| JSE | 11/03/14 | 23/05/14 | 02/06/14 | ZAR 0.5000 |
| JSE | 11/03/14 | 23/05/14 | 02/06/14 | ZAR 3.5000 |

Ex Div**

| | | | | |
| --- | --- | --- | --- | --- |
| Share Name | Dec-Date | LDT | Pay-Date | Amount |
| KUMBA | 11/02/14 | 07/03/14 | 17/03/14 | ZAR 19.9400 |
| DSY B PREF | 20/02/14 | 07/03/14 | 17/03/14 | ZAR 4.2849 |
| TRUWTHS | 20/02/14 | 07/03/14 | 17/03/14 | ZAR 2.1600 |
| TRANSCAP | 17/02/14 | 07/03/14 | 17/03/14 | ZAR 2.1000 |
| CITYLDG | 13/02/14 | 07/03/14 | 17/03/14 | ZAR 2.0200 |
---
Upcoming AGMs**

| | | | |
| --- | --- | --- | --- |
| Code | Company Name | Date | Status |
| REB | Rebosis Property Fund Ltd. | 19/03/2014 | Confirmed |
---
Stock Exchange News Service
Click here for more SENS news
---