Wednesday, 17 October 2012 - 20:00
Charts
Slowing Global Growth
Last week, the IMF (International Monetary Fund) released updated world growth forecasts in their detailed World Economic Outlook report. Expected growth for 2012 has been reduced to 3.3%, down from 3.5% in their July forecast, which in turn was down from their April forecast. This is due to low growth and uncertainty in advanced economies affecting emerging and developing economies. Their projection is for advanced economies to grow by 1.3% compared to 1.6% last year and 3% in 2010.

These forecasts rest on some assumptions – the important ones being that European policymakers will adopt policies that will ease financial conditions in affected countries and in the US policymakers will be able to prevent a major negative impact of the looming tax increases and spending cuts – the so called fiscal cliff.

Emerging and developing countries are expected to grow by 5.3% from 6.2% in 2011 and 7.4% in 2010. China's growth is expected to come in at 7.8% compared to 10.4% in 2010. The report makes the note that there is a 1 in 6 chance of global growth falling below 2%.

Everything being equal, lower economic growth forecasts are negative for markets, but we have noted before the low annual correlation between a country's specific GDP and its market return. It is important to look at all the components of return that make up the total return. These are:

• The dividends received;
• Growth in earnings which can translate into higher dividends; and
• The change in the valuation of those earnings.

Dividends are the most stable component of total return. This is especially the case in times of slower economic growth. A growing company will be able to grow earnings and hence its dividends, being the second component of total return. Thirdly an important, but by far the least predictable, element of total return is the valuation of those earnings.

The chart below reflects total return from the US market per decade from 1926, splitting between the dividends and capital (growth and change in valuations). The period 2000-2011 was a low growth period, not because companies did not grow their earnings, but because starting dividend yields were low and valuations were very high.
Equity returns by decade: Dividends and Capital Appreciation
Source: Pimco, Standard and Poor

Historically US shares have produced around a 6.6% real return. Pimco's view is that in a lower growth environment, this is likely to come down to around 3% - 4%, with most of this return derived from dividends. In order to boost this, active management becomes even more crucial as does looking for growth in companies that are expanding into emerging markets.

Kind regards,

Ian de Lange
www.seedinvestments.co.za
info@seedinvestments.co.za
021 914 4966
Wed, 17 Oct 2012
Top News
South Africa's benchmark stock index closed above 33,000 for the first time in its 17-year history on Wednesday, booking a record close for the third straight day as investors piled into oversold mining firms such as Anglo American.

---
World Markets (Spot Prices)
| | | | | |
| --- | --- | --- | --- | --- |
| Name | Time | RP | Move | % Move |
| JSE Overall | 17:00 | 37274.68 | 300.00 | 0.81% |
| JSE Top 40 | 17:00 | 33037.18 | 270.00 | 0.82% |
| JSE Gold | 17:00 | 2432.35 | -22.00 | -0.92% |
| JSE Financial | 17:00 | 27503.84 | 166.00 | 0.61% |
| JSE Industrial | 17:00 | 43602.74 | 93.00 | 0.22% |
| JSE Indust 25 | 17:00 | 37406.95 | 64.00 | 0.17% |
| JSE Resource | 17:00 | 51219.88 | 970.00 | 1.93% |
| DJ Futures | 20:00 | 13465.00 | 9.00 | 0.07% |
| DJ Ind | 20:00 | 13521.26 | -30.52 | -0.23% |
| SP 500 | 20:00 | 1457.51 | 2.59 | 0.18% |
| Nasdaq | 20:00 | 3097.18 | -3.99 | -0.13% |
| FTSE 100 | 17:35 | 5910.91 | 40.37 | 0.69% |
| DAX | 18:10 | 7394.55 | 133.30 | 1.84% |
| CAC40 | 18:10 | 3527.50 | 26.56 | 0.76% |
| Nikkei | 08:10 | 8806.55 | 105.24 | 1.21% |
| Shanghai | 09:28 | 2105.62 | 6.81 | 0.32% |
| Hang-Seng | 10:28 | 21416.64 | 209.57 | 0.99% |
| All Ords | 07:57 | 4550.90 | 37.00 | 0.82% |
| NZSE 50 | 06:48 | 3965.18 | 24.48 | 0.62% |

| | | | | |
| --- | --- | --- | --- | --- |
| Name | Time | RP | Move | % Move |
| Gold $ | 19:59 | 1750.60 | 4.25 | 0.24% |
| Gold R | 20:00 | 15053.93 | -136.87 | -0.90% |
| Gold R/kg | 20:00 | 483984 | -3892 | -0.80% |
| Silver $ | 19:59 | 33.2100 | .2500 | 0.76% |
| Platinum $ | 19:59 | 1662.00 | 25.10 | 1.53% |
| Palladium $ | 19:59 | 650.30 | 14.40 | 2.26% |
| R157 | 15/10 | 5.42 | -.06 | 0.00% |
| R204 | 15/10 | 6.24 | -.05 | 0.00% |
| Brent Crude | 20:00 | 114.40 | -.67 | -0.58% |
| Rand / Dollar | 19:59 | 8.5993 | -0.0993 | -1.14% |
| Rand / Pound | 19:55 | 13.8611 | -0.1282 | -0.92% |
| Rand / Euro | 19:55 | 11.2865 | -0.1038 | -0.91% |
| Rand / NZD | 19:58 | 7.0663 | -0.0439 | -0.62% |
| Rand / AUD | 19:55 | 8.9215 | -0.0368 | -0.41% |
| Yen / Dollar | 19:59 | 78.8800 | 0.0020 | 0.00% |
| Euro / Dollar | 19:55 | 0.7617 | -0.0015 | -0.20% |
| Dollar / Euro | 19:58 | 1.3122 | 0.0028 | 0.21% |
| Pound / Dollar | 19:55 | 0.6188 | -0.0013 | -0.21% |
Click here for the Sharenet Spot Price page
The JSE Today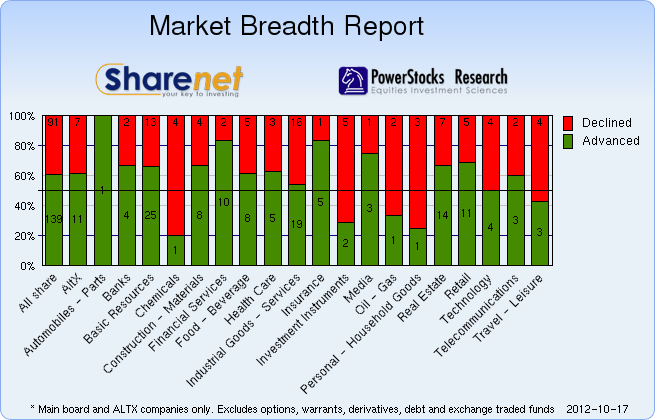 Trading Statistics
| Date | Adv. | Decl. | Unch. | Actives | Volume | Value | Trades | Orders |
| --- | --- | --- | --- | --- | --- | --- | --- | --- |
| 17/10/2012 | 223 | 137 | 68 | 428 | 253,908,826 | R12,707,927,233 | 117357 | 1584005 |
| 16/10/2012 | 245 | 107 | 74 | 426 | 203,911,468 | R12,344,334,946 | 124238 | 1791258 |
| 15/10/2012 | 199 | 142 | 78 | 419 | 180,692,266 | R8,076,655,372 | 87769 | 1722228 |
| 12/10/2012 | 163 | 166 | 71 | 400 | 182,897,732 | R8,727,080,707 | 92897 | 1960990 |
| 11/10/2012 | 216 | 149 | 69 | 434 | 208,149,684 | R12,194,010,947 | 113074 | 405810 |
* Includes all listed instruments on the JSE
---
---
---
Index Summary
| | | | |
| --- | --- | --- | --- |
| Index Name | RP | Move | % Move |
| Top 40 | 33,037.00 | 270.00 | 0.82% |
| Industrial | 43,602.00 | 93.00 | 0.22% |
| Mid Cap | 52,425.00 | 470.00 | 0.91% |
| Small Cap | 38,327.00 | -21.00 | -0.06% |
| Resource 20 | 51,219.00 | 970.00 | 1.93% |
| Industrial 25 | 37,406.00 | 64.00 | 0.17% |
| Financial 15 | 10,224.00 | 61.00 | 0.61% |
| Financial & Ind. 30 | 40,635.00 | 100.00 | 0.25% |
| All Share | 37,274.00 | 300.00 | 0.81% |
| Oil & Gas | 29,009.00 | 64.00 | 0.22% |
| Mining | 32,793.00 | 707.00 | 2.20% |
| Gold Mining | 2,432.00 | -22.00 | -0.92% |
| Platinum Mining | 52.00 | 2.00 | 4.68% |
| GENERAL MINING | 8,567.00 | 235.00 | 2.83% |
| Oil & Gas Producers | 15,598.00 | 35.00 | 0.23% |
| Basic Materials | 28,040.00 | 557.00 | 2.03% |
| Chemicals | 15,471.00 | -14.00 | -0.09% |
| Forestry & Paper | 16,633.00 | -108.00 | -0.65% |
| Industrial Metals | 26,668.00 | 354.00 | 1.35% |
| Industrials | 35,486.00 | 255.00 | 0.72% |
| General Industrials | 102.00 | 2.00 | 2.03% |
| Consumer Goods | 37,966.00 | -218.00 | -0.57% |
| Automobiles & Parts | 6,958.00 | 52.00 | 0.76% |
| Household Goods | 185.00 | -1 | -0.71% |
| Health Care | 51,148.00 | 669.00 | 1.33% |
| Beverages | 126.00 | -1.00 | -1.48% |

| | | | |
| --- | --- | --- | --- |
| Index Name | RP | Move | % Move |
| Food Producers | 65,956.00 | 902.00 | 1.39% |
| Personal Goods | 576.00 | 4.00 | 0.87% |
| Consumer Services | 79,642.00 | 517.00 | 0.65% |
| General Retailers | 64,991.00 | 528.00 | 0.82% |
| Travel & Leisure | 4,344.00 | 1.00 | 0.05% |
| Media | 120.00 | 1.00 | 0.99% |
| Support Services | 2,228.00 | 18.00 | 0.85% |
| Telecommunications | 75,120.00 | 651.00 | 0.88% |
| Financials | 27,503.00 | 166.00 | 0.61% |
| Banks | 48,216.00 | 280.00 | 0.59% |
| Non-life Insurance | 47,979.00 | 125.00 | 0.26% |
| Life Insurance | 23,954.00 | 121.00 | 0.51% |
| General Financial | 2,481.00 | 35.00 | 1.47% |
| Technology | 34,048.00 | -221.00 | -0.65% |
| SHARIAH TOP40 | 3,279.00 | 48 | 1.51% |
| FTSE/JSE SHARIAH ALL | 3,385.00 | 47 | 1.43% |
| COAL MINING | 21,957.00 | 622 | 2.92% |
| FTSE JSE Fledgling | 5,537.00 | 6 | 0.12% |
| FTSE/JSE Alt X | 1,142.00 | 8 | 0.76% |
| SA LISTED PROPERTY | 487.00 | | 0.77% |
| CAPPED PROPERTY | 395.00 | | 0.59% |
| RESOURCE | 28,170.00 | 526 | 1.90% |
| DIVIDEND PLUS | 202.00 | 2 | 1.20% |
| FTSE/JSE RAFI 40 | 7,590.00 | 60 | 0.81% |
| Capped Top 40 | 17,411.00 | 137 | 0.79% |
| Capped All Share | 18,848.00 | 149 | 0.80% |
| JSE TABACO | 5,764.00 | -74 | -1.28% |
Click here for the Sharenet Index Summary page
---
Latest Consensus Changes**

| | | | |
| --- | --- | --- | --- |
| Code | Company Name | Status | Updated |
| MTN | MTN GROUP LIMITED | BUY | 15/10/2012 |
| AIP | ADCOCK INGRAM HLGS LD | HOLD | 11/10/2012 |
| DSY | DISCOVERY HOLDINGS LIMITE... | HOLD | 11/10/2012 |
| SAB | SABMILLER PLC | HOLD | 10/10/2012 |
| VOD | VODACOM GROUP LIMITED | HOLD | 10/10/2012 |

Results Expected**

| | | |
| --- | --- | --- |
| Expected | Company Name | Fin. Date |
| 19/10/2012 | ANSYS | August 2012 (Interim) |
| 19/10/2012 | JUBILEE | June 2012 (Final) |
| 19/10/2012 | OASIS | September 2012 (Interim) |
| 19/10/2012 | PSV | August 2012 (Interim) |
| 22/10/2012 | FAMBRANDS | August 2012 (Interim) |
---
Recent Dividends**

| | | | | |
| --- | --- | --- | --- | --- |
| Share Name | Dec-Date | LDT | Pay-Date | Amount |
| VALUE | 16/10/2012 | 11/01/2013 | 21/01/2013 | R 0.0800 |
| AFROC-P | 12/10/2012 | 07/12/2012 | 18/12/2012 | R 0.2980 |
| AFRO-C | 12/10/2012 | 07/12/2012 | 18/12/2012 | R 0.1050 |
| CMH | 11/10/2012 | 07/12/2012 | 18/12/2012 | R 0.2500 |
| BARWORLD6%P | 09/10/2012 | 26/10/2012 | 09/11/2012 | R 0.0600 |

Ex Div**

| | | | | |
| --- | --- | --- | --- | --- |
| Share Name | Dec-Date | LDT | Pay-Date | Amount |
| WBHO | 03/09/2012 | 12/10/2012 | 22/10/2012 | R 2.4200 |
| CAPITEC | 26/09/2012 | 12/10/2012 | 22/10/2012 | R 1.6900 |
| JDGROUP | 27/08/2012 | 12/10/2012 | 22/10/2012 | R 1.3200 |
| RAINBOW | 28/08/2012 | 12/10/2012 | 22/10/2012 | R 0.3200 |
| FONEWORX | 28/09/2012 | 12/10/2012 | 22/10/2012 | R 0.0700 |
---
Upcoming AGMs**

| | | | |
| --- | --- | --- | --- |
| Code | Company Name | Date | Status |
| DST | Distell Group Ltd. | 17/10/2012 | Confirmed |
| CVH | Capevin Holdings Ltd. | 18/10/2012 | Confirmed |
| PGR | Peregrine Holdings Ltd. | 18/10/2012 | Unconfirmed |
| TSH | Tsogo Sun Holdings Ltd. | 18/10/2012 | Confirmed |
| AFR | AFGRI Ltd. | 19/10/2012 | Confirmed |
---
Stock Exchange News Service
Click here for more SENS news
---