Tuesday, 16 October 2012 - 20:00
Charts
Currency Fair Value
Where the rand is trading on any given day versus a range of other currencies is a very topical subject, with almost everyone having their opinion on where it should be trading, where they think it will go, and the reasons for its more recent moves.
Like most financial instruments, one can arrive at a fair value for a currency against either a single currency, or a basket of currencies, through a number of methods. While a fair value can be calculated it doesn't mean that the currency will immediately move to the fair value, it can take up to 10 years (or in certain cases even longer) to revert to fair value. When using longer term valuation techniques, rather than shorter term 'signals', it is important to have a long term view, otherwise short term forex gyrations can result in decisions that will destroy capital.
At Seed we make use of the Purchasing Power Parity (PPP) method to determine the fair value of the rand. This method is based on the assumption that in a perfect world, goods and services should cost the same in whatever market (country) they trade in, when taking into account the current exchange rates. Where there is a mismatch between prices, arbitrage will take place and the laws of supply and demand will ensure that the exchange rates will move to reflect the mismatch in pricing, bringing the prices between the two regions into equilibrium.
Naturally we don't live in a perfect world. Each country has its own competitive advantages, there are costs involved in transporting any good or service, countries have foreign reserves and other measures to manipulate the exchange rate, there are taxes and levies imposed by governments, and in more repressive regimes laws are created to restrict trade of goods and services. PPP will therefore not work 100%, but over time will give a good idea of where the currency should be trading. Over time this 'fair value' acts as a magnet that helps to anchor an exchange rate around the fair value.
The chart below shows the 'fair value' of the rand versus the US dollar over the past 28 years. It is clear in the chart that while the rand doesn't spend much time at fair value, the ZARUSD PPP fair value exchange rate does provide an anchor to the exchange rate at any point in time. At the end of 2001 and 2008 the model indicated that it was a good time to be reducing exposure to the USD and at the end of 2004 and 2010 it was a good time to be accumulating USD.
By using this method to determine fair value, one would have been too early in bringing forex back at the end of 2000, but this decision would have paid off on a 4 year horizon with the rand strengthening from R7.60/USD to R5.60/USD from the end of 2000 to the end of 2004.
The current rand weakness (from R8.30/USD at the end of September to R8.75/USD currently) has only brought the rand closer to fair value which we estimate sits between R8.85/USD and R9.00/USD. Naturally there is the risk that the currency continues to weaken through fair value, but we use this tool to assist in our decisions on when to send currency offshore and when to repatriate it.
Take care,
Mike Browne
www.seedinvestments.co.za
info@seedinvestments.co.za
021 914 4966
Tue, 16 Oct 2012
Top News
Revenue for the interim period increased by 10% to R936.1 million (2011: R847.3 million). Gross profit rose by 10% to R385.4 million (2011: R351.1 million), operating profit climbed slightly by 3% to R69.7 million (2011: R67.8 million), while net profit for the period for the period lowered

---
World Markets (Spot Prices)
| | | | | |
| --- | --- | --- | --- | --- |
| Name | Time | RP | Move | % Move |
| JSE Overall | 17:00 | 36974.24 | 354.00 | 0.97% |
| JSE Top 40 | 17:00 | 32767.23 | 310.00 | 0.96% |
| JSE Gold | 17:00 | 2455.91 | 40.00 | 1.69% |
| JSE Financial | 17:00 | 27337.46 | 379.00 | 1.41% |
| JSE Industrial | 17:00 | 43509.18 | 312.00 | 0.72% |
| JSE Indust 25 | 17:00 | 37342.71 | 246.00 | 0.67% |
| JSE Resource | 17:00 | 50249.08 | 550.00 | 1.11% |
| DJ Futures | 19:58 | 13480.00 | 121.00 | 0.91% |
| DJ Ind | 19:58 | 13549.39 | 125.16 | 0.93% |
| SP 500 | 19:58 | 1454.35 | 14.22 | 0.99% |
| Nasdaq | 19:58 | 3096.42 | 32.24 | 1.05% |
| FTSE 100 | 17:35 | 5870.54 | 64.93 | 1.12% |
| DAX | 18:08 | 7376.27 | 143.78 | 1.99% |
| CAC40 | 18:08 | 3500.94 | 80.66 | 2.36% |
| Nikkei | 08:30 | 8701.31 | 123.38 | 1.44% |
| Shanghai | 09:28 | 2098.81 | .11 | 0.01% |
| Hang-Seng | 10:32 | 21207.07 | 58.82 | 0.28% |
| All Ords | 07:40 | 4513.90 | 8.40 | 0.19% |
| NZSE 50 | 06:48 | 3940.70 | 24.33 | 0.62% |

| | | | | |
| --- | --- | --- | --- | --- |
| Name | Time | RP | Move | % Move |
| Gold $ | 19:58 | 1744.77 | 8.37 | 0.48% |
| Gold R | 19:58 | 15206.54 | -67.62 | -0.44% |
| Gold R/kg | 19:58 | 488540 | -2302 | -0.47% |
| Silver $ | 19:58 | 32.8500 | .1660 | 0.51% |
| Platinum $ | 19:58 | 1636.25 | -6.35 | -0.39% |
| Palladium $ | 19:58 | 636.70 | 8.90 | 1.42% |
| R157 | 15/10 | 5.42 | -.06 | -1.11% |
| R204 | 15/10 | 6.24 | -.05 | -0.80% |
| Brent Crude | 19:58 | 115.39 | -.41 | -0.35% |
| Rand / Dollar | 19:58 | 8.7147 | -0.0817 | -0.93% |
| Rand / Pound | 19:55 | 14.0152 | -0.0951 | -0.67% |
| Rand / Euro | 19:55 | 11.3704 | -0.0227 | -0.20% |
| Rand / NZD | 19:58 | 7.0920 | -0.0876 | -1.22% |
| Rand / AUD | 19:55 | 8.9553 | -0.0682 | -0.76% |
| Yen / Dollar | 19:58 | 78.8690 | 0.1880 | 0.24% |
| Euro / Dollar | 19:58 | 0.7664 | -0.0059 | -0.76% |
| Dollar / Euro | 19:58 | 1.3046 | 0.0100 | 0.77% |
| Pound / Dollar | 19:55 | 0.6202 | -0.0017 | -0.27% |
Click here for the Sharenet Spot Price page
The JSE Today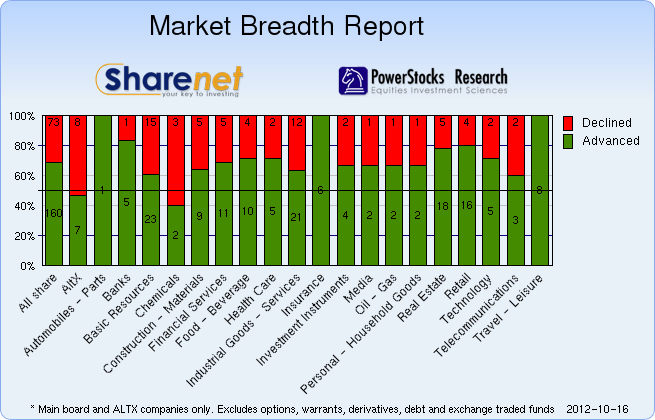 Trading Statistics
| Date | Adv. | Decl. | Unch. | Actives | Volume | Value | Trades | Orders |
| --- | --- | --- | --- | --- | --- | --- | --- | --- |
| 16/10/2012 | 245 | 107 | 74 | 426 | 203,911,468 | R12,344,334,946 | 124238 | 1791258 |
| 15/10/2012 | 199 | 142 | 78 | 419 | 180,692,266 | R8,076,655,372 | 87769 | 1722228 |
| 12/10/2012 | 163 | 166 | 71 | 400 | 182,897,732 | R8,727,080,707 | 92897 | 1960990 |
| 11/10/2012 | 216 | 149 | 69 | 434 | 208,149,684 | R12,194,010,947 | 113074 | 405810 |
| 10/10/2012 | 156 | 190 | 75 | 421 | 206,404,126 | R11,428,160,749 | 119169 | 1996502 |
* Includes all listed instruments on the JSE
---
---
---
Index Summary
| | | | |
| --- | --- | --- | --- |
| Index Name | RP | Move | % Move |
| Top 40 | 32,767.00 | 310.00 | 0.96% |
| Industrial | 43,509.00 | 312.00 | 0.72% |
| Mid Cap | 51,955.00 | 559.00 | 1.09% |
| Small Cap | 38,349.00 | 273.00 | 0.72% |
| Resource 20 | 50,249.00 | 550.00 | 1.11% |
| Industrial 25 | 37,342.00 | 246.00 | 0.67% |
| Financial 15 | 10,163.00 | 145.00 | 1.45% |
| Financial & Ind. 30 | 40,535.00 | 354.00 | 0.88% |
| All Share | 36,974.00 | 354.00 | 0.97% |
| Oil & Gas | 28,945.00 | 242.00 | 0.84% |
| Mining | 32,086.00 | 351.00 | 1.11% |
| Gold Mining | 2,455.00 | 40.00 | 1.69% |
| Platinum Mining | 50.00 | 1.00 | 3.86% |
| GENERAL MINING | 8,332.00 | 66.00 | 0.80% |
| Oil & Gas Producers | 15,563.00 | 130.00 | 0.85% |
| Basic Materials | 27,483.00 | 316.00 | 1.16% |
| Chemicals | 15,486.00 | 164.00 | 1.07% |
| Forestry & Paper | 16,742.00 | 277.00 | 1.68% |
| Industrial Metals | 26,314.00 | 517.00 | 2.01% |
| Industrials | 35,231.00 | 396.00 | 1.14% |
| General Industrials | 100.00 | .00 | 0.93% |
| Consumer Goods | 38,185.00 | 205.00 | 0.54% |
| Automobiles & Parts | 6,906.00 | 95.00 | 1.40% |
| Household Goods | 187.00 | 1 | 0.71% |
| Health Care | 50,479.00 | 52.00 | 0.10% |
| Beverages | 128.00 | .00 | 0.16% |

| | | | |
| --- | --- | --- | --- |
| Index Name | RP | Move | % Move |
| Food Producers | 65,054.00 | 706.00 | 1.10% |
| Personal Goods | 572.00 | 7.00 | 1.38% |
| Consumer Services | 79,125.00 | 1662.00 | 2.15% |
| General Retailers | 64,463.00 | 1693.00 | 2.70% |
| Travel & Leisure | 4,343.00 | 11.00 | 0.25% |
| Media | 119.00 | 2.00 | 2.46% |
| Support Services | 2,210.00 | -38.00 | -1.70% |
| Telecommunications | 74,469.00 | -1239.00 | -1.64% |
| Financials | 27,337.00 | 379.00 | 1.41% |
| Banks | 47,936.00 | 591.00 | 1.25% |
| Non-life Insurance | 47,854.00 | 809.00 | 1.72% |
| Life Insurance | 23,833.00 | 427.00 | 1.83% |
| General Financial | 2,446.00 | 40.00 | 1.70% |
| Technology | 34,270.00 | 435.00 | 1.29% |
| SHARIAH TOP40 | 3,231.00 | 24 | 0.75% |
| FTSE/JSE SHARIAH ALL | 3,338.00 | 25 | 0.76% |
| COAL MINING | 21,335.00 | 8 | 0.04% |
| FTSE JSE Fledgling | 5,531.00 | -11 | -0.20% |
| FTSE/JSE Alt X | 1,134.00 | 14 | 1.33% |
| SA LISTED PROPERTY | 484.00 | | 1.11% |
| CAPPED PROPERTY | 393.00 | | 1.06% |
| RESOURCE | 27,644.00 | 292 | 1.07% |
| DIVIDEND PLUS | 200.00 | 2 | 1.45% |
| FTSE/JSE RAFI 40 | 7,530.00 | 70 | 0.94% |
| Capped Top 40 | 17,274.00 | 166 | 0.97% |
| Capped All Share | 18,699.00 | 179 | 0.97% |
| JSE TABACO | 5,839.00 | -1 | -0.02% |
Click here for the Sharenet Index Summary page
---
Latest Consensus Changes**

| | | | |
| --- | --- | --- | --- |
| Code | Company Name | Status | Updated |
| MTN | MTN GROUP LIMITED | BUY | 12/10/2012 |
| AIP | ADCOCK INGRAM HLGS LD | HOLD | 11/10/2012 |
| DSY | DISCOVERY HOLDINGS LIMITE... | HOLD | 11/10/2012 |
| SAB | SABMILLER PLC | HOLD | 10/10/2012 |
| VOD | VODACOM GROUP LIMITED | HOLD | 10/10/2012 |

Results Expected**

| | | |
| --- | --- | --- |
| Expected | Company Name | Fin. Date |
| 17/10/2012 | ALERT | June 2012 (Final) |
| 17/10/2012 | DATATEC | August 2012 (Interim) |
| 17/10/2012 | ODERSON | August 2012 (Interim) |
| 17/10/2012 | OSIRIS | August 2012 (Final) |
| 19/10/2012 | ANSYS | August 2012 (Interim) |
---
Recent Dividends**

| | | | | |
| --- | --- | --- | --- | --- |
| Share Name | Dec-Date | LDT | Pay-Date | Amount |
| AFRO-C | 12/10/2012 | 07/12/2012 | 18/12/2012 | R 0.1050 |
| AFROC-P | 12/10/2012 | 07/12/2012 | 18/12/2012 | R 0.2980 |
| CMH | 11/10/2012 | 07/12/2012 | 18/12/2012 | R 0.2500 |
| HOLDSPORT | 09/10/2012 | 23/11/2012 | 03/12/2012 | R 0.7000 |
| BARWORLD6%P | 09/10/2012 | 26/10/2012 | 09/11/2012 | R 0.0600 |

Ex Div**

| | | | | |
| --- | --- | --- | --- | --- |
| Share Name | Dec-Date | LDT | Pay-Date | Amount |
| WBHO | 03/09/2012 | 12/10/2012 | 22/10/2012 | R 2.4200 |
| CAPITEC | 26/09/2012 | 12/10/2012 | 22/10/2012 | R 1.6900 |
| JDGROUP | 27/08/2012 | 12/10/2012 | 22/10/2012 | R 1.3200 |
| RAINBOW | 28/08/2012 | 12/10/2012 | 22/10/2012 | R 0.3200 |
| FONEWORX | 28/09/2012 | 12/10/2012 | 22/10/2012 | R 0.0700 |
---
Upcoming AGMs**

| | | | |
| --- | --- | --- | --- |
| Code | Company Name | Date | Status |
| DST | Distell Group Ltd. | 17/10/2012 | Confirmed |
| CVH | Capevin Holdings Ltd. | 18/10/2012 | Confirmed |
| TSH | Tsogo Sun Holdings Ltd. | 18/10/2012 | Confirmed |
| PGR | Peregrine Holdings Ltd. | 18/10/2012 | Unconfirmed |
| AFR | AFGRI Ltd. | 19/10/2012 | Confirmed |
---
Stock Exchange News Service
Click here for more SENS news
---