Tuesday, 10 November 2015 - 20:00
Charts
Seed Weekly - Income versus Wealth
We live in a world of instant information, media hype and instant gratification. Advertising, movies, and television shows show lifestyles of "normal people" with hyper consumption and extravagant lifestyles, unfortunately these lifestyles are out of sync with a "normal person's" income. Because of this people have become confused between income and wealth.
As a financial planner I get to see the full picture of a person's finance that includes their income, assets, and liabilities. In the last 20 years I have seen that there is often very little correlation between a person's income and the amount of net assets "wealth" that they have managed to accumulate. I have just finished reading "The Millionaire Next Door" (Stanley and Danko) which confirms my experience. This book highlights the difference between income generation and wealth creation and I highly recommend it.
One of the main problems with wealth creation is that it is very difficult to see how much a person is worth. People do not walk around with their balance sheet strapped to their arm or drive a balance sheet. Juxtaposed to this, consumption is shown to the world, fancy cars, fancy holidays, over mortgaged houses, expensive watches and clothes are all symbols of "wealth" and I often find that people who show the most signs of "wealth" are actually hyper consumers with high levels of income but with a much lower net asset value than what could be expected given their age and income levels.
Whilst there are many reasons for this lack of wealth accumulation, it basically boils down to spending all, and sometimes more than, your income. No matter how high your income is, if you are spending all of your income you will never become wealthy. We need to also define wealthy, my definition is to look at your net asset value versus your annual expenditure. Once you have more than twenty times your annual expenditure in net assets, you can start considering yourself to be wealthy. If somebody's assets are worth R 10 000 000 but spends R 5 000 000 per year, that person is not wealthy, but if somebody's assets are worth R 5 000 000 and their annual expenditure is R 200 000 per year then you could definitely consider them to be wealthy.
In my experience there are two major stumbling blocks to wealth creation. Firstly, and most importantly, people failing to budget. If you do not control your expenditure and you spend everything or more than you earn, you will never be able to accumulate wealth. For those of us unlucky enough not to win the lottery, we have to save and invest wisely to create wealth. Please also note that wealth is your net asset value which means that having assets with large liabilities linked to them do not create wealth.
They say that the road to hell is paved with good intentions, unfortunately the road to financial freedom has many potholes. One of the most common "potholes" is that people (especially younger people) start off with good intentions of saving but because their income is low the amount that they are saving is not much. When they look at the growth on their investment after a year or two they become despondent with the "terrible growth" and rather just spend their money.
This is especially so when a monthly amount is invested because people tend to forget that only one instalment has been invested for the entire investment term. So if you invested R 100 per month and achieved a 10% return it would still only be R 1 267 at the end of the year. Unfortunately people get disillusioned with the 'low" returns in the initial stages of the investment and do not let the effect of compound interest help them grow their wealth. Psychologically 10% on R 10 000 000 is a lot more than 10% on R 1 000, we do however tend to forget that it is still 10%.
The first port of call is to draw up a budget that sets sufficient income aside to build a portfolio that will help you reach financial independence. The second, arguably harder, part is to stick to this plan. I have generally found that writing down a budget (rather than having numbers in your head) and being accountable to someone (whether it's your husband/wife or financial planner) helps people stick to said budget and ultimately reach their goal of financial independence.
Kind Regards,
Barry Hugo
Tel +27 21 914 4966
Fax +27 21 914 4912
Email info@seedinvestments.co.za
Seed is hiring: Visit the Seed Analytics LinkedIn profile to view vacancies.
Top News
Local markets The JSE All Share finished 1.51% lower on Tuesday, with 3.23% losses in resources leading the local bourse downwards.

---

Britain's prime minister appealed to doubters at home and in other EU capitals on Tuesday to back his attempt to reform the 28-member bloc as a chance to boost prosperity rather than write it off as "Mission Impossible".

Myanmar democracy champion Aung San Suu Kyi made it clear on Tuesday that she was ready to defy the powerful military's attempts to clip her wings, as fresh results from Sunday's historic election showed her party heading for a resounding win.
---
Business Report highlighted that Afrimat is seeking to increase its revenue from outside South Africa from almost zero- 50 percent in the next five to seven years to reduce the country risk in South Africa. Andries van Heerden, chief executive indicated that Afrimat was well positioned to capitalise on its strategic initiatives, which included continued growth from an excellent asset base, selective acquisitions and Greenfield expansion projects.. . .
World Markets (Spot Prices)
| | | | | |
| --- | --- | --- | --- | --- |
| Name | Time | RP | Move | % Move |
| JSE Overall | 17:00 | 52565.50 | -805.73 | -1.51% |
| JSE Top 40 | 17:00 | 47201.94 | -763.02 | -1.59% |
| JSE Gold | 17:00 | 917.42 | -7.74 | -0.84% |
| JSE Financial | 17:00 | 44018.84 | -688.07 | -1.54% |
| JSE Industrial | 17:00 | 80045.82 | -994.95 | -1.23% |
| JSE Indust 25 | 16:50 | 71931.65 | -1178.74 | -1.61% |
| JSE Resource | 17:00 | 30332.24 | -1012.60 | -3.23% |
| DJ Futures | 09/11 | 17776.00 | -67.00 | 0.00% |
| DJ Ind | 19:58 | 17703.43 | -27.05 | -0.15% |
| SP 500 | 19:58 | 2075.06 | -3.52 | -0.17% |
| Nasdaq | 19:58 | 5064.88 | -30.42 | -0.60% |
| FTSE 100 | 17:40 | 6267.16 | -28.00 | -0.44% |
| DAX | 19:08 | 10832.52 | 17.07 | 0.16% |
| CAC40 | 19:08 | 4912.16 | .99 | 0.02% |
| Nikkei | 08:32 | 19671.26 | 28.52 | 0.15% |
| Shanghai | 09:28 | 3640.49 | -6.39 | -0.18% |
| Hang-Seng | 10:28 | 22401.70 | -325.07 | -1.43% |
| All Ords | 07:41 | 5157.70 | -22.60 | -0.44% |
| NZSE 50 | 07:28 | 6002.81 | -45.08 | -0.75% |

| | | | | |
| --- | --- | --- | --- | --- |
| Name | Time | RP | Move | % Move |
| Gold $ | 19:59 | 1089.63 | -1.99 | -0.18% |
| Gold R | 19:57 | 15525.14 | -79.76 | -0.51% |
| Gold R/kg | 19:58 | 499737 | -980 | -0.20% |
| Silver $ | 19:59 | 14.3990 | -.1540 | -1.06% |
| Platinum $ | 19:59 | 899.28 | -12.30 | -1.35% |
| Palladium $ | 19:59 | 595.10 | -2.90 | -0.48% |
| R186 | 17:04 | 8.58 | -.01 | -0.12% |
| R204 | 17:03 | 7.68 | .02 | 0.26% |
| R207 | 17:03 | 7.95 | .02 | 0.25% |
| Brent Crude | 08:02 | 47.34 | -.08 | -0.17% |
| USD / ZAR | 19:59 | 14.2505 | -0.0406 | -0.28% |
| GBP / ZAR | 19:55 | 21.4993 | -0.0762 | -0.35% |
| EUR/ ZAR | 19:55 | 15.2483 | -0.1239 | -0.81% |
| NZD/ ZAR | 19:57 | 9.3135 | -0.0235 | -0.25% |
| AUD / ZAR | 19:55 | 10.0250 | -0.0451 | -0.45% |
| USD / JPY | 19:59 | 123.1310 | 0.0480 | 0.04% |
| EUR / USD | 19:59 | 1.0704 | -0.0051 | -0.47% |
| GBP / USD | 19:59 | 1.5108 | -0.0007 | -0.04% |
Click here for the Sharenet Spot Price page
The JSE Today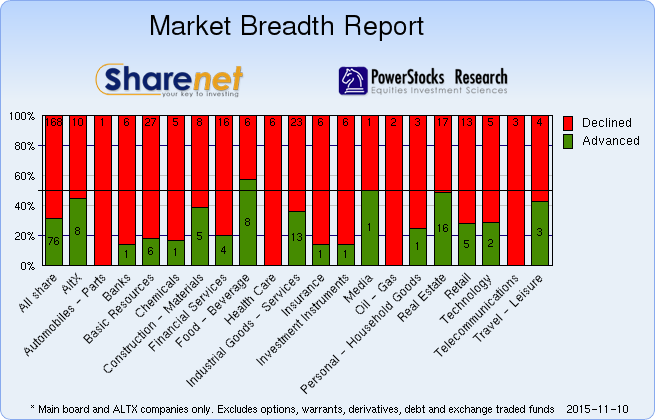 Trading Statistics
| Date | Adv. | Decl. | Unch. | Actives | Volume | Value | Trades | Orders |
| --- | --- | --- | --- | --- | --- | --- | --- | --- |
| 10/11/2015 | 101 | 251 | 54 | 406 | 283,461,853 | R17,723,835,256 | 240726 | 1821802 |
| 09/11/2015 | 158 | 192 | 62 | 412 | 301,905,747 | R13,595,495,845 | 203077 | 1888551 |
| 06/11/2015 | 118 | 268 | 48 | 434 | 264,311,957 | R17,463,450,454 | 249097 | 1919390 |
| 05/11/2015 | 121 | 224 | 67 | 412 | 270,130,366 | R18,100,827,552 | 236409 | 1795493 |
| 04/11/2015 | 202 | 154 | 48 | 404 | 300,432,797 | R20,802,088,051 | 244210 | 1788500 |
* Includes all listed instruments on the JSE
---
---
---
Index Summary
| | | | |
| --- | --- | --- | --- |
| Index Name | RP | Move | % Move |
| Top 40 | 47,201.94 | -763.02 | -1.59% |
| Industrial | 80,045.82 | -994.95 | -1.23% |
| Mid Cap | 67,199.83 | -729.24 | -1.07% |
| Small Cap | 57,361.62 | -558.78 | -0.96% |
| Resource 20 | 30,332.24 | -1012.60 | -3.23% |
| Industrial 25 | 71,931.65 | -1178.74 | -1.61% |
| Financial 15 | 16,287.05 | -319.57 | -1.92% |
| Financial & Ind. 30 | 75,780.18 | -1065.86 | -1.39% |
| All Share | 52,565.50 | -805.73 | -1.51% |
| Oil & Gas | 9,650.69 | .00 | 0.00% |
| Mining | 18,039.21 | -609.60 | -3.27% |
| Gold Mining | 917.42 | -7.74 | -0.84% |
| Platinum Mining | 16.19 | -.62 | -3.69% |
| GENERAL MINING | 5,396.95 | -200.29 | -3.58% |
| Oil & Gas Producers | 51,889.95 | .00 | 0.00% |
| Basic Materials | 19,224.36 | -623.68 | -3.14% |
| Chemicals | 21,927.05 | -805.59 | -3.54% |
| Forestry & Paper | 52,224.13 | -1010.49 | -1.90% |
| Industrial Metals | 3,648.56 | -322.19 | -8.11% |
| Industrials | 43,674.02 | -775.62 | -1.74% |
| General Industrials | 160.33 | -4.16 | -2.53% |
| Consumer Goods | 78,836.44 | -612.80 | -0.77% |
| Automobiles & Parts | 6,499.00 | -67.93 | -1.03% |
| Household Goods | 577.16 | -5 | -0.82% |
| Health Care | 9,582.98 | -185.75 | -1.90% |
| Beverages | 291.33 | -1.44 | -0.49% |

| | | | |
| --- | --- | --- | --- |
| Index Name | RP | Move | % Move |
| Food Producers | 9,098.97 | -47.71 | -0.52% |
| Personal Goods | 1,132.40 | -16.68 | -1.45% |
| Consumer Services | 17,845.16 | -68.79 | -0.38% |
| General Retailers | 8,458.54 | -160.25 | -1.86% |
| Travel & Leisure | 6,037.66 | 22.86 | 0.38% |
| Media | 456.70 | 1.43 | 0.31% |
| Support Services | 2,820.69 | -2.39 | -0.08% |
| Telecommunications | 8,088.52 | -297.44 | -3.55% |
| Financials | 44,018.84 | -688.07 | -1.54% |
| Banks | 7,286.48 | -76.67 | -1.04% |
| Non-life Insurance | 55,577.16 | 775.88 | 1.42% |
| Life Insurance | 40,031.08 | -1322.56 | -3.20% |
| General Financial | 4,839.84 | -74.37 | -1.51% |
| Technology | 55,711.80 | -1143.57 | -2.01% |
| SHARIAH TOP40 | 3,071.71 | -91 | -2.87% |
| FTSE/JSE SHARIAH ALL | 3,284.87 | -86 | -2.56% |
| COAL MINING | 6,767.13 | -287 | -4.07% |
| FTSE JSE Fledgling | 6,553.67 | -65 | -0.98% |
| FTSE/JSE Alt X | 1,538.52 | -0 | -0.02% |
| SA LISTED PROPERTY | 646.86 | | -0.39% |
| CAPPED PROPERTY | 578.77 | | -0.69% |
| RESOURCE | 16,384.35 | -553 | -3.27% |
| DIVIDEND PLUS | 196.08 | -4 | -2.14% |
| FTSE/JSE RAFI 40 | 8,943.85 | -221 | -2.41% |
| Capped Top 40 | 25,003.12 | -424 | -1.67% |
| Capped All Share | 26,657.48 | -409 | -1.51% |
| JSE TABACO | 10,404.81 | -27 | -0.25% |
Click here for the Sharenet Index Summary page
---
Latest Consensus Changes**

| | | | |
| --- | --- | --- | --- |
| Code | Company Name | Status | Updated |
| TON | TONGAAT HULETT LTD | BUY | 05/11/2015 |
| EXX | EXXARO RESOURCES LIMITED | HOLD | 05/11/2015 |
| RDF | REDEFINE PROPERTIES LTD | BUY | 05/11/2015 |
| RBP | ROYAL BAFOKENG PLATINUM L... | BUY | 04/11/2015 |
| NHM | NORTHAM PLATINUM LIMITED | HOLD | 04/11/2015 |

Results Expected**

| | | |
| --- | --- | --- |
| Expected | Company Name | Fin. Date |
| 11/11/2015 | CIL | August 2015 (Final) |
| 11/11/2015 | INVICTA | September 2015 (Interim) |
| 11/11/2015 | IVT PREF | September 2015 (Interim) |
| 11/11/2015 | MAZOR | August 2015 (Interim) |
| 11/11/2015 | REINET | September 2015 (Interim) |
---
Recent Dividends**

| | | | | |
| --- | --- | --- | --- | --- |
| Share Name | Dec-Date | LDT | Pay-Date | Amount |
| AFRIMAT | 09/11/15 | 04/12/15 | 14/12/15 | ZAR 0.1600 |
| LEWIS | 09/11/15 | 15/01/16 | 25/01/16 | ZAR 2.1500 |
| VODACOM | 09/11/15 | 27/11/15 | 07/12/15 | ZAR 3.9500 |
| BRAIT PREF | 09/11/15 | 27/11/15 | 07/12/15 | ZAR 4.8723 |
| RAUBEX | 09/11/15 | 27/11/15 | 07/12/15 | ZAR 0.3600 |

Ex Div**

| | | | | |
| --- | --- | --- | --- | --- |
| Share Name | Dec-Date | LDT | Pay-Date | Amount |
| REMGRO | 17/09/15 | 06/11/15 | 16/11/15 | ZAR 2.5900 |
| STEINHOFF | 08/09/15 | 06/11/15 | 16/11/15 | ZAR 1.6500 |
| ECSP C2 | 23/10/15 | 06/11/15 | 16/11/15 | ZAR 1.0356 |
| ECSP C | 23/10/15 | 06/11/15 | 16/11/15 | ZAR 1.0356 |
| ECSP A | 23/10/15 | 06/11/15 | 16/11/15 | ZAR 0.7671 |
---
Upcoming AGMs**

| | | | |
| --- | --- | --- | --- |
| Code | Company Name | Date | Status |
| JSC | Jasco Electronics Holdings Ltd. | 10/11/2015 | Confirmed |
| JSCP | Jasco Electronics Holdings Ltd. | 10/11/2015 | Confirmed |
| NHM | Northam Platinum Ltd. | 11/11/2015 | Confirmed |
| WBO | Wilson Bayly Holmes - Ovcon Ltd. | 11/11/2015 | Confirmed |
| WBOP | Wilson Bayly Holmes - Ovcon Ltd. | 11/11/2015 | Confirmed |
---
Stock Exchange News Service
Click here for more SENS news
---