Tuesday, 21 April 2015 - 20:00
Charts
Seed Weekly - Investment Greats ? Sir John Templeton
As a pioneer in both financial investment and philanthropy, the late Sir John Templeton spent a lifetime encouraging open-mindedness. Sir John Templeton was born in Tennessee 1912 and as many successful businessmen grew up poorly. He went on to study economics at Yale University with a scholarship. After graduating top of his class in 1934, was awarded the Rhodes scholarship where after he obtained a Masters in Law in 1936 from Oxford University. He returned to New York and started his long career in the investment industry.
His first firm was found in 1937, in the depths of the Great Depression. Under his name he created some of the world's largest and most successful international investment funds. In 1992, he sold his Templeton funds to the Franklin Group, now known as the Franklin Templeton range of funds. He was a value contrarian investor – following a principle called "bargain hunting". He took the strategy of "buy low, sell high" to an extreme, picking nations, industries, and companies hitting rock-bottom, what he called "points of maximum pessimism." When the war broke out in Europe in 1939, he borrowed money to buy 100 shares each of the 104 companies selling at one dollar per share or less, including 34 companies that were in bankruptcy. Only four of these companies turned out to be worthless, and he turned large profits on the others. He would take profits when values and expectations were high.
He rejected technical analysis for stock trading, preferring instead to use fundamental analysis and to invest into companies that offered low prices and an excellent long term outlook. Templeton believed that the best bargains were in stocks that were completely neglected - those that other investors were not even studying. Think about areas that other people are not thinking about. In this regard, he had an advantage not readily available to the average individual investor namely his residence in the Lyford Cay Club in the Bahamas, populated with successful businessmen from all parts of the world.
Templeton found he could easily exchange ideas and opinions with them in that attractive ambiance. For him, this worked better than networking with Wall Street contacts with limited information who were always trying to sell him something. Just like fellow legendary investor Phillip Fisher, Templeton systematically mined his numerous contacts for valuable, objective investment data, which in his case related to market conditions and investment targets around the world. Templeton became known for his "avoiding the herd" and "buy when there's blood in the streets" philosophy. "I've found my results for investment clients were far better here than when I had my office in 30 Rockefeller Plaza. When you're in Manhattan, it's much more difficult to go opposite the crowd."
Sir John Templeton's 16 rules for investment success:
1. Invest for maximum total real return
2. Invest — don't trade or speculate
3. Remain flexible and open minded about types of investment
4. Buy low
5. When buying stocks, search for bargains among quality stocks.
6. Buy value, not market trends or the economic outlook
7. Diversify. In stocks and bonds, as in much else, there is safety in numbers
8. Do your homework or hire wise experts to help you
9. Aggressively monitor your investments
10. Don't panic
11. Learn from your mistakes
12. Begin with a prayer
13. Outperforming the market is a difficult task
14. An investor who has all the answers doesn't even understand all the questions
15. There's no free lunch
16. Do not be fearful or negative too often
Upon his retirement from the investment business, Templeton became an active philanthropist worldwide through his John Templeton Foundation, which focuses its donations on spiritual and scientific research. He attributed much of his success to his ability to maintain an elevated mood, avoid anxiety and stay disciplined. He slammed consumerism, drove his own car, never flew first class and lived year-round in the Bahamas. As a naturalized British citizen living in the Bahamas, Templeton was knighted in 1987 by Queen Elizabeth II for his many accomplishments in philanthropy. Templeton died in 2008 at the age of 95.
Keep well,
Lourens Rabé
Sources
Investopedia, Forbes, Wikipedia, templeton.org
www.seedinvestments.co.za
info@seedinvestments.co.za
021 914 4966
Tue, 21 Apr 2015
Top News
South Africa's rand firmed on Tuesday as worries over Greece pushed Europe's common currency lower while emerging market assets recovered earlier losses.

---

Muslim Brotherhood leader Mohamed Mursi was sentenced to 20 years in prison without parole on Tuesday on charges arising from the killing of protesters, nearly three years after he became Egypt's first freely elected president.

A suicide bomber from the Somali militant group al Shabaab on Tuesday rammed a car laden with explosives into a busy restaurant in the capital Mogadishu, killing at least 10 people and wounding more than a dozen others.
World Markets (Spot Prices)
| | | | | |
| --- | --- | --- | --- | --- |
| Name | Time | RP | Move | % Move |
| JSE Overall | 17:00 | 54140.93 | 301.22 | 0.56% |
| JSE Top 40 | 17:00 | 47827.43 | 254.56 | 0.54% |
| JSE Gold | 17:00 | 1373.16 | 31.53 | 2.35% |
| JSE Financial | 17:00 | 46796.90 | 316.12 | 0.68% |
| JSE Industrial | 17:00 | 77237.45 | 680.99 | 0.89% |
| JSE Indust 25 | 17:00 | 68786.40 | 623.25 | 0.91% |
| JSE Resource | 17:00 | 41360.99 | -442.97 | -1.06% |
| DJ Futures | 19:58 | 17881.00 | -62.00 | -0.35% |
| DJ Ind | 19:58 | 17956.43 | -78.50 | -0.44% |
| SP 500 | 19:58 | 2097.20 | -3.20 | -0.15% |
| Nasdaq | 19:58 | 5016.19 | 21.59 | 0.43% |
| FTSE 100 | 17:35 | 7062.93 | 10.80 | 0.15% |
| DAX | 18:08 | 11939.58 | 47.67 | 0.40% |
| CAC40 | 18:08 | 5192.64 | 5.05 | 0.10% |
| Nikkei | 08:30 | 19909.09 | 274.60 | 1.40% |
| Shanghai | 09:25 | 4293.62 | 76.54 | 1.81% |
| Hang-Seng | 06:25 | 27669.75 | 98.15 | 0.36% |
| All Ords | 08:35 | 5844.00 | 37.20 | 0.64% |
| NZSE 50 | 07:45 | 5817.52 | -6.76 | -0.12% |

| | | | | |
| --- | --- | --- | --- | --- |
| Name | Time | RP | Move | % Move |
| Gold $ | 19:59 | 1202.83 | 6.45 | 0.54% |
| Gold R | 19:59 | 14589.38 | 69.86 | 0.48% |
| Gold R/kg | 19:58 | 468909 | 2045 | 0.44% |
| Silver $ | 19:59 | 16.0260 | .0600 | 0.38% |
| Platinum $ | 19:59 | 1148.90 | 3.90 | 0.34% |
| Palladium $ | 19:59 | 772.53 | 4.03 | 0.52% |
| R186 | 16:50 | 7.95 | -.01 | -0.19% |
| R204 | 16:54 | 7.28 | -.01 | -0.14% |
| R207 | 16:54 | 7.41 | -.01 | -0.13% |
| Brent Crude | 19:58 | 62.62 | -.83 | -1.31% |
| Rand / Dollar | 19:59 | 12.1281 | -0.0050 | -0.04% |
| Rand / Pound | 19:55 | 18.0926 | 0.0260 | 0.14% |
| Rand / Euro | 19:55 | 13.0362 | -0.0058 | -0.04% |
| Rand / NZD | 19:59 | 9.3136 | 0.0122 | 0.13% |
| Rand / AUD | 19:55 | 9.3650 | -0.0205 | -0.22% |
| Yen / Dollar | 19:59 | 119.6320 | 0.3800 | 0.32% |
| Euro / Dollar | 19:59 | 0.9304 | -0.0009 | -0.10% |
| Dollar / Euro | 19:59 | 1.0748 | 0.0010 | 0.09% |
| Pound / Dollar | 19:55 | 0.6692 | -0.0018 | -0.26% |
Click here for the Sharenet Spot Price page
The JSE Today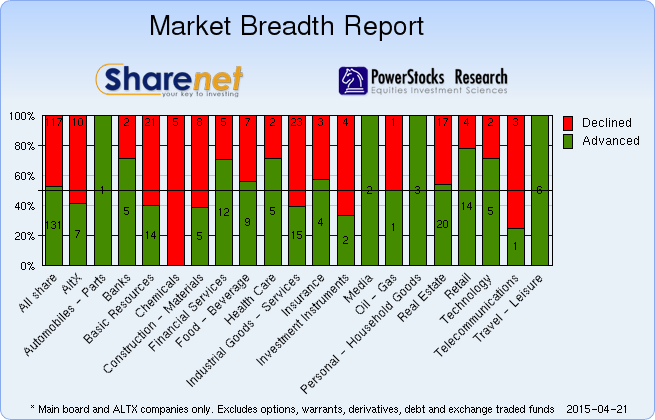 Trading Statistics
| Date | Adv. | Decl. | Unch. | Actives | Volume | Value | Trades | Orders |
| --- | --- | --- | --- | --- | --- | --- | --- | --- |
| 21/04/2015 | 204 | 165 | 49 | 418 | 198,711,976 | R16,846,823,238 | 229856 | 737986 |
| 20/04/2015 | 192 | 158 | 68 | 418 | 183,130,614 | R13,954,333,026 | 191380 | 1474076 |
| 17/04/2015 | 137 | 213 | 70 | 420 | 247,221,988 | R16,754,014,277 | 234662 | 1816921 |
| 16/04/2015 | 217 | 162 | 65 | 444 | 243,587,704 | R21,378,365,361 | 262683 | 1736233 |
| 15/04/2015 | 224 | 137 | 69 | 430 | 219,880,678 | R16,228,859,017 | 186537 | 978202 |
* Includes all listed instruments on the JSE
---
---
---
Index Summary
| | | | |
| --- | --- | --- | --- |
| Index Name | RP | Move | % Move |
| Top 40 | 47,810.59 | 237.72 | 0.50% |
| Industrial | 77,028.18 | 471.72 | 0.62% |
| Mid Cap | 76,101.97 | 163.29 | 0.22% |
| Small Cap | 60,453.39 | 21.30 | 0.04% |
| Resource 20 | 41,899.78 | 95.82 | 0.23% |
| Industrial 25 | 68,587.10 | 423.95 | 0.62% |
| Financial 15 | 17,716.27 | 38.96 | 0.22% |
| Financial & Ind. 30 | 73,810.00 | 422.12 | 0.58% |
| All Share | 54,125.91 | 286.20 | 0.53% |
| Oil & Gas | 30,645.16 | 169.31 | 0.56% |
| Mining | 25,363.42 | 93.51 | 0.37% |
| Gold Mining | 1,359.02 | 17.39 | 1.30% |
| Platinum Mining | 30.77 | .12 | 0.39% |
| GENERAL MINING | 7,309.30 | 16.23 | 0.22% |
| Oil & Gas Producers | 16,477.34 | 91.04 | 0.56% |
| Basic Materials | 23,903.83 | 50.84 | 0.21% |
| Chemicals | 23,855.55 | -142.64 | -0.59% |
| Forestry & Paper | 41,445.64 | 271.57 | 0.66% |
| Industrial Metals | 8,644.47 | 28.72 | 0.33% |
| Industrials | 47,191.74 | 139.27 | 0.30% |
| General Industrials | 168.60 | .68 | 0.40% |
| Consumer Goods | 66,989.45 | 88.25 | 0.13% |
| Automobiles & Parts | 7,955.04 | -124.55 | -1.54% |
| Household Goods | 530.84 | 5 | 0.94% |
| Health Care | 11,027.21 | 41.85 | 0.38% |
| Beverages | 223.14 | -.70 | -0.31% |

| | | | |
| --- | --- | --- | --- |
| Index Name | RP | Move | % Move |
| Food Producers | 8,950.02 | -1.50 | -0.02% |
| Personal Goods | 1,045.70 | 6.19 | 0.60% |
| Consumer Services | 16,881.31 | 311.43 | 1.88% |
| General Retailers | 86,925.23 | -96.08 | -0.11% |
| Travel & Leisure | 6,444.49 | 32.70 | 0.51% |
| Media | 410.60 | 11.67 | 2.93% |
| Support Services | 2,878.95 | 4.77 | 0.17% |
| Telecommunications | 11,197.86 | 61.15 | 0.55% |
| Financials | 46,671.48 | 190.70 | 0.41% |
| Banks | 83,937.01 | 299.28 | 0.36% |
| Non-life Insurance | 58,514.77 | 324.14 | 0.56% |
| Life Insurance | 44,689.07 | 240.78 | 0.54% |
| General Financial | 4,390.43 | 43.15 | 0.99% |
| Technology | 60,661.99 | 430.05 | 0.71% |
| SHARIAH TOP40 | 3,674.01 | 11 | 0.30% |
| FTSE/JSE SHARIAH ALL | 3,936.36 | 11 | 0.28% |
| COAL MINING | 11,541.92 | -211 | -1.80% |
| FTSE JSE Fledgling | 6,896.29 | 7 | 0.11% |
| FTSE/JSE Alt X | 1,307.23 | -0 | -0.03% |
| SA LISTED PROPERTY | 668.24 | | -0.04% |
| CAPPED PROPERTY | 574.36 | | 0.05% |
| RESOURCE | 23,020.53 | 85 | 0.37% |
| DIVIDEND PLUS | 236.90 | 1 | 0.24% |
| FTSE/JSE RAFI 40 | 10,118.19 | 29 | 0.29% |
| Capped Top 40 | 25,517.15 | 120 | 0.47% |
| Capped All Share | 27,453.65 | 145 | 0.53% |
| JSE TABACO | 8,663.65 | -10 | -0.11% |
Click here for the Sharenet Index Summary page
---
Latest Consensus Changes**

| | | | |
| --- | --- | --- | --- |
| Code | Company Name | Status | Updated |
| ARI | AFRICAN RAINBOW MINERALS | BUY | 17/04/2015 |
| KIO | KUMBA IRON ORE LTD | SELL | 17/04/2015 |
| ASR | ASSORE LTD | HOLD | 17/04/2015 |
| EXX | EXXARO RESOURCES LIMITED | HOLD | 17/04/2015 |
| SAB | SABMILLER PLC | HOLD | 16/04/2015 |

Results Expected**

| | | |
| --- | --- | --- |
| Expected | Company Name | Fin. Date |
| 22/04/2015 | AEEI | February 2015 (Interim) |
| 22/04/2015 | CMH | February 2015 (Final) |
| 22/04/2015 | CMH PREF | February 2015 (Final) |
| 22/04/2015 | SACMH | December 2014 (Final) |
| 22/04/2015 | SEKJALOA | February 2015 (Interim) |
---
Recent Dividends**

| | | | | |
| --- | --- | --- | --- | --- |
| Share Name | Dec-Date | LDT | Pay-Date | Amount |
| FPT | 17/04/15 | 08/05/15 | 18/05/15 | ZAR 0.3060 |
| REBOSIS | 16/04/15 | 08/05/15 | 18/05/15 | ZAR 0.5246 |
| FINBOND | 16/04/15 | 08/05/15 | 18/05/15 | ZAR 0.0340 |
| PSG | 15/04/15 | 30/04/15 | 11/05/15 | ZAR 1.4500 |
| EFFICIENT | 14/04/15 | 30/04/15 | 11/05/15 | ZAR 0.0588 |

Ex Div**

| | | | | |
| --- | --- | --- | --- | --- |
| Share Name | Dec-Date | LDT | Pay-Date | Amount |
| ILRPREF1 | 31/03/15 | 17/04/15 | 28/04/15 | ZAR 12.7513 |
| STANBANK | 05/03/15 | 17/04/15 | 28/04/15 | ZAR 3.3900 |
| ACUCAP | 10/04/15 | 17/04/15 | 28/04/15 | ZAR 1.7263 |
| SYCOM | 10/04/15 | 17/04/15 | 28/04/15 | ZAR 0.9898 |
| METAIR | 26/03/15 | 17/04/15 | 28/04/15 | ZAR 0.8000 |
---
Upcoming AGMs**

| | | | |
| --- | --- | --- | --- |
| Code | Company Name | Date | Status |
| HLM | Hulamin Ltd. | 23/04/2015 | Confirmed |
| HULA | Hulamin Ltd. | 23/04/2015 | Confirmed |
| HULB | Hulamin Ltd. | 23/04/2015 | Confirmed |
| THA | Tharisa plc | 23/04/2015 | Confirmed |
---
Stock Exchange News Service
Click here for more SENS news
---