Tuesday, 06 August 2013 - 20:00
Charts
Dividends
Dividends can be defined as the distribution of a portion of the earnings generated by a company. Private investors who need to receive a stream of income can invest in high dividend paying shares and investors looking for value biased shares will be on the lookout for companies with high dividend yields (dividend divided by price). For these, and other, reasons dividends are widely scrutinised by the public and both deserve further investigation.
Starting with the former; the widely used logic that higher dividend paying companies are the best choice when investing for income can, to a certain extent, be countered by the theory of dividend irrelevance. This theory states that if a dividend can be "home-made" (shares sold to create a dividend like cash stream) the presence of a dividend does not necessarily mean the investor is better off receiving a dividend.
Consider the example of Mr A, who needs an income of R 5 000 and can either hold 1 000 shares in Company X or Company Y. Both of the shares trade at R 50 and Company X declares a R 5 dividend, while Company Y doesn't declare a dividend. When Company X goes ex-dividend (after the payment of the dividend) the value of the share should decrease by the amount of the dividend (R 5), as the cash is being paid to the investor from the company's balance sheet.
If Mr A invests in Company X, his shares would now be worth R 45 000 and he would have received a R 5 000 dividend. If he invests in Company Y he can sell 100 shares and receive the cash flow of R 5 000. Because this transaction has no effect on the share price, his shareholding would be worth R 45 000 (900 shares @ R 50). The chart below reflects the position that Mr A would be in under both scenarios.
This is a simple illustration that Mr A should be in the same position if he receives a dividend or sells his shares (before the impact of any taxes). While the payment (or non payment) of dividends can be an important signal from management, a high dividend yield (or even the presence thereof) shouldn't be the only determining factor when shares are bought.
Looking briefly at the latter use of dividends mentioned above, a high dividend yield is a sign that the company is generating good earnings (and importantly cash flow) relative to the current share price, which is a big positive. For value investors, the presence of a high dividend yield is often an important metric, as the investor gets rewarded with a good yield, rather than being solely reliant on selling the share at a higher price. Essentially there is a margin of safety. While a high historic yield is sought after – investors need to also ensure that the dividend is sustainable – i.e. that they will receive a similar (or better) dividend in the future.
At Seed we understand that a high dividend yield serves as a good indicator that the company deserves a closer look from a fundamental perspective. We therefore use dividend yield (both historic and forward) as a filter when looking at the investment universe. Those shares that offer investors a good yield are put on a short list, and can ultimately end up in our private client portfolios.
Kind regards,
Stefan Keeve
www.seedinvestments.co.za
info@seedinvestments.co.za
021 914 4966
Tue, 06 Aug 2013
Top News
South Africa's Treasury sold a total 2.35 billion rand of its 2031, 2037 and 2048 government bonds on Tuesday.

---

India said a group of militants from Pakistan killed five of its soldiers in an ambush along the disputed border in Kashmir on Tuesday, an accusation that threatens to derail efforts to resume peace talks.

Fonterra, the world's largest dairy exporter, came under fire from the New Zealand government, farmers and financial regulators for its handling of a food contamination scare that has triggered product recalls and spooked parents from China to Saudi Arabia.
World Markets (Spot Prices)
| | | | | |
| --- | --- | --- | --- | --- |
| Name | Time | RP | Move | % Move |
| JSE Overall | 17:00 | 41573.71 | -230.22 | -0.55% |
| JSE Top 40 | 17:00 | 37129.66 | -205.16 | -0.55% |
| JSE Gold | 17:00 | 1173.67 | -46.53 | -3.81% |
| JSE Financial | 17:00 | 30459.76 | -117.60 | -0.38% |
| JSE Industrial | 17:00 | 55014.54 | -29.82 | -0.05% |
| JSE Indust 25 | 17:00 | 48210.62 | 17.69 | 0.04% |
| JSE Resource | 17:00 | 46483.59 | -780.96 | -1.65% |
| DJ Futures | 20:00 | 15472.00 | -122.73 | -0.79% |
| DJ Ind | 20:00 | 15511.87 | -100.26 | -0.64% |
| SP 500 | 20:00 | 1696.90 | -10.24 | -0.60% |
| Nasdaq | 20:00 | 3664.50 | -28.45 | -0.77% |
| FTSE 100 | 17:35 | 6604.21 | -15.37 | -0.23% |
| DAX | 18:08 | 8299.73 | -98.65 | -1.17% |
| CAC40 | 18:08 | 4032.57 | -17.40 | -0.43% |
| Nikkei | 08:32 | 14401.06 | 143.02 | 1.00% |
| Shanghai | 09:28 | 2060.50 | 10.02 | 0.49% |
| Hang-Seng | 10:30 | 21923.70 | -298.31 | -1.34% |
| All Ords | 08:45 | 5088.00 | -5.80 | -0.11% |
| NZSE 50 | 07:50 | 4575.50 | -13.98 | -0.30% |

| | | | | |
| --- | --- | --- | --- | --- |
| Name | Time | RP | Move | % Move |
| Gold $ | 19:59 | 1283.75 | -19.80 | -1.52% |
| Gold R | 20:00 | 12728.96 | -90.37 | -0.70% |
| Gold R/kg | 20:00 | 409236 | -3362 | -0.81% |
| Silver $ | 19:59 | 19.5620 | -.1200 | -0.61% |
| Platinum $ | 19:58 | 1426.00 | -23.00 | -1.59% |
| Palladium $ | 19:59 | 722.30 | -8.90 | -1.22% |
| R157 | 16:51 | 6.12 | .05 | 0.82% |
| R186 | 17:33 | 8.16 | .09 | 1.05% |
| R204 | 16:51 | 7.04 | .08 | 1.08% |
| R207 | 16:59 | 7.35 | .05 | 0.68% |
| Brent Crude | 20:00 | 107.93 | -1.02 | -0.94% |
| Rand / Dollar | 19:59 | 9.9197 | 0.0844 | 0.86% |
| Rand / Pound | 19:55 | 15.2156 | 0.1416 | 0.94% |
| Rand / Euro | 19:55 | 13.1990 | 0.1543 | 1.18% |
| Rand / NZD | 19:59 | 7.8485 | 0.1261 | 1.63% |
| Rand / AUD | 19:55 | 8.9230 | 0.1336 | 1.52% |
| Yen / Dollar | 19:59 | 97.6510 | -0.6110 | -0.62% |
| Euro / Dollar | 19:59 | 0.7513 | -0.0028 | -0.37% |
| Dollar / Euro | 19:59 | 1.3308 | 0.0048 | 0.36% |
| Pound / Dollar | 19:55 | 0.6503 | -0.0007 | -0.11% |
Click here for the Sharenet Spot Price page
The JSE Today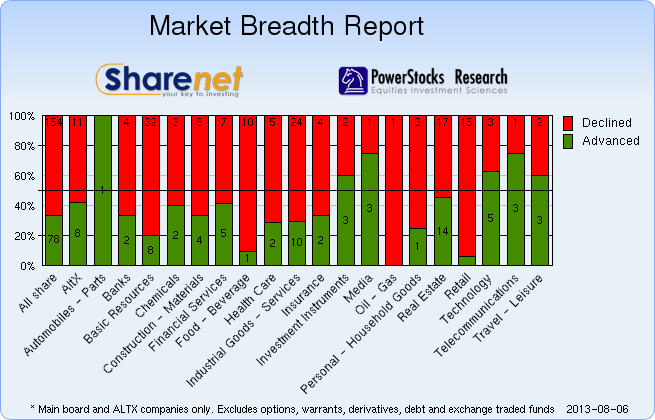 Trading Statistics
| Date | Adv. | Decl. | Unch. | Actives | Volume | Value | Trades | Orders |
| --- | --- | --- | --- | --- | --- | --- | --- | --- |
| 06/08/2013 | 124 | 205 | 81 | 410 | 213,692,368 | R11,374,743,122 | 118569 | 1136092 |
| 05/08/2013 | 191 | 181 | 71 | 443 | 204,197,712 | R12,199,635,076 | 146760 | 1103523 |
| 02/08/2013 | 192 | 146 | 71 | 409 | 179,029,636 | R13,555,566,077 | 154878 | 919617 |
| 01/08/2013 | 221 | 127 | 68 | 416 | 195,439,548 | R13,194,122,158 | 149340 | 378823 |
| 31/07/2013 | 209 | 131 | 81 | 421 | 198,404,937 | R13,629,317,823 | 153588 | 398350 |
* Includes all listed instruments on the JSE
---
---
---
Index Summary
| | | | |
| --- | --- | --- | --- |
| Index Name | RP | Move | % Move |
| Top 40 | 37,129.66 | -205.16 | -0.55% |
| Industrial | 55,014.54 | -29.82 | -0.05% |
| Mid Cap | 55,179.12 | -366.79 | -0.66% |
| Small Cap | 45,798.41 | -18.08 | -0.04% |
| Resource 20 | 46,483.59 | -780.96 | -1.65% |
| Industrial 25 | 48,210.62 | 17.69 | 0.04% |
| Financial 15 | 11,425.41 | -71.25 | -0.62% |
| Financial & Ind. 30 | 50,950.75 | -28.66 | -0.06% |
| All Share | 41,573.71 | -230.22 | -0.55% |
| Oil & Gas | 35,302.18 | -135.46 | -0.38% |
| Mining | 27,870.20 | -551.51 | -1.94% |
| Gold Mining | 1,173.67 | -46.53 | -3.81% |
| Platinum Mining | 41.94 | -.73 | -1.71% |
| GENERAL MINING | 8,056.30 | -145.93 | -1.78% |
| Oil & Gas Producers | 18,981.33 | -72.83 | -0.38% |
| Basic Materials | 24,734.63 | -426.31 | -1.69% |
| Chemicals | 21,945.92 | -6.12 | -0.03% |
| Forestry & Paper | 24,343.26 | 113.07 | 0.47% |
| Industrial Metals | 23,523.49 | 37.69 | 0.16% |
| Industrials | 40,803.21 | -207.32 | -0.51% |
| General Industrials | 123.19 | -.33 | -0.27% |
| Consumer Goods | 52,283.55 | -55.08 | -0.11% |
| Automobiles & Parts | 8,484.93 | 174.37 | 2.10% |
| Household Goods | 177.13 | -3 | -1.66% |
| Health Care | 66,789.84 | -390.23 | -0.58% |
| Beverages | 166.08 | -2.02 | -1.20% |

| | | | |
| --- | --- | --- | --- |
| Index Name | RP | Move | % Move |
| Food Producers | 71,433.28 | -1477.39 | -2.03% |
| Personal Goods | 1,000.16 | 21.37 | 2.18% |
| Consumer Services | 9,230.79 | 19.13 | 0.21% |
| General Retailers | 57,971.47 | -1253.63 | -2.12% |
| Travel & Leisure | 5,606.04 | -26.02 | -0.46% |
| Media | 182.54 | 4.10 | 2.30% |
| Support Services | 2,672.67 | 10.81 | 0.41% |
| Telecommunications | 9,088.34 | 15.01 | 0.17% |
| Financials | 30,459.76 | -117.60 | -0.38% |
| Banks | 50,364.58 | -147.21 | -0.29% |
| Non-life Insurance | 48,351.82 | 370.07 | 0.77% |
| Life Insurance | 29,173.35 | -209.25 | -0.71% |
| General Financial | 2,825.91 | -11.22 | -0.40% |
| Technology | 41,978.63 | 85.23 | 0.20% |
| SHARIAH TOP40 | 3,453.64 | -40 | -1.14% |
| FTSE/JSE SHARIAH ALL | 3,579.54 | -39 | -1.09% |
| COAL MINING | 19,365.79 | -75 | -0.38% |
| FTSE JSE Fledgling | 5,558.78 | -2 | -0.03% |
| FTSE/JSE Alt X | 987.58 | -8 | -0.81% |
| SA LISTED PROPERTY | 502.47 | | 0.15% |
| CAPPED PROPERTY | 420.14 | | 0.02% |
| RESOURCE | 25,366.93 | -429 | -1.66% |
| DIVIDEND PLUS | 202.74 | -2 | -1.04% |
| FTSE/JSE RAFI 40 | 8,147.53 | -73 | -0.89% |
| Capped Top 40 | 19,634.03 | -100 | -0.51% |
| Capped All Share | 21,053.02 | -114 | -0.54% |
| JSE TABACO | 6,806.84 | -38 | -0.55% |
Click here for the Sharenet Index Summary page
---
Latest Consensus Changes**

| | | | |
| --- | --- | --- | --- |
| Code | Company Name | Status | Updated |
| REM | REMGRO LIMITED | HOLD | 04/08/2013 |
| VOD | VODACOM GROUP LIMITED | HOLD | 02/08/2013 |
| PIK | PICK N PAY STORES LIMITED | SELL | 02/08/2013 |
| SGL | SIBANYE GOLD LIMITED | BUY | 02/08/2013 |
| TKG | TELKOM SA LIMITED | SELL | 02/08/2013 |

Results Expected**

| | | |
| --- | --- | --- |
| Expected | Company Name | Fin. Date |
| 08/08/2013 | AQUARIUS | June 2013 (Final) |
| 08/08/2013 | AQUARIUSCVT | June 2013 (Final) |
| 08/08/2013 | EXXARO | June 2013 (Interim) |
| 08/08/2013 | MONDILTD | June 2013 (Interim) |
| 08/08/2013 | MONDILTDP | June 2013 (Interim) |
---
Recent Dividends**

| | | | | |
| --- | --- | --- | --- | --- |
| Share Name | Dec-Date | LDT | Pay-Date | Amount |
| SBR003 | 05/08/2013 | 25/10/2013 | 05/11/2013 | R 1.3700 |
| LIB-HOLD | 01/08/2013 | 23/08/2013 | 02/09/2013 | R 2.1200 |
| INTUPROP | 01/08/2013 | 11/10/2013 | 19/11/2013 | R 0.0500 |
| ZURICH SA | 01/08/2013 | 23/08/2013 | 02/09/2013 | R 1.0000 |
| FIRSTRANDB-P | 01/08/2013 | 16/08/2013 | 26/08/2013 | R 3.2025 |

Ex Div**

| | | | | |
| --- | --- | --- | --- | --- |
| Share Name | Dec-Date | LDT | Pay-Date | Amount |
| OANDO | 29/07/2013 | 01/08/2013 | 30/08/2013 | R 0.7500 |
| NIVEUS | 25/06/2013 | 01/08/2013 | 12/08/2013 | R 0.1800 |
---
Upcoming AGMs**

| | | | |
| --- | --- | --- | --- |
| Code | Company Name | Date | Status |
| SOV | Sovereign Food Investments Ltd. | 07/08/2013 | Confirmed |
| AND | Andulela Investment Holdings Ltd. | 07/08/2013 | Confirmed |
| ANDP | Andulela Investment Holdings Ltd. | 07/08/2013 | Confirmed |
| MML | Metmar Ltd. | 07/08/2013 | Confirmed |
| MMLP | Metmar Ltd. | 07/08/2013 | Confirmed |
---
Stock Exchange News Service
Click here for more SENS news
---