Monday, 13 August 2012 - 20:00
Charts
Yale Endowment: 2011
The annual Yale Endowment Report is a must read at Seed, and this year is no different. Each year we attempt to gain insights into why this is one of the best performing institutional portfolios in the world, and see if there are any nuggets of wisdom that we can use in the management of the funds and portfolios that we manage on our clients' behalf.
In summary, the Yale Endowment is a $19.4bn endowment that currently provides over one third of Yale's annual revenue, while preserving (and growing) the real purchasing power of the capital base for use by future generations. In many ways high net worth individual and family trust investment plans are similar to endowments, particularly where there is a desire to leave a legacy. In years gone by we have looked at how having a well defined drawdown methodology will not only help extend the capital's life, but that there are also ways to ensure that the annual changes in the drawdown amount aren't too volatile.
One aspect in this year's report that struck me was the endowment's large allocation to illiquid assets. As at the end of 2011 nearly two thirds of Yale's endowment was invested into illiquid assets! I then took a look back at how this allocation differs to their endowment in 2001, and also compared to the average educational endowment.
The chart below shows how Yale has increased its allocation to illiquid assets over the past decade, and how the average educational endowment holds even less illiquid assets than Yale did 10 years ago. Illiquid assets are defined as private equity, real estate, and natural resources. Quasi-liquid assets are made up of absolute return strategies (typically hedge fund type investments), while liquid assets are those that trade on public exchanges, i.e. equity and fixed income.
The first key observation is that the Yale Endowment hasn't done well because it invested into illiquid assets per se. Illiquidity in itself doesn't generate returns, but good illiquid investments have the ability to generate exceptional performance. Illiquid assets by their very nature are often uncorrelated to more liquid assets (as there isn't an active market that is overly influenced by the prevailing sentiment) and investors are often rewarded with an illiquidity premium, but these asset classes typically require more in depth due diligence and larger investment minimums.
Another observation is that while their allocation to illiquid assets is high, they still have enough invested in liquid strategies to be used to fund the university's drawdown requirement. The defined drawdown process results in approximately 5% of the endowment being drawn on an annual basis. With this percentage being fairly static, the investment team is able to maximise their return profile. Too often we see individual investors that require a large percentage of their assets to be readily accessible as they are unsure of their income requirement, and by doing so require a large portion of their assets to be invested in low yielding highly liquid strategies.
With 36% of the endowment in liquid and quasi-liquid strategies, in a worst case scenario (i.e. when the illiquid assets can't be sold) the endowment will be able to fund approximately 7 years of income requirement before having to start liquidating the illiquid assets. In the normal course of business they will ensure that the level of illiquid assets doesn't rise above a specific pre-determined maximum weighting.
On a practical level many investors are large shareholders in the businesses that they run. For these clients their illiquid assets are locked up in their shareholding, and for them it is important to build up an asset base outside of the illiquid private equity in order to ensure that they will be able to generate sufficient liquidity should the need arise.
Within Seed's Funds there are a few relatively illiquid strategies which are able to generate outsized returns for the levels of risk assumed. It is important to balance the enhanced expected returns with sufficient liquidity, because the surest way to destroy capital is being forced to liquidate an illiquid asset.
Take care,
Mike Browne
www.seedinvestments.co.za
info@seedinvestments.co.za
021 914 4966
Mon, 13 Aug 2012
Top News
Gold prices slipped back below $1,620 an ounce on Monday as weakness in stock markets reflected softer risk appetite among investors, but remained underpinned by expectations that the European Central Bank would step in to support the euro.

---
Company Results
Revenue grew marginally to R8.78 billion (2011: R8.77 billion) and operating profit plunged from R331 million (2011: R606 million). Net atttributable loss to equity shareholders increased to R278 million (2011: loss of R218 million). Additionally, headline earnings per share from continuing operations fell to 178cps (2011: 3.89cps) Dividend The group declared a final dividend of 14cps. Prospects The Investments and Concessions cluster is delivering annuity business growth, with. . .
World Markets (Spot Prices)
| | | | | |
| --- | --- | --- | --- | --- |
| Name | Time | RP | Move | % Move |
| JSE Overall | 17:00 | 35417.94 | -156.00 | -0.44% |
| JSE Top 40 | 17:00 | 31194.25 | -135.00 | -0.43% |
| JSE Gold | 17:00 | 2456.97 | 11.00 | 0.49% |
| JSE Financial | 17:00 | 27065.40 | -67.00 | -0.25% |
| JSE Industrial | 17:00 | 41185.84 | -242.00 | -0.58% |
| JSE Indust 25 | 17:00 | 35160.38 | -221.00 | -0.63% |
| JSE Resource | 17:00 | 47776.72 | -186.00 | -0.39% |
| DJ Futures | 19:58 | 13100.00 | -30.00 | -0.23% |
| DJ Ind | 19:58 | 13147.21 | -17.98 | -0.14% |
| SP 500 | 19:58 | 1401.06 | -1.74 | -0.12% |
| Nasdaq | 19:58 | 3014.56 | -4.08 | -0.14% |
| FTSE 100 | 17:35 | 5831.88 | -15.23 | -0.26% |
| DAX | 18:08 | 6909.68 | -55.31 | -0.79% |
| CAC40 | 18:08 | 3426.41 | -9.21 | -0.27% |
| Nikkei | 08:48 | 8885.15 | -93.45 | -1.04% |
| Shanghai | 09:28 | 2136.08 | -38.02 | -1.75% |
| Hang-Seng | 10:28 | 20081.36 | -188.11 | -0.93% |
| All Ords | 08:50 | 4309.50 | 6.70 | 0.16% |
| NZSE 50 | 08:48 | 3594.96 | 11.35 | 0.32% |

| | | | | |
| --- | --- | --- | --- | --- |
| Name | Time | RP | Move | % Move |
| Gold $ | 19:58 | 1610.46 | -10.58 | -0.65% |
| Gold R | 19:56 | 13128.29 | 47.94 | 0.37% |
| Gold R/kg | 19:58 | 421756 | 2617 | 0.62% |
| Silver $ | 19:58 | 27.8100 | -.3030 | -1.08% |
| Platinum $ | 19:57 | 1382.75 | -15.25 | -1.09% |
| Palladium $ | 19:57 | 573.40 | -4.80 | -0.83% |
| R157 | 14:08 | 5.66 | .07 | 1.25% |
| R204 | 14:08 | 6.35 | .08 | 1.28% |
| Brent Crude | 19:58 | 113.26 | -.03 | -0.03% |
| Rand / Dollar | 19:57 | 8.1531 | 0.0828 | 1.03% |
| Rand / Pound | 19:55 | 12.7575 | 0.1183 | 0.94% |
| Rand / Euro | 19:55 | 10.0548 | 0.1238 | 1.25% |
| Rand / NZD | 19:56 | 6.5931 | 0.0372 | 0.57% |
| Rand / AUD | 19:55 | 8.5698 | 0.0285 | 0.33% |
| Yen / Dollar | 19:58 | 78.3200 | 0.0390 | 0.05% |
| Euro / Dollar | 19:55 | 0.8103 | -0.0033 | -0.41% |
| Dollar / Euro | 19:58 | 1.2335 | 0.0046 | 0.38% |
| Pound / Dollar | 19:55 | 0.6371 | -0.0006 | -0.09% |
Click here for the Sharenet Spot Price page
The JSE Today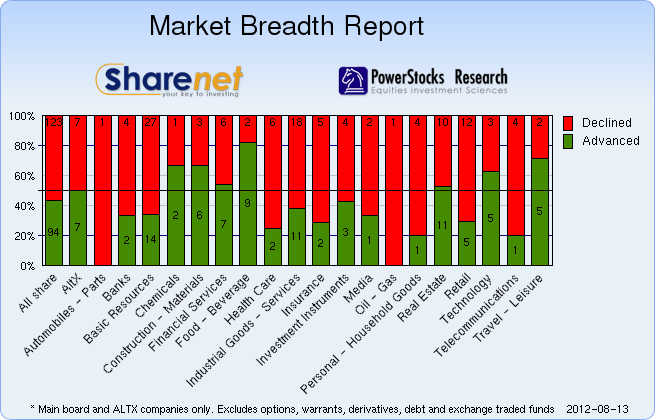 Trading Statistics
| Date | Adv. | Decl. | Unch. | Actives | Volume | Value | Trades | Orders |
| --- | --- | --- | --- | --- | --- | --- | --- | --- |
| 13/08/2012 | 134 | 166 | 106 | 406 | 129,545,824 | R7,542,356,316 | 77611 | 973859 |
| 10/08/2012 | 177 | 142 | 71 | 390 | 162,605,219 | R9,319,648,328 | 108826 | 1410008 |
| 08/08/2012 | 176 | 158 | 76 | 410 | 179,515,088 | R9,926,543,129 | 107035 | 1540138 |
| 07/08/2012 | 161 | 172 | 88 | 421 | 186,307,444 | R9,235,728,482 | 89189 | 1620877 |
| 06/08/2012 | 204 | 126 | 81 | 411 | 166,956,349 | R7,755,193,605 | 77235 | 1254426 |
* Includes all listed instruments on the JSE
---
---
---
Index Summary
| | | | |
| --- | --- | --- | --- |
| Index Name | RP | Move | % Move |
| Top 40 | 31,194.00 | -135.00 | -0.43% |
| Industrial | 41,185.00 | -242.00 | -0.58% |
| Mid Cap | 51,461.00 | -273.00 | -0.53% |
| Small Cap | 37,197.00 | -53.00 | -0.14% |
| Resource 20 | 47,776.00 | -186.00 | -0.39% |
| Industrial 25 | 35,160.00 | -221.00 | -0.63% |
| Financial 15 | 10,114.00 | -19.00 | -0.20% |
| Financial & Ind. 30 | 38,647.00 | -197.00 | -0.51% |
| All Share | 35,417.00 | -156.00 | -0.44% |
| Oil & Gas | 25,900.00 | -197.00 | -0.76% |
| Mining | 30,969.00 | -82.00 | -0.27% |
| Gold Mining | 2,456.00 | 11.00 | 0.49% |
| Platinum Mining | 49.00 | .00 | 0.10% |
| GENERAL MINING | 7,950.00 | -41.00 | -0.51% |
| Oil & Gas Producers | 13,926.00 | -105.00 | -0.75% |
| Basic Materials | 26,466.00 | -133.00 | -0.50% |
| Chemicals | 15,457.00 | 42.00 | 0.27% |
| Forestry & Paper | 13,629.00 | -224.00 | -1.62% |
| Industrial Metals | 27,522.00 | -1360.00 | -4.71% |
| Industrials | 34,695.00 | -144.00 | -0.42% |
| General Industrials | 99.00 | .00 | 0.29% |
| Consumer Goods | 35,693.00 | 43.00 | 0.12% |
| Automobiles & Parts | 6,055.00 | -169.00 | -2.73% |
| Household Goods | 163.00 | 0 | -0.09% |
| Health Care | 49,149.00 | -673.00 | -1.35% |
| Beverages | 123.00 | 1.00 | 0.87% |

| | | | |
| --- | --- | --- | --- |
| Index Name | RP | Move | % Move |
| Food Producers | 64,804.00 | 144.00 | 0.22% |
| Personal Goods | 503.00 | -1.00 | -0.32% |
| Consumer Services | 72,487.00 | -940.00 | -1.28% |
| General Retailers | 63,277.00 | -451.00 | -0.71% |
| Travel & Leisure | 3,902.00 | -19.00 | -0.51% |
| Media | 100.00 | -2.00 | -2.19% |
| Support Services | 2,184.00 | -58.00 | -2.62% |
| Telecommunications | 73,855.00 | -335.00 | -0.45% |
| Financials | 27,065.00 | -67.00 | -0.25% |
| Banks | 50,224.00 | -138.00 | -0.28% |
| Non-life Insurance | 44,982.00 | -931.00 | -2.03% |
| Life Insurance | 21,796.00 | -13.00 | -0.06% |
| General Financial | 2,467.00 | -1.00 | -0.08% |
| Technology | 30,820.00 | 71.00 | 0.23% |
| SHARIAH TOP40 | 3,055.00 | -16 | -0.53% |
| FTSE/JSE SHARIAH ALL | 3,185.00 | -16 | -0.52% |
| COAL MINING | 23,746.00 | 286 | 1.22% |
| FTSE JSE Fledgling | 5,544.00 | -10 | -0.19% |
| FTSE/JSE Alt X | 1,082.00 | -32 | -2.90% |
| SA LISTED PROPERTY | 487.00 | | -0.41% |
| CAPPED PROPERTY | 385.00 | | -0.46% |
| RESOURCE | 26,387.00 | -88 | -0.34% |
| DIVIDEND PLUS | 196.00 | 0 | -0.27% |
| FTSE/JSE RAFI 40 | 7,236.00 | -30 | -0.42% |
| Capped Top 40 | 16,463.00 | -73 | -0.45% |
| Capped All Share | 17,917.00 | -78 | -0.44% |
| JSE TABACO | 5,572.00 | -35 | -0.64% |
Click here for the Sharenet Index Summary page
---
Latest Consensus Changes**

| | | | |
| --- | --- | --- | --- |
| Code | Company Name | Status | Updated |
| MST | MUSTEK LIMITED | BUY | 09 Aug |
| IPL | IMPERIAL HOLDINGS LTD | HOLD | 09 Aug |
| RLO | REUNERT LIMITED | SELL | 09 Aug |
| ALT | ALLIED TECHNOLOGIES LIMIT... | HOLD | 09 Aug |
| BIL | BHP BILLITON PLC | BUY | 09 Aug |

Results Expected**

| | | |
| --- | --- | --- |
| Expected | Company Name | Fin. Date |
| 14 Aug 2012 | EASTPLATS | June 2012 (Interim) |
| 14 Aug 2012 | FORBES | May 2012 (Q) |
| 14 Aug 2012 | NEPI | June 2012 (Interim) |
| 14 Aug 2012 | SUPRGRP | June 2012 (Final) |
| 14 Aug 2012 | SUPRGRPP | June 2012 (Final) |
---
Recent Dividends**

| | | | | |
| --- | --- | --- | --- | --- |
| Share Name | Dec-Date | LDT | Pay-Date | Amount |
| ARROWA | 12-08-08 | 12-08-24 | 12-09-03 | R 0.1500 |
| OLDMUTUAL | 12-08-08 | 12-10-19 | 12-11-30 | R 0.0175 |
| ARROWB | 12-08-08 | 12-08-24 | 12-09-03 | R 0.1003 |
| MTN GROUP | 12-08-08 | 12-08-24 | 12-09-03 | R 3.2100 |
| SHOPRIT 5% | 12-08-07 | 12-08-24 | 12-09-03 | R 0.0500 |

Ex Div**

| | | | | |
| --- | --- | --- | --- | --- |
| Share Name | Dec-Date | LDT | Pay-Date | Amount |
| KUMBA | 12-07-20 | 12-08-10 | 12-08-20 | R 19.2000 |
| HUDACO | 12-06-29 | 12-08-10 | 12-08-20 | R 1.5500 |
| ADCORP | 12-05-22 | 12-08-10 | 12-08-20 | R 0.8000 |
| BATS | 12-07-25 | 12-08-10 | 12-09-26 | R 0.4220 |
| ANGLO | 12-07-27 | 12-08-10 | 12-09-13 | R 0.3200 |
---
Upcoming AGMs**

| | | | |
| --- | --- | --- | --- |
| Code | Company Name | Date | Status |
| VUN | Vunani Ltd. | 13/08/2012 | Confirmed |
| HSP | Holdsport Ltd. | 14/08/2012 | Confirmed |
| IVT | Invicta Holdings Ltd. | 14/08/2012 | Confirmed |
| FGL | Finbond Group Ltd. | 17/08/2012 | Confirmed |
| LEW | Lewis Group Ltd. | 17/08/2012 | Confirmed |
---
Stock Exchange News Service
Click here for more SENS news
---