Wednesday, 18 June 2014 - 20:00
Charts
Seed Weekly - African Equity in a Multi Asset Fund
Investing into Africa (for the purposes of this article, Africa refers to Africa ex South Africa) has become fairly popular over the past few years. As is often the case, investors are looking for 'the next big thing' and it seems that Africa currently can be classified as a candidate for 'the next big thing'.
One of the reasons why investing into Africa has become popular for South African managers and investors is the change in legislation that allows Reg 28 funds (funds that can be used in retirement products) to invest an extra 5% into Africa on top of the maximum allowed 25% global allocation. With local markets expensive both on a nominal basis and when looking at various valuation metrics, many managers and investors are looking at where else they can expect to generate decent real returns.
When looking at returns generated from Africa equity it is important not to just look at the relative performance over a certain period. More important than the overall performance, is how it has performed relative to South African and Developed Market equities over various periods – essentially looking at the return profile.
An example of what this means is that while the average correlation of monthly returns between Africa equity and SA equity is 17% over the past 12 months on an annual basis it has been above 80% and as low as -80% as shown in the chart below.

When making an allocation we need to assess whether the correlation will fall back to its long term average of around 17% or lower (which is desirable) or if it will remain high as it has over the shorter term.
Assets that have a low (or negative) correlation that are blended with one another and regularly rebalanced gain the benefits of diversification. By blending the asset classes one is generally able to create a solution that either has a better return (with no extra risk) or lower risk (without sacrificing return) or ideally a combination of both when compared to the stand alone asset class. In the case of blending a typical balanced fund (95%) with Africa equity (5%) one has been able to slightly improve the return when compared to the balanced fund and also reduce the downside deviation over the past 12 years.
When a manager or investor is satisfied that the return profile going forward will be sufficiently uncorrelated the next step in the process is to ensure that the valuations are reasonable. It doesn't make sense to allocate capital to a grossly overvalued asset (currently developed market bonds can be classed in this category) purely because of the diversification benefits that can be achieved. Each asset should only make its way into a portfolio if it offers the opportunity of positive returns. The valuation of Africa equity currently looks reasonable (especially when compared to SA equity).
Furthermore one needs to assess the relative merits of active and passive management, both in the current environment and in the specific asset class universe. At Seed our opinion is the opportunity offered by active managers in Africa equity (especially those that spend a great deal of time in the various countries) far outweighs the extra costs incurred. Over the past month and a half we have started to make small allocations to Africa equity across our multi asset Funds.
Take care,
Mike Browne
www.seedinvestments.co.za
info@seedinvestments.co.za
021 914 4966
Wed, 18 Jun 2014
Top News
---

Iran is refusing to significantly cut the number of centrifuges it intends to keep to produce nuclear fuel, making it hard to imagine a compromise at this week's talks with six powers, Western and Iranian officials said on Wednesday.
World Markets (Spot Prices)
| | | | | |
| --- | --- | --- | --- | --- |
| Name | Time | RP | Move | % Move |
| JSE Overall | 17:00 | 50693.95 | -217.10 | -0.43% |
| JSE Top 40 | 17:00 | 45723.15 | -179.10 | -0.39% |
| JSE Gold | 17:00 | 1399.14 | 1.29 | 0.09% |
| JSE Financial | 17:00 | 37186.84 | -355.81 | -0.95% |
| JSE Industrial | 17:00 | 66996.14 | -382.39 | -0.57% |
| JSE Indust 25 | 17:00 | 59378.63 | -303.76 | -0.51% |
| JSE Resource | 17:00 | 56719.05 | 149.74 | 0.26% |
| DJ Futures | 19:12 | 16685.00 | -44.00 | -0.26% |
| DJ Ind | 19:58 | 16785.22 | -23.27 | -0.14% |
| SP 500 | 19:58 | 1941.50 | -0.49 | -0.03% |
| Nasdaq | 19:58 | 4324.78 | -12.45 | -0.29% |
| FTSE 100 | 17:35 | 6778.56 | 11.79 | 0.17% |
| DAX | 18:10 | 9930.33 | 10.01 | 0.10% |
| CAC40 | 18:10 | 4530.37 | -5.70 | -0.13% |
| Nikkei | 08:28 | 15115.80 | 139.83 | 0.93% |
| Shanghai | 09:28 | 2055.52 | -11.18 | -0.54% |
| Hang-Seng | 10:28 | 23181.72 | -21.87 | -0.09% |
| All Ords | 08:37 | 5363.90 | -16.80 | -0.31% |
| NZSE 50 | 07:48 | 5184.46 | -9.04 | -0.17% |

| | | | | |
| --- | --- | --- | --- | --- |
| Name | Time | RP | Move | % Move |
| Gold $ | 19:59 | 1271.25 | .01 | 0.00% |
| Gold R | 19:59 | 13648.27 | -128.34 | -0.93% |
| Gold R/kg | 19:58 | 439000 | -2560 | -0.58% |
| Silver $ | 19:59 | 19.7740 | .0390 | 0.20% |
| Platinum $ | 19:59 | 1446.90 | 10.40 | 0.72% |
| Palladium $ | 19:59 | 821.80 | 8.10 | 1.00% |
| R157 | 16:58 | 6.74 | .03 | 0.37% |
| R186 | 17:26 | 8.44 | -.00 | -0.06% |
| R204 | 16:56 | 7.63 | .04 | 0.46% |
| R207 | 16:58 | 7.89 | -.01 | -0.13% |
| Brent Crude | 19:58 | 114.15 | .93 | 0.82% |
| Rand / Dollar | 19:59 | 10.7361 | -0.0978 | -0.90% |
| Rand / Pound | 19:55 | 18.1627 | -0.1864 | -1.02% |
| Rand / Euro | 19:55 | 14.5742 | -0.1044 | -0.71% |
| Rand / NZD | 19:59 | 9.3236 | -0.0556 | -0.59% |
| Rand / AUD | 19:55 | 10.0346 | -0.0862 | -0.85% |
| Yen / Dollar | 19:59 | 102.1890 | 0.0080 | 0.01% |
| Euro / Dollar | 19:59 | 0.7366 | -0.0016 | -0.22% |
| Dollar / Euro | 19:59 | 1.3576 | 0.0024 | 0.18% |
| Pound / Dollar | 19:55 | 0.5901 | 0.0007 | 0.12% |
Click here for the Sharenet Spot Price page
The JSE Today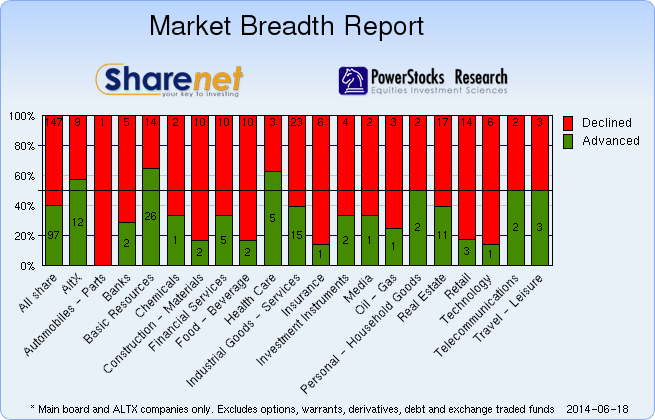 Trading Statistics
| Date | Adv. | Decl. | Unch. | Actives | Volume | Value | Trades | Orders |
| --- | --- | --- | --- | --- | --- | --- | --- | --- |
| 18/06/2014 | 145 | 209 | 65 | 419 | 192,396,554 | R13,618,732,899 | 161484 | 1585250 |
| 17/06/2014 | 206 | 153 | 59 | 418 | 206,692,229 | R14,954,819,203 | 191705 | 387892 |
| 13/06/2014 | 193 | 166 | 67 | 426 | 172,796,699 | R14,730,764,507 | 143409 | 480684 |
| 12/06/2014 | 169 | 196 | 54 | 419 | 197,064,056 | R15,598,531,084 | 158568 | 99207 |
| 11/06/2014 | 181 | 190 | 74 | 445 | 232,978,429 | R18,336,559,277 | 190502 | 625388 |
* Includes all listed instruments on the JSE
---
---
---
Index Summary
| | | | |
| --- | --- | --- | --- |
| Index Name | RP | Move | % Move |
| Top 40 | 45,723.15 | -179.10 | -0.39% |
| Industrial | 66,996.14 | -382.39 | -0.57% |
| Mid Cap | 63,666.26 | -459.75 | -0.72% |
| Small Cap | 53,919.24 | -94.59 | -0.18% |
| Resource 20 | 56,719.05 | 149.74 | 0.26% |
| Industrial 25 | 59,378.63 | -303.76 | -0.51% |
| Financial 15 | 14,340.07 | -166.19 | -1.15% |
| Financial & Ind. 30 | 63,105.62 | -413.02 | -0.65% |
| All Share | 50,693.95 | -217.10 | -0.43% |
| Oil & Gas | 47,977.67 | -349.62 | -0.72% |
| Mining | 33,198.77 | 173.48 | 0.53% |
| Gold Mining | 1,399.14 | 1.29 | 0.09% |
| Platinum Mining | 48.97 | .18 | 0.37% |
| GENERAL MINING | 9,662.08 | 57.81 | 0.60% |
| Oil & Gas Producers | 25,796.71 | -187.98 | -0.72% |
| Basic Materials | 29,460.56 | 154.54 | 0.53% |
| Chemicals | 24,865.90 | -71.86 | -0.29% |
| Forestry & Paper | 33,008.01 | 227.78 | 0.69% |
| Industrial Metals | 18,541.36 | 166.23 | 0.90% |
| Industrials | 45,410.96 | -605.02 | -1.31% |
| General Industrials | 142.69 | -1.80 | -1.25% |
| Consumer Goods | 63,719.38 | -442.02 | -0.69% |
| Automobiles & Parts | 8,944.61 | -90.58 | -1.00% |
| Household Goods | 373.09 | 0 | 0.02% |
| Health Care | 82,522.34 | -498.55 | -0.60% |
| Beverages | 211.74 | -2.32 | -1.08% |

| | | | |
| --- | --- | --- | --- |
| Index Name | RP | Move | % Move |
| Food Producers | 76,369.25 | -1642.28 | -2.11% |
| Personal Goods | 1,108.63 | -.60 | -0.05% |
| Consumer Services | 11,941.21 | -14.23 | -0.12% |
| General Retailers | 64,146.55 | -911.22 | -1.40% |
| Travel & Leisure | 5,794.19 | 19.89 | 0.34% |
| Media | 271.22 | 1.63 | 0.60% |
| Support Services | 2,748.86 | -67.52 | -2.40% |
| Telecommunications | 10,820.48 | -75.98 | -0.70% |
| Financials | 37,186.84 | -355.81 | -0.95% |
| Banks | 64,374.85 | -1130.90 | -1.73% |
| Non-life Insurance | 49,862.74 | -1163.81 | -2.28% |
| Life Insurance | 35,657.94 | -265.26 | -0.74% |
| General Financial | 3,789.44 | -22.07 | -0.58% |
| Technology | 42,773.50 | -96.67 | -0.23% |
| SHARIAH TOP40 | 4,250.41 | 2 | 0.05% |
| FTSE/JSE SHARIAH ALL | 4,361.95 | -5 | -0.11% |
| COAL MINING | 17,793.27 | 32 | 0.18% |
| FTSE JSE Fledgling | 6,803.13 | -6 | -0.08% |
| FTSE/JSE Alt X | 1,257.10 | -5 | -0.42% |
| SA LISTED PROPERTY | 507.13 | | -0.23% |
| CAPPED PROPERTY | 445.16 | | -0.20% |
| RESOURCE | 30,986.60 | 84 | 0.27% |
| DIVIDEND PLUS | 223.76 | -2 | -0.87% |
| FTSE/JSE RAFI 40 | 10,000.65 | -57 | -0.57% |
| Capped Top 40 | 24,235.80 | -105 | -0.43% |
| Capped All Share | 25,677.89 | -114 | -0.44% |
| JSE TABACO | 8,238.64 | -67 | -0.81% |
Click here for the Sharenet Index Summary page
---
Latest Consensus Changes**

| | | | |
| --- | --- | --- | --- |
| Code | Company Name | Status | Updated |
| HSP | HOLDSPORT LIMITED | BUY | 10/06/2014 |
| NED | NEDBANK GROUP LTD | BUY | 10/06/2014 |
| BVT | THE BIDVEST GROUP LIMITED | BUY | 10/06/2014 |
| ANG | ANGLOGOLD ASHANTI LIMITED | BUY | 10/06/2014 |
| BGA | BARCLAYS AFRICA GRP LTD | HOLD | 10/06/2014 |

Results Expected**

| | | |
| --- | --- | --- |
| Expected | Company Name | Fin. Date |
| 20/06/2014 | AMECOR | March 2014 (Final) |
| 24/06/2014 | WESCOAL | March 2014 (Final) |
| 25/06/2014 | NASPERS | March 2014 (Final) |
| 25/06/2014 | NASPERS-N | March 2014 (Final) |
| 25/06/2014 | OMNIA | March 2014 (Final) |
---
Recent Dividends**

| | | | | |
| --- | --- | --- | --- | --- |
| Share Name | Dec-Date | LDT | Pay-Date | Amount |
| INVICTA | 17/06/14 | 04/07/14 | 14/07/14 | ZAR 1.8465 |
| TELEMASTR | 17/06/14 | 04/07/14 | 14/07/14 | ZAR 0.0100 |
| MICROMEGA | 12/06/14 | 27/06/14 | 07/07/14 | ZAR 0.2000 |
| AF-OVR 6%PP | 12/06/14 | 27/06/14 | 07/07/14 | ZAR 0.0600 |
| SYCOM | 12/06/14 | 20/06/14 | 30/06/14 | ZAR 0.9516 |

Ex Div**

| | | | | |
| --- | --- | --- | --- | --- |
| Share Name | Dec-Date | LDT | Pay-Date | Amount |
| BRAIT PREF | 29/05/14 | 12/06/14 | 23/06/14 | ZAR 4.4934 |
| MRPRICE | 27/05/14 | 12/06/14 | 23/06/14 | ZAR 3.1400 |
| TONGAAT | 26/05/14 | 12/06/14 | 26/06/14 | ZAR 2.1000 |
| ASTRAL | 19/05/14 | 12/06/14 | 23/06/14 | ZAR 2.0000 |
| REUNERT | 20/05/14 | 12/06/14 | 23/06/14 | ZAR 0.9500 |
---
Upcoming AGMs**

| | | | |
| --- | --- | --- | --- |
| Code | Company Name | Date | Status |
| GGM | Goliath Gold Mining Ltd. | 19/06/2014 | Confirmed |
| PSG | PSG Group Ltd. | 20/06/2014 | Confirmed |
| PGFP | PSG Group Ltd. | 20/06/2014 | Confirmed |
| ZED | Zeder Investments Ltd. | 20/06/2014 | Confirmed |
| ZEDP | Zeder Investments Ltd. | 20/06/2014 | Confirmed |
---
Stock Exchange News Service
Click here for more SENS news
---