Thursday, 13 December 2012 - 20:00
Charts
What is Driving up the Local Equity Market?
Over this last year and in November the JSE has powered up to new highs. For sure the gains have only come from a certain section of the market – as we noted last month Industrials and Financials are driving the market to new highs.

November ended the month on a new high and this has again continued into December. The local JSE has now made new highs in August, September, October, November and now also in December.
Ultimately we believe that a company generating higher and higher profitability will be represented by a share price that moves up over time. But over the last 12 months earnings growth on JSE listed companies has slowed from an annual growth of 30% in July to just 4.8% in November. Clearly there are other factors driving prices up.
One US based fund manager, Ken Fisher, who very often goes against the prevailing trend has a firm view that the only determinant of prices is supply and demand. In the long term there is an almost unlimited supply of shares, but in the shorter term up to say two years the supply of shares is relatively stable because new share issues and major merger and acquisitions take some time to conclude.
The demand side for equities can be categorised into fundamental and non-fundamental factors. Fundamental drivers include economic activity and corporate profitability. Non fundamental drivers include sentiment and liquidity. All of these are important drivers of demand but at different times have differing influences on prices.
The chart below gives a just one possible reason for the on-going demand for local equities and especially selected industrials and financials despite earnings growth falling back – i.e. the requirement for yield from investors in a global environment that is providing very few opportunities. For a period of time investors are prepared to bid up prices because on a relative basis they are attractive.
When priced relative to bonds, there have only been 3 periods of time in the last 10 years when local investments were as attractive – in the period 2002/2003, in the period from September 2008 and now more recently in June to September.
Therefore despite the more elevated share prices and the new monthly highs, liquidity driven demand for yield has continued to be a driver of share prices. This chart indicates that there is still relatively good value in local equities when compared to a bond alternative.
Kind regards,
Ian de Lange
www.seedinvestments.co.za
info@seedinvestments.co.za
021 914 4966
Thu, 13 Dec 2012
Top News
South African stocks fell slightly on Thursday, snapping a three-day record-setting run, as investors cashed in on profits while worries about U.S. fiscal problems dampened sentiment.

---

European governments reached a landmark deal on Thursday that gives the European Central Bank new powers to supervise banks, boosting confidence in the single currency bloc as it enters the fourth year of its debt crisis.

Syrian rebels are gaining ground and might win, Russia's Middle East envoy said on Thursday, in the starkest such admission from a major ally of President Bashar al-Assad in 20 months of conflict.
World Markets (Spot Prices)
| | | | | |
| --- | --- | --- | --- | --- |
| Name | Time | RP | Move | % Move |
| JSE Overall | 17:00 | 38676.70 | -86.00 | -0.22% |
| JSE Top 40 | 17:00 | 34287.11 | -127.00 | -0.37% |
| JSE Gold | 17:00 | 2240.12 | 7.00 | 0.32% |
| JSE Financial | 17:00 | 28858.20 | 38.00 | 0.13% |
| JSE Industrial | 17:00 | 46235.84 | -27.00 | -0.06% |
| JSE Indust 25 | 17:00 | 39772.56 | -80.00 | -0.20% |
| JSE Resource | 17:00 | 50766.85 | -397.00 | -0.78% |
| DJ Futures | 19:22 | 13212.00 | -13.00 | -0.10% |
| DJ Ind | 19:52 | 13177.49 | -67.96 | -0.51% |
| SP 500 | 19:52 | 1419.10 | -9.38 | -0.66% |
| Nasdaq | 19:52 | 2989.09 | -24.72 | -0.82% |
| FTSE 100 | 18:35 | 5929.61 | -16.24 | -0.27% |
| DAX | 19:10 | 7581.98 | -32.81 | -0.43% |
| CAC40 | 19:10 | 3643.13 | -3.53 | -0.10% |
| Nikkei | 08:30 | 9742.73 | 161.27 | 1.68% |
| Shanghai | 09:26 | 2061.48 | -21.25 | -1.02% |
| Hang-Seng | 10:28 | 22445.58 | -57.77 | -0.26% |
| All Ords | 07:47 | 4592.90 | 1.10 | 0.02% |
| NZSE 50 | 06:48 | 3974.73 | -20.53 | -0.51% |

| | | | | |
| --- | --- | --- | --- | --- |
| Name | Time | RP | Move | % Move |
| Gold $ | 19:58 | 1697.01 | -13.68 | -0.80% |
| Gold R | 19:58 | 14705.13 | -96.90 | -0.65% |
| Gold R/kg | 19:52 | 473035 | -4134 | -0.87% |
| Silver $ | 19:59 | 32.3750 | -1.0050 | -3.01% |
| Platinum $ | 19:59 | 1607.00 | -23.00 | -1.41% |
| Palladium $ | 19:59 | 689.00 | -2.20 | -0.32% |
| R157 | 17:43 | 5.41 | -.01 | -0.28% |
| R204 | 16:47 | 6.09 | -.01 | -0.16% |
| R207 | 16:55 | 6.36 | -.02 | -0.39% |
| Brent Crude | 19:48 | 108.56 | .55 | 0.51% |
| Rand / Dollar | 19:59 | 8.6693 | 0.0180 | 0.21% |
| Rand / Pound | 19:55 | 13.9236 | -0.0068 | -0.05% |
| Rand / Euro | 19:55 | 11.3267 | 0.0177 | 0.16% |
| Rand / NZD | 19:58 | 7.3095 | 0.0125 | 0.17% |
| Rand / AUD | 19:55 | 9.1185 | -0.0125 | -0.14% |
| Yen / Dollar | 19:59 | 83.4300 | 0.3000 | 0.36% |
| Euro / Dollar | 19:55 | 0.7647 | -0.0001 | -0.01% |
| Dollar / Euro | 19:59 | 1.3067 | 0.0001 | 0.01% |
| Pound / Dollar | 19:55 | 0.6207 | 0.0013 | 0.21% |
Click here for the Sharenet Spot Price page
The JSE Today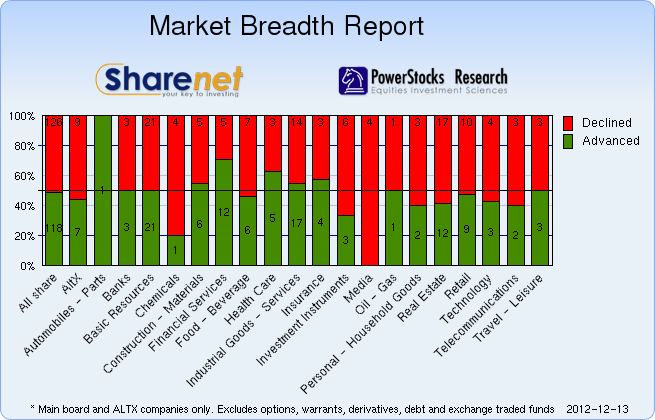 Trading Statistics
| Date | Adv. | Decl. | Unch. | Actives | Volume | Value | Trades | Orders |
| --- | --- | --- | --- | --- | --- | --- | --- | --- |
| 13/12/2012 | 169 | 190 | 67 | 426 | 184,265,497 | R12,452,581,811 | 139905 | 1126741 |
| 12/12/2012 | 243 | 102 | 79 | 424 | 245,021,585 | R13,454,979,817 | 147116 | 1072734 |
| 11/12/2012 | 205 | 151 | 88 | 444 | 206,603,887 | R12,960,731,199 | 158654 | 1020745 |
| 10/12/2012 | 166 | 163 | 80 | 409 | 187,897,632 | R11,158,334,700 | 134064 | 1061841 |
| 07/12/2012 | 163 | 173 | 81 | 417 | 164,339,086 | R9,424,937,345 | 105958 | 1080264 |
* Includes all listed instruments on the JSE
---
---
---
Index Summary
| | | | |
| --- | --- | --- | --- |
| Index Name | RP | Move | % Move |
| Top 40 | 34,287.00 | -127.00 | -0.37% |
| Industrial | 46,235.00 | -27.00 | -0.06% |
| Mid Cap | 54,156.00 | 358.00 | 0.67% |
| Small Cap | 40,463.00 | -125.00 | -0.31% |
| Resource 20 | 50,766.00 | -397.00 | -0.78% |
| Industrial 25 | 39,772.00 | -80.00 | -0.20% |
| Financial 15 | 10,767.00 | 17.00 | 0.17% |
| Financial & Ind. 30 | 43,176.00 | -71.00 | -0.17% |
| All Share | 38,676.00 | -86.00 | -0.22% |
| Oil & Gas | 27,385.00 | -568.00 | -2.03% |
| Mining | 32,884.00 | -174.00 | -0.53% |
| Gold Mining | 2,240.00 | 7.00 | 0.32% |
| Platinum Mining | 55.00 | .00 | 0.02% |
| GENERAL MINING | 8,700.00 | -65.00 | -0.75% |
| Oil & Gas Producers | 14,724.00 | -305.00 | -2.03% |
| Basic Materials | 28,232.00 | -117.00 | -0.41% |
| Chemicals | 16,352.00 | 20.00 | 0.13% |
| Forestry & Paper | 17,563.00 | 255.00 | 1.48% |
| Industrial Metals | 27,641.00 | 37.00 | 0.14% |
| Industrials | 36,998.00 | 413.00 | 1.13% |
| General Industrials | 107.00 | 1.00 | 1.17% |
| Consumer Goods | 41,090.00 | -182.00 | -0.44% |
| Automobiles & Parts | 7,253.00 | 30.00 | 0.42% |
| Household Goods | 187.00 | 2 | 1.33% |
| Health Care | 52,608.00 | 45.00 | 0.09% |
| Beverages | 133.00 | .00 | 0.46% |

| | | | |
| --- | --- | --- | --- |
| Index Name | RP | Move | % Move |
| Food Producers | 70,232.00 | -727.00 | -1.03% |
| Personal Goods | 670.00 | -10.00 | -1.59% |
| Consumer Services | 82,942.00 | -346.00 | -0.42% |
| General Retailers | 67,757.00 | -500.00 | -0.73% |
| Travel & Leisure | 4,752.00 | -34.00 | -0.73% |
| Media | 119.00 | .00 | -0.18% |
| Support Services | 2,273.00 | -20.00 | -0.89% |
| Telecommunications | 80,314.00 | 192.00 | 0.24% |
| Financials | 28,858.00 | 38.00 | 0.13% |
| Banks | 51,143.00 | 177.00 | 0.35% |
| Non-life Insurance | 47,841.00 | 625.00 | 1.32% |
| Life Insurance | 25,068.00 | -171.00 | -0.68% |
| General Financial | 2,653.00 | 36.00 | 1.41% |
| Technology | 32,743.00 | 41.00 | 0.13% |
| SHARIAH TOP40 | 3,369.00 | -20 | -0.60% |
| FTSE/JSE SHARIAH ALL | 3,480.00 | -16 | -0.47% |
| COAL MINING | 20,309.00 | -19 | -0.10% |
| FTSE JSE Fledgling | 5,746.00 | -19 | -0.33% |
| FTSE/JSE Alt X | 985.00 | 17 | 1.79% |
| SA LISTED PROPERTY | 501.00 | | 0.09% |
| CAPPED PROPERTY | 408.00 | | 0.25% |
| RESOURCE | 28,004.00 | -209 | -0.74% |
| DIVIDEND PLUS | 210.00 | 1 | 0.72% |
| FTSE/JSE RAFI 40 | 7,863.00 | -11 | -0.15% |
| Capped Top 40 | 18,069.00 | -71 | -0.39% |
| Capped All Share | 19,558.00 | -43 | -0.22% |
| JSE TABACO | 5,792.00 | -22 | -0.39% |
Click here for the Sharenet Index Summary page
---
Latest Consensus Changes**

| | | | |
| --- | --- | --- | --- |
| Code | Company Name | Status | Updated |
| RMI | RAND MERCH INS HLDGS LTD | HOLD | 11/12/2012 |
| IPL | IMPERIAL HOLDINGS LTD | HOLD | 10/12/2012 |
| BIL | BHP BILLITON PLC | HOLD | 10/12/2012 |
| TRU | TRUWORTHS INTERNATIONAL L... | SELL | 10/12/2012 |
| AMS | ANGLO AMERICAN PLATINUM C... | HOLD | 10/12/2012 |

Results Expected**

| | | |
| --- | --- | --- |
| Expected | Company Name | Fin. Date |
| 14/12/2012 | AH-VEST | September 2012 (Interim) |
| 14/12/2012 | OSIRIS | August 2013 (Final) |
| 14/12/2012 | RACEC | September 2012 (Final) |
| 14/12/2012 | TELEMASTR | September 2012 (Final) |
| 14/12/2012 | WINHOLD | September 2012 (Final) |
---
Recent Dividends**

| | | | | |
| --- | --- | --- | --- | --- |
| Share Name | Dec-Date | LDT | Pay-Date | Amount |
| CULLINAN | 12/12/2012 | 27/12/2012 | 07/01/2013 | R 0.0100 |
| AFPREFINV | 10/12/2012 | 27/12/2012 | 07/01/2013 | R 0.2606 |
| NAMPAK 6%P | 06/12/2012 | 18/01/2013 | 28/01/2013 | R 0.0600 |
| NAMPAK 6.5 | 06/12/2012 | 18/01/2013 | 28/01/2013 | R 0.0650 |
| REX TRUE6% | 05/12/2012 | 27/12/2012 | 07/01/2013 | R 0.0600 |

Ex Div**

| | | | | |
| --- | --- | --- | --- | --- |
| Share Name | Dec-Date | LDT | Pay-Date | Amount |
| ABIL PREF | 19/11/2012 | 07/12/2012 | 18/12/2012 | R 3.2700 |
| MRPRICE | 14/11/2012 | 07/12/2012 | 18/12/2012 | R 1.3300 |
| ABIL | 19/11/2012 | 07/12/2012 | 18/12/2012 | R 1.1000 |
| AME | 20/11/2012 | 07/12/2012 | 18/12/2012 | R 1.0000 |
| CROOKES | 27/11/2012 | 13/12/2012 | 24/12/2012 | R 0.8000 |
---
Upcoming AGMs**

| | | | |
| --- | --- | --- | --- |
| Code | Company Name | Date | Status |
| RAR | Rare Holdings Ltd. | 13/12/2012 | Confirmed |
| RARP | Rare Holdings Ltd. | 13/12/2012 | Confirmed |
| SLO | Southern Electricity Company Ltd. | 13/12/2012 | Confirmed |
| PPE | Purple Capital Ltd. | 14/12/2012 | Confirmed |
| PPEP | Purple Capital Ltd. | 14/12/2012 | Confirmed |
---
Stock Exchange News Service
Click here for more SENS news
---