Friday, 03 February 2012 - 20:00
Charts
Top News
Revenue from continuing operations increased to AUD1.1 million (2010: AUD365 000) . Profit attributable to owners of the company increased to AUD 680 000 (2010: loss of: AUD3.5 million), while headline earnings per share rose to AUD0.26cps (2010: loss of AUD0.02cps). Dividend No divide

---

Syrian forces shot dead one person in the city of Hama on Friday as they broke up a protest marking the anniversary of a 1982 massacre by troops loyal to President Bashar al-Assad's father, activists said.

Rock-throwing protesters fought riot police through clouds of teargas to within metres of Egypt's Interior Ministry on a second day of clashes triggered by the deaths of 74 people in the country's worst soccer disaster.
World Markets (Spot Prices)
| | | | | |
| --- | --- | --- | --- | --- |
| Name | Time | RP | Move | % Move |
| JSE Overall | 17:00 | 34386.97 | 15.47 | 0.05% |
| JSE Top 40 | 17:00 | 30718.49 | -9.76 | -0.03% |
| JSE Gold | 17:00 | 2872.96 | -57.09 | -1.95% |
| JSE Financial | 17:00 | 24169.06 | 186.84 | 0.78% |
| JSE Industrial | 17:00 | 36185.40 | 74.95 | 0.21% |
| JSE Indust 25 | 17:00 | 30355.41 | 59.76 | 0.20% |
| JSE Resource | 17:00 | 56252.35 | -286.55 | -0.51% |
| DJ Futures | 18:46 | 12800.00 | 134.00 | 1.06% |
| DJ Ind | 19:45 | 12855.87 | 150.46 | 1.18% |
| SP 500 | 20:00 | 1343.52 | 17.98 | 1.36% |
| Nasdaq | 20:00 | 2906.01 | 46.33 | 1.62% |
| FTSE 100 | 18:35 | 5901.07 | 105.00 | 1.81% |
| DAX | 19:06 | 6766.67 | 111.04 | 1.67% |
| CAC40 | 19:06 | 3427.92 | 51.26 | 1.52% |
| Nikkei | 08:26 | 8831.93 | -44.89 | -0.51% |
| Shanghai | 09:26 | 2330.40 | 17.85 | 0.77% |
| Hang-Seng | 10:26 | 20756.98 | 17.53 | 0.08% |
| All Ords | 07:37 | 4320.10 | -13.10 | -0.30% |
| NZSE 50 | 06:46 | 3312.23 | -2.41 | -0.07% |

| | | | | |
| --- | --- | --- | --- | --- |
| Name | Time | RP | Move | % Move |
| Gold | 19:59 | 1738.43 | -21.10 | -1.20% |
| Gold/Rand | 20:00 | 13132.45 | -309.01 | -2.30% |
| Gold/R kg | 20:00 | 422208 | -7832 | -1.82% |
| Silver | 19:59 | 33.7600 | -.4850 | -1.42% |
| Platinum | 19:59 | 1620.75 | -3.75 | -0.23% |
| Palladium | 19:59 | 705.25 | 1.00 | 0.14% |
| R157 | 17:06 | 6.42 | .03 | 0.47% |
| R204 | 17:06 | 7.38 | .03 | 0.41% |
| Brent Crude | 19:56 | 113.01 | 1.96 | 1.77% |
| Rand / Dollar | 19:59 | 7.5542 | -0.0869 | -1.14% |
| Rand / Pound | 19:55 | 11.9119 | -0.1430 | -1.19% |
| Rand / Euro | 19:55 | 9.9237 | -0.1266 | -1.26% |
| Rand / NZD | 19:58 | 6.3242 | -0.0338 | -0.53% |
| Rand / AUD | 19:55 | 8.1468 | -0.0415 | -0.51% |
| Yen / Dollar | 19:59 | 76.5610 | 0.3610 | 0.47% |
| Euro / Dollar | 19:55 | 0.7608 | 0.0003 | 0.04% |
| Dollar / Euro | 19:59 | 1.3136 | -0.0009 | -0.07% |
| Pound / Dollar | 19:55 | 0.6321 | -0.0003 | -0.05% |
Click here for the Sharenet Spot Price page
The JSE Today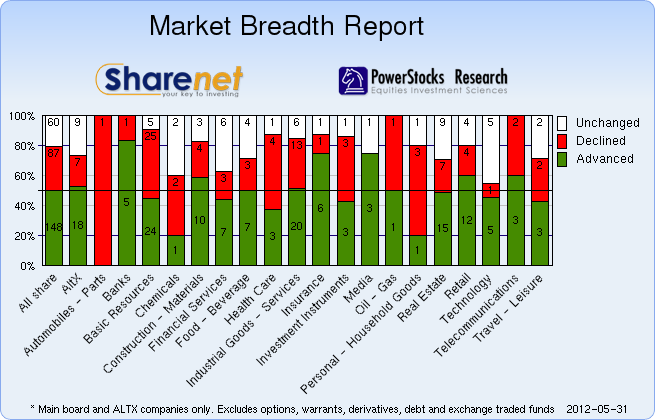 Trading Statistics
| Date | Adv. | Decl. | Unch. | Actives | Volume | Value | Trades | Orders |
| --- | --- | --- | --- | --- | --- | --- | --- | --- |
| 03/02/2012 | 183 | 169 | 83 | 435 | 263,395,243 | R17,164,935,280 | 120638 | 2589079 |
| 02/02/2012 | 233 | 116 | 90 | 439 | 385,024,668 | R21,837,079,868 | 147033 | 2453113 |
| 01/02/2012 | 229 | 124 | 80 | 433 | 280,103,124 | R17,562,478,927 | 116723 | 2665124 |
| 31/01/2012 | 227 | 139 | 85 | 451 | 323,726,083 | R20,029,881,823 | 128319 | 2221949 |
| 30/01/2012 | 132 | 228 | 83 | 443 | 264,537,021 | R13,537,867,118 | 104364 | 2397787 |
* Includes all listed instruments on the JSE
---
---
---
Index Summary
| | | | |
| --- | --- | --- | --- |
| Index Name | RP | Move | % Move |
| Top 40 | 30,718.49 | -9.76 | -0.03% |
| Industrial | 36,185.40 | 74.95 | 0.21% |
| Mid Cap | 46,434.82 | 246.89 | 0.53% |
| Small Cap | 34,401.10 | -34.18 | -0.10% |
| Resource 20 | 56,252.35 | -286.55 | -0.51% |
| Industrial 25 | 30,355.41 | 59.76 | 0.20% |
| Financial 15 | 9,149.75 | 75.79 | 0.84% |
| Financial & Ind. 30 | 33,965.09 | 117.17 | 0.35% |
| All Share | 34,386.97 | 15.47 | 0.05% |
| Oil & Gas | 30,178.26 | -621.29 | -2.02% |
| Mining | 36,402.90 | -105.77 | -0.29% |
| Gold Mining | 2,872.96 | -57.09 | -1.95% |
| Platinum Mining | 62.67 | -.82 | -1.29% |
| GENERAL MINING | 9,227.11 | 25.55 | 0.28% |
| Oil & Gas Producers | 16,226.29 | -334.06 | -2.02% |
| Basic Materials | 30,813.43 | -63.66 | -0.21% |
| Chemicals | 14,386.78 | 69.54 | 0.49% |
| Forestry & Paper | 13,046.41 | 129.67 | 1.00% |
| Industrial Metals | 32,237.65 | 200.20 | 0.62% |
| Industrials | 30,993.16 | 189.40 | 0.61% |
| General Industrials | 87,610.87 | 395.92 | 0.45% |
| Consumer Goods | 31,045.05 | 161.54 | 0.52% |
| Automobiles & Parts | 4,617.23 | -2.27 | -0.05% |
| Household Goods | 171.68 | 1 | 0.54% |
| Health Care | 37,286.13 | 52.38 | 0.14% |
| Beverages | 102.68 | .84 | 0.82% |

| | | | |
| --- | --- | --- | --- |
| Index Name | RP | Move | % Move |
| Food Producers | 57,210.14 | 105.96 | 0.19% |
| Personal Goods | 456.83 | 1.29 | 0.28% |
| Consumer Services | 61,363.05 | -.65 | -0.00% |
| General Retailers | 51,529.84 | 313.90 | 0.61% |
| Travel & Leisure | 3,814.70 | -20.25 | -0.53% |
| Media | 87.42 | -.51 | -0.58% |
| Support Services | 2,286.53 | -5.60 | -0.24% |
| Telecommunications | 67,757.64 | -658.99 | -0.96% |
| Financials | 24,169.06 | 186.84 | 0.78% |
| Banks | 45,408.08 | 309.27 | 0.69% |
| Non-life Insurance | 35,888.66 | 26.68 | 0.07% |
| Life Insurance | 19,279.28 | 307.08 | 1.62% |
| General Financial | 2,306.26 | -1.01 | -0.04% |
| Technology | 27,525.59 | 656.84 | 2.44% |
| SHARIAH TOP40 | 3,284.60 | -14 | -0.44% |
| FTSE/JSE SHARIAH ALL | 3,359.32 | -11 | -0.34% |
| COAL MINING | 27,304.25 | 219 | 0.81% |
| FTSE JSE Fledgling | 5,042.57 | -19 | -0.37% |
| FTSE/JSE Alt X | 1,262.47 | 21 | 1.72% |
| SA LISTED PROPERTY | 414.27 | | 0.64% |
| CAPPED PROPERTY | 336.34 | | 0.57% |
| RESOURCE | 30,973.31 | -169 | -0.54% |
| DIVIDEND PLUS | 193.89 | 1 | 0.67% |
| FTSE/JSE RAFI 40 | 7,196.26 | 16 | 0.23% |
| Capped Top 40 | 16,140.18 | -3 | -0.02% |
| Capped All Share | 17,374.05 | 10 | 0.06% |
| JSE TABACO | 4,655.24 | 10 | 0.22% |
Click here for the Sharenet Index Summary page
---
Latest Consensus Changes**

| | | | |
| --- | --- | --- | --- |
| Code | Company Name | Status | Updated |
| REB | REBOSIS PROPERTY FUND LTD | BUY | 01 Feb |
| CPI | CAPITEC | HOLD | 01 Feb |
| VKE | VUKILE PROPERTY FUND LIMI... | BUY | 01 Feb |
| FFA | FORTRESS INCOME FUND LTD | BUY | 01 Feb |
| JSE | JSE LTD | BUY | 01 Feb |

Results Expected**

| | | |
| --- | --- | --- |
| Expected | Company Name | Fin. Date |
| 06 Feb 2012 | HARMONY | December 2011 (Interim) |
| 06 Feb 2012 | HARMONY-P | December 2011 (Interim) |
| 06 Feb 2012 | JASCO | December 2011 (Interim) |
| 06 Feb 2012 | JASCOP | December 2011 (Interim) |
| 06 Feb 2012 | PALAMIN | December 2011 (Final) |
---
Recent Dividends**

| | | | | |
| --- | --- | --- | --- | --- |
| Share Name | Dec-Date | LDT | Pay-Date | Amount |
| CAPITAL | 12-02-01 | 12-02-17 | 12-02-27 | R 0.3427 |
| HUDACO | 12-01-26 | 12-03-02 | 12-03-12 | R 3.1000 |
| WINHOLD | 11-11-28 | 12-02-10 | 12-02-20 | R 0.0700 |
| TFG PREF | 11-11-03 | 12-03-15 | 12-03-26 | R 0.0650 |

Ex Div**

| | | | | |
| --- | --- | --- | --- | --- |
| Share Name | Dec-Date | LDT | Pay-Date | Amount |
| SBR003 | 11-11-08 | 12-01-27 | 12-02-06 | R 1.4700 |
| FOORDCMPS | 12-01-19 | 12-02-03 | 12-02-13 | R 0.4961 |
| PNR FOODS | 11-11-28 | 12-01-27 | 12-02-06 | R 0.4000 |
| TREMATON | 11-11-15 | 12-02-03 | 12-02-13 | R 0.0200 |
---
Upcoming AGMs**

| | | | |
| --- | --- | --- | --- |
| Code | Company Name | Date | Status |
| OCT | Octodec Investments Ltd | 03/02/2012 | Confirmed |
| DON | The Don Group Ltd | 03/02/2012 | Confirmed |
| IDQPA | Indequity Group Ltd | 06/02/2012 | Confirmed |
| IDQP | Indequity Group Ltd | 06/02/2012 | Confirmed |
| YRK | York Timber Holdings Ltd | 06/02/2012 | Confirmed |
---
Stock Exchange News Service
Click here for more SENS news
---