Tuesday, 01 November 2016 - 20:00
Charts
Todays Sharenet VIEWS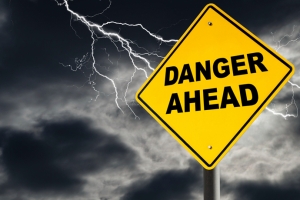 Dwaine van Vuuren
The macro environment for the JSE has been turning increasingly toxic. But nobody wants to give or receive bearish news, or believe the party is over. We have discussed the main culprits of the current toxic macro-environment in previous articles, but what do we learn when we view these conditions all together?
Top News
---

The woman at the centre of a scandal that has plunged the South Korean presidency into crisis was held for a second day of questioning by prosecutors on Tuesday after being detained overnight to answer allegations of exerting inappropriate influence over state affairs.

---

A top aide to Hillary Clinton on Tuesday urged the FBI to disclose what it knows about any ties between Republican Donald Trump and Russia, accusing the law enforcement agency of unfairly publicizing its inquiry into Clinton's email practices while staying quiet about Trump.

---
---
Shareholders of DRDGOLD are hereby informed of the following production update for FY17Q1 compared to FY16Q4: - volume throughput amounted to 6,6 million tonnes compared to 6,1 million tonnes, an 8% increase; and - gold production amounted to 1 034kg compared to 1 022kg, a 1% increase. The increase in throughput offset the effects of maintenance to the City Deep mills, causing quarter on quarter production to end flat. The final clean-up of specific Crown sites weighed in on. . .
World Markets (Spot Prices)
| | | | | |
| --- | --- | --- | --- | --- |
| Name | Time | RP | Move | % Move |
| JSE Overall | 17:10 | 51002.69 | 412.61 | 0.82% |
| JSE Top 40 | 17:10 | 44444.48 | 425.09 | 0.97% |
| JSE Gold | 17:00 | 1826.78 | 116.87 | 6.83% |
| JSE Financial | 17:00 | 40020.60 | 90.07 | 0.23% |
| JSE Industrial | 17:00 | 74377.26 | 243.58 | 0.33% |
| JSE Indust 25 | 17:00 | 66364.55 | 265.80 | 0.40% |
| JSE Resource | 17:10 | 32018.67 | 803.96 | 2.58% |
| DJ Futures | 19:42 | 17961.00 | -101.00 | -0.56% |
| DJ Ind | 19:58 | 18007.92 | -134.50 | -0.74% |
| SP 500 | 19:58 | 2105.33 | -20.82 | -0.98% |
| Nasdaq | 19:58 | 5132.33 | -56.80 | -1.09% |
| FTSE 100 | 16:28 | 6952.39 | -1.83 | -0.03% |
| DAX | 19:08 | 10526.16 | -138.85 | -1.30% |
| CAC40 | 19:08 | 4470.28 | -38.98 | -0.86% |
| Nikkei | 08:28 | 17442.40 | 17.38 | 0.10% |
| Shanghai | 09:28 | 3122.44 | 21.95 | 0.71% |
| Hang-Seng | 10:28 | 23147.07 | 212.53 | 0.93% |
| All Ords | 07:41 | 5375.20 | -27.20 | -0.50% |
| NZSE 50 | 09:08 | 6930.49 | -30.19 | -0.43% |

| | | | | |
| --- | --- | --- | --- | --- |
| Name | Time | RP | Move | % Move |
| Gold $ | 19:59 | 1288.30 | 11.77 | 0.92% |
| Gold R | 19:58 | 17591.25 | 403.26 | 2.35% |
| Gold R/kg | 19:57 | 565448 | 12854 | 2.33% |
| Silver $ | 19:59 | 18.3740 | 0.4950 | 2.77% |
| Platinum $ | 19:59 | 992.51 | 12.10 | 1.24% |
| Palladium $ | 19:59 | 629.94 | 11.94 | 1.93% |
| R186 | 17:42 | 8.76 | 0.05 | 0.57% |
| R204 | 17:23 | 7.80 | 0.08 | 0.97% |
| R207 | 17:23 | 8.02 | 0.07 | 0.88% |
| Brent Crude | 18:58 | 48.15 | -1.60 | -3.22% |
| USD / ZAR | 19:59 | 13.6599 | 0.1989 | 1.48% |
| GBP / ZAR | 19:55 | 16.6524 | 0.2036 | 1.24% |
| EUR/ ZAR | 19:55 | 15.0804 | 0.2985 | 2.02% |
| NZD/ ZAR | 19:58 | 9.7759 | 0.1497 | 1.56% |
| AUD / ZAR | 19:55 | 10.4276 | 0.1796 | 1.75% |
| USD / JPY | 19:59 | 104.2000 | -0.5530 | -0.53% |
| EUR / USD | 19:59 | 1.1056 | 0.0079 | 0.72% |
| GBP / USD | 19:59 | 1.2237 | -0.0001 | -0.01% |
Click here for the Sharenet Spot Price page
The JSE Today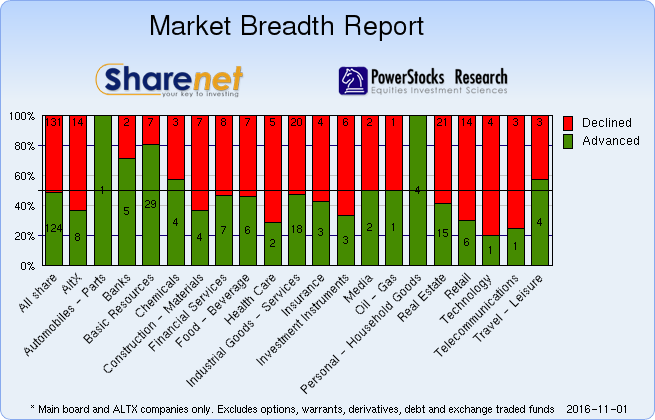 Trading Statistics
| Date | Adv. | Decl. | Unch. | Actives | Volume | Value | Trades | Orders |
| --- | --- | --- | --- | --- | --- | --- | --- | --- |
| 01/11/2016 | 200 | 166 | 54 | 420 | 254,142,205 | R18,470,821,713 | 271701 | 2489264 |
| 31/10/2016 | 173 | 184 | 53 | 410 | 306,631,940 | R20,905,233,564 | 300734 | 567625 |
| 28/10/2016 | 113 | 229 | 51 | 393 | 217,964,909 | R16,454,601,724 | 318023 | 1803501 |
| 27/10/2016 | 117 | 200 | 58 | 375 | 251,050,919 | R15,658,827,541 | 228494 | 2486702 |
| 26/10/2016 | 128 | 183 | 61 | 372 | 202,231,481 | R14,690,653,040 | 218126 | 72153 |
* Includes all listed instruments on the JSE
---
---
---
Index Summary
| | | | |
| --- | --- | --- | --- |
| Index Name | RP | Move | % Move |
| Top 40 | 44,444.48 | 425.09 | 0.97% |
| Industrial | 74,377.26 | 243.58 | 0.33% |
| Mid Cap | 76,654.25 | 372.80 | 0.49% |
| Small Cap | 60,869.44 | -105.24 | -0.17% |
| Resource 20 | 32,018.67 | 803.96 | 2.58% |
| Industrial 25 | 66,364.55 | 265.80 | 0.40% |
| Financial 15 | 14,528.27 | 70.46 | 0.49% |
| Financial & Ind. 30 | 69,546.48 | 340.81 | 0.49% |
| All Share | 51,002.69 | 412.61 | 0.82% |
| Oil & Gas | 7,195.69 | .00 | 0.00% |
| Mining | 24,311.61 | 794.96 | 3.38% |
| Gold Mining | 1,826.78 | 116.87 | 6.83% |
| Platinum Mining | 26.33 | 1.89 | 7.73% |
| GENERAL MINING | 6,576.95 | 136.72 | 2.12% |
| Oil & Gas Producers | 38,689.88 | .00 | 0.00% |
| Basic Materials | 22,816.72 | 594.85 | 2.68% |
| Chemicals | 19,658.45 | 216.74 | 1.11% |
| Forestry & Paper | 48,431.42 | 384.55 | 0.80% |
| Industrial Metals | 10,378.73 | 253.28 | 2.50% |
| Industrials | 46,395.81 | 298.07 | 0.65% |
| General Industrials | 178.92 | 1.70 | 0.96% |
| Consumer Goods | 69,142.79 | 523.31 | 0.76% |
| Automobiles & Parts | 4,304.74 | 2.27 | 0.05% |
| Household Goods | 505.03 | 5 | 1.10% |
| Health Care | 8,621.48 | -12.33 | -0.14% |
| Beverages | 269.27 | 3.85 | 1.45% |

| | | | |
| --- | --- | --- | --- |
| Index Name | RP | Move | % Move |
| Food Producers | 9,682.81 | -18.26 | -0.19% |
| Personal Goods | 877.71 | 9.98 | 1.15% |
| Consumer Services | 18,343.72 | 26.14 | 0.14% |
| General Retailers | 6,881.20 | -75.23 | -1.08% |
| Travel & Leisure | 6,466.03 | -16.44 | -0.25% |
| Media | 494.99 | 3.29 | 0.67% |
| Support Services | 1,950.18 | 17.55 | 0.91% |
| Telecommunications | 6,560.71 | -5.55 | -0.08% |
| Financials | 40,020.60 | 90.07 | 0.23% |
| Banks | 7,283.56 | 85.88 | 1.19% |
| Non-life Insurance | 64,757.63 | 766.52 | 1.20% |
| Life Insurance | 35,472.32 | 24.96 | 0.07% |
| General Financial | 3,745.49 | -6.76 | -0.18% |
| Technology | 56,161.74 | -105.86 | -0.19% |
| SHARIAH TOP40 | 3,000.44 | 55 | 1.85% |
| FTSE/JSE SHARIAH ALL | 3,401.61 | 54 | 1.61% |
| COAL MINING | 12,639.23 | 99 | 0.79% |
| FTSE JSE Fledgling | 7,654.17 | -4 | -0.05% |
| FTSE/JSE TOP 40 USD | 3,518.69 | 21 | 0.61% |
| FTSE/JSE Alt X | 1,287.06 | -147 | -10.28% |
| SA LISTED PROPERTY | 630.25 | -3.42 | -0.54% |
| CAPPED PROPERTY | 513.95 | | -0.66% |
| RESOURCE | 18,205.42 | 475 | 2.68% |
| DIVIDEND PLUS | 202.16 | 0 | 0.17% |
| FTSE/JSE RAFI 40 | 9,517.07 | 126 | 1.34% |
| Capped Top 40 | 23,656.84 | 233 | 1.00% |
| Capped All Share | 26,019.77 | 213 | 0.82% |
| JSE TABACO | 9,903.01 | 30 | 0.31% |
Click here for the Sharenet Index Summary page
---
Latest Consensus Changes**

| | | | |
| --- | --- | --- | --- |
| Code | Company Name | Status | Updated |
| SBK | STANDARD BANK GROUP LIMIT... | SELL | 31/10/2016 |
| SNT | SANTAM LTD | BUY | 31/10/2016 |
| EMI | EMIRA PROPERTY FUND | SELL | 28/10/2016 |
| SOL | SASOL LIMITED | BUY | 28/10/2016 |
| SGL | SIBANYE GOLD LIMITED | BUY | 28/10/2016 |

Results Expected**

| | | |
| --- | --- | --- |
| Expected | Company Name | Fin. Date |
| 02/11/2016 | PURPLE | August 2016 (Final) |
| 02/11/2016 | PURPLEP | August 2016 (Final) |
| 02/11/2016 | TRNSHEX | September 2016 (Interim) |
| 03/11/2016 | AFRIMAT | August 2016 (Interim) |
| 03/11/2016 | MICROMEGA | September 2016 (Interim) |
---
Recent Dividends**

| | | | | |
| --- | --- | --- | --- | --- |
| Share Name | Dec-Date | LDT | Pay-Date | Amount |
| IVT PREF | 31/10/16 | 15/11/16 | 21/11/16 | ZAR 4.1960 |
| OCTODEC | 31/10/16 | 22/11/16 | 28/11/16 | ZAR 1.0310 |
| AB INBEV | 28/10/16 | 15/11/16 | 21/11/16 | EUR 1.6000 |
| AB INBEV | 28/10/16 | 15/11/16 | 21/11/16 | EUR 1.6000 |
| DELPROP | 27/10/16 | 15/11/16 | 21/11/16 | ZAR 0.4593 |

Ex Div**

| | | | | |
| --- | --- | --- | --- | --- |
| Share Name | Dec-Date | LDT | Pay-Date | Amount |
| ILRPREF1 | 30/09/16 | 25/10/16 | 31/10/16 | ZAR 14.7583 |
| ILPREF2 | 30/09/16 | 25/10/16 | 31/10/16 | ZAR 14.7583 |
| NTC PREF | 03/10/16 | 25/10/16 | 31/10/16 | ZAR 4.3431 |
| EOH | 14/09/16 | 01/11/16 | 07/11/16 | ZAR 1.8500 |
| PSG | 12/10/16 | 01/11/16 | 07/11/16 | ZAR 1.2500 |
---
Upcoming AGMs**

| | | | |
| --- | --- | --- | --- |
| Code | Company Name | Date | Status |
| HCI | Hosken Consolidated Investments Ltd. | 01/11/2016 | Confirmed |
| IPL | Imperial Holdings Ltd. | 01/11/2016 | Confirmed |
| IPLP | Imperial Holdings Ltd. | 01/11/2016 | Confirmed |
| IPLPP | Imperial Holdings Ltd. | 01/11/2016 | Confirmed |
| EMH | E Media Holdings Ltd. | 01/11/2016 | Confirmed |
---
Stock Exchange News Service
Click here for more SENS news
---