Monday, 01 August 2016 - 20:00
Charts
Todays Sharenet VIEWS
Willem le Roux & Ian Stiglingh
ALSO SEE PART-ONE: JSE headline P/E highly misleading Part ONE This is the second part of an analysis that examines the misleading message currently being imparted by the JSE TOP40's headline Price/Earnings (P/E) ratio. The chart below shows the Top 40 total return (including reinvested dividends) together with the total return of the Big-5 (NPN, SAB, CFR, BIL & BTI) and the total return of the Top 40 index excluding the Big-5 shares (weighted according to their free float adjusted...
Top News
Local markets On Monday, gains across sectors led by gold mining shares helped to boost the JSE All Share 0.62% by close of day.

---

A Russian military helicopter was shot down in Syria's rebel-held Idlib province on Monday killing all five people on board, in the biggest officially acknowledged loss of life for Russian forces since they started operations in Syria.

A Taliban truck bomb exploded outside a protected hotel compound used by foreign service contractors in Kabul on Monday, ripping a deep crater in the ground and leaving a tangle of wreckage but causing few casualties.
World Markets (Spot Prices)
| | | | | |
| --- | --- | --- | --- | --- |
| Name | Time | RP | Move | % Move |
| JSE Overall | 17:00 | 53126.80 | 329.22 | 0.62% |
| JSE Top 40 | 17:00 | 46149.80 | 233.32 | 0.51% |
| JSE Gold | 17:00 | 2840.25 | 55.14 | 1.98% |
| JSE Financial | 17:00 | 42414.82 | 707.50 | 1.70% |
| JSE Industrial | 17:00 | 78400.62 | 67.95 | 0.09% |
| JSE Indust 25 | 17:00 | 70308.04 | -3.57 | -0.01% |
| JSE Resource | 17:00 | 31640.18 | 326.61 | 1.04% |
| DJ Futures | 19:38 | 18318.00 | -44.00 | -0.24% |
| DJ Ind | 19:52 | 18382.87 | -49.37 | -0.27% |
| SP 500 | 19:52 | 2169.11 | -4.49 | -0.21% |
| Nasdaq | 19:52 | 5178.76 | 16.63 | 0.32% |
| FTSE 100 | 17:09 | 6705.76 | -18.67 | -0.28% |
| DAX | 18:08 | 10330.52 | -6.98 | -0.07% |
| CAC40 | 18:08 | 4409.17 | -30.64 | -0.69% |
| Nikkei | 08:28 | 16635.77 | 66.50 | 0.40% |
| Shanghai | 09:28 | 2953.39 | -25.95 | -0.87% |
| Hang-Seng | 10:28 | 22129.14 | 237.77 | 1.09% |
| All Ords | 08:37 | 5670.10 | 26.10 | 0.46% |
| NZSE 50 | 07:48 | 7356.63 | 8.50 | 0.12% |

| | | | | |
| --- | --- | --- | --- | --- |
| Name | Time | RP | Move | % Move |
| Gold $ | 19:59 | 1352.48 | 1.53 | 0.11% |
| Gold R | 19:59 | 18798.53 | -11.11 | -0.06% |
| Gold R/kg | 19:58 | 604123 | -607 | -0.10% |
| Silver $ | 19:59 | 20.4230 | 0.1040 | 0.51% |
| Platinum $ | 19:59 | 1157.40 | 16.95 | 1.49% |
| Palladium $ | 19:59 | 716.57 | 6.07 | 0.85% |
| R186 | 17:40 | 8.63 | -0.03 | -0.29% |
| R204 | 16:58 | 7.75 | 0.02 | 0.26% |
| R207 | 17:13 | 7.96 | 0.01 | 0.13% |
| Brent Crude | 19:42 | 42.08 | -0.62 | -1.45% |
| USD / ZAR | 19:59 | 13.8993 | -0.0298 | -0.21% |
| GBP / ZAR | 19:55 | 18.3136 | -0.0253 | -0.14% |
| EUR/ ZAR | 19:55 | 15.5247 | 0.0048 | 0.03% |
| NZD/ ZAR | 19:59 | 9.9973 | -0.0479 | -0.48% |
| AUD / ZAR | 19:55 | 10.5196 | -0.0399 | -0.38% |
| USD / JPY | 19:59 | 102.3840 | 0.3390 | 0.33% |
| EUR / USD | 19:59 | 1.1168 | -0.0007 | -0.06% |
| GBP / USD | 19:59 | 1.3199 | -0.0031 | -0.23% |
Click here for the Sharenet Spot Price page
The JSE Today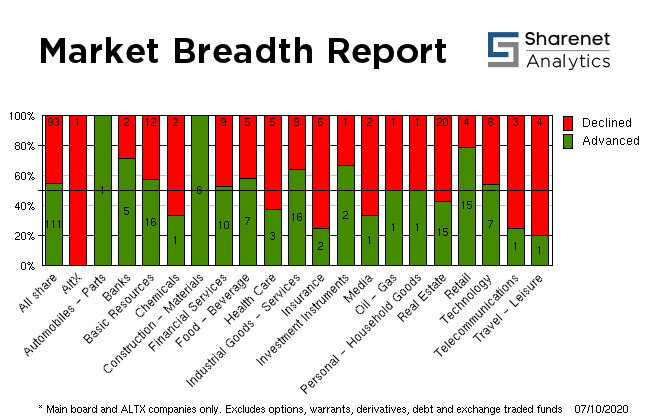 Trading Statistics
| Date | Adv. | Decl. | Unch. | Actives | Volume | Value | Trades | Orders |
| --- | --- | --- | --- | --- | --- | --- | --- | --- |
| 01/08/2016 | 200 | 141 | 67 | 408 | 308,742,619 | R26,146,263,186 | 319416 | 185457 |
| 29/07/2016 | 135 | 209 | 59 | 403 | 273,025,676 | R21,834,467,732 | 224639 | 2113156 |
| 28/07/2016 | 129 | 229 | 53 | 411 | 322,746,505 | R25,062,708,210 | 275326 | 189264 |
| 27/07/2016 | 164 | 172 | 58 | 394 | 263,919,327 | R21,899,749,871 | 260763 | 2057884 |
| 26/07/2016 | 234 | 105 | 65 | 404 | 249,816,557 | R18,264,758,652 | 238457 | 1903789 |
* Includes all listed instruments on the JSE
---
---
---
Index Summary
| | | | |
| --- | --- | --- | --- |
| Index Name | RP | Move | % Move |
| Top 40 | 46,149.80 | 233.32 | 0.51% |
| Industrial | 78,400.62 | 67.95 | 0.09% |
| Mid Cap | 81,807.27 | 1038.56 | 1.29% |
| Small Cap | 61,020.23 | 248.96 | 0.41% |
| Resource 20 | 31,640.18 | 326.61 | 1.04% |
| Industrial 25 | 70,308.04 | -3.57 | -0.01% |
| Financial 15 | 15,433.46 | 328.92 | 2.18% |
| Financial & Ind. 30 | 73,056.42 | 338.23 | 0.47% |
| All Share | 53,126.80 | 329.22 | 0.62% |
| Oil & Gas | 7,195.69 | .00 | 0.00% |
| Mining | 24,203.32 | 402.41 | 1.69% |
| Gold Mining | 2,840.25 | 55.14 | 1.98% |
| Platinum Mining | 30.14 | .68 | 2.31% |
| GENERAL MINING | 5,533.48 | 79.75 | 1.46% |
| Oil & Gas Producers | 38,689.88 | .00 | 0.00% |
| Basic Materials | 22,652.24 | 238.40 | 1.06% |
| Chemicals | 18,937.14 | -182.99 | -0.96% |
| Forestry & Paper | 49,725.14 | -20.41 | -0.04% |
| Industrial Metals | 10,795.05 | 731.50 | 7.27% |
| Industrials | 48,241.01 | 250.15 | 0.52% |
| General Industrials | 187.04 | -.14 | -0.07% |
| Consumer Goods | 72,999.91 | 71.27 | 0.10% |
| Automobiles & Parts | 4,565.15 | -76.99 | -1.66% |
| Household Goods | 604.34 | 2 | 0.33% |
| Health Care | 10,100.09 | 14.49 | 0.14% |
| Beverages | 276.11 | 1.64 | 0.60% |

| | | | |
| --- | --- | --- | --- |
| Index Name | RP | Move | % Move |
| Food Producers | 9,997.13 | 193.07 | 1.97% |
| Personal Goods | 834.47 | -12.38 | -1.46% |
| Consumer Services | 18,579.83 | 37.31 | 0.20% |
| General Retailers | 8,265.05 | 86.94 | 1.06% |
| Travel & Leisure | 6,217.54 | 13.35 | 0.22% |
| Media | 472.21 | -2.19 | -0.46% |
| Support Services | 2,090.02 | 70.16 | 3.47% |
| Telecommunications | 7,628.50 | -76.97 | -1.00% |
| Financials | 42,414.82 | 707.50 | 1.70% |
| Banks | 7,278.02 | 253.85 | 3.61% |
| Non-life Insurance | 58,994.58 | -472.16 | -0.79% |
| Life Insurance | 39,576.65 | 960.28 | 2.49% |
| General Financial | 3,971.17 | -13.37 | -0.34% |
| Technology | 54,242.36 | 156.24 | 0.29% |
| SHARIAH TOP40 | 3,110.80 | 13 | 0.42% |
| FTSE/JSE SHARIAH ALL | 3,541.16 | 26 | 0.74% |
| COAL MINING | 10,617.81 | 125 | 1.19% |
| FTSE JSE Fledgling | 7,318.02 | -20 | -0.27% |
| FTSE/JSE Alt X | 1,458.99 | -17 | -1.12% |
| SA LISTED PROPERTY | 671.03 | 1.85 | 0.28% |
| CAPPED PROPERTY | 558.99 | | 0.06% |
| RESOURCE | 18,074.18 | 190 | 1.06% |
| DIVIDEND PLUS | 210.87 | 3 | 1.53% |
| FTSE/JSE RAFI 40 | 9,780.32 | 109 | 1.13% |
| Capped Top 40 | 24,701.92 | 142 | 0.58% |
| Capped All Share | 27,186.78 | 180 | 0.67% |
| JSE TABACO | 11,257.63 | -15 | -0.14% |
Click here for the Sharenet Index Summary page
---
Latest Consensus Changes**

| | | | |
| --- | --- | --- | --- |
| Code | Company Name | Status | Updated |
| REM | REMGRO LIMITED | HOLD | 01/08/2016 |
| NED | NEDBANK GROUP LTD | HOLD | 29/07/2016 |
| BAT | BRAIT S E | BUY | 29/07/2016 |
| SBK | STANDARD BANK GROUP LIMIT... | SELL | 29/07/2016 |
| RES | RESILIENT PROPERTY INCOME... | SELL | 29/07/2016 |

Results Expected**

| | | |
| --- | --- | --- |
| Expected | Company Name | Fin. Date |
| 02/08/2016 | SACOVEN | March 2016 (Final) |
| 04/08/2016 | MONDILTD | June 2016 (Interim) |
| 04/08/2016 | MONDILTDP | June 2016 (Interim) |
| 04/08/2016 | MONDIPLC | June 2016 (Interim) |
| 04/08/2016 | MONDIPLCP | June 2016 (Interim) |
---
Recent Dividends**

| | | | | |
| --- | --- | --- | --- | --- |
| Share Name | Dec-Date | LDT | Pay-Date | Amount |
| SABVEST-N | 29/07/16 | 16/08/16 | 22/08/16 | ZAR 0.2300 |
| LIB-HOLD | 29/07/16 | 30/08/16 | 05/09/16 | ZAR 2.7600 |
| SERE | 29/07/16 | 16/08/16 | 07/09/16 | EUR 0.0080 |
| ABSABANK-P | 29/07/16 | 06/09/16 | 12/09/16 | ZAR 36.9658 |
| SABVEST | 29/07/16 | 16/08/16 | 22/08/16 | ZAR 0.2300 |

Ex Div**

| | | | | |
| --- | --- | --- | --- | --- |
| Share Name | Dec-Date | LDT | Pay-Date | Amount |
| PERGRIN | 08/06/16 | 01/08/16 | 08/08/16 | ZAR 1.5500 |
| SABMILLER | 18/05/16 | 01/08/16 | 12/08/16 | USD 0.9375 |
| INVICTA | 14/06/16 | 26/07/16 | 01/08/16 | ZAR 0.7528 |
| INVLTD | 19/05/16 | 26/07/16 | 10/08/16 | GBP 0.1150 |
| INVPLC | 19/05/16 | 26/07/16 | 10/08/16 | GBP 0.1150 |
---
Upcoming AGMs**

| | | | |
| --- | --- | --- | --- |
| Code | Company Name | Date | Status |
| HSP | Holdsport Ltd. | 01/08/2016 | Confirmed |
| INLCP1 | Investec Ltd. | 04/08/2016 | Confirmed |
| INL | Investec Ltd. | 04/08/2016 | Confirmed |
| INLCP2 | Investec Ltd. | 04/08/2016 | Confirmed |
| INL-P | Investec Ltd. | 04/08/2016 | Confirmed |
---
Stock Exchange News Service
Click here for more SENS news
---