Monday, 08 April 2013 - 20:00
Charts
Top News
The rebasing of Nigeria's GDP, which is expected to increase the estimated size of Africa's second largest economy by around 40 percent, is likely to be delayed until next year, the head of the statistics bureau said on Monday.

---

North Korea suspended its sole remaining major project with the South on Monday, after weeks of threats against the United States and South Korea, as Russian President Vladimir Putin said any nuclear conflict could make Chernobyl look like a fairy tale.

Two more deaths were reported on Monday after sectarian violence at Cairo's Coptic cathedral that the Egyptian government and Muslim and Christian leaders scrambled to calm.
World Markets (Spot Prices)
| | | | | |
| --- | --- | --- | --- | --- |
| Name | Time | RP | Move | % Move |
| JSE Overall | 17:00 | 38582.95 | 82.00 | 0.22% |
| JSE Top 40 | 17:00 | 33984.32 | 64.00 | 0.19% |
| JSE Gold | 17:00 | 1709.99 | -21.00 | -1.21% |
| JSE Financial | 17:00 | 30204.19 | 133.00 | 0.44% |
| JSE Industrial | 17:00 | 48347.78 | 407.00 | 0.85% |
| JSE Indust 25 | 17:00 | 41654.56 | 393.00 | 0.95% |
| JSE Resource | 17:00 | 45258.10 | -482.00 | -1.06% |
| DJ Futures | 19:40 | 14460.00 | -24.00 | -0.17% |
| DJ Ind | 19:58 | 14550.71 | -14.54 | -0.10% |
| SP 500 | 19:58 | 1555.80 | 2.52 | 0.16% |
| Nasdaq | 19:58 | 3207.50 | 3.64 | 0.11% |
| FTSE 100 | 17:35 | 6276.94 | 27.16 | 0.43% |
| DAX | 18:10 | 7662.64 | 3.89 | 0.05% |
| CAC40 | 18:10 | 3666.78 | 3.30 | 0.09% |
| Nikkei | 08:30 | 13192.59 | 358.95 | 2.80% |
| Shanghai | 09:30 | 2211.59 | -13.70 | -0.62% |
| Hang-Seng | 10:30 | 21718.05 | -8.85 | -0.04% |
| All Ords | 09:30 | 4912.70 | 13.50 | 0.28% |
| NZSE 50 | 07:54 | 4397.20 | -35.77 | -0.81% |

| | | | | |
| --- | --- | --- | --- | --- |
| Name | Time | RP | Move | % Move |
| Gold $ | 19:58 | 1572.10 | -8.72 | -0.55% |
| Gold R | 19:58 | 14142.03 | -216.79 | -1.51% |
| Gold R/kg | 19:58 | 454679 | -3054 | -0.67% |
| Silver $ | 19:59 | 27.2080 | -.1130 | -0.41% |
| Platinum $ | 19:59 | 1532.50 | 1.50 | 0.10% |
| Palladium $ | 19:59 | 726.90 | .82 | 0.11% |
| R157 | 17:28 | 5.30 | -.04 | -0.75% |
| R186 | 17:29 | 7.00 | -.11 | -1.48% |
| R204 | 17:17 | 5.90 | -.09 | -1.42% |
| R207 | 17:11 | 6.11 | -.07 | -1.21% |
| Brent Crude | 19:58 | 103.85 | -2.49 | -2.34% |
| Rand / Dollar | 19:59 | 8.9932 | -0.0888 | -0.98% |
| Rand / Pound | 19:55 | 13.6864 | -0.2179 | -1.57% |
| Rand / Euro | 19:55 | 11.6970 | -0.1145 | -0.97% |
| Rand / NZD | 19:58 | 7.6083 | -0.0352 | -0.46% |
| Rand / AUD | 19:55 | 9.3513 | -0.0784 | -0.83% |
| Yen / Dollar | 19:59 | 99.1570 | 0.9320 | 0.95% |
| Euro / Dollar | 19:55 | 0.7684 | -0.0010 | -0.13% |
| Dollar / Euro | 19:58 | 1.3015 | 0.0024 | 0.18% |
| Pound / Dollar | 19:55 | 0.6552 | 0.0032 | 0.49% |
Click here for the Sharenet Spot Price page
The JSE Today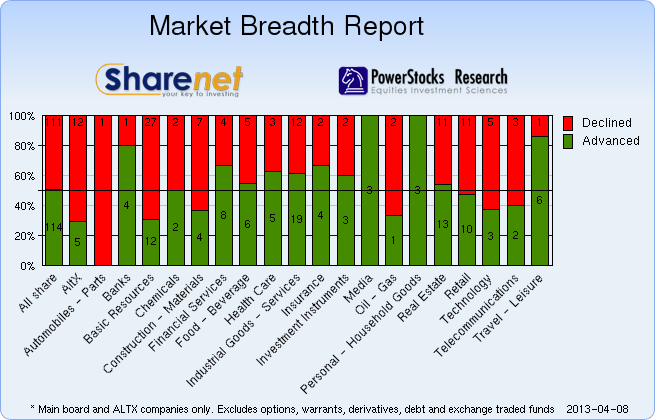 Trading Statistics
| Date | Adv. | Decl. | Unch. | Actives | Volume | Value | Trades | Orders |
| --- | --- | --- | --- | --- | --- | --- | --- | --- |
| 08/04/2013 | 163 | 165 | 82 | 410 | 201,707,530 | R12,561,547,894 | 147688 | 895431 |
| 05/04/2013 | 133 | 229 | 70 | 432 | 262,194,514 | R17,622,415,863 | 189788 | 1347438 |
| 04/04/2013 | 130 | 213 | 63 | 406 | 189,992,730 | R13,378,744,648 | 151433 | 1349375 |
| 03/04/2013 | 96 | 284 | 71 | 451 | 219,055,511 | R13,178,806,455 | 169378 | 1178397 |
| 02/04/2013 | 207 | 144 | 73 | 424 | 182,411,339 | R11,226,177,015 | 140985 | 1188800 |
* Includes all listed instruments on the JSE
---
---
---
Index Summary
| | | | |
| --- | --- | --- | --- |
| Index Name | RP | Move | % Move |
| Top 40 | 33,984.00 | 64.00 | 0.19% |
| Industrial | 48,347.00 | 407.00 | 0.85% |
| Mid Cap | 55,094.00 | 226.00 | 0.41% |
| Small Cap | 43,796.00 | -21.00 | -0.05% |
| Resource 20 | 45,258.00 | -482.00 | -1.06% |
| Industrial 25 | 41,654.00 | 393.00 | 0.95% |
| Financial 15 | 11,265.00 | 60.00 | 0.54% |
| Financial & Ind. 30 | 45,290.00 | 366.00 | 0.82% |
| All Share | 38,582.00 | 82.00 | 0.22% |
| Oil & Gas | 29,186.00 | -696.00 | -2.33% |
| Mining | 28,290.00 | -240.00 | -0.84% |
| Gold Mining | 1,709.00 | -21.00 | -1.21% |
| Platinum Mining | 44.00 | .00 | 1.59% |
| GENERAL MINING | 7,712.00 | -75.00 | -0.97% |
| Oil & Gas Producers | 15,692.00 | -374.00 | -2.33% |
| Basic Materials | 24,674.00 | -228.00 | -0.92% |
| Chemicals | 19,121.00 | -435.00 | -2.23% |
| Forestry & Paper | 19,962.00 | -173.00 | -0.86% |
| Industrial Metals | 22,596.00 | -565.00 | -2.44% |
| Industrials | 40,361.00 | 296.00 | 0.74% |
| General Industrials | 117.00 | 1.00 | 1.60% |
| Consumer Goods | 45,433.00 | 310.00 | 0.69% |
| Automobiles & Parts | 8,242.00 | -135.00 | -1.62% |
| Household Goods | 161.00 | 2 | 1.62% |
| Health Care | 59,674.00 | 914.00 | 1.56% |
| Beverages | 160.00 | .00 | 0.49% |

| | | | |
| --- | --- | --- | --- |
| Index Name | RP | Move | % Move |
| Food Producers | 67,893.00 | 649.00 | 0.97% |
| Personal Goods | 702.00 | 10.00 | 1.46% |
| Consumer Services | 79,147.00 | 1065.00 | 1.36% |
| General Retailers | 60,954.00 | 613.00 | 1.02% |
| Travel & Leisure | 5,350.00 | 50.00 | 0.95% |
| Media | 123.00 | 2.00 | 2.25% |
| Support Services | 2,320.00 | 2.00 | 0.12% |
| Telecommunications | 76,461.00 | 953.00 | 1.26% |
| Financials | 30,204.00 | 133.00 | 0.44% |
| Banks | 52,864.00 | 230.00 | 0.44% |
| Non-life Insurance | 48,614.00 | -770.00 | -1.56% |
| Life Insurance | 27,435.00 | 154.00 | 0.57% |
| General Financial | 2,701.00 | 9.00 | 0.34% |
| Technology | 36,257.00 | 397.00 | 1.11% |
| SHARIAH TOP40 | 3,140.00 | -9 | -0.29% |
| FTSE/JSE SHARIAH ALL | 3,291.00 | -7 | -0.22% |
| COAL MINING | 19,058.00 | 74 | 0.39% |
| FTSE JSE Fledgling | 6,016.00 | -80 | -1.32% |
| FTSE/JSE Alt X | 932.00 | -45 | -4.69% |
| SA LISTED PROPERTY | 527.00 | | 0.60% |
| CAPPED PROPERTY | 420.00 | | 0.47% |
| RESOURCE | 24,884.00 | -269 | -1.07% |
| DIVIDEND PLUS | 207.00 | 0 | 0.39% |
| FTSE/JSE RAFI 40 | 7,780.00 | 0 | 0.01% |
| Capped Top 40 | 17,948.00 | 46 | 0.26% |
| Capped All Share | 19,544.00 | 47 | 0.25% |
| JSE TABACO | 6,254.00 | 9 | 0.16% |
Click here for the Sharenet Index Summary page
---
Latest Consensus Changes**

| | | | |
| --- | --- | --- | --- |
| Code | Company Name | Status | Updated |
| BVT | THE BIDVEST GROUP LIMITED | HOLD | 03/04/2013 |
| LHC | LIFE HEALTHCARE GRP HLDG ... | HOLD | 03/04/2013 |
| ASA | ABSA GROUP LIMITED | HOLD | 03/04/2013 |
| OML | OLD MUTUAL PLC | BUY | 03/04/2013 |
| RMI | RAND MERCH INS HLDGS LTD | HOLD | 02/04/2013 |

Results Expected**

| | | |
| --- | --- | --- |
| Expected | Company Name | Fin. Date |
| 11/04/2013 | ZEDER | February 2013 (Final) |
| 11/04/2013 | ZEDERP | February 2013 (Final) |
| 12/04/2013 | BIOSCI | December 2013 (Interim) |
| 12/04/2013 | HWANGE | December 2012 (Final) |
| 12/04/2013 | HWANGE-A | December 2012 (Final) |
---
Recent Dividends**

| | | | | |
| --- | --- | --- | --- | --- |
| Share Name | Dec-Date | LDT | Pay-Date | Amount |
| VIVIDEND | 05/04/2013 | 19/04/2013 | 29/04/2013 | R 0.2700 |
| NTC PREF | 02/04/2013 | 25/04/2013 | 06/05/2013 | R 3.4966 |
| TELEMASTR | 28/03/2013 | 19/04/2013 | 29/04/2013 | R 0.0050 |
| FAIRVEST | 27/03/2013 | 19/04/2013 | 29/04/2013 | R 0.0086 |
| KAYDAV | 27/03/2013 | 12/04/2013 | 22/04/2013 | R 0.0700 |

Ex Div**

| | | | | |
| --- | --- | --- | --- | --- |
| Share Name | Dec-Date | LDT | Pay-Date | Amount |
| BEE-SASOL | 11/03/2013 | 05/04/2013 | 15/04/2013 | R 5.7000 |
| SASOL | 11/03/2013 | 05/04/2013 | 15/04/2013 | R 5.7000 |
| STANBANK-P | 07/03/2013 | 05/04/2013 | 15/04/2013 | R 3.3196 |
| CASHBIL | 12/03/2013 | 05/04/2013 | 15/04/2013 | R 2.9600 |
| AECI | 26/02/2013 | 05/04/2013 | 15/04/2013 | R 1.8500 |
---
Upcoming AGMs**

| | | | |
| --- | --- | --- | --- |
| Code | Company Name | Date | Status |
| CIL | Consolidated Infrastructure Group Ltd. | 08/04/2013 | Unconfirmed |
| ASO | Austro Group Ltd. | 11/04/2013 | Confirmed |
---
Stock Exchange News Service
Click here for more SENS news
---