Tuesday, 24 July 2012 - 20:00
Charts
The Libor Debacle
Libor stands for London Interbank Offered Rate. This rate is determined daily at 11:00am by Thomson Reuters on behalf of the British Bankers Association by a process of polling leading UK banks and inquiring at what rate that bank could borrow funds from other banks in reasonable market sizes. From the range of rates received the top quarter highest and lowest are thrown out and the remaining rates averaged and fixed daily. The rates for various maturities are published ranging from 1 day to 12 months.
Libor is then used widely as the base reference for many types of derivatives (i.e. agreements between two or more parties referenced back to some underlying prices), such as interest rate swaps, various commercial agreements such as floating rate loans to simple mortgages. It is estimated that the Libor rate is the benchmark reference rate to at least $350 trillion in derivatives and other financial produces (a number as high as $800 trillion was quoted by the Economist) – giving a reflection of just how important this rate is to the global world of finance.
Despite the fact that the rates are collected daily by a polling process and there is a strong argument that these should be based on rates that are actually being paid by one bank to another, the reality is that especially during the global financial crisis the interbank market, where banks lend to one another, was not operating as it should, i.e. banks were not typically lending to one another but preferring to overnight deposits back with central banks. So in times of financial stress even actual numbers can be highly distorted.
It has recently been revealed that since the 2008 financial crisis and possibly before then, regulators have been both aware and in some cases concerned about the actual rate being set and the mechanisms of the Libor process. In June Barclays was fined $456millon by various regulators, including the FSA and the United States Department of Justice after admitting to inaccurately submitting Libor rates from 2005 to 2009.
The chart below from The Economist reflects actual rates submitted by Barclays and JP Morgan relative to the actual fixed Libor over the 2008 period. It gives a reflection of how far these two deviated from the other submitters.
Time magazine cover in July reads, "Barclays is just the beginning. Why London breeds financial scandals –and why this one could be the biggest yet."
Locally the interbank rate quoted is the Jibar (Johannesburg Interbank Agreed Rate). This rate is quoted as a one, three, six, and twelve month interest rate and like Libor is the basis for various contracts. While the government via the Reserve bank Monetary Policy fixes the repo rate, Jibar is in essence an approximation of what the banks believe the repo should be, but is based on the average interest rate at which banks borrow and lend. Over time the repo rate and 3 month Jibar will move in sync. Where Jibar and Libor differ is that Jibar is based on actual agreed rates, whereas Libor is a submitted (but not verified) rate
Now various global non Libor submitting banks and other large institutions are considering litigation, should they be in a position to prove losses. Ultimately there is an undermining of confidence in the global banking and financial system, which has over the last few years suffered from a rather tarnished reputation.
Kind regards,
Ian de Lange
www.seedinvestments.co.za
info@seedinvestments.co.za
021 914 4966
Tue, 24 Jul 2012
Top News
South African stocks gained over half a percent on Tuesday, clawing back some of the previous session's steep losses, as investors cautiously waded back into the market ahead of a rush of corporate earnings.

---

Syrian troops backed by helicopter gunships fought rebels trying to seize central Aleppo on Tuesday and pursued a campaign to regain full control of the capital Damascus, residents and opposition activists said.

Romania's opposition asked its supporters on Tuesday not to vote in Sunday's referendum on impeaching President Traian Basescu, in an effort to keep turnout below 50 percent and invalidate the result.
World Markets (Spot Prices)
| | | | | |
| --- | --- | --- | --- | --- |
| Name | Time | RP | Move | % Move |
| JSE Overall | 17:00 | 33998.00 | 184.00 | 0.55% |
| JSE Top 40 | 17:00 | 29868.00 | 186.00 | 0.63% |
| JSE Gold | 17:00 | 2305.00 | 50.00 | 2.25% |
| JSE Financial | 17:00 | 26175.00 | 24.00 | 0.09% |
| JSE Industrial | 17:00 | 39522.00 | 239.00 | 0.61% |
| JSE Indust 25 | 17:00 | 33584.00 | 226.00 | 0.68% |
| JSE Resource | 17:00 | 45699.00 | 332.00 | 0.73% |
| DJ Futures | 19:56 | 12510.00 | -263.00 | -2.06% |
| DJ Ind | 19:58 | 12560.97 | -261.60 | -2.04% |
| SP 500 | 19:58 | 1333.76 | -28.90 | -2.12% |
| Nasdaq | 19:58 | 2862.34 | -62.96 | -2.15% |
| FTSE 100 | 17:35 | 5499.23 | -34.64 | -0.63% |
| DAX | 18:08 | 6390.41 | -239.61 | -3.61% |
| CAC40 | 18:08 | 3074.68 | -26.85 | -0.87% |
| Nikkei | 08:08 | 8488.09 | -20.23 | -0.24% |
| Shanghai | 09:28 | 2146.59 | 5.19 | 0.24% |
| Hang-Seng | 10:28 | 18903.20 | -150.27 | -0.79% |
| All Ords | 08:40 | 4161.20 | 2.00 | 0.05% |
| NZSE 50 | 07:48 | 3460.70 | -4.66 | -0.13% |

| | | | | |
| --- | --- | --- | --- | --- |
| Name | Time | RP | Move | % Move |
| Gold $ | 19:59 | 1577.25 | 1.40 | 0.09% |
| Gold R | 19:58 | 13462.89 | 133.14 | 1.00% |
| Gold R/kg | 19:58 | 432976 | 13334 | 3.18% |
| Silver $ | 19:59 | 26.8840 | -.1260 | -0.47% |
| Platinum $ | 19:59 | 1383.00 | -13.00 | -0.93% |
| Palladium $ | 19:59 | 559.25 | -9.65 | -1.70% |
| R157 | 17:08 | 5.48 | .10 | 1.77% |
| R204 | 17:08 | 6.32 | .19 | 3.02% |
| Brent Crude | 19:58 | 104.25 | -1.07 | -1.02% |
| Rand / Dollar | 19:59 | 8.5356 | 0.0786 | 0.93% |
| Rand / Pound | 19:55 | 13.2042 | 0.1230 | 0.94% |
| Rand / Euro | 19:55 | 10.2944 | 0.0482 | 0.47% |
| Rand / NZD | 19:58 | 6.7028 | 0.0380 | 0.57% |
| Rand / AUD | 19:55 | 8.7372 | 0.0597 | 0.69% |
| Yen / Dollar | 19:59 | 78.1800 | -0.1490 | -0.19% |
| Euro / Dollar | 19:55 | 0.8292 | 0.0041 | 0.50% |
| Dollar / Euro | 19:59 | 1.2056 | -0.0058 | -0.48% |
| Pound / Dollar | 19:55 | 0.6450 | 0.0002 | 0.03% |
Click here for the Sharenet Spot Price page
The JSE Today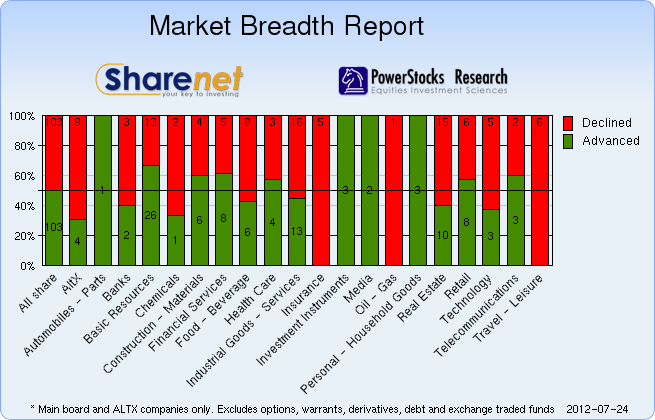 Trading Statistics
| Date | Adv. | Decl. | Unch. | Actives | Volume | Value | Trades | Orders |
| --- | --- | --- | --- | --- | --- | --- | --- | --- |
| 24/07/2012 | 165 | 137 | 87 | 389 | 197,049,917 | R9,385,994,766 | 81728 | 1254419 |
| 23/07/2012 | 117 | 238 | 61 | 416 | 155,918,500 | R8,307,458,648 | 86975 | 1504917 |
| 20/07/2012 | 183 | 150 | 68 | 401 | 166,196,582 | R9,521,065,826 | 85415 | 1310481 |
| 19/07/2012 | 206 | 142 | 77 | 425 | 218,070,021 | R10,856,710,297 | 105667 | 1327517 |
| 18/07/2012 | 178 | 141 | 73 | 392 | 175,256,273 | R9,140,814,745 | 89022 | 1243886 |
* Includes all listed instruments on the JSE
---
---
---
Index Summary
| | | | |
| --- | --- | --- | --- |
| Index Name | RP | Move | % Move |
| Top 40 | 29,868.00 | 186.00 | 0.63% |
| Industrial | 39,522.00 | 239.00 | 0.61% |
| Mid Cap | 49,866.00 | 87.00 | 0.17% |
| Small Cap | 36,661.00 | .00 | -0.00% |
| Resource 20 | 45,699.00 | 332.00 | 0.73% |
| Industrial 25 | 33,584.00 | 226.00 | 0.68% |
| Financial 15 | 9,760.00 | 11.00 | 0.12% |
| Financial & Ind. 30 | 37,034.00 | 202.00 | 0.55% |
| All Share | 33,998.00 | 184.00 | 0.55% |
| Oil & Gas | 25,729.00 | -29.00 | -0.12% |
| Mining | 29,394.00 | 266.00 | 0.92% |
| Gold Mining | 2,305.00 | 50.00 | 2.25% |
| Platinum Mining | 46.00 | .00 | 0.74% |
| GENERAL MINING | 7,582.00 | 56.00 | 0.75% |
| Oil & Gas Producers | 13,834.00 | -15.00 | -0.11% |
| Basic Materials | 25,290.00 | 199.00 | 0.80% |
| Chemicals | 15,251.00 | 289.00 | 1.94% |
| Forestry & Paper | 13,726.00 | -36.00 | -0.26% |
| Industrial Metals | 28,700.00 | -325.00 | -1.12% |
| Industrials | 32,997.00 | -52.00 | -0.16% |
| General Industrials | 93.00 | .00 | -0.59% |
| Consumer Goods | 34,087.00 | 173.00 | 0.51% |
| Automobiles & Parts | 5,932.00 | 2.00 | 0.04% |
| Household Goods | 157.00 | 0 | 0.47% |
| Health Care | 46,120.00 | 126.00 | 0.27% |
| Beverages | 119.00 | .00 | 0.76% |

| | | | |
| --- | --- | --- | --- |
| Index Name | RP | Move | % Move |
| Food Producers | 62,903.00 | -208.00 | -0.33% |
| Personal Goods | 451.00 | 5.00 | 1.31% |
| Consumer Services | 70,230.00 | 367.00 | 0.53% |
| General Retailers | 59,866.00 | -86.00 | -0.14% |
| Travel & Leisure | 3,952.00 | -57.00 | -1.44% |
| Media | 98.00 | 1.00 | 1.33% |
| Support Services | 2,289.00 | .00 | 0.01% |
| Telecommunications | 70,172.00 | 1576.00 | 2.30% |
| Financials | 26,175.00 | 24.00 | 0.09% |
| Banks | 48,228.00 | 165.00 | 0.34% |
| Non-life Insurance | 41,448.00 | -619.00 | -1.47% |
| Life Insurance | 20,690.00 | -130.00 | -0.63% |
| General Financial | 2,431.00 | 18.00 | 0.78% |
| Technology | 29,890.00 | -32.00 | -0.11% |
| SHARIAH TOP40 | 2,900.00 | 27 | 0.95% |
| FTSE/JSE SHARIAH ALL | 3,033.00 | 25 | 0.85% |
| COAL MINING | 21,256.00 | -164 | -0.77% |
| FTSE JSE Fledgling | 5,428.00 | -11 | -0.22% |
| FTSE/JSE Alt X | 1,090.00 | -7 | -0.66% |
| SA LISTED PROPERTY | 478.00 | | -0.36% |
| CAPPED PROPERTY | 380.00 | | -0.34% |
| RESOURCE | 25,211.00 | 190 | 0.76% |
| DIVIDEND PLUS | 190.00 | 0 | 0.52% |
| FTSE/JSE RAFI 40 | 6,947.00 | 35 | 0.52% |
| Capped Top 40 | 15,778.00 | 96 | 0.62% |
| Capped All Share | 17,200.00 | 92 | 0.54% |
| JSE TABACO | 5,572.00 | 44 | 0.81% |
Click here for the Sharenet Index Summary page
---
Latest Consensus Changes**

| | | | |
| --- | --- | --- | --- |
| Code | Company Name | Status | Updated |
| MST | MUSTEK LIMITED | BUY | 19 Jul |
| IPL | IMPERIAL HOLDINGS LTD | HOLD | 19 Jul |
| RLO | REUNERT LIMITED | SELL | 19 Jul |
| ALT | ALLIED TECHNOLOGIES LIMIT... | HOLD | 19 Jul |
| BIL | BHP BILLITON PLC | BUY | 19 Jul |

Results Expected**

| | | |
| --- | --- | --- |
| Expected | Company Name | Fin. Date |
| 25 Jul 2012 | AECI | June 2012 (Interim) |
| 25 Jul 2012 | AECI 5.5%P | June 2012 (Interim) |
| 25 Jul 2012 | BATS | June 2012 (Interim) |
| 26 Jul 2012 | CAPSHOP | June 2012 (Interim) |
| 27 Jul 2012 | ABSA | June 2012 (Interim) |
---
Recent Dividends**

| | | | | |
| --- | --- | --- | --- | --- |
| Share Name | Dec-Date | LDT | Pay-Date | Amount |
| ELLIES | 12-07-23 | 12-09-07 | 12-09-17 | R 0.1000 |
| SABVEST-N | 12-07-23 | 12-08-10 | 12-08-20 | R 0.1200 |
| SABVEST | 12-07-23 | 12-08-10 | 12-08-20 | R 0.1200 |
| KUMBA | 12-07-20 | 12-08-10 | 12-08-20 | R 19.2000 |
| SYNERGY B | 12-07-19 | 12-08-02 | 12-08-13 | R 0.1953 |

Ex Div**

| | | | | |
| --- | --- | --- | --- | --- |
| Share Name | Dec-Date | LDT | Pay-Date | Amount |
| OMNIA | 12-06-26 | 12-07-20 | 12-07-30 | R 1.8000 |
| PERGRIN | 12-06-07 | 12-07-20 | 12-07-30 | R 0.7200 |
| PERGRIN | 12-06-07 | 12-07-20 | 12-07-30 | R 0.4533 |
| INVLTD | 12-05-17 | 12-07-20 | 12-08-06 | R 0.0900 |
| INVPLC | 12-05-17 | 12-07-20 | 12-08-06 | R 0.0900 |
---
Upcoming AGMs**

| | | | |
| --- | --- | --- | --- |
| Code | Company Name | Date | Status |
| IFC | IFCA Technologies Ltd. | 24/07/2012 | Confirmed |
| SNV | Santova Ltd. | 24/07/2012 | Confirmed |
| MDC | Mediclinic International Ltd. | 26/07/2012 | Confirmed |
| WLN | PBT Group Ltd. | 27/07/2012 | Confirmed |
| CKS | Crookes Brothers Ltd. | 27/07/2012 | Confirmed |
---
Stock Exchange News Service
Click here for more SENS news
---