Thursday, 09 March 2017 - 20:00
Charts
Todays Sharenet VIEWS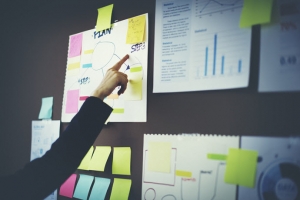 Seed Investments

A well-designed and thought-out investment strategy is crucial to anyone planning to build wealth. Designing such a strategy is no small task. Each individual has unique circumstances, preferences and needs. The future remains opaque and forces one to make certain assumptions that may or may not turn out to be correct.
---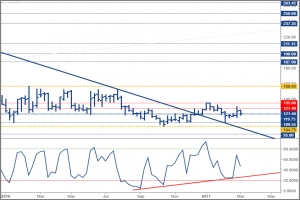 Moxima Gama

After maintaining support at 10,475cps, MTN breached the resistance trend line of its medium term bear trend. It confirmed a positive breakout above 12,740cps, and then pulled back from an overbought position.
---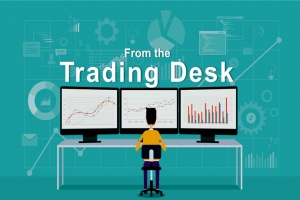 Sharenet

Interim financial results for the 6 months ended 31st of December, were released by Aspen [APN] this morning. The results were largely in line with management guidance.
---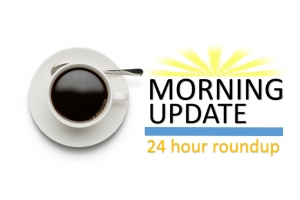 Sharenet

South Africa's business confidence index fell yesterday, largely due to lower trading volumes leaving retailers with a sour tone. Markets are now convinced that the Fed will hike rates next week following yesterday's release of ADP non-farm payrolls that shot up to an 11-year high.
Top News
South Africa's rand slumped to its weakest in three weeks on Thursday as employment data from the United States showed a sharp drop in job losses, bolstering bets of a rate hike by the Federal Reserve next week.

---

U.S.-backed Syrian forces said on Thursday they were closing in on Islamic State-held Raqqa and expected to reach the city outskirts in a few weeks, as a U.S. Marines artillery unit deployed to help the campaign.

---

The leaders of the European Union delivered a withering snub to Poland's right-wing government on Thursday by disregarding its objections and reappointing former Polish premier Donald Tusk to chair their summits.

---
World Markets (Spot Prices)
| | | | | |
| --- | --- | --- | --- | --- |
| Name | Time | RP | Move | % Move |
| JSE Overall | 17:00 | 50910.71 | -389.28 | -0.76% |
| JSE Top 40 | 17:00 | 43953.15 | -373.20 | -0.84% |
| JSE Gold | 17:00 | 1217.15 | -7.51 | -0.61% |
| JSE Financial | 17:00 | 41881.39 | -36.27 | -0.09% |
| JSE Industrial | 17:00 | 74194.88 | -356.19 | -0.48% |
| JSE Indust 25 | 17:00 | 65822.64 | -341.79 | -0.52% |
| JSE Resource | 17:00 | 30275.91 | -639.59 | -2.07% |
| DJ Futures | 19:58 | 20820.00 | -43.00 | -0.21% |
| DJ Ind | 19:58 | 20860.58 | 4.85 | 0.02% |
| SP 500 | 19:31 | 2364.70 | 1.72 | 0.07% |
| Nasdaq | 19:58 | 5844.04 | 6.49 | 0.11% |
| FTSE 100 | 18:42 | 7314.96 | -19.65 | -0.27% |
| DAX | 19:10 | 11978.39 | 11.08 | 0.09% |
| CAC40 | 19:10 | 4981.51 | 21.03 | 0.42% |
| Nikkei | 08:28 | 19318.58 | 64.55 | 0.34% |
| Shanghai | 09:28 | 3216.75 | -23.91 | -0.74% |
| Hang-Seng | 10:28 | 23501.56 | -280.71 | -1.18% |
| All Ords | 07:43 | 5780.50 | -19.00 | -0.33% |
| NZSE 50 | 09:08 | 7140.98 | -37.24 | -0.52% |

| | | | | |
| --- | --- | --- | --- | --- |
| Name | Time | RP | Move | % Move |
| Gold $ | 19:59 | 1203.97 | -3.18 | -0.26% |
| Gold R | 19:58 | 16019.68 | 158.85 | 1.00% |
| Gold R/kg | 19:57 | 515146 | 5221 | 1.02% |
| Silver $ | 19:59 | 17.0330 | -0.1660 | -0.97% |
| Platinum $ | 19:59 | 935.75 | -8.75 | -0.93% |
| Palladium $ | 19:59 | 746.32 | -22.18 | -2.89% |
| R186 | 17:44 | 8.71 | 0.04 | 0.46% |
| R204 | 16:59 | 7.44 | 0.00 | 0.00% |
| R207 | 17:26 | 7.69 | 0.05 | 0.65% |
| Brent Crude | 19:48 | 51.82 | -1.55 | -2.90% |
| USD / ZAR | 19:59 | 13.3081 | 0.1675 | 1.27% |
| GBP / ZAR | 19:55 | 16.1567 | 0.2014 | 1.26% |
| EUR/ ZAR | 19:55 | 14.0856 | 0.2377 | 1.72% |
| NZD/ ZAR | 19:58 | 9.1782 | 0.0981 | 1.08% |
| AUD / ZAR | 19:55 | 9.9961 | 0.1068 | 1.08% |
| USD / JPY | 19:59 | 114.7590 | 0.3260 | 0.28% |
| EUR / USD | 19:59 | 1.0580 | 0.0040 | 0.38% |
| GBP / USD | 19:59 | 1.2170 | 0.0003 | 0.02% |
Click here for the Sharenet Spot Price page
The JSE Today
Trading Statistics
| Date | Adv. | Decl. | Unch. | Actives | Volume | Value | Trades | Orders |
| --- | --- | --- | --- | --- | --- | --- | --- | --- |
| 09/03/2017 | 153 | 187 | 65 | 405 | 305,680,148 | R22,284,243,384 | 339634 | 1248363 |
| 08/03/2017 | 165 | 177 | 60 | 402 | 275,260,926 | R21,046,463,323 | 292698 | 2455989 |
| 07/03/2017 | 137 | 209 | 65 | 411 | 284,130,161 | R15,883,804,606 | 252402 | 2391261 |
| 06/03/2017 | 148 | 199 | 47 | 394 | 239,452,281 | R14,337,567,382 | 246042 | 2279254 |
| 03/03/2017 | 151 | 211 | 59 | 421 | 300,980,275 | R19,189,599,226 | 333421 | 2869904 |
* Includes all listed instruments on the JSE
---
---
---
Index Summary
| | | | |
| --- | --- | --- | --- |
| Index Name | RP | Move | % Move |
| Top 40 | 43,953.15 | -373.20 | -0.84% |
| Industrial | 74,194.88 | -356.19 | -0.48% |
| Mid Cap | 77,450.72 | -477.69 | -0.61% |
| Small Cap | 64,187.68 | 195.42 | 0.31% |
| Resource 20 | 30,275.91 | -639.59 | -2.07% |
| Industrial 25 | 65,822.64 | -341.79 | -0.52% |
| Financial 15 | 15,284.55 | -27.26 | -0.18% |
| Financial & Ind. 30 | 69,954.98 | -314.90 | -0.45% |
| All Share | 50,910.71 | -389.28 | -0.76% |
| Oil & Gas | 7,195.69 | .00 | 0.00% |
| Mining | 22,083.50 | -632.69 | -2.79% |
| Gold Mining | 1,217.15 | -7.51 | -0.61% |
| Platinum Mining | 19.03 | -.52 | -2.66% |
| GENERAL MINING | 6,485.40 | -200.21 | -2.99% |
| Oil & Gas Producers | 38,689.88 | .00 | 0.00% |
| Basic Materials | 21,605.75 | -497.61 | -2.25% |
| Chemicals | 19,062.55 | -210.46 | -1.09% |
| Forestry & Paper | 54,415.81 | -455.24 | -0.83% |
| Industrial Metals | 11,443.10 | -441.54 | -3.72% |
| Industrials | 47,845.99 | -301.97 | -0.63% |
| General Industrials | 179.78 | -.98 | -0.54% |
| Consumer Goods | 72,236.07 | 241.38 | 0.34% |
| Automobiles & Parts | 5,432.44 | -4.52 | -0.08% |
| Household Goods | 438.19 | 9 | 2.18% |
| Health Care | 7,816.48 | 69.54 | 0.90% |
| Beverages | 234.07 | .62 | 0.27% |

| | | | |
| --- | --- | --- | --- |
| Index Name | RP | Move | % Move |
| Food Producers | 10,119.96 | -54.85 | -0.54% |
| Personal Goods | 983.28 | -1.80 | -0.18% |
| Consumer Services | 17,728.85 | -181.17 | -1.01% |
| General Retailers | 7,261.82 | 41.17 | 0.57% |
| Travel & Leisure | 6,299.72 | 19.42 | 0.31% |
| Media | 458.72 | -8.03 | -1.72% |
| Support Services | 2,275.21 | -14.27 | -0.62% |
| Telecommunications | 6,785.86 | -100.49 | -1.46% |
| Financials | 41,881.39 | -36.27 | -0.09% |
| Banks | 7,639.28 | -45.00 | -0.59% |
| Non-life Insurance | 66,740.00 | 790.30 | 1.20% |
| Life Insurance | 38,297.38 | 227.47 | 0.60% |
| General Financial | 3,936.12 | -27.09 | -0.68% |
| Technology | 55,865.24 | -686.36 | -1.21% |
| SHARIAH TOP40 | 2,829.37 | -33 | -1.16% |
| FTSE/JSE SHARIAH ALL | 3,253.38 | -37 | -1.13% |
| COAL MINING | 13,122.14 | -1289 | -8.95% |
| FTSE JSE Fledgling | 8,009.00 | 1 | 0.01% |
| FTSE/JSE TOP 40 USD | 3,552.40 | 55 | 1.58% |
| FTSE/JSE Alt X | 1,379.50 | -6 | -0.40% |
| SA LISTED PROPERTY | 644.86 | -.39 | -0.06% |
| CAPPED PROPERTY | 520.19 | | 0.13% |
| RESOURCE | 17,239.19 | -397 | -2.25% |
| DIVIDEND PLUS | 212.41 | -1 | -0.45% |
| FTSE/JSE RAFI 40 | 9,563.44 | -88 | -0.91% |
| Capped Top 40 | 23,569.07 | -180 | -0.76% |
| Capped All Share | 26,086.55 | -188 | -0.72% |
| JSE TABACO | 10,419.00 | 83 | 0.80% |
Click here for the Sharenet Index Summary page
---
Latest Consensus Changes**

| | | | |
| --- | --- | --- | --- |
| Code | Company Name | Status | Updated |
| GRT | GROWTHPOINT PROPERTIES LI... | HOLD | 07/03/2017 |
| RMH | RMB HOLDINGS LIMITED | HOLD | 06/03/2017 |
| S32 | SOUTH32 LIMITED | HOLD | 06/03/2017 |
| ARI | AFRICAN RAINBOW MINERALS | HOLD | 06/03/2017 |
| ANG | ANGLOGOLD ASHANTI LIMITED | HOLD | 06/03/2017 |

Results Expected**

| | | |
| --- | --- | --- |
| Expected | Company Name | Fin. Date |
| 10/03/2017 | AF - OVR | December 2016 (Interim) |
| 10/03/2017 | AF-OVR 6%PP | December 2016 (Interim) |
| 10/03/2017 | AFOVR-N | December 2016 (Interim) |
| 10/03/2017 | BASREAD | December 2016 (Final) |
| 10/03/2017 | REX TRUE | December 2016 (Interim) |
---
Recent Dividends**

| | | | | |
| --- | --- | --- | --- | --- |
| Share Name | Dec-Date | LDT | Pay-Date | Amount |
| ASCENDIS | 08/03/17 | 09/05/17 | 15/05/17 | ZAR 0.1100 |
| CAPEVINH | 08/03/17 | 18/04/17 | 24/04/17 | ZAR 0.1060 |
| STEINHOFF N.V. | 07/03/17 | 14/03/17 | 20/03/17 | EUR 0.0300 |
| MERAFE | 07/03/17 | 28/03/17 | 03/04/17 | ZAR 0.0400 |
| TEX | 06/03/17 | 28/03/17 | 03/04/17 | ZAR 0.4795 |

Ex Div**

| | | | | |
| --- | --- | --- | --- | --- |
| Share Name | Dec-Date | LDT | Pay-Date | Amount |
| DSY B PREF | 16/02/17 | 07/03/17 | 13/03/17 | ZAR 5.2932 |
| CITYLDG | 16/02/17 | 07/03/17 | 13/03/17 | ZAR 2.7200 |
| TRUWTHS | 16/02/17 | 07/03/17 | 13/03/17 | ZAR 2.7000 |
| WOOLIES | 16/02/17 | 07/03/17 | 13/03/17 | ZAR 1.3300 |
| ECSP C4 | 22/02/17 | 07/03/17 | 13/03/17 | ZAR 1.1123 |
---
Upcoming AGMs**

| | | | |
| --- | --- | --- | --- |
| Code | Company Name | Date | Status |
| SNH | Steinhoff International Holdings N.V. | 14/03/2017 | Confirmed |
---
Stock Exchange News Service
Click here for more SENS news
---