Tuesday, 02 September 2014 - 20:00
Charts
Seed Weekly - Investment greats ? Philip Fisher
Following my series on Warren Buffett and value investing I decided to write another series on some of the greatest minds in the investment world. These seminal figures of modern investment thinking have impacted many, and have increased the wealth of their clients for the better. Much to learn from these fine minds, I trust that you would find value from their lives and/or thoughts.
Born in San Francisco in 1907, Philip Fisher was a pioneer in the growth stock school of investing. Fisher was the first to consider a stock's worth in terms of potential growth instead of just price trends and absolute value. Mr Fisher started his investment career in 1928, just before the Great Depression, when he dropped out of the newly created Stanford Business School to work as a securities analyst for a bank. He started Fisher & Company in 1931 and remained in the money management business for 74 years, managing the company's affairs until his retirement in 1999 at the age of 91.

Philip Fisher followed a growth investment philosophy specialising in companies at the forefront of innovation and driven by research and development. He sought well managed, high quality growth companies that could be bought at a reasonable price, and then held for the long term. A famous example was his purchase of Motorola stock in 1955 (by then a radio manufacturer) which was held to his death in 2004. He kept a concentrated portfolio of stocks. "I don't want a lot of good investments; I want a few outstanding ones." He was not well known to the general public until he published his first book, Common Stocks and Uncommon Profits in 1958. It was the first investment book ever to make the New York Times bestseller list in its time.
According to Mr Fisher, conservative investors sleep well. In his book he stresses his famous "fifteen points to look for in a common stock" which was his qualitative strategy for finding well managed quality companies. He divided his criteria into two categories namely characteristics of the company's management, and those of the company itself. I just highlight them – though more detail is available online and well worth the read.

1. Does the company have products or services with sufficient market potential to make possible a sizable increase in sales for at least several years?
2. Does the management have a determination to continue to develop products or processes that will still further increase total sales potentials when the growth potentials of currently attractive product lines have largely been exploited?
3. How effective are the company's research and development efforts in relation to its size?
4. Does the company have an above-average sales organization?
5. Does the company have a worthwhile profit margin?
6. What is the company doing to maintain or improve profit margins?
7. Does the company have outstanding labour and personnel relations?
8. Does the company have outstanding executive relations?
9. Does the company have depth to its management?
10. How good are the company's cost analysis and accounting controls?
11. Are there other aspects of the business, somewhat peculiar to the industry involved, which will give the investor important clues as to how outstanding the company may be in relation to its competition?
12. Does the company have a short-range or long-range outlook in regard to profits?
13. In the foreseeable future will the growth of the company require sufficient equity financing so that the larger number of shares then outstanding will largely cancel the existing stockholders' benefit from this s anticipated growth?
14. Does the management talk freely to investors about its affairs when things are going well but "clam up" when troubles and disappointments occur?
15. Does the company have a management of unquestionable integrity?
With his approach known as "scuttlebutt", he searched above and beyond these fifteen points for information on a company – since a company's own information and accounting can be subjective. Known as a good networker, he made use of all contacts he could find to gather information and perspective on a company including questioning customers, industry competitors and suppliers. Asking the right questions was fundamental in this approach.
"I sought out Phil Fisher after reading his "Common Stocks and Uncommon Profits". When I met him, I was impressed by the man and his ideas. A thorough understanding of a business, by using Phil's techniques … enables one to make intelligent investment commitments." (Warren Buffett) Mr Buffett himself later described his strategy as 15% Fisher, 85% Benjamin Graham.
Many people say there are two must have books needed for your library to become a successful stock investor – Fisher's Common Stocks and Uncommon Profits, which explains the qualitative side to value investing and Benjamin Graham's The Intelligent Investor, where Graham explains the quantitative side. Perhaps not a bad idea for a Christmas shopping list?
Keep well,
Lourens Rabé
Sources:
forbes.com
Investopedia
Valuewalk.com
www.seedinvestments.co.za
info@seedinvestments.co.za
021 914 4966
Tue, 02 Sep 2014
Top News
South African stocks ended in the black on Tuesday led by retailers such as construction materials seller Cashbuild and upscale food and clothing retailer Woolworths.

---

Islamist Boko Haram insurgents overran most of a northeastern Nigerian town on Tuesday after hours of fighting that killed scores and displaced thousands of residents, security sources said.

Pakistan's parliament threw its weight behind embattled Prime Minister Nawaz Sharif on Tuesday as a deepening crisis over violent protests demanding his resignation prompted fears of an army intervention.
World Markets (Spot Prices)
| | | | | |
| --- | --- | --- | --- | --- |
| Name | Time | RP | Move | % Move |
| JSE Overall | 17:00 | 51462.57 | 348.70 | 0.68% |
| JSE Top 40 | 17:00 | 46076.97 | 324.44 | 0.71% |
| JSE Gold | 17:00 | 1538.07 | -4.83 | -0.31% |
| JSE Financial | 17:00 | 38570.76 | 400.14 | 1.05% |
| JSE Industrial | 17:00 | 68038.60 | 326.93 | 0.48% |
| JSE Indust 25 | 17:00 | 60029.86 | 278.20 | 0.47% |
| JSE Resource | 17:00 | 56658.07 | 500.98 | 0.89% |
| DJ Futures | 19:58 | 17004.00 | -84.00 | -0.49% |
| DJ Ind | 19:58 | 17021.67 | -76.78 | -0.45% |
| SP 500 | 19:58 | 1995.90 | -7.47 | -0.37% |
| Nasdaq | 19:58 | 4581.85 | 2.29 | 0.05% |
| FTSE 100 | 17:35 | 6829.17 | 3.86 | 0.06% |
| DAX | 18:08 | 9507.02 | 27.99 | 0.30% |
| CAC40 | 18:08 | 4378.33 | -1.40 | -0.03% |
| Nikkei | 08:42 | 15668.60 | 192.00 | 1.24% |
| Shanghai | 09:28 | 2266.05 | 30.54 | 1.37% |
| Hang-Seng | 06:28 | 24613.83 | -170.73 | -0.69% |
| All Ords | 08:44 | 5656.90 | 27.60 | 0.49% |
| NZSE 50 | 07:50 | 5221.77 | 6.37 | 0.12% |

| | | | | |
| --- | --- | --- | --- | --- |
| Name | Time | RP | Move | % Move |
| Gold $ | 19:59 | 1264.46 | -22.40 | -1.74% |
| Gold R | 19:59 | 13569.34 | -161.41 | -1.18% |
| Gold R/kg | 19:58 | 436233 | -4839 | -1.10% |
| Silver $ | 19:59 | 19.1680 | -.3020 | -1.55% |
| Platinum $ | 19:58 | 1405.75 | -10.95 | -0.77% |
| Palladium $ | 19:58 | 880.00 | -23.90 | -2.64% |
| R157 | 17:00 | 6.60 | -.01 | -0.15% |
| R186 | 17:00 | 8.09 | .10 | 1.25% |
| R204 | 17:00 | 7.17 | .09 | 1.20% |
| R207 | 17:00 | 7.43 | .10 | 1.36% |
| Brent Crude | 19:58 | 100.67 | -2.52 | -2.44% |
| Rand / Dollar | 19:59 | 10.7315 | 0.0617 | 0.58% |
| Rand / Pound | 19:55 | 17.6546 | -0.0367 | -0.21% |
| Rand / Euro | 19:55 | 14.0859 | 0.0775 | 0.55% |
| Rand / NZD | 19:59 | 8.9228 | -0.0194 | -0.22% |
| Rand / AUD | 19:55 | 9.9552 | -0.0068 | -0.07% |
| Yen / Dollar | 19:59 | 105.1270 | 0.8040 | 0.77% |
| Euro / Dollar | 19:58 | 0.7617 | -0.0001 | -0.01% |
| Dollar / Euro | 19:59 | 1.3130 | 0.0003 | 0.02% |
| Pound / Dollar | 19:55 | 0.6063 | 0.0044 | 0.73% |
Click here for the Sharenet Spot Price page
The JSE Today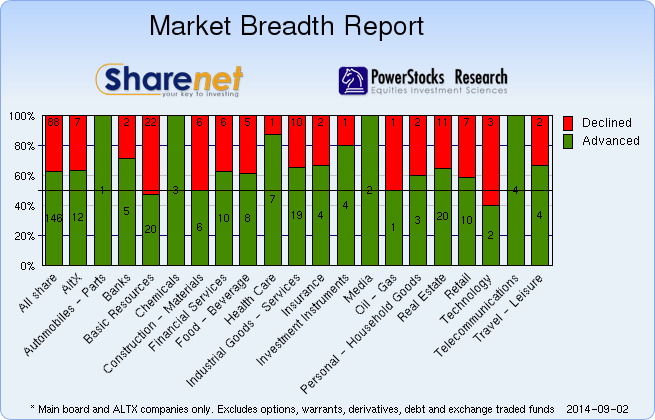 Trading Statistics
| Date | Adv. | Decl. | Unch. | Actives | Volume | Value | Trades | Orders |
| --- | --- | --- | --- | --- | --- | --- | --- | --- |
| 02/09/2014 | 216 | 133 | 64 | 413 | 198,595,120 | R14,068,421,486 | 145936 | 917760 |
| 01/09/2014 | 200 | 142 | 58 | 400 | 140,428,986 | R8,783,672,079 | 131386 | 814275 |
| 29/08/2014 | 179 | 170 | 57 | 406 | 235,917,930 | R16,011,062,149 | 167202 | 531833 |
| 28/08/2014 | 155 | 195 | 59 | 409 | 212,608,913 | R13,020,062,312 | 155286 | 998816 |
| 27/08/2014 | 151 | 205 | 52 | 408 | 230,106,252 | R14,029,845,303 | 187238 | 884340 |
* Includes all listed instruments on the JSE
---
---
---
Index Summary
| | | | |
| --- | --- | --- | --- |
| Index Name | RP | Move | % Move |
| Top 40 | 46,076.97 | 324.44 | 0.71% |
| Industrial | 68,038.60 | 326.93 | 0.48% |
| Mid Cap | 67,495.07 | 385.76 | 0.57% |
| Small Cap | 55,572.83 | 207.89 | 0.38% |
| Resource 20 | 56,658.07 | 500.98 | 0.89% |
| Industrial 25 | 60,029.86 | 278.20 | 0.47% |
| Financial 15 | 14,884.34 | 169.79 | 1.15% |
| Financial & Ind. 30 | 64,006.05 | 409.59 | 0.64% |
| All Share | 51,462.57 | 348.70 | 0.68% |
| Oil & Gas | 47,015.09 | 98.38 | 0.21% |
| Mining | 33,259.40 | 324.12 | 0.98% |
| Gold Mining | 1,538.07 | -4.83 | -0.31% |
| Platinum Mining | 42.79 | -.43 | -0.99% |
| GENERAL MINING | 9,699.21 | 131.77 | 1.38% |
| Oil & Gas Producers | 25,279.15 | 52.90 | 0.21% |
| Basic Materials | 29,412.82 | 264.57 | 0.91% |
| Chemicals | 24,262.47 | 113.68 | 0.47% |
| Forestry & Paper | 31,731.94 | 83.38 | 0.26% |
| Industrial Metals | 18,680.29 | 17.85 | 0.10% |
| Industrials | 47,814.61 | 499.46 | 1.06% |
| General Industrials | 155.13 | 1.93 | 1.26% |
| Consumer Goods | 60,824.29 | 141.38 | 0.23% |
| Automobiles & Parts | 7,936.93 | 22.65 | 0.29% |
| Household Goods | 351.37 | -14 | -3.74% |
| Health Care | 90,542.44 | 817.57 | 0.91% |
| Beverages | 202.44 | 1.62 | 0.81% |

| | | | |
| --- | --- | --- | --- |
| Index Name | RP | Move | % Move |
| Food Producers | 80,640.94 | -94.75 | -0.12% |
| Personal Goods | 1,028.43 | 5.70 | 0.56% |
| Consumer Services | 12,754.06 | 22.07 | 0.17% |
| General Retailers | 67,509.64 | 356.63 | 0.53% |
| Travel & Leisure | 5,897.94 | 91.72 | 1.58% |
| Media | 297.60 | .07 | 0.02% |
| Support Services | 2,824.84 | -50.19 | -1.75% |
| Telecommunications | 11,675.62 | 126.43 | 1.09% |
| Financials | 38,570.76 | 400.14 | 1.05% |
| Banks | 66,535.14 | 723.10 | 1.10% |
| Non-life Insurance | 55,612.89 | -255.22 | -0.46% |
| Life Insurance | 36,998.00 | 438.25 | 1.20% |
| General Financial | 3,788.55 | 39.55 | 1.05% |
| Technology | 46,619.10 | 1107.53 | 2.43% |
| SHARIAH TOP40 | 4,260.25 | 26 | 0.62% |
| FTSE/JSE SHARIAH ALL | 4,435.17 | 27 | 0.61% |
| COAL MINING | 19,089.05 | 51 | 0.27% |
| FTSE JSE Fledgling | 6,768.69 | -28 | -0.41% |
| FTSE/JSE Alt X | 1,313.45 | 4 | 0.27% |
| SA LISTED PROPERTY | 545.97 | | 1.27% |
| CAPPED PROPERTY | 477.07 | | 0.97% |
| RESOURCE | 30,906.55 | 254 | 0.83% |
| DIVIDEND PLUS | 227.27 | 1 | 0.60% |
| FTSE/JSE RAFI 40 | 10,141.23 | 84 | 0.83% |
| Capped Top 40 | 24,460.30 | 172 | 0.71% |
| Capped All Share | 26,073.87 | 177 | 0.68% |
| JSE TABACO | 8,095.53 | 45 | 0.56% |
Click here for the Sharenet Index Summary page
---
Latest Consensus Changes**

| | | | |
| --- | --- | --- | --- |
| Code | Company Name | Status | Updated |
| SAB | SABMILLER PLC | HOLD | 01/09/2014 |
| SNT | SANTAM LTD | SELL | 01/09/2014 |
| DST | DISTELL | SELL | 01/09/2014 |
| CFR | COMPAGNIE FIN RICHEMONT | HOLD | 01/09/2014 |
| MUR | MURRAY AND ROBERTS HOLDIN... | BUY | 29/08/2014 |

Results Expected**

| | | |
| --- | --- | --- |
| Expected | Company Name | Fin. Date |
| 03/09/2014 | DISCOVERY | June 2014 (Final) |
| 03/09/2014 | DSY B PREF | June 2014 (Final) |
| 03/09/2014 | LITHA | June 2014 (Interim) |
| 03/09/2014 | LITHAP | June 2014 (Interim) |
| 04/09/2014 | AFGRI | June 2014 (Final) |
---
Recent Dividends**

| | | | | |
| --- | --- | --- | --- | --- |
| Share Name | Dec-Date | LDT | Pay-Date | Amount |
| METROFILE | 01/09/14 | 26/09/14 | 06/10/14 | ZAR 0.0800 |
| WBHO | 01/09/14 | 10/10/14 | 20/10/14 | ZAR 2.3300 |
| BIDVEST | 01/09/14 | 03/10/14 | 13/10/14 | ZAR 4.3200 |
| HYPROP | 29/08/14 | 18/09/14 | 29/09/14 | ZAR 2.4100 |
| MORVEST | 29/08/14 | 17/10/14 | 27/10/14 | ZAR 0.0100 |

Ex Div**

| | | | | |
| --- | --- | --- | --- | --- |
| Share Name | Dec-Date | LDT | Pay-Date | Amount |
| STANBANK-P | 14/08/14 | 29/08/14 | 08/09/14 | ZAR 3.4058 |
| LIB-HOLD | 08/08/14 | 29/08/14 | 08/09/14 | ZAR 2.3200 |
| AECI | 29/07/14 | 29/08/14 | 08/09/14 | ZAR 1.1500 |
| BHPBILL | 19/08/14 | 29/08/14 | 23/09/14 | USD 0.6200 |
| FORTRESSA | 12/08/14 | 29/08/14 | 08/09/14 | ZAR 0.5881 |
---
Upcoming AGMs**

| | | | |
| --- | --- | --- | --- |
| Code | Company Name | Date | Status |
| MPC | Mr Price Group Ltd. | 03/09/2014 | Confirmed |
| MPCB | Mr Price Group Ltd. | 03/09/2014 | Confirmed |
| MRPP | Mr Price Group Ltd. | 03/09/2014 | Confirmed |
| MRI | Mine Restoration Investments Ltd. | 04/09/2014 | Unconfirmed |
| APK | Astrapak Ltd. | 04/09/2014 | Confirmed |
---
Stock Exchange News Service
Click here for more SENS news
---