Tuesday, 15 July 2014 - 20:00
Charts
Seed Weekly - A Penny Saved is a Penny Earned
Seeing that July is national Savings Month it prompted me to re visit my personal finances just to access whether I am still on par with reaching my financial goals and specifically asking questions in the line of "Am I saving enough?"
As a nation, South Africans do not have a culture of saving and seeing that only 4% of South African households earn more than R 40 000 per month* one may argue that we live from hand to mouth and are just too poor to save.
I think the key here is to develop the habit of saving money automatically. When saving automatically you don't spend time each month focusing on it and it becomes easier.
Below are some tips of my own that assist me to be disciplined in my approach to saving money:
• Have a plan and definite GOALS
Whether it is for retirement or something simple, like saving for travelling or your children's education, it is important to have a goal to save towards. Add a Rand value to it and write it down and always refer back to it for motivation and reference.
• Start off by saving 10% of your monthly income
I recently read the famous book "The Richest Man in Babylon" by John S Clason (I highly recommend it) and his "First law of Gold" is that if you save one tenth of your earnings consistently you will have enough to provide you with income in the future. Saving anything more is obviously even more advantageous but 10% is a good starting point.
• Start early
The time value of money and compounded returns play a massive role here. A simple example in the graph below shows 5 different people each saving R 1 000 per month up to age 65. Returns assumed at 12% and also assuming no withdrawals during the period invested.

R 12m when saving for 40 years compared to just under R 1m when saving for 20 years speaks for itself. More notably and underlining the importance of starting early is the fact that by starting only 5 years earlier the 25 year old accumulates R 5.5m more than the 30 year old when both reach 65.
• Cutting down on spending / Penny Pinching
An easy way to increase saving is obviously to spend less. Assessing my bank statement at the end of a month and highlighting areas where I can improve in the next month helps with having extra money to save. Again I would challenge myself with goals and it can be as simple as to rather rent a movie and watching it at home compared to going out to the movies or playing one less round of golf per month.
• Guard from loss/invest smart
It is important to invest your savings in a product that beats inflation and doesn't lose any capital over your investment period. There's nothing worse than losing your hard earned savings by being invested in for example a money market fund which would not guarantee inflation beating returns. It is always wise to consult your financial advisor to make sure you invest your savings in an appropriate investment vehicle.
By sticking to the above basic tips I have developed the habit of saving on a constant basis and as long as I follow them my savings can only go in one direction – upwards.
Happy savings month,
Renier Hugo
www.seedinvestments.co.za
info@seedinvestments.co.za
021 914 4966
Interesting money saving tips here
http://www.huffingtonpost.com/2014/07/08/money-saving-tips-_n_5548116.html
* http://www.econ3x3.org/article/who-are-middle-class-south-africa-does-it-matter-policy
Tue, 15 Jul 2014
Top News
South Africa's rand eased against the dollar on Tuesday as prospects for an end to a strike in the metals sector dimmed, with employers withdrawing a final wage offer made to employees.

---

Israel resumed air strikes in the Gaza Strip on Tuesday after agreeing to an Egyptian-proposed ceasefire deal that failed to get Hamas militants to halt rocket attacks.

At least 20 people were killed and more than 120 were injured when a Moscow underground train derailed during the morning rush hour in one of the worst accidents on the Russian capital's subway system in years.
World Markets (Spot Prices)
| | | | | |
| --- | --- | --- | --- | --- |
| Name | Time | RP | Move | % Move |
| JSE Overall | 17:00 | 51735.29 | 194.41 | 0.38% |
| JSE Top 40 | 17:00 | 46627.33 | 193.67 | 0.42% |
| JSE Gold | 17:00 | 1534.66 | -14.09 | -0.91% |
| JSE Financial | 17:00 | 37812.83 | 17.62 | 0.05% |
| JSE Industrial | 17:00 | 67666.71 | 284.11 | 0.42% |
| JSE Indust 25 | 17:00 | 59866.80 | 265.76 | 0.45% |
| JSE Resource | 17:00 | 59397.34 | 326.31 | 0.55% |
| DJ Futures | 19:38 | 16990.00 | 9.00 | 0.05% |
| DJ Ind | 19:58 | 17062.00 | 6.58 | 0.04% |
| SP 500 | 19:58 | 1974.74 | -2.36 | -0.12% |
| Nasdaq | 19:58 | 4422.44 | -17.98 | -0.40% |
| FTSE 100 | 17:35 | 6710.45 | -35.69 | -0.53% |
| DAX | 18:08 | 9719.41 | -63.60 | -0.65% |
| CAC40 | 18:08 | 4305.31 | -44.73 | -1.03% |
| Nikkei | 08:38 | 15395.16 | 98.34 | 0.64% |
| Shanghai | 09:28 | 2070.36 | 3.71 | 0.18% |
| Hang-Seng | 10:28 | 23459.96 | 113.29 | 0.49% |
| All Ords | 08:41 | 5495.70 | -.10 | 0.00% |
| NZSE 50 | 07:28 | 5115.40 | -12.46 | -0.24% |

| | | | | |
| --- | --- | --- | --- | --- |
| Name | Time | RP | Move | % Move |
| Gold $ | 19:58 | 1296.59 | -11.32 | -0.87% |
| Gold R | 19:59 | 13858.91 | -102.02 | -0.73% |
| Gold R/kg | 19:58 | 445455 | -2715 | -0.61% |
| Silver $ | 19:59 | 20.8170 | -.0840 | -0.40% |
| Platinum $ | 19:59 | 1477.55 | -11.15 | -0.75% |
| Palladium $ | 19:59 | 866.80 | -1.50 | -0.17% |
| R157 | 17:14 | 6.65 | -.01 | -0.15% |
| R186 | 16:47 | 8.27 | -.05 | -0.60% |
| R204 | 17:25 | 7.48 | -.04 | -0.60% |
| R207 | 17:14 | 7.74 | -.03 | -0.39% |
| Brent Crude | 19:58 | 105.74 | -.92 | -0.86% |
| Rand / Dollar | 19:59 | 10.6875 | 0.0145 | 0.14% |
| Rand / Pound | 19:55 | 18.2921 | 0.0847 | 0.47% |
| Rand / Euro | 19:55 | 14.4985 | -0.0412 | -0.28% |
| Rand / NZD | 19:59 | 9.3692 | -0.0302 | -0.32% |
| Rand / AUD | 19:55 | 10.0124 | -0.0181 | -0.18% |
| Yen / Dollar | 19:59 | 101.6740 | 0.1260 | 0.12% |
| Euro / Dollar | 19:57 | 0.7370 | 0.0021 | 0.29% |
| Dollar / Euro | 19:58 | 1.3568 | -0.0053 | -0.39% |
| Pound / Dollar | 19:55 | 0.5829 | -0.0022 | -0.38% |
Click here for the Sharenet Spot Price page
The JSE Today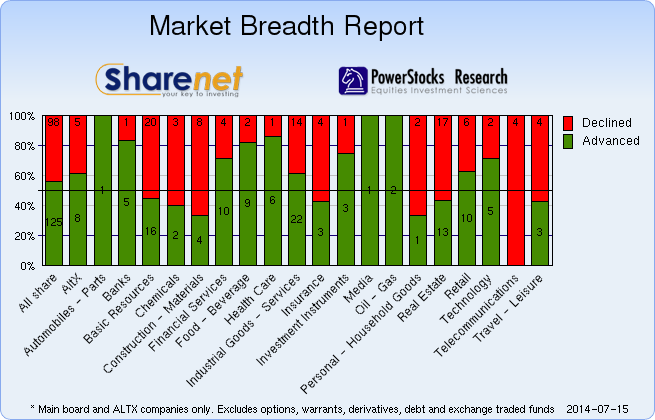 Trading Statistics
| Date | Adv. | Decl. | Unch. | Actives | Volume | Value | Trades | Orders |
| --- | --- | --- | --- | --- | --- | --- | --- | --- |
| 15/07/2014 | 187 | 156 | 72 | 415 | 182,220,249 | R12,937,146,829 | 157157 | 1324594 |
| 14/07/2014 | 201 | 150 | 69 | 420 | 184,579,986 | R10,246,808,732 | 136122 | 940774 |
| 11/07/2014 | 222 | 124 | 49 | 395 | 166,057,647 | R10,859,523,835 | 135246 | 1086261 |
| 10/07/2014 | 126 | 228 | 60 | 414 | 213,905,434 | R15,241,000,461 | 184639 | 1398601 |
| 09/07/2014 | 164 | 184 | 67 | 415 | 176,803,299 | R13,687,805,016 | 159373 | 1101764 |
* Includes all listed instruments on the JSE
---
---
---
Index Summary
| | | | |
| --- | --- | --- | --- |
| Index Name | RP | Move | % Move |
| Top 40 | 46,627.33 | 193.67 | 0.42% |
| Industrial | 67,666.71 | 284.11 | 0.42% |
| Mid Cap | 65,432.77 | 97.90 | 0.15% |
| Small Cap | 54,426.09 | 121.28 | 0.22% |
| Resource 20 | 59,397.34 | 326.31 | 0.55% |
| Industrial 25 | 59,866.80 | 265.76 | 0.45% |
| Financial 15 | 14,605.34 | 11.56 | 0.08% |
| Financial & Ind. 30 | 63,680.19 | 216.28 | 0.34% |
| All Share | 51,735.29 | 194.41 | 0.38% |
| Oil & Gas | 46,918.98 | 127.13 | 0.27% |
| Mining | 35,286.15 | 207.07 | 0.59% |
| Gold Mining | 1,534.66 | -14.09 | -0.91% |
| Platinum Mining | 46.94 | -.33 | -0.70% |
| GENERAL MINING | 10,362.38 | 95.19 | 0.93% |
| Oil & Gas Producers | 25,227.47 | 68.36 | 0.27% |
| Basic Materials | 31,117.03 | 173.22 | 0.56% |
| Chemicals | 24,996.88 | 9.26 | 0.04% |
| Forestry & Paper | 32,995.38 | 178.33 | 0.54% |
| Industrial Metals | 18,792.84 | -90.99 | -0.48% |
| Industrials | 46,345.94 | 329.07 | 0.72% |
| General Industrials | 148.28 | 1.69 | 1.15% |
| Consumer Goods | 63,027.10 | 24.58 | 0.04% |
| Automobiles & Parts | 8,752.13 | 147.19 | 1.71% |
| Household Goods | 375.39 | 1 | 0.37% |
| Health Care | 85,560.01 | 1861.54 | 2.22% |
| Beverages | 206.40 | 1.19 | 0.58% |

| | | | |
| --- | --- | --- | --- |
| Index Name | RP | Move | % Move |
| Food Producers | 79,580.05 | 722.28 | 0.92% |
| Personal Goods | 1,093.35 | -2.79 | -0.25% |
| Consumer Services | 12,576.85 | 118.32 | 0.95% |
| General Retailers | 67,974.81 | 460.16 | 0.68% |
| Travel & Leisure | 5,709.87 | -25.88 | -0.45% |
| Media | 287.54 | 3.69 | 1.30% |
| Support Services | 2,874.03 | 32.13 | 1.13% |
| Telecommunications | 10,664.72 | -27.33 | -0.26% |
| Financials | 37,812.83 | 17.62 | 0.05% |
| Banks | 66,120.92 | 177.42 | 0.27% |
| Non-life Insurance | 51,554.86 | 127.61 | 0.25% |
| Life Insurance | 36,143.45 | 14.88 | 0.04% |
| General Financial | 3,880.62 | 6.34 | 0.16% |
| Technology | 45,109.85 | -12.21 | -0.03% |
| SHARIAH TOP40 | 4,374.83 | 19 | 0.44% |
| FTSE/JSE SHARIAH ALL | 4,498.36 | 19 | 0.42% |
| COAL MINING | 17,285.08 | -11 | -0.07% |
| FTSE JSE Fledgling | 6,910.30 | 33 | 0.48% |
| FTSE/JSE Alt X | 1,231.31 | -6 | -0.44% |
| SA LISTED PROPERTY | 510.37 | | -0.20% |
| CAPPED PROPERTY | 448.08 | | -0.32% |
| RESOURCE | 32,403.13 | 171 | 0.53% |
| DIVIDEND PLUS | 226.93 | 0 | 0.15% |
| FTSE/JSE RAFI 40 | 10,234.32 | 36 | 0.35% |
| Capped Top 40 | 24,681.13 | 101 | 0.41% |
| Capped All Share | 26,194.38 | 98 | 0.38% |
| JSE TABACO | 8,279.41 | -129 | -1.54% |
Click here for the Sharenet Index Summary page
---
Latest Consensus Changes**

| | | | |
| --- | --- | --- | --- |
| Code | Company Name | Status | Updated |
| MDC | MEDICLINIC INTERNATIONAL | BUY | 14/07/2014 |
| THA | THARISA PLC | BUY | 11/07/2014 |
| EXX | EXXARO RESOURCES LIMITED | HOLD | 11/07/2014 |
| ASR | ASSORE LTD | SELL | 11/07/2014 |
| AGL | ANGLO AMERICAN PLC | HOLD | 11/07/2014 |

Results Expected**

| | | |
| --- | --- | --- |
| Expected | Company Name | Fin. Date |
| 17/07/2014 | HWANGE | December 2013 (Final) |
| 17/07/2014 | HWANGE-A | December 2013 (Final) |
| 21/07/2014 | AMPLATS | June 2014 (Interim) |
| 21/07/2014 | ANGLOPLATCCP | June 2014 (Interim) |
| 22/07/2014 | ELLIES | April 2014 (Final) |
---
Recent Dividends**

| | | | | |
| --- | --- | --- | --- | --- |
| Share Name | Dec-Date | LDT | Pay-Date | Amount |
| AMECOR | 01/07/14 | 18/07/14 | 28/07/14 | ZAR 0.0600 |
| TRUSTCO | 30/06/14 | 25/07/14 | 22/08/14 | NAD 0.0275 |
| ILRPREF1 | 30/06/14 | 18/07/14 | 28/07/14 | ZAR 12.5638 |
| PRESCIENT | 30/06/14 | 25/07/14 | 04/08/14 | ZAR 0.0260 |
| HUDACO | 27/06/14 | 08/08/14 | 18/08/14 | ZAR 1.5500 |

Ex Div**

| | | | | |
| --- | --- | --- | --- | --- |
| Share Name | Dec-Date | LDT | Pay-Date | Amount |
| LEWIS | 28/05/14 | 11/07/14 | 21/07/14 | ZAR 3.0200 |
| OMNIA | 24/06/14 | 11/07/14 | 21/07/14 | ZAR 2.9000 |
| NETCARE | 19/05/14 | 11/07/14 | 21/07/14 | ZAR 0.3200 |
| SAFARI | 27/06/14 | 11/07/14 | 21/07/14 | ZAR 0.2000 |
| ACCPROP | 23/06/14 | 11/07/14 | 21/07/14 | ZAR 0.1377 |
---
Upcoming AGMs**

| | | | |
| --- | --- | --- | --- |
| Code | Company Name | Date | Status |
| ILV | Illovo Sugar Ltd. | 16/07/2014 | Confirmed |
| VOD | Vodacom Group Ltd. | 17/07/2014 | Confirmed |
| VUN | Vunani Ltd. | 18/07/2014 | Confirmed |
| BK1P | BK One Ltd. | 18/07/2014 | Unconfirmed |
| BK1O | BK One Ltd. | 18/07/2014 | Unconfirmed |
---
Stock Exchange News Service
Click here for more SENS news
---