Tuesday, 11 March 2014 - 20:00
Charts
Seed Weekly - Value Investing the Buffett Way (Part 5 1998 ? 2002)
The period 1998 to 2002 was an exceptionally interesting five years including the Dotcom bubble, its subsequent bursting and a small market dip following 9/11. After outperforming the S&P500 consecutively for 18 years, Berkshire underperformed in 1999.
During the bubble, Warren Buffett was heavily criticised for his underperformance. Unperturbed by media critics, he stuck to his convictions and stayed out of tech companies. Although he shared the general view that society would be transformed by the tech industry's products and services, he could not gain insights as to which participants possessed a truly durable competitive advantage. The valuations were outrageous and the companies simply brought nothing to the table when it came to patents, manufacturing processes, or geological prospects. Warren Buffett remained true to his philosophy to only invest into companies that he understood.
At the height of the Dotcom bubble, Berkshire had the worst absolute performance of Mr Buffett's tenure and, compared to the S&P500, the worst relative performance as well. "It was as if some virus, racing wildly among investment professionals as well as amateurs, induced hallucinations in which the values of stocks in certain sectors became decoupled from the values of the businesses that underlay them."

In retrospect, the coincidence is that the Dotcom bubble peaked on 10 March 2000 when the NASDAQ hit its all-time high whilst Berkshire shares traded at their lowest price since mid-1997. As markets fell, Berkshire made substantial purchases (being greedy when others are fearful). As one can expect, performance quickly picked up again.
One can learn a lot from Mr Buffett's unaffected behaviour towards market sensationalists. Unless substantially large, they don't comment on any specific investment actions they make for a perfectly good reason. "Our never-comment-even-if-untrue policy in regard to investments may disappoint "piggy backers" but will benefit owners: Your Berkshire shares would be worth less if we discussed what we are doing. Incidentally, we should warn you that media speculation about our investment moves continues in most cases to be incorrect. People who rely on such commentary do so at their own peril."
Warren Buffett seems to be the perfect head for his company. His interests are completely aligned with those of his shareholders whilst he constantly reassures investors that he would keep at least 99% of his net worth in Berkshire Hathaway. His view on being a CEO is also quite interesting:
1. Eliminate all ritualistic and non-productive activities that normally go with the job of CEO. Our managers are totally in charge of their personal schedules.
2. Give each a simple mission: Just run your business as if:
a. you own 100% of it;
b. It is the only asset in the world that you and your family have or will ever have;
c. You can't sell or merge it for at least a century. As a corollary, we tell them they should not let any of their decisions be affected even slightly by accounting considerations.
During 2002 Berkshire experienced a banner year, outperforming the S&P 500 by nearly 20%. It was in this years' newsletter that Warren Buffett gave this next piece of advice to his investors:
1. Beware of companies displaying weak accounting.
There is seldom just one cockroach in the kitchen.
2. Unintelligible footnotes usually indicate untrustworthy management. If you can't understand a footnote or other managerial explanation, it's usually because the CEO doesn't want you to.
3. Be suspicious of companies that trumpet earnings projections and growth expectations.
It is these fundamentals that successfully carried Berkshire through the Dotcom bubble. They stayed invested for the long term in well managed businesses, irrespective of the short term bumps, and focussed on their overall results. Berkshire recently released their latest annual report – which is well worth the read for any aspiring investor.
Kind regards,
Lourens Rabé
www.seedinvestments.co.za
info@seedinvestments.co.za
021 914 4966
Tue, 11 Mar 2014
Top News
South African stocks ended in the black on Tuesday led by e-commerce giant Naspers and after a resurgence by gold and platinum shares.

---

Malaysia's military believes a jetliner missing for almost four days turned and flew hundreds of kilometres to the west after it last made contact with civilian air traffic control off the country's east coast, a senior officer told Reuters on Tuesday.

Libya's navy opened fire on Tuesday on a tanker carrying oil from a rebel-held eastern port and Italian vessels are helping to secure the now-stationary vessel, a Libyan military spokesman said.
World Markets (Spot Prices)
| | | | | |
| --- | --- | --- | --- | --- |
| Name | Time | RP | Move | % Move |
| JSE Overall | 17:00 | 47612.81 | 290.35 | 0.61% |
| JSE Top 40 | 17:00 | 43055.99 | 320.61 | 0.75% |
| JSE Gold | 17:00 | 1573.43 | 14.90 | 0.96% |
| JSE Financial | 17:00 | 33618.75 | -99.77 | -0.30% |
| JSE Industrial | 17:00 | 62386.66 | 403.38 | 0.65% |
| JSE Indust 25 | 17:00 | 55359.42 | 441.46 | 0.80% |
| JSE Resource | 17:00 | 55603.52 | 656.02 | 1.19% |
| DJ Futures | 10/03 | 14331.64 | -100.36 | 0.00% |
| DJ Ind | 19:54 | 16372.41 | -46.27 | -0.28% |
| SP 500 | 19:54 | 1871.22 | -5.95 | -0.32% |
| Nasdaq | 19:54 | 4323.95 | -10.50 | -0.24% |
| FTSE 100 | 18:35 | 6685.52 | -3.93 | -0.06% |
| DAX | 19:08 | 9307.79 | 42.29 | 0.46% |
| CAC40 | 19:08 | 4349.72 | -21.12 | -0.48% |
| Nikkei | 08:28 | 15224.11 | 103.97 | 0.69% |
| Shanghai | 09:28 | 2001.16 | 2.10 | 0.11% |
| Hang-Seng | 10:30 | 22269.61 | 4.68 | 0.02% |
| All Ords | 07:49 | 5429.30 | -1.50 | -0.03% |
| NZSE 50 | 06:48 | 5101.94 | -15.90 | -0.31% |

| | | | | |
| --- | --- | --- | --- | --- |
| Name | Time | RP | Move | % Move |
| Gold $ | 19:59 | 1347.72 | 8.45 | 0.63% |
| Gold R | 19:58 | 14616.99 | 226.62 | 1.57% |
| Gold R/kg | 19:54 | 469902 | 5636 | 1.21% |
| Silver $ | 19:59 | 20.8000 | -.0140 | -0.07% |
| Platinum $ | 19:59 | 1462.90 | -9.10 | -0.62% |
| Palladium $ | 19:59 | 770.60 | -2.40 | -0.31% |
| R157 | 16:37 | 7.05 | .02 | 0.36% |
| R186 | 16:37 | 8.56 | .01 | 0.12% |
| R204 | 16:37 | 7.92 | .01 | 0.19% |
| R207 | 16:37 | 8.20 | .02 | 0.24% |
| Brent Crude | 19:48 | 108.18 | -.82 | -0.75% |
| Rand / Dollar | 19:59 | 10.8496 | 0.1041 | 0.97% |
| Rand / Pound | 19:55 | 17.9973 | 0.1318 | 0.74% |
| Rand / Euro | 19:55 | 15.0351 | 0.1156 | 0.77% |
| Rand / NZD | 19:58 | 9.1957 | 0.0886 | 0.97% |
| Rand / AUD | 19:55 | 9.7483 | 0.0459 | 0.47% |
| Yen / Dollar | 19:59 | 102.9860 | -0.3250 | -0.31% |
| Euro / Dollar | 19:55 | 0.7212 | 0.0009 | 0.12% |
| Dollar / Euro | 19:59 | 1.3864 | -0.0012 | -0.09% |
| Pound / Dollar | 19:55 | 0.6014 | 0.0009 | 0.15% |
Click here for the Sharenet Spot Price page
The JSE Today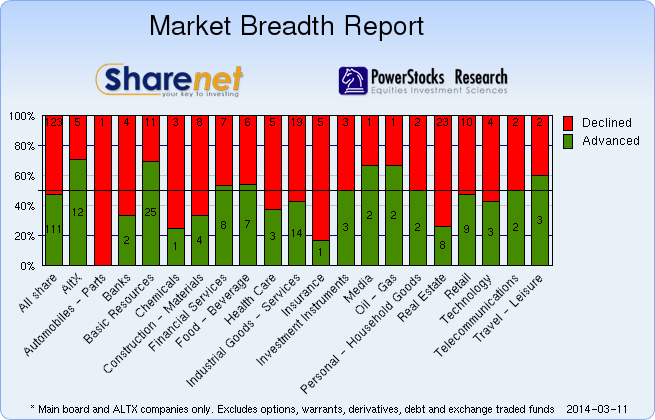 Trading Statistics
| Date | Adv. | Decl. | Unch. | Actives | Volume | Value | Trades | Orders |
| --- | --- | --- | --- | --- | --- | --- | --- | --- |
| 11/03/2014 | 182 | 168 | 72 | 422 | 209,987,335 | R14,952,123,296 | 162283 | 1195191 |
| 10/03/2014 | 138 | 227 | 65 | 430 | 179,105,164 | R13,929,955,888 | 156002 | 1134524 |
| 07/03/2014 | 188 | 188 | 70 | 446 | 187,641,820 | R14,225,576,507 | 158383 | 348124 |
| 06/03/2014 | 220 | 138 | 58 | 416 | 201,584,426 | R15,537,671,662 | 157346 | 262660 |
| 05/03/2014 | 177 | 152 | 78 | 407 | 204,111,799 | R14,478,231,354 | 149026 | 1075920 |
* Includes all listed instruments on the JSE
---
---
---
Index Summary
| | | | |
| --- | --- | --- | --- |
| Index Name | RP | Move | % Move |
| Top 40 | 43,055.99 | 320.61 | 0.75% |
| Industrial | 62,386.66 | 403.38 | 0.65% |
| Mid Cap | 58,668.35 | -43.57 | -0.07% |
| Small Cap | 51,149.79 | -181.41 | -0.35% |
| Resource 20 | 55,603.52 | 656.02 | 1.19% |
| Industrial 25 | 55,359.42 | 441.46 | 0.80% |
| Financial 15 | 12,871.20 | -37.20 | -0.29% |
| Financial & Ind. 30 | 58,506.82 | 341.13 | 0.59% |
| All Share | 47,612.81 | 290.35 | 0.61% |
| Oil & Gas | 44,272.64 | 399.56 | 0.91% |
| Mining | 33,114.08 | 402.53 | 1.23% |
| Gold Mining | 1,573.43 | 14.90 | 0.96% |
| Platinum Mining | 49.22 | .77 | 1.59% |
| GENERAL MINING | 9,480.58 | 122.02 | 1.30% |
| Oil & Gas Producers | 23,804.58 | 214.83 | 0.91% |
| Basic Materials | 29,435.10 | 315.83 | 1.08% |
| Chemicals | 24,149.93 | -151.26 | -0.62% |
| Forestry & Paper | 33,010.42 | 481.41 | 1.48% |
| Industrial Metals | 20,834.25 | -1192.95 | -5.42% |
| Industrials | 41,616.50 | 94.52 | 0.23% |
| General Industrials | 130.51 | .68 | 0.52% |
| Consumer Goods | 57,304.40 | 168.99 | 0.30% |
| Automobiles & Parts | 9,818.69 | -99.64 | -1.00% |
| Household Goods | 366.36 | -4 | -1.01% |
| Health Care | 73,382.64 | -910.02 | -1.22% |
| Beverages | 178.68 | -.62 | -0.35% |

| | | | |
| --- | --- | --- | --- |
| Index Name | RP | Move | % Move |
| Food Producers | 63,979.24 | 409.34 | 0.64% |
| Personal Goods | 1,058.09 | 11.19 | 1.07% |
| Consumer Services | 12,034.01 | 283.16 | 2.41% |
| General Retailers | 55,745.53 | -30.99 | -0.06% |
| Travel & Leisure | 5,306.27 | -30.29 | -0.57% |
| Media | 295.49 | 10.73 | 3.77% |
| Support Services | 2,622.41 | 13.19 | 0.51% |
| Telecommunications | 9,770.69 | 2.63 | 0.03% |
| Financials | 33,618.75 | -99.77 | -0.30% |
| Banks | 56,439.89 | -229.02 | -0.40% |
| Non-life Insurance | 48,522.82 | 30.63 | 0.06% |
| Life Insurance | 32,907.44 | -146.87 | -0.44% |
| General Financial | 3,347.18 | 4.30 | 0.13% |
| Technology | 43,457.32 | -13.20 | -0.03% |
| SHARIAH TOP40 | 4,098.61 | 27 | 0.66% |
| FTSE/JSE SHARIAH ALL | 4,187.46 | 23 | 0.55% |
| COAL MINING | 17,761.67 | -568 | -3.10% |
| FTSE JSE Fledgling | 6,572.96 | 26 | 0.40% |
| FTSE/JSE Alt X | 1,197.33 | 5 | 0.40% |
| SA LISTED PROPERTY | 478.23 | | -0.51% |
| CAPPED PROPERTY | 420.18 | | -0.33% |
| RESOURCE | 30,443.31 | 352 | 1.17% |
| DIVIDEND PLUS | 204.98 | -1 | -0.69% |
| FTSE/JSE RAFI 40 | 9,465.45 | 61 | 0.65% |
| Capped Top 40 | 22,797.79 | 169 | 0.75% |
| Capped All Share | 24,109.37 | 146 | 0.61% |
| JSE TABACO | 7,434.38 | 38 | 0.51% |
Click here for the Sharenet Index Summary page
---
Latest Consensus Changes**

| | | | |
| --- | --- | --- | --- |
| Code | Company Name | Status | Updated |
| FSR | FIRSTRAND LIMITED | BUY | 10/03/2014 |
| IPL | IMPERIAL HOLDINGS LTD | SELL | 10/03/2014 |
| REM | REMGRO LIMITED | HOLD | 10/03/2014 |
| RCL | RCL FOODS LIMITED | HOLD | 10/03/2014 |
| AVI | AVI LTD | BUY | 10/03/2014 |

Results Expected**

| | | |
| --- | --- | --- |
| Expected | Company Name | Fin. Date |
| 12/03/2014 | CONTROL | December 2013 (Final) |
| 12/03/2014 | EOH | January 2014 (Interim) |
| 12/03/2014 | FERRUM | December 2013 (Interim) |
| 12/03/2014 | GIYANI | December 2013 (Final) |
| 13/03/2014 | AFGRI | December 2013 (Interim) |
---
Recent Dividends**

| | | | | |
| --- | --- | --- | --- | --- |
| Share Name | Dec-Date | LDT | Pay-Date | Amount |
| A-V-I | 10/03/14 | 28/03/14 | 07/04/14 | ZAR 1.2000 |
| SASOL | 10/03/14 | 04/04/14 | 14/04/14 | ZAR 8.0000 |
| STANBANK-P | 06/03/14 | 28/03/14 | 07/04/14 | ZAR 3.2994 |
| STANBANK6.5 | 06/03/14 | 28/03/14 | 07/04/14 | ZAR 0.0325 |
| STANBANK | 06/03/14 | 04/04/14 | 14/04/14 | ZAR 3.0000 |

Ex Div**

| | | | | |
| --- | --- | --- | --- | --- |
| Share Name | Dec-Date | LDT | Pay-Date | Amount |
| KUMBA | 11/02/14 | 07/03/14 | 17/03/14 | ZAR 19.9400 |
| DSY B PREF | 20/02/14 | 07/03/14 | 17/03/14 | ZAR 4.2849 |
| TRUWTHS | 20/02/14 | 07/03/14 | 17/03/14 | ZAR 2.1600 |
| TRANSCAP | 17/02/14 | 07/03/14 | 17/03/14 | ZAR 2.1000 |
| CITYLDG | 13/02/14 | 07/03/14 | 17/03/14 | ZAR 2.0200 |
---
Upcoming AGMs**

| | | | |
| --- | --- | --- | --- |
| Code | Company Name | Date | Status |
---
Stock Exchange News Service
Click here for more SENS news
---