Thursday, 09 February 2012 - 20:00
Charts
S.Africa's rand weak vs dlr, cbank seen in the market
JOHANNESBURG (Reuters) - The rand weakened 1.3 percent against the dollar on Thursday, nearing a week low, as the central bank was reported to be buying foreign currency in the market, before recovering some losses in late trade as Greece closed in on a new bailout deal.
The rand traded firmer early in the session before the central bank came in to buy other currencies, driving the rand above 7.60 before manufacturing data at 1100 GMT, dealers said.
Output growth slowed in December and the rand weakened further as the data suggests GDP growth was likely lower in the last quarter of 2011. Manufacturing growth came out at 2.5 percent in 2011, compared to 5 percent in 2010.
The rand was 0.6 percent weaker at 7.60 by 1555 GMT compared to a 7.5550 close on Wednesday. It moved off the session's low of 7.6545 after Greek political leaders agreed on reforms needed to secure a new rescue package from international lenders and avoid a messy default next month.
Talks between the International Monetary Fund and Greek authorities to finalize details are continuing, an IMF spokesman said on Thursday.
The central bank's reported buying probably kept the rand from completely reversing losses, however, and it was the second weakest, after the Kenyan shilling, in a basket of 20 emerging market currencies trading against the dollar tracked by Reuters.
"Emerging market currencies have all rallied as a Greek deal has been announced. However, the rand rebound has not been complete, with the residual weakness in the currency due to the SARB's earlier buying of foreign currencies," said Christopher Shiells of Informa Global Markets.
South African government bonds also came back from earlier lows, with the yield on the 2015 bond ending 4 basis points higher at 6.62 percent and that on the 2026 issue up 5.5 basis points at 8.285 percent.
Thu, 09 Feb 2012
Top News
South African stocks edged higher for the second straight session on Thursday, adding just 0.13 percent as caution about the euro zone kept investors from pushing prices higher after the recent record run.

---

The former president of the Indian Ocean archipelago of the Maldives awaited arrest in his house Thursday, vowing to stay and fight against the government he says ousted him in a coup with the connivance of the police and military.

Sitting at a wooden table before the judges of Spain's Supreme Court, Maria Martin Lopez recalls the day a lifetime ago when fascists loyal to General Francisco Franco shot her mother.
World Markets (Spot Prices)
| | | | | |
| --- | --- | --- | --- | --- |
| Name | Time | RP | Move | % Move |
| JSE Overall | 17:00 | 34268.14 | 41.41 | 0.12% |
| JSE Top 40 | 17:00 | 30599.35 | 38.64 | 0.13% |
| JSE Gold | 17:00 | 2933.33 | 43.81 | 1.52% |
| JSE Financial | 17:00 | 24294.13 | 150.00 | 0.62% |
| JSE Industrial | 17:00 | 36060.05 | 205.05 | 0.57% |
| JSE Indust 25 | 17:00 | 30238.75 | 188.10 | 0.63% |
| JSE Resource | 17:00 | 55685.88 | -441.19 | -0.79% |
| DJ Futures | 19:50 | 12860.00 | 17.00 | 0.13% |
| DJ Ind | 19:45 | 12901.62 | 17.67 | 0.14% |
| SP 500 | 20:00 | 1352.29 | 2.33 | 0.17% |
| Nasdaq | 20:00 | 2924.78 | 8.92 | 0.31% |
| FTSE 100 | 18:35 | 5895.47 | 19.54 | 0.33% |
| DAX | 19:06 | 6788.80 | 40.04 | 0.59% |
| CAC40 | 19:06 | 3424.71 | 14.71 | 0.43% |
| Nikkei | 08:26 | 9002.24 | -13.35 | -0.15% |
| Shanghai | 09:26 | 2349.59 | 2.06 | 0.09% |
| Hang-Seng | 10:26 | 21010.01 | -8.45 | -0.04% |
| All Ords | 07:37 | 4357.10 | -6.60 | -0.15% |
| NZSE 50 | 06:26 | 3326.74 | 2.07 | 0.06% |

| | | | | |
| --- | --- | --- | --- | --- |
| Name | Time | RP | Move | % Move |
| Gold | 19:59 | 1739.10 | 7.00 | 0.40% |
| Gold/Rand | 20:00 | 13213.86 | 131.67 | 1.01% |
| Gold/R kg | 20:00 | 424825 | 4513 | 1.07% |
| Silver | 19:59 | 33.9670 | .0950 | 0.28% |
| Platinum | 19:59 | 1660.00 | 1.02 | 0.06% |
| Palladium | 19:58 | 708.75 | -2.00 | -0.28% |
| R157 | 17:06 | 6.61 | .04 | 0.61% |
| R204 | 17:06 | 7.56 | .05 | 0.60% |
| Brent Crude | 19:56 | 118.38 | 2.45 | 2.11% |
| Rand / Dollar | 19:59 | 7.5981 | 0.0440 | 0.58% |
| Rand / Pound | 19:55 | 11.9923 | 0.0622 | 0.52% |
| Rand / Euro | 19:55 | 10.0940 | 0.0663 | 0.66% |
| Rand / NZD | 19:58 | 6.3543 | 0.0587 | 0.93% |
| Rand / AUD | 19:55 | 8.2068 | 0.0466 | 0.57% |
| Yen / Dollar | 19:59 | 77.5180 | 0.4910 | 0.64% |
| Euro / Dollar | 19:55 | 0.7524 | -0.0020 | -0.27% |
| Dollar / Euro | 19:58 | 1.3288 | 0.0032 | 0.24% |
| Pound / Dollar | 19:55 | 0.6316 | -0.0005 | -0.08% |
Click here for the Sharenet Spot Price page
The JSE Today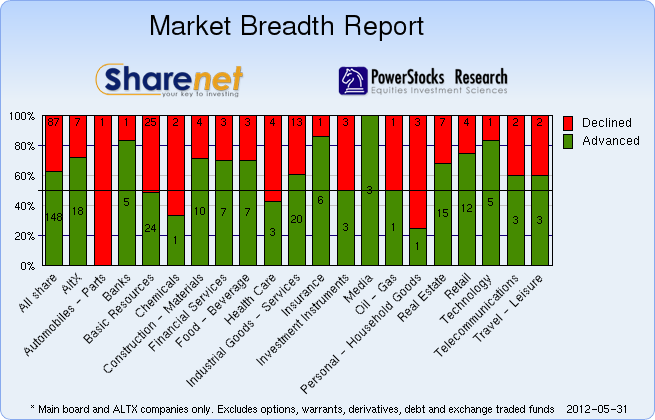 Trading Statistics
| Date | Adv. | Decl. | Unch. | Actives | Volume | Value | Trades | Orders |
| --- | --- | --- | --- | --- | --- | --- | --- | --- |
| 09/02/2012 | 179 | 151 | 64 | 394 | 279,240,164 | R17,071,838,150 | 106584 | 2321130 |
| 08/02/2012 | 215 | 129 | 80 | 424 | 277,799,379 | R14,664,968,604 | 113106 | 1831988 |
| 07/02/2012 | 135 | 196 | 96 | 427 | 237,949,647 | R14,879,226,323 | 105157 | 2483366 |
| 06/02/2012 | 157 | 200 | 88 | 445 | 226,512,952 | R15,937,599,067 | 119375 | 2376639 |
| 03/02/2012 | 183 | 169 | 83 | 435 | 263,395,243 | R17,164,935,280 | 120638 | 2589079 |
* Includes all listed instruments on the JSE
---
---
---
Index Summary
| | | | |
| --- | --- | --- | --- |
| Index Name | RP | Move | % Move |
| Top 40 | 30,599.35 | 38.64 | 0.13% |
| Industrial | 36,060.05 | 205.05 | 0.57% |
| Mid Cap | 46,371.39 | 37.97 | 0.08% |
| Small Cap | 34,369.20 | 53.80 | 0.16% |
| Resource 20 | 55,685.88 | -441.19 | -0.79% |
| Industrial 25 | 30,238.75 | 188.10 | 0.63% |
| Financial 15 | 9,199.32 | 67.89 | 0.74% |
| Financial & Ind. 30 | 33,937.11 | 244.92 | 0.73% |
| All Share | 34,268.14 | 41.41 | 0.12% |
| Oil & Gas | 30,489.28 | 223.24 | 0.74% |
| Mining | 35,993.84 | -337.47 | -0.93% |
| Gold Mining | 2,933.33 | 43.81 | 1.52% |
| Platinum Mining | 62.35 | -.51 | -0.81% |
| GENERAL MINING | 9,034.15 | -146.25 | -1.59% |
| Oil & Gas Producers | 16,393.52 | 120.03 | 0.74% |
| Basic Materials | 30,500.73 | -238.99 | -0.78% |
| Chemicals | 14,474.39 | -4.28 | -0.03% |
| Forestry & Paper | 12,968.46 | 130.59 | 1.02% |
| Industrial Metals | 32,423.85 | 352.75 | 1.10% |
| Industrials | 31,095.72 | 105.17 | 0.34% |
| General Industrials | 88,025.94 | 450.01 | 0.51% |
| Consumer Goods | 31,017.85 | 207.10 | 0.67% |
| Automobiles & Parts | 4,619.50 | 11.33 | 0.25% |
| Household Goods | 170.29 | 1 | 0.42% |
| Health Care | 37,576.36 | 187.50 | 0.50% |
| Beverages | 104.22 | 1.36 | 1.32% |

| | | | |
| --- | --- | --- | --- |
| Index Name | RP | Move | % Move |
| Food Producers | 56,716.84 | 26.23 | 0.05% |
| Personal Goods | 443.55 | .80 | 0.18% |
| Consumer Services | 60,387.02 | -199.65 | -0.33% |
| General Retailers | 50,782.66 | -57.84 | -0.11% |
| Travel & Leisure | 3,757.23 | -10.75 | -0.29% |
| Media | 85.35 | -.37 | -0.43% |
| Support Services | 2,314.58 | 25.74 | 1.12% |
| Telecommunications | 67,500.38 | 1134.43 | 1.71% |
| Financials | 24,294.13 | 150.00 | 0.62% |
| Banks | 45,649.91 | 455.00 | 1.01% |
| Non-life Insurance | 36,407.59 | 33.95 | 0.09% |
| Life Insurance | 19,444.82 | 102.59 | 0.53% |
| General Financial | 2,319.94 | 14.24 | 0.62% |
| Technology | 27,381.65 | 192.54 | 0.71% |
| SHARIAH TOP40 | 3,257.90 | -5 | -0.16% |
| FTSE/JSE SHARIAH ALL | 3,334.09 | -4 | -0.13% |
| COAL MINING | 27,598.69 | -24 | -0.09% |
| FTSE JSE Fledgling | 5,042.93 | 0 | 0.01% |
| FTSE/JSE Alt X | 1,251.58 | 21 | 1.70% |
| SA LISTED PROPERTY | 412.55 | | -0.04% |
| CAPPED PROPERTY | 335.21 | | 0.01% |
| RESOURCE | 30,721.34 | -213 | -0.69% |
| DIVIDEND PLUS | 192.94 | 1 | 0.32% |
| FTSE/JSE RAFI 40 | 7,173.12 | 11 | 0.16% |
| Capped Top 40 | 16,099.27 | 38 | 0.24% |
| Capped All Share | 17,322.22 | 27 | 0.15% |
| JSE TABACO | 4,756.70 | -5 | -0.10% |
Click here for the Sharenet Index Summary page
---
Latest Consensus Changes**

| | | | |
| --- | --- | --- | --- |
| Code | Company Name | Status | Updated |
| REB | REBOSIS PROPERTY FUND LTD | BUY | 02 Feb |
| CPI | CAPITEC | HOLD | 02 Feb |
| VKE | VUKILE PROPERTY FUND LIMI... | BUY | 02 Feb |
| FFA | FORTRESS INCOME FUND LTD | BUY | 02 Feb |
| JSE | JSE LTD | BUY | 02 Feb |

Results Expected**

| | | |
| --- | --- | --- |
| Expected | Company Name | Fin. Date |
| 10 Feb 2012 | ABSA | December 2011 (Final) |
| 10 Feb 2012 | ABSABANK-P | December 2011 (Final) |
| 10 Feb 2012 | AQUARIUS | December 2011 (Interim) |
| 10 Feb 2012 | AQUARIUSCVT | December 2011 (Interim) |
| 10 Feb 2012 | DIGICORE | December 2011 (Interim) |
---
Recent Dividends**

| | | | | |
| --- | --- | --- | --- | --- |
| Share Name | Dec-Date | LDT | Pay-Date | Amount |
| HARMONY | 12-02-06 | 12-03-02 | 12-03-12 | R 0.4000 |
| ZURICH SA | 12-02-06 | 12-02-24 | 12-03-05 | R 2.0000 |
| SBR003 | 12-02-06 | 12-04-25 | 12-05-07 | R 1.4700 |
| PALAMIN | 12-02-06 | 12-02-24 | 12-03-05 | R 2.0700 |
| FIRSTRANDB-P | 12-02-03 | 12-02-17 | 12-02-27 | R 3.0516 |

Ex Div**

| | | | | |
| --- | --- | --- | --- | --- |
| Share Name | Dec-Date | LDT | Pay-Date | Amount |
| FOORDCMPS | 12-01-19 | 12-02-03 | 12-02-13 | R 0.4961 |
| TREMATON | 11-11-15 | 12-02-03 | 12-02-13 | R 0.0200 |
---
Upcoming AGMs**

| | | | |
| --- | --- | --- | --- |
| Code | Company Name | Date | Status |
| ARL | Astral Foods Ltd | 09/02/2012 | Confirmed |
| SKJA | Sekunjalo Investments Ltd | 09/02/2012 | Confirmed |
| SKBP | Sekunjalo Investments Ltd | 09/02/2012 | Confirmed |
| SKJ | Sekunjalo Investments Ltd | 09/02/2012 | Confirmed |
| SKJP | Sekunjalo Investments Ltd | 09/02/2012 | Confirmed |
---
Stock Exchange News Service
Click here for more SENS news
---