Tuesday, 12 July 2016 - 20:00
Charts
Top News
South Africa's manufacturing output rose more than expected in May to its strongest level in nearly a year due to a stable currency, but economists said that production this year would be choppy.

---

An arbitration court ruled on Tuesday that China has no historic title over the waters of the South China Sea and has breached the Philippines' sovereign rights with its actions, infuriating Beijing which dismissed the case as a farce.

President Barack Obama visits Dallas on Tuesday to address a memorial service for five police officers killed at a protest against police violence, as he seeks to mend divisions inflamed by the deadliest day for U.S. law enforcement in almost 15 years.
---
Amplats will release results for the six months ended 30 June 2016 (˘the period÷) on the Johannesburg Stock Exchange News Service (˘SENS÷) on 25 July 2016. Shareholders are referred to the CompanyĂs trading statement released on SENS on 21 June 2016 in which the Company advised that headline earnings and headline earnings per share (˘HEPS÷) respectively for the period were expected to be at least 20% (R494 million or 189 cents per share) lower than for the comparative reporting period. . .
Company Results
Revenue increased to GBP5.1 million (May 2015: GBP1 million), while total comprehensive income came in at GBP2.9 million (May 2015: GBP457 991). In addition, headline earnings per share per share was higher at GBP2.22pps (May 2015: GBP1.35pps). Outlook The first quarter results are in line with management forecasts. All acquisitions announced last year have now been completed, are performing well and are reflected in the results for the quarter. Our total assets currently stand at GB. . .
World Markets (Spot Prices)
| | | | | |
| --- | --- | --- | --- | --- |
| Name | Time | RP | Move | % Move |
| JSE Overall | 17:00 | 52547.52 | 377.15 | 0.72% |
| JSE Top 40 | 17:00 | 46056.81 | 373.48 | 0.82% |
| JSE Gold | 17:00 | 2734.29 | -31.36 | -1.13% |
| JSE Financial | 17:00 | 40690.74 | 570.80 | 1.42% |
| JSE Industrial | 17:00 | 77935.76 | 382.71 | 0.49% |
| JSE Indust 25 | 17:00 | 70178.96 | 359.23 | 0.51% |
| JSE Resource | 17:00 | 32086.07 | 236.60 | 0.74% |
| DJ Futures | 19:58 | 18272.00 | 125.00 | 0.69% |
| DJ Ind | 19:58 | 18351.50 | 124.57 | 0.68% |
| SP 500 | 19:58 | 2153.77 | 16.61 | 0.78% |
| Nasdaq | 19:58 | 5025.60 | 36.96 | 0.74% |
| FTSE 100 | 16:27 | 6668.94 | -13.92 | -0.21% |
| DAX | 18:08 | 9964.07 | 130.66 | 1.33% |
| CAC40 | 18:08 | 4331.38 | 66.85 | 1.57% |
| Nikkei | 08:32 | 16095.65 | 386.83 | 2.46% |
| Shanghai | 09:28 | 3049.38 | 54.46 | 1.82% |
| Hang-Seng | 10:28 | 21224.74 | 344.24 | 1.65% |
| All Ords | 08:39 | 5433.20 | 15.70 | 0.29% |
| NZSE 50 | 09:10 | 7079.46 | 17.01 | 0.24% |

| | | | | |
| --- | --- | --- | --- | --- |
| Name | Time | RP | Move | % Move |
| Gold $ | 19:59 | 1333.60 | .00 | 0.00% |
| Gold R | 19:59 | 19079.46 | -462.55 | -2.37% |
| Gold R/kg | 19:58 | 619948 | -15167 | -2.39% |
| Silver $ | 19:59 | 20.1590 | -0.0800 | -0.40% |
| Platinum $ | 19:59 | 1091.75 | -3.98 | -0.36% |
| Palladium $ | 19:59 | 627.74 | 6.74 | 1.09% |
| R186 | 16:59 | 8.66 | 0.04 | 0.46% |
| R204 | 16:59 | 7.89 | 0.07 | 0.96% |
| R207 | 16:59 | 8.09 | 0.01 | 0.12% |
| Brent Crude | 19:52 | 48.51 | 1.75 | 3.74% |
| USD / ZAR | 19:59 | 14.3076 | -0.1186 | -0.82% |
| GBP / ZAR | 19:55 | 18.9398 | 0.2194 | 1.17% |
| EUR/ ZAR | 19:55 | 15.8355 | -0.1286 | -0.81% |
| NZD/ ZAR | 19:59 | 10.4728 | 0.0551 | 0.53% |
| AUD / ZAR | 19:55 | 10.9358 | 0.0601 | 0.55% |
| USD / JPY | 19:59 | 104.8620 | 2.1310 | 2.07% |
| EUR / USD | 19:59 | 1.1074 | 0.0015 | 0.13% |
| GBP / USD | 19:59 | 1.3271 | 0.0000 | 0.00% |
Click here for the Sharenet Spot Price page
The JSE Today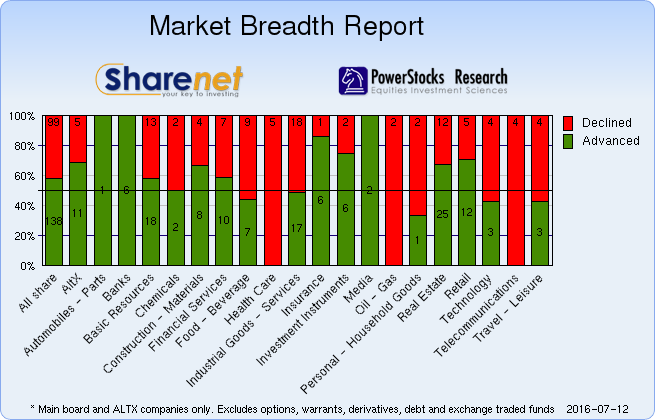 Trading Statistics
| Date | Adv. | Decl. | Unch. | Actives | Volume | Value | Trades | Orders |
| --- | --- | --- | --- | --- | --- | --- | --- | --- |
| 12/07/2016 | 211 | 146 | 61 | 418 | 310,584,308 | R22,329,173,091 | 248846 | 2066479 |
| 11/07/2016 | 249 | 96 | 57 | 402 | 218,101,890 | R17,102,931,707 | 195891 | 2152884 |
| 08/07/2016 | 210 | 142 | 63 | 415 | 191,170,852 | R17,178,624,950 | 202235 | 2368176 |
| 07/07/2016 | 177 | 155 | 47 | 379 | 245,083,577 | R20,711,007,370 | 228945 | 2195062 |
| 06/07/2016 | 87 | 272 | 55 | 414 | 333,030,043 | R26,299,680,518 | 307823 | 2545367 |
* Includes all listed instruments on the JSE
---
---
---
Index Summary
| | | | |
| --- | --- | --- | --- |
| Index Name | RP | Move | % Move |
| Top 40 | 46,056.81 | 373.48 | 0.82% |
| Industrial | 77,935.76 | 382.71 | 0.49% |
| Mid Cap | 77,274.07 | 256.94 | 0.33% |
| Small Cap | 59,334.40 | -19.67 | -0.03% |
| Resource 20 | 32,086.07 | 236.60 | 0.74% |
| Industrial 25 | 70,178.96 | 359.23 | 0.51% |
| Financial 15 | 14,722.90 | 240.34 | 1.66% |
| Financial & Ind. 30 | 72,423.40 | 566.63 | 0.79% |
| All Share | 52,547.52 | 377.15 | 0.72% |
| Oil & Gas | 7,195.69 | .00 | 0.00% |
| Mining | 24,328.67 | 210.52 | 0.87% |
| Gold Mining | 2,734.29 | -31.36 | -1.13% |
| Platinum Mining | 25.82 | -.68 | -2.57% |
| GENERAL MINING | 5,813.54 | 122.57 | 2.15% |
| Oil & Gas Producers | 38,689.88 | .00 | 0.00% |
| Basic Materials | 22,847.54 | 148.16 | 0.65% |
| Chemicals | 20,386.22 | 4.87 | 0.02% |
| Forestry & Paper | 47,071.34 | 49.07 | 0.10% |
| Industrial Metals | 9,427.85 | 419.59 | 4.66% |
| Industrials | 45,136.29 | 419.28 | 0.94% |
| General Industrials | 175.14 | 1.76 | 1.02% |
| Consumer Goods | 73,517.99 | 194.99 | 0.27% |
| Automobiles & Parts | 4,436.07 | 9.05 | 0.20% |
| Household Goods | 583.27 | -1 | -0.14% |
| Health Care | 10,267.40 | -87.35 | -0.84% |
| Beverages | 282.14 | 1.37 | 0.49% |

| | | | |
| --- | --- | --- | --- |
| Index Name | RP | Move | % Move |
| Food Producers | 9,447.89 | -13.99 | -0.15% |
| Personal Goods | 839.86 | 9.39 | 1.13% |
| Consumer Services | 18,254.38 | 204.99 | 1.14% |
| General Retailers | 7,605.78 | 62.69 | 0.83% |
| Travel & Leisure | 5,999.98 | 34.13 | 0.57% |
| Media | 481.97 | 6.50 | 1.37% |
| Support Services | 2,132.17 | -34.91 | -1.61% |
| Telecommunications | 7,749.73 | -19.36 | -0.25% |
| Financials | 40,690.74 | 570.80 | 1.42% |
| Banks | 6,640.72 | 102.44 | 1.57% |
| Non-life Insurance | 57,105.94 | 377.73 | 0.67% |
| Life Insurance | 37,902.82 | 818.74 | 2.21% |
| General Financial | 3,998.29 | 39.74 | 1.00% |
| Technology | 50,299.47 | 294.33 | 0.59% |
| SHARIAH TOP40 | 3,158.51 | 18 | 0.57% |
| FTSE/JSE SHARIAH ALL | 3,525.31 | 15 | 0.43% |
| COAL MINING | 10,094.44 | 618 | 6.52% |
| FTSE JSE Fledgling | 7,246.58 | -19 | -0.26% |
| FTSE/JSE Alt X | 1,458.60 | -24 | -1.62% |
| SA LISTED PROPERTY | 660.75 | 7.80 | 1.19% |
| CAPPED PROPERTY | 552.65 | | 1.39% |
| RESOURCE | 18,230.01 | 118 | 0.65% |
| DIVIDEND PLUS | 202.15 | 2 | 0.94% |
| FTSE/JSE RAFI 40 | 9,620.79 | 87 | 0.91% |
| Capped Top 40 | 24,568.34 | 193 | 0.79% |
| Capped All Share | 26,830.04 | 187 | 0.70% |
| JSE TABACO | 11,647.50 | -134 | -1.14% |
Click here for the Sharenet Index Summary page
---
Latest Consensus Changes**

| | | | |
| --- | --- | --- | --- |
| Code | Company Name | Status | Updated |
| INP | INVESTEC PLC | BUY | 11/07/2016 |
| WHL | WOOLWORTHS HOLDINGS LIMIT... | HOLD | 11/07/2016 |
| NPN | NASPERS LIMITED | BUY | 11/07/2016 |
| SBK | STANDARD BANK GROUP LIMIT... | HOLD | 08/07/2016 |
| NED | NEDBANK GROUP LTD | HOLD | 08/07/2016 |

Results Expected**

| | | |
| --- | --- | --- |
| Expected | Company Name | Fin. Date |
| 13/07/2016 | ATLEAF | May 2016 (Q) |
| 15/07/2016 | ANGLD | March 2016 (Q) |
| 15/07/2016 | ANGLD-A | March 2016 (Q) |
| 15/07/2016 | ANGLD-B | March 2016 (Q) |
| 15/07/2016 | ANGLD-E | March 2016 (Q) |
---
Recent Dividends**

| | | | | |
| --- | --- | --- | --- | --- |
| Share Name | Dec-Date | LDT | Pay-Date | Amount |
| HUDACO | 01/07/16 | 08/08/16 | 15/08/16 | ZAR 1.7000 |
| AEG CONV | 30/06/16 | 19/07/16 | 25/07/16 | ZAR 362.5000 |
| TELEMASTR | 30/06/16 | 19/07/16 | 25/07/16 | ZAR 0.0050 |
| ILRPREF1 | 30/06/16 | 19/07/16 | 25/07/16 | ZAR 14.5978 |
| ILPREF2 | 30/06/16 | 19/07/16 | 25/07/16 | ZAR 14.5978 |

Ex Div**

| | | | | |
| --- | --- | --- | --- | --- |
| Share Name | Dec-Date | LDT | Pay-Date | Amount |
---
Upcoming AGMs**

| | | | |
| --- | --- | --- | --- |
| Code | Company Name | Date | Status |
| GAM | Global Asset Management Ltd. | 13/07/2016 | Confirmed |
| ANA | Adrenna Property Group Ltd. | 15/07/2016 | Confirmed |
| ADAP | Adrenna Property Group Ltd. | 15/07/2016 | Confirmed |
| AEL | Allied Electronics Corporation Ltd. | 18/07/2016 | Confirmed |
| AEN | Allied Electronics Corporation Ltd. | 18/07/2016 | Confirmed |
---
Stock Exchange News Service
Click here for more SENS news
---