Tuesday, 15 September 2015 - 20:00
Charts
Seed Weekly - Volatility on the JSE
August saw the much anticipated decline in global equity markets. The selloff was severe across a range of market indices with the MSCI All World index losing 7% in the month, the Dow Jones Industrial Average down 6.5%, and the MSCI China index down 11.7% as examples of the declines experienced.

By comparison the decline in the JSE All Share Index (ALSI) in August of "just" 3.6% was therefore relatively muted. However, since the beginning of May local investors on the JSE have experienced a cumulative price decline of 7.6% and naturally for many this is starting to feel very uncomfortable – especially as the market is barely positive for the year to date. When measured in USD, the ALSI was down a more pronounced 8.3% in August.
By historical comparison purposes, until the beginning of the year from the market decline in 2008/2009, JSE investors have had a relatively smooth upward ride. That is until more recently when the global market prices came under pressure, following the Chinese economic slowdown and currency devaluation, the ongoing Greek crisis and uncertainty with respect to interest rate hikes in the US, etc.
We decided to look back at monthly data on the JSE from the beginning of 1970, specifically the peak to trough declines that investors have experienced. What is very interesting is that in each calendar year since 1970 there has been at least one month of negative returns. In many cases where negative months follow one another, investors have suffered losses of up to 20% and 25% in some years. On average the calendar year losses have been around 14% over this period.
It is exactly because of these very large negative periods, that many investors are dissuaded from investing into riskier ordinary shares. The chart below reflects these calendar year peak to trough declines.
What is interesting to observe is the relatively benign period of downside volatility that we have experienced since the market crash of 2008/2009.
Then, when one moves away from the annual declines and looks at the positives, it is noteworthy that out of the 46 full calendar years, there were only 10 years in which investors' experienced negative returns. This is reflected in the chart below, which reflects annual total return from the ALSI for each calendar year.
As we know and expect, annual returns are erratic. But the positive years more than made up for the negative periods and the compounded average return from the market since 1970 to 2014 was just over 17.5% per annum. It is exactly because of this relatively high price volatility that investors demand and typically receive an additional return when investing into the ordinary shares of companies.
In conclusion we can say that looking back at history, it is not self-evident when an investor will experience large price declines. However, history does tell us that over time it pays an investor to be investing into risk assets if they can adopt a longer term investment horizon. Also because the ideal entry level is when prices are down and risk tolerance is low, currently it makes sense to have a lower allocation to this risk asset.
Sincerely,
Ian de Lange
Tel +27 21 914 4966
Fax +27 21 914 4912
Email info@seedinvestments.co.za
Seed is hiring: Visit Seed Analytics LinkedIn profile to view available vacancies.
Top News
Local markets At close of trade on Tuesday, the JSE All Share had edged up 0.25%, with gains led by resource shares.

---

Hungary's right-wing government shut the main land route for migrants into the EU on Tuesday, taking matters into its own hands to halt Europe's influx of refugees.

Germany urged the European Union to consider imposing financial penalties on states that refuse to take in their share of asylum seekers, as the influx of refugees showed no sign of abating on Tuesday despite new border controls.
World Markets (Spot Prices)
| | | | | |
| --- | --- | --- | --- | --- |
| Name | Time | RP | Move | % Move |
| JSE Overall | 17:00 | 49491.68 | 125.08 | 0.25% |
| JSE Top 40 | 17:00 | 43985.37 | 172.31 | 0.39% |
| JSE Gold | 17:00 | 931.22 | 3.10 | 0.33% |
| JSE Financial | 17:00 | 42928.27 | -122.99 | -0.29% |
| JSE Industrial | 17:00 | 71621.55 | 225.73 | 0.32% |
| JSE Indust 25 | 17:00 | 63845.91 | 300.72 | 0.47% |
| JSE Resource | 17:00 | 35645.15 | 331.44 | 0.94% |
| DJ Futures | 19:52 | 16499.00 | 220.00 | 1.35% |
| DJ Ind | 19:58 | 16598.08 | 227.12 | 1.39% |
| SP 500 | 19:58 | 1977.00 | 23.97 | 1.23% |
| Nasdaq | 19:58 | 4856.13 | 50.37 | 1.05% |
| FTSE 100 | 17:11 | 6148.39 | 63.80 | 1.05% |
| DAX | 18:10 | 10188.13 | 56.39 | 0.56% |
| CAC40 | 18:10 | 4569.37 | 51.22 | 1.13% |
| Nikkei | 08:42 | 18026.48 | 60.78 | 0.34% |
| Shanghai | 09:28 | 3005.17 | -109.63 | -3.52% |
| Hang-Seng | 10:28 | 21455.23 | -106.67 | -0.49% |
| All Ords | 08:36 | 5046.60 | -73.90 | -1.44% |
| NZSE 50 | 07:48 | 5652.39 | -13.48 | -0.24% |

| | | | | |
| --- | --- | --- | --- | --- |
| Name | Time | RP | Move | % Move |
| Gold $ | 19:59 | 1104.23 | -3.94 | -0.36% |
| Gold R | 19:59 | 14879.38 | -54.86 | -0.37% |
| Gold R/kg | 19:58 | 478326 | -254 | -0.05% |
| Silver $ | 19:59 | 14.3320 | -.0780 | -0.54% |
| Platinum $ | 19:58 | 956.00 | 3.50 | 0.37% |
| Palladium $ | 19:59 | 598.20 | 12.70 | 2.17% |
| R186 | 17:02 | 8.48 | -.01 | -0.12% |
| R204 | 17:02 | 7.73 | -.03 | -0.45% |
| R207 | 17:02 | 8.01 | .01 | 0.12% |
| Brent Crude | 19:58 | 46.50 | -1.64 | -3.41% |
| USD / ZAR | 19:59 | 13.4756 | -0.0071 | -0.05% |
| GBP / ZAR | 19:55 | 20.6300 | -0.1428 | -0.69% |
| EUR/ ZAR | 19:55 | 15.1690 | -0.0898 | -0.59% |
| NZD/ ZAR | 19:59 | 8.5315 | 0.0024 | 0.03% |
| AUD / ZAR | 19:55 | 9.5943 | -0.0285 | -0.30% |
| USD / JPY | 19:59 | 120.4480 | 0.2280 | 0.19% |
| EUR / USD | 19:59 | 1.1264 | -0.0052 | -0.46% |
| GBP / USD | 19:59 | 1.5333 | -0.0092 | -0.59% |
Click here for the Sharenet Spot Price page
The JSE Today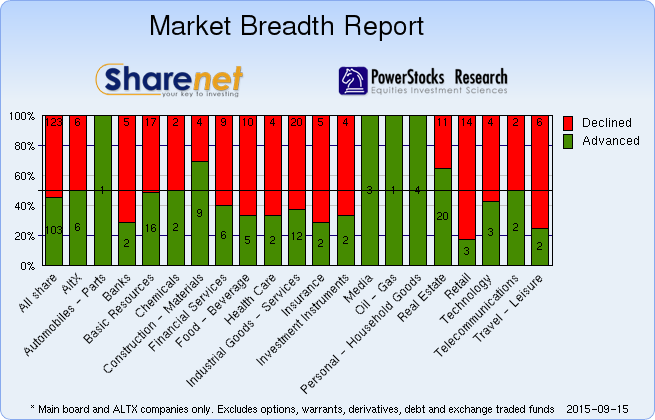 Trading Statistics
| Date | Adv. | Decl. | Unch. | Actives | Volume | Value | Trades | Orders |
| --- | --- | --- | --- | --- | --- | --- | --- | --- |
| 15/09/2015 | 161 | 170 | 66 | 397 | 256,615,183 | R18,429,497,801 | 228324 | 1491902 |
| 14/09/2015 | 209 | 130 | 55 | 394 | 249,199,499 | R15,178,460,490 | 229548 | 1690396 |
| 11/09/2015 | 130 | 243 | 46 | 419 | 283,614,424 | R20,202,511,352 | 250538 | 1682236 |
| 10/09/2015 | 165 | 177 | 64 | 406 | 281,143,182 | R20,781,553,526 | 262132 | 1779311 |
| 09/09/2015 | 205 | 160 | 73 | 438 | 341,349,879 | R23,480,159,851 | 310848 | 1764854 |
* Includes all listed instruments on the JSE
---
---
---
Index Summary
| | | | |
| --- | --- | --- | --- |
| Index Name | RP | Move | % Move |
| Top 40 | 43,985.37 | 172.31 | 0.39% |
| Industrial | 71,621.55 | 225.73 | 0.32% |
| Mid Cap | 66,792.59 | -379.70 | -0.57% |
| Small Cap | 57,165.16 | 60.26 | 0.11% |
| Resource 20 | 35,645.15 | 331.44 | 0.94% |
| Industrial 25 | 63,845.91 | 300.72 | 0.47% |
| Financial 15 | 15,990.10 | -72.30 | -0.45% |
| Financial & Ind. 30 | 68,345.74 | 231.00 | 0.34% |
| All Share | 49,491.68 | 125.08 | 0.25% |
| Oil & Gas | 8,888.79 | 423.28 | 5.00% |
| Mining | 21,171.11 | 201.13 | 0.96% |
| Gold Mining | 931.22 | 3.10 | 0.33% |
| Platinum Mining | 21.41 | .21 | 0.99% |
| GENERAL MINING | 6,391.32 | 64.09 | 1.01% |
| Oil & Gas Producers | 47,793.38 | 2275.88 | 5.00% |
| Basic Materials | 21,057.56 | 188.81 | 0.90% |
| Chemicals | 21,514.00 | 393.08 | 1.86% |
| Forestry & Paper | 48,875.12 | -376.33 | -0.76% |
| Industrial Metals | 5,769.74 | 62.66 | 1.10% |
| Industrials | 43,252.06 | -337.81 | -0.77% |
| General Industrials | 154.71 | -1.52 | -0.97% |
| Consumer Goods | 65,755.22 | 493.85 | 0.76% |
| Automobiles & Parts | 6,976.80 | 115.49 | 1.68% |
| Household Goods | 575.65 | 5 | 0.94% |
| Health Care | 9,191.62 | -32.16 | -0.35% |
| Beverages | 213.78 | 2.93 | 1.39% |

| | | | |
| --- | --- | --- | --- |
| Index Name | RP | Move | % Move |
| Food Producers | 8,617.22 | -37.08 | -0.43% |
| Personal Goods | 994.17 | 4.90 | 0.50% |
| Consumer Services | 15,375.60 | -60.72 | -0.39% |
| General Retailers | 7,935.55 | -120.22 | -1.49% |
| Travel & Leisure | 5,908.39 | -14.95 | -0.25% |
| Media | 368.80 | 1.23 | 0.33% |
| Support Services | 3,029.87 | -18.46 | -0.61% |
| Telecommunications | 8,908.57 | 127.00 | 1.45% |
| Financials | 42,928.27 | -122.99 | -0.29% |
| Banks | 7,280.67 | -36.67 | -0.50% |
| Non-life Insurance | 58,443.30 | -666.13 | -1.13% |
| Life Insurance | 38,747.00 | -123.11 | -0.32% |
| General Financial | 4,515.08 | -4.22 | -0.09% |
| Technology | 67,203.34 | -774.51 | -1.14% |
| SHARIAH TOP40 | 3,298.70 | 30 | 0.90% |
| FTSE/JSE SHARIAH ALL | 3,504.70 | 22 | 0.62% |
| COAL MINING | 8,686.15 | 239 | 2.83% |
| FTSE JSE Fledgling | 6,629.93 | 5 | 0.08% |
| FTSE/JSE Alt X | 1,489.54 | 1 | 0.05% |
| SA LISTED PROPERTY | 640.45 | | 0.32% |
| CAPPED PROPERTY | 568.28 | | 0.10% |
| RESOURCE | 19,226.11 | 183 | 0.96% |
| DIVIDEND PLUS | 202.57 | -1 | -0.29% |
| FTSE/JSE RAFI 40 | 8,964.30 | 46 | 0.52% |
| Capped Top 40 | 23,482.60 | 89 | 0.38% |
| Capped All Share | 25,103.08 | 63 | 0.25% |
| JSE TABACO | 9,166.98 | 8 | 0.09% |
Click here for the Sharenet Index Summary page
---
Latest Consensus Changes**

| | | | |
| --- | --- | --- | --- |
| Code | Company Name | Status | Updated |
| CML | CORONATION FUND MANAGERS ... | HOLD | 14/09/2015 |
| FSR | FIRSTRAND LIMITED | HOLD | 14/09/2015 |
| ARI | AFRICAN RAINBOW MINERALS | BUY | 11/09/2015 |
| MMI | MMI HOLDINGS LTD | HOLD | 10/09/2015 |
| SHF | STEINHOFF INTERNATIONAL H... | BUY | 10/09/2015 |

Results Expected**

| | | |
| --- | --- | --- |
| Expected | Company Name | Fin. Date |
| 16/09/2015 | CLOVER | June 2015 (Final) |
| 16/09/2015 | CLOVERPREF | June 2015 (Final) |
| 16/09/2015 | EOH | July 2015 (Final) |
| 16/09/2015 | FINBOND | August 2015 (Interim) |
| 16/09/2015 | ORYX | June 2015 (Final) |
---
Recent Dividends**

| | | | | |
| --- | --- | --- | --- | --- |
| Share Name | Dec-Date | LDT | Pay-Date | Amount |
| COMAIR | 14/09/15 | 16/10/15 | 26/10/15 | ZAR 0.1000 |
| RMIH | 11/09/15 | 02/10/15 | 12/10/15 | ZAR 0.6400 |
| RMBH | 11/09/15 | 02/10/15 | 12/10/15 | ZAR 1.5400 |
| SPURCORP | 10/09/15 | 25/09/15 | 05/10/15 | ZAR 0.7000 |
| DISCOVERY | 10/09/15 | 02/10/15 | 12/10/15 | ZAR 0.8900 |

Ex Div**

| | | | | |
| --- | --- | --- | --- | --- |
| Share Name | Dec-Date | LDT | Pay-Date | Amount |
| NASPERS-N | 29/06/15 | 11/09/15 | 21/09/15 | ZAR 4.7000 |
| DSY B PREF | 27/08/15 | 11/09/15 | 21/09/15 | ZAR 4.5870 |
| GRINDROD PREF | 21/08/15 | 11/09/15 | 21/09/15 | ZAR 4.0400 |
| ASSORE | 26/08/15 | 11/09/15 | 21/09/15 | ZAR 3.0000 |
| SANTAM | 26/08/15 | 11/09/15 | 21/09/15 | ZAR 2.8800 |
---
Upcoming AGMs**

| | | | |
| --- | --- | --- | --- |
| Code | Company Name | Date | Status |
| MIX | MiX Telematics Ltd. | 16/09/2015 | Confirmed |
| OMP | Omnia Holdings Ltd. | 17/09/2015 | Confirmed |
| OMN | Omnia Holdings Ltd. | 17/09/2015 | Confirmed |
| ILE | Imbalie Beauty Ltd. | 18/09/2015 | Confirmed |
| SEP | Sephaku Holdings Ltd. | 21/09/2015 | Confirmed |
---
Stock Exchange News Service
Click here for more SENS news
---