Tuesday, 08 July 2014 - 20:00
Charts
Seed Weekly - Value investing the Buffett Way (Part 7 2008 ? 2012)
2008 was the height of the Global Financial Crisis (GFC), leading into one of the strongest bull markets in history. Berkshire Hathaway managed to perform well during the recession as two core businesses sectors, insurance and utility groups, produced earnings uncorrelated to the general economy. Berkshire only lost 9.6% in 2008, whilst the S&P500 lost 37%. Although Berkshire underperformed the S&P500 in the following four years, their returns compounded from a higher base. Beware the investment activity that produces applause; the great moves are usually greeted by yawns.
According to Mr Buffett his, and Charlie Munger's, focus during the good and the bad years is to simply stay focussed on four goals:
1. Maintaining Berkshire's Gibraltar-like financial position
• huge amounts of excess liquidity,
• near-term obligations that are modest, and
• dozens of sources of earnings and cash;
2. Widening the "moats" around operating businesses that give them durable competitive advantages;
3. Acquiring and developing new and varied streams of earnings;
4. Expanding and nurturing the cadre of outstanding operating managers who, over the years, have delivered Berkshire exceptional results.
Keeping a cash buffer is extremely important. We never want to count on the kindness of strangers in order to meet tomorrow's obligations. This conservative approach to leverage might dampen returns, but having excess liquidity lets them sleep well.
This liquidity facilitated Berkshire's $15.6bn investment in 25 days of panic following the Lehman bankruptcy in 2008. They purchased convertible bonds worth $14.5bn in Wrigley, Goldman Sachs and General Electric at high yields. To fund these large purchases, I had to sell portions of some holdings that I would have preferred to keep (primarily Johnson & Johnson, Procter & Gamble and ConocoPhillips). However, I have pledged – to you, the rating agencies and myself – to always run Berkshire with more than ample cash.
Mr Buffett stresses the dangers of derivatives, especially when it may lead to extreme leverage or counterparty risk. He promises his shareholders that this will never occur at Berkshire. Charlie and I believe that a CEO must not delegate risk control. It's simply too important. At Berkshire, I both initiate and monitor every derivatives contract on our books… If Berkshire ever gets in trouble, it will be my fault. It will not be because of misjudgments made by a Risk Committee or Chief Risk Officer.
As mentioned previously, they don't attempt to impress Wall Street. Investors who buy and sell based upon media or analyst commentary are not for us. Instead we want partners who join us at Berkshire because they wish to make a long-term investment in a business they themselves understand and because it's one that follows policies with which they concur.
As always his prime focus is to increase shareholder value. Buffett still has no intention of paying a dividend. He will, however, repurchase Berkshire shares if they trade at a meaningful discount to intrinsic value. Because of Berkshire's size, it takes even more money to make acquisitions that move the needle. Buffett wants to save the company's cash for the remaining whales in the ocean.
This was the last part of the 7 piece series on Warren Buffett's annual letter to his shareholders. I can highly recommend that you read his 2013 letter yourself which can be found on their website, http://www.berkshirehathaway.com. Experience it for yourself; writing about it simply does not do justice.
Kind regards,
Lourens Rabé
www.seedinvestments.co.za
info@seedinvestments.co.za
021 914 4966
Tue, 08 Jul 2014
Top News
Palladium rose for the 12th straight session to the highest level in more than 13 years on Tuesday, on supply concerns in South Africa, and firm demand in major car making markets China and the United States.

---

Ukraine's government kept up military pressure against pro-Russian rebels on Tuesday, threatening them with an "nasty surprise", while the militants said they were preparing to fight back after losing their main stronghold.

At least 14 people were killed in strikes on the Gaza Strip on Tuesday, Palestinian officials said, as Israel threatened a lengthy offensive against militants whose rocket fire reached as far as Tel Aviv.
World Markets (Spot Prices)
| | | | | |
| --- | --- | --- | --- | --- |
| Name | Time | RP | Move | % Move |
| JSE Overall | 17:00 | 51608.33 | -268.78 | -0.52% |
| JSE Top 40 | 17:00 | 46573.52 | -299.90 | -0.64% |
| JSE Gold | 17:00 | 1480.71 | -3.53 | -0.24% |
| JSE Financial | 17:00 | 37745.42 | -43.84 | -0.12% |
| JSE Industrial | 17:00 | 67432.08 | -424.99 | -0.63% |
| JSE Indust 25 | 17:00 | 59704.95 | -445.06 | -0.74% |
| JSE Resource | 17:00 | 59365.37 | -326.74 | -0.55% |
| DJ Futures | 19:58 | 16852.00 | -96.00 | -0.57% |
| DJ Ind | 19:58 | 16933.08 | -91.13 | -0.54% |
| SP 500 | 19:58 | 1966.82 | -10.83 | -0.55% |
| Nasdaq | 19:58 | 4398.83 | -52.70 | -1.18% |
| FTSE 100 | 17:35 | 6738.45 | -85.06 | -1.25% |
| DAX | 18:08 | 9772.67 | -133.40 | -1.35% |
| CAC40 | 18:08 | 4342.53 | -63.23 | -1.44% |
| Nikkei | 08:28 | 15314.41 | -65.03 | -0.42% |
| Shanghai | 09:30 | 2064.02 | 4.09 | 0.20% |
| Hang-Seng | 10:28 | 23541.38 | .46 | 0.00% |
| All Ords | 08:37 | 5498.50 | -7.80 | -0.14% |
| NZSE 50 | 07:48 | 5166.08 | -20.28 | -0.39% |

| | | | | |
| --- | --- | --- | --- | --- |
| Name | Time | RP | Move | % Move |
| Gold $ | 19:59 | 1315.65 | -3.95 | -0.30% |
| Gold R | 19:59 | 14064.19 | -145.61 | -1.02% |
| Gold R/kg | 19:58 | 452218 | -2124 | -0.47% |
| Silver $ | 19:59 | 20.9630 | -.0730 | -0.35% |
| Platinum $ | 19:59 | 1491.60 | 1.70 | 0.11% |
| Palladium $ | 19:59 | 869.60 | 3.82 | 0.44% |
| R157 | 17:24 | 6.71 | -.05 | -0.74% |
| R186 | 17:27 | 8.34 | -.10 | -1.18% |
| R204 | 17:24 | 7.58 | -.05 | -0.72% |
| R207 | 16:50 | 7.81 | -.09 | -1.14% |
| Brent Crude | 19:58 | 109.00 | -1.24 | -1.12% |
| Rand / Dollar | 19:59 | 10.6887 | -0.0785 | -0.73% |
| Rand / Pound | 19:55 | 18.2772 | -0.1501 | -0.81% |
| Rand / Euro | 19:55 | 14.5490 | -0.1120 | -0.76% |
| Rand / NZD | 19:59 | 9.3983 | -0.0276 | -0.29% |
| Rand / AUD | 19:55 | 10.0515 | -0.0475 | -0.47% |
| Yen / Dollar | 19:59 | 101.5510 | -0.3210 | -0.32% |
| Euro / Dollar | 19:57 | 0.7347 | -0.0003 | -0.04% |
| Dollar / Euro | 19:58 | 1.3612 | 0.0005 | 0.04% |
| Pound / Dollar | 19:45 | 0.5834 | -0.0001 | -0.02% |
Click here for the Sharenet Spot Price page
The JSE Today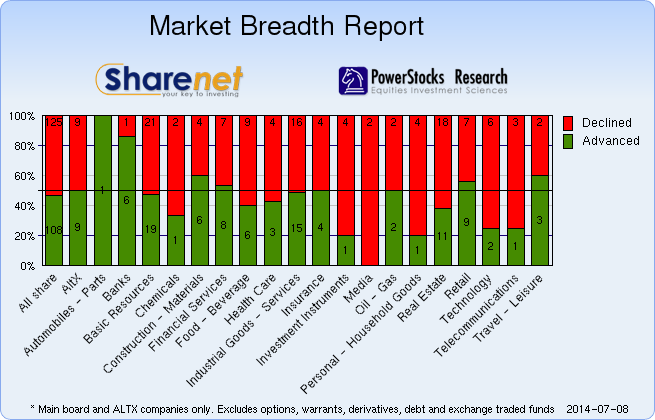 Trading Statistics
| Date | Adv. | Decl. | Unch. | Actives | Volume | Value | Trades | Orders |
| --- | --- | --- | --- | --- | --- | --- | --- | --- |
| 08/07/2014 | 146 | 189 | 59 | 394 | 191,053,672 | R13,769,674,244 | 166647 | 873312 |
| 07/07/2014 | 161 | 176 | 63 | 400 | 179,266,037 | R9,545,830,453 | 130744 | 212147 |
| 04/07/2014 | 193 | 154 | 63 | 410 | 161,510,674 | R9,174,077,339 | 108056 | 494105 |
| 03/07/2014 | 183 | 202 | 57 | 442 | 296,008,353 | R17,702,626,021 | 175493 | 1401600 |
| 02/07/2014 | 189 | 159 | 68 | 416 | 231,830,341 | R14,554,031,435 | 161486 | 306621 |
* Includes all listed instruments on the JSE
---
---
---
Index Summary
| | | | |
| --- | --- | --- | --- |
| Index Name | RP | Move | % Move |
| Top 40 | 46,573.52 | -299.90 | -0.64% |
| Industrial | 67,432.08 | -424.99 | -0.63% |
| Mid Cap | 64,744.66 | 119.98 | 0.19% |
| Small Cap | 54,203.90 | -19.67 | -0.04% |
| Resource 20 | 59,365.37 | -326.74 | -0.55% |
| Industrial 25 | 59,704.95 | -445.06 | -0.74% |
| Financial 15 | 14,593.85 | -7.48 | -0.05% |
| Financial & Ind. 30 | 63,593.55 | -438.68 | -0.69% |
| All Share | 51,608.33 | -268.78 | -0.52% |
| Oil & Gas | 47,802.86 | 429.83 | 0.91% |
| Mining | 35,094.27 | -333.70 | -0.94% |
| Gold Mining | 1,480.71 | -3.53 | -0.24% |
| Platinum Mining | 48.30 | -.67 | -1.37% |
| GENERAL MINING | 10,304.35 | -103.64 | -1.00% |
| Oil & Gas Producers | 25,702.72 | 231.12 | 0.91% |
| Basic Materials | 30,951.84 | -273.53 | -0.88% |
| Chemicals | 25,080.25 | -142.51 | -0.57% |
| Forestry & Paper | 32,859.98 | -71.62 | -0.22% |
| Industrial Metals | 18,526.20 | -76.66 | -0.41% |
| Industrials | 45,747.02 | 9.47 | 0.02% |
| General Industrials | 145.97 | .45 | 0.31% |
| Consumer Goods | 63,041.13 | -921.99 | -1.44% |
| Automobiles & Parts | 8,593.62 | 67.93 | 0.80% |
| Household Goods | 375.54 | -0 | -0.09% |
| Health Care | 84,127.71 | 870.51 | 1.05% |
| Beverages | 207.09 | -4.98 | -2.35% |

| | | | |
| --- | --- | --- | --- |
| Index Name | RP | Move | % Move |
| Food Producers | 78,663.56 | 134.41 | 0.17% |
| Personal Goods | 1,087.55 | -14.09 | -1.28% |
| Consumer Services | 12,480.99 | 25.22 | 0.20% |
| General Retailers | 65,519.74 | 532.78 | 0.82% |
| Travel & Leisure | 5,778.51 | 13.05 | 0.23% |
| Media | 289.86 | -.43 | -0.15% |
| Support Services | 2,790.44 | -9.26 | -0.33% |
| Telecommunications | 10,741.40 | -83.10 | -0.77% |
| Financials | 37,745.42 | -43.84 | -0.12% |
| Banks | 65,664.66 | 379.22 | 0.58% |
| Non-life Insurance | 52,085.72 | -63.81 | -0.12% |
| Life Insurance | 36,411.72 | -177.96 | -0.49% |
| General Financial | 3,845.49 | -39.37 | -1.01% |
| Technology | 44,456.69 | -277.79 | -0.62% |
| SHARIAH TOP40 | 4,377.95 | -26 | -0.60% |
| FTSE/JSE SHARIAH ALL | 4,492.36 | -20 | -0.43% |
| COAL MINING | 17,470.91 | 25 | 0.14% |
| FTSE JSE Fledgling | 6,901.37 | 33 | 0.48% |
| FTSE/JSE Alt X | 1,216.86 | -13 | -1.06% |
| SA LISTED PROPERTY | 509.98 | | -0.04% |
| CAPPED PROPERTY | 447.59 | | -0.17% |
| RESOURCE | 32,375.71 | -192 | -0.59% |
| DIVIDEND PLUS | 225.31 | -0 | -0.22% |
| FTSE/JSE RAFI 40 | 10,206.81 | -49 | -0.48% |
| Capped Top 40 | 24,655.77 | -149 | -0.60% |
| Capped All Share | 26,130.85 | -135 | -0.51% |
| JSE TABACO | 8,374.48 | -74 | -0.87% |
Click here for the Sharenet Index Summary page
---
Latest Consensus Changes**

| | | | |
| --- | --- | --- | --- |
| Code | Company Name | Status | Updated |
| GFI | GOLD FIELDS LIMITED | HOLD | 07/07/2014 |
| ANG | ANGLOGOLD ASHANTI LIMITED | BUY | 07/07/2014 |
| HAR | HARMONY GOLD MINING COMPA... | HOLD | 07/07/2014 |
| SGL | SIBANYE GOLD LIMITED | HOLD | 07/07/2014 |
| ARL | ASTRAL FOODS | BUY | 04/07/2014 |

Results Expected**

| | | |
| --- | --- | --- |
| Expected | Company Name | Fin. Date |
| 11/07/2014 | ROCKWELL | May 2014 (Q) |
---
Recent Dividends**

| | | | | |
| --- | --- | --- | --- | --- |
| Share Name | Dec-Date | LDT | Pay-Date | Amount |
| AMECOR | 01/07/14 | 18/07/14 | 28/07/14 | ZAR 0.0600 |
| PRESCIENT | 30/06/14 | 25/07/14 | 04/08/14 | ZAR 0.0260 |
| ILRPREF1 | 30/06/14 | 18/07/14 | 28/07/14 | ZAR 12.5638 |
| TRUSTCO | 30/06/14 | 25/07/14 | 22/08/14 | NAD 0.0275 |
| VIVIDEND | 27/06/14 | 18/07/14 | 28/07/14 | ZAR 0.0404 |

Ex Div**

| | | | | |
| --- | --- | --- | --- | --- |
| Share Name | Dec-Date | LDT | Pay-Date | Amount |
| INVICTA | 17/06/14 | 04/07/14 | 14/07/14 | ZAR 1.8465 |
| FAMBRANDS | 19/05/14 | 04/07/14 | 14/07/14 | ZAR 1.7000 |
| CROOKES | 03/06/14 | 04/07/14 | 14/07/14 | ZAR 1.2000 |
| TASTE | 21/05/14 | 04/07/14 | 14/07/14 | ZAR 0.0620 |
| LIBHOLD11 | 30/06/14 | 04/07/14 | 14/07/14 | ZAR 0.0550 |
---
Upcoming AGMs**

| | | | |
| --- | --- | --- | --- |
| Code | Company Name | Date | Status |
| SMM | Sable Metals and Minerals Ltd. | 10/07/2014 | Confirmed |
| GGP | GoGlobal Properties Ltd. | 10/07/2014 | Confirmed |
| HUG | Huge Group Ltd. | 12/07/2014 | Unconfirmed |
---
Stock Exchange News Service
Click here for more SENS news
---