Tuesday, 24 June 2014 - 20:00
Charts
Seed Weekly - Property Prejudice
I recently had an enquiry from a client who is part of an "investment club". This club only invests in Commercial/Industrial Property and are all currently held in one geographic area. The question from my client was twofold and I will be dealing with the two separate issues in two articles.
The first question was, "Is it wise to only invest in Commercial/Industrial Property, should we be looking at other investments?" The second question was, "There is large cash build up in the business whilst we are looking for properties to purchase, the time horizon for this cash build up if often in excess of a year, is there a more effective way of saving cash than a bank account?"
When dealing with the first question we need to look at the advantages and disadvantages of holding Commercial/Industrial properties and then compare them to other asset classes and to general investment theory.
A main advantage of owning properties is your income stream is generally inflation proofed through the rental escalation mechanism. Over time you also usually have escalations in the capital value of the property. From an investment psychology perspective, one of the major advantages of holding property is that the price/value of the property is not quoted in the newspapers everyday so the investor is not seeing constant volatility in the "value" of their investment. Because of the fact that most people are optimists, the fact that our neighbour sold his property for less than we purchased ours for does not usually concern us. Property growth rates also often have a low correlation to equity markets.
We frequently hear in the investment world there are no free lunches, so what are the risks of holding these properties?
The first risk is tenant risk. As the owner of a property, we first have to find a tenant, the tenant needs to pay us timeously, and we then need to hope that he doesn't cause damage to the property and disappear. The next risk is liquidity. In order to sell the asset there needs to be a willing buyer. If the economic circumstances are not great, unpleasant neighbours move in, or there is an oversupply of property you suddenly you can't sell the asset for what you think it's worth. In really bad circumstances you can battle to give it away! Geographic risk is also something that needs to be taken into account when buying a property. I remember how property owners struggled to rent/sell anything in Carletonville when the gold mines closed down, and I would imagine that the platinum strike in Rustenburg is having a huge impact on the property market. If a number of mines close down because of the strike property values could de-rate permanently. The last risk that I want to look at with Property is diversification. Because of the large investment that needs to be made per unit, diversification of your risk is difficult.
Diversification is the easiest way to achieve an improved risk adjusted return. When we look at diversification in general, we generally look at diversification across asset classes (equity, listed property, bonds, cash, and alternative investments). We also look at geographic diversification where we try and spread our investments over a number of different countries. Finally, we diversify across fund managers with different investment styles, approaches and philosophies.
When looking at investment portfolios you should always try to achieve a balance between owning your own properties, listed properties, shares, bonds, cash, and alternative investments in various geographic locations. Commercial/Industrial Property can therefore form part of your portfolio, but it is wise to spread your investments. Because of the risks involved, owning your own properties should give higher returns than a diversified investment portfolio. It needs to be borne in mind, however, that when it goes wrong in property it often goes very badly wrong, with very large losses being caused by unforeseen events.
Kind regards,
Barry Hugo
www.seedinvestments.co.za
info@seedinvestments.co.za
021 914 4966
Tue, 24 Jun 2014
Top News
South African stocks fell for the second straight session on Tuesday, with platinum mining shares giving up some of the previous day's gains as investors sized up the cost of a wage deal that ended a crippling five-month strike.

---

U.S. Secretary of State John Kerry urged leaders of Iraq's autonomous Kurdish region on Tuesday to stand with Baghdad in the face of a Sunni insurgent onslaught that threatens to dismember the country.

A suicide bomber blew up his car in Beirut on Monday night near an army checkpoint, killing a security officer and wounding several people watching the soccer World Cup in a nearby cafe.
World Markets (Spot Prices)
| | | | | |
| --- | --- | --- | --- | --- |
| Name | Time | RP | Move | % Move |
| JSE Overall | 17:00 | 50890.92 | -167.35 | -0.33% |
| JSE Top 40 | 17:00 | 45871.57 | -182.47 | -0.40% |
| JSE Gold | 17:00 | 1478.16 | 1.72 | 0.12% |
| JSE Financial | 17:00 | 37498.61 | 39.01 | 0.10% |
| JSE Industrial | 17:00 | 66828.13 | -103.24 | -0.15% |
| JSE Indust 25 | 17:00 | 59197.42 | -110.67 | -0.19% |
| JSE Resource | 17:00 | 57434.91 | -591.21 | -1.02% |
| DJ Futures | 19:58 | 16800.00 | -40.00 | -0.24% |
| DJ Ind | 19:58 | 16894.40 | -42.86 | -0.25% |
| SP 500 | 19:58 | 1961.20 | -1.41 | -0.07% |
| Nasdaq | 19:58 | 4383.16 | 14.48 | 0.33% |
| FTSE 100 | 17:35 | 6787.07 | -13.49 | -0.20% |
| DAX | 18:08 | 9938.08 | 17.16 | 0.17% |
| CAC40 | 18:08 | 4518.34 | 2.77 | 0.06% |
| Nikkei | 08:32 | 15376.24 | 6.96 | 0.05% |
| Shanghai | 09:28 | 2033.93 | 9.56 | 0.47% |
| Hang-Seng | 10:28 | 22880.64 | 75.83 | 0.33% |
| All Ords | 09:13 | 5415.10 | -17.60 | -0.32% |
| NZSE 50 | 07:28 | 5121.20 | -4.96 | -0.10% |

| | | | | |
| --- | --- | --- | --- | --- |
| Name | Time | RP | Move | % Move |
| Gold $ | 19:59 | 1319.07 | 2.07 | 0.16% |
| Gold R | 19:59 | 14026.25 | 97.09 | 0.70% |
| Gold R/kg | 19:58 | 451041 | 4224 | 0.95% |
| Silver $ | 19:59 | 20.9740 | .1230 | 0.59% |
| Platinum $ | 19:59 | 1464.70 | 14.25 | 0.98% |
| Palladium $ | 19:59 | 828.90 | 9.45 | 1.15% |
| R157 | 16:52 | 6.64 | .01 | 0.23% |
| R186 | 17:35 | 8.30 | .00 | 0.00% |
| R204 | 16:53 | 7.53 | -.00 | -0.07% |
| R207 | 16:57 | 7.78 | -.01 | -0.13% |
| Brent Crude | 19:58 | 114.53 | .41 | 0.36% |
| Rand / Dollar | 19:59 | 10.6332 | 0.0562 | 0.53% |
| Rand / Pound | 19:55 | 18.0184 | 0.0285 | 0.16% |
| Rand / Euro | 19:55 | 14.4525 | 0.0510 | 0.35% |
| Rand / NZD | 19:59 | 9.2390 | 0.0127 | 0.14% |
| Rand / AUD | 19:55 | 9.9723 | -0.0068 | -0.07% |
| Yen / Dollar | 19:59 | 101.9840 | 0.0680 | 0.07% |
| Euro / Dollar | 19:58 | 0.7348 | -0.0003 | -0.04% |
| Dollar / Euro | 19:59 | 1.3611 | 0.0006 | 0.04% |
| Pound / Dollar | 19:55 | 0.5887 | 0.0017 | 0.29% |
Click here for the Sharenet Spot Price page
The JSE Today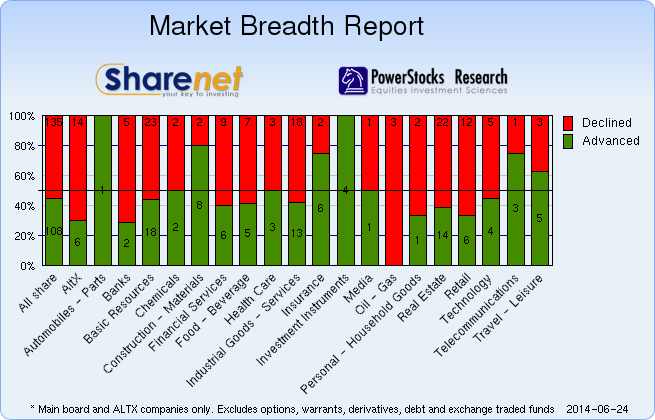 Trading Statistics
| Date | Adv. | Decl. | Unch. | Actives | Volume | Value | Trades | Orders |
| --- | --- | --- | --- | --- | --- | --- | --- | --- |
| 24/06/2014 | 168 | 194 | 66 | 428 | 166,293,277 | R12,780,366,446 | 148430 | 398767 |
| 23/06/2014 | 153 | 231 | 54 | 438 | 162,328,999 | R12,911,398,254 | 147410 | 1308135 |
| 20/06/2014 | 209 | 162 | 69 | 440 | 308,206,337 | R18,943,474,065 | 158932 | 1311355 |
| 19/06/2014 | 236 | 110 | 73 | 419 | 304,590,438 | R31,326,283,916 | 142057 | 1327479 |
| 18/06/2014 | 145 | 209 | 65 | 419 | 192,396,554 | R13,618,732,899 | 161484 | 1585250 |
* Includes all listed instruments on the JSE
---
---
---
Index Summary
| | | | |
| --- | --- | --- | --- |
| Index Name | RP | Move | % Move |
| Top 40 | 45,871.57 | -182.47 | -0.40% |
| Industrial | 66,828.13 | -103.24 | -0.15% |
| Mid Cap | 64,190.99 | 44.89 | 0.07% |
| Small Cap | 54,070.82 | -49.53 | -0.09% |
| Resource 20 | 57,434.91 | -591.21 | -1.02% |
| Industrial 25 | 59,197.42 | -110.67 | -0.19% |
| Financial 15 | 14,479.43 | 4.36 | 0.03% |
| Financial & Ind. 30 | 63,099.51 | -72.42 | -0.11% |
| All Share | 50,890.92 | -167.35 | -0.33% |
| Oil & Gas | 47,902.00 | -423.02 | -0.88% |
| Mining | 33,796.31 | -356.18 | -1.04% |
| Gold Mining | 1,478.16 | 1.72 | 0.12% |
| Platinum Mining | 49.44 | -.53 | -1.06% |
| GENERAL MINING | 9,806.75 | -114.49 | -1.15% |
| Oil & Gas Producers | 25,756.02 | -227.45 | -0.88% |
| Basic Materials | 29,956.68 | -310.04 | -1.02% |
| Chemicals | 24,785.64 | -118.90 | -0.48% |
| Forestry & Paper | 33,289.47 | -332.27 | -0.99% |
| Industrial Metals | 18,845.07 | -157.52 | -0.83% |
| Industrials | 45,775.26 | -70.42 | -0.15% |
| General Industrials | 145.24 | .07 | 0.05% |
| Consumer Goods | 63,176.12 | -413.08 | -0.65% |
| Automobiles & Parts | 8,924.23 | 38.49 | 0.43% |
| Household Goods | 386.35 | 1 | 0.35% |
| Health Care | 84,938.62 | 290.69 | 0.34% |
| Beverages | 206.72 | -2.10 | -1.01% |

| | | | |
| --- | --- | --- | --- |
| Index Name | RP | Move | % Move |
| Food Producers | 76,920.03 | 490.87 | 0.64% |
| Personal Goods | 1,103.73 | -9.89 | -0.89% |
| Consumer Services | 11,876.51 | 126.10 | 1.07% |
| General Retailers | 64,443.73 | -237.32 | -0.37% |
| Travel & Leisure | 5,805.41 | -3.26 | -0.06% |
| Media | 268.97 | 5.46 | 2.07% |
| Support Services | 2,714.67 | .59 | 0.02% |
| Telecommunications | 10,770.38 | -56.52 | -0.52% |
| Financials | 37,498.61 | 39.01 | 0.10% |
| Banks | 65,794.12 | 60.11 | 0.09% |
| Non-life Insurance | 50,089.88 | 79.11 | 0.16% |
| Life Insurance | 35,762.76 | 115.37 | 0.32% |
| General Financial | 3,797.17 | -10.82 | -0.28% |
| Technology | 43,149.77 | -82.17 | -0.19% |
| SHARIAH TOP40 | 4,291.24 | -38 | -0.89% |
| FTSE/JSE SHARIAH ALL | 4,408.30 | -32 | -0.72% |
| COAL MINING | 17,431.72 | -515 | -2.87% |
| FTSE JSE Fledgling | 6,779.98 | 24 | 0.35% |
| FTSE/JSE Alt X | 1,244.07 | -19 | -1.54% |
| SA LISTED PROPERTY | 509.89 | | -0.04% |
| CAPPED PROPERTY | 444.87 | | -0.05% |
| RESOURCE | 31,422.19 | -320 | -1.01% |
| DIVIDEND PLUS | 225.51 | 0 | 0.07% |
| FTSE/JSE RAFI 40 | 10,070.03 | -49 | -0.49% |
| Capped Top 40 | 24,308.07 | -88 | -0.36% |
| Capped All Share | 25,774.96 | -83 | -0.32% |
| JSE TABACO | 8,178.08 | -20 | -0.25% |
Click here for the Sharenet Index Summary page
---
Latest Consensus Changes**

| | | | |
| --- | --- | --- | --- |
| Code | Company Name | Status | Updated |
| BVT | THE BIDVEST GROUP LIMITED | BUY | 20/06/2014 |
| IPL | IMPERIAL HOLDINGS LTD | HOLD | 20/06/2014 |
| NTC | NETCARE LIMITED | BUY | 20/06/2014 |
| SPG | SUPER GROUP LTD | BUY | 20/06/2014 |
| BAW | BARLOWORLD LIMITED | SELL | 20/06/2014 |

Results Expected**

| | | |
| --- | --- | --- |
| Expected | Company Name | Fin. Date |
| 25/06/2014 | KEATON | March 2014 (Final) |
| 25/06/2014 | OMNIA | March 2014 (Final) |
| 25/06/2014 | OMNIACP | March 2014 (Final) |
| 25/06/2014 | PRESCIENT | March 2014 (Final) |
| 25/06/2014 | SAFARI | March 2014 (Final) |
---
Recent Dividends**

| | | | | |
| --- | --- | --- | --- | --- |
| Share Name | Dec-Date | LDT | Pay-Date | Amount |
| ACCPROP | 23/06/14 | 11/07/14 | 21/07/14 | ZAR 0.1377 |
| NASPERS-N | 23/06/14 | 12/09/14 | 22/09/14 | ZAR 4.2500 |
| NAMPAK 6.5 | 23/06/14 | 18/07/14 | 28/07/14 | ZAR 0.0650 |
| NAMPAK 6%P | 23/06/14 | 18/07/14 | 28/07/14 | ZAR 0.0600 |
| INVICTA | 17/06/14 | 04/07/14 | 14/07/14 | ZAR 1.8465 |

Ex Div**

| | | | | |
| --- | --- | --- | --- | --- |
| Share Name | Dec-Date | LDT | Pay-Date | Amount |
| IVT PREF | 05/06/14 | 20/06/14 | 30/06/14 | ZAR 5.3372 |
| VODACOM | 19/05/14 | 20/06/14 | 30/06/14 | ZAR 4.3000 |
| TIGBRANDS | 21/05/14 | 20/06/14 | 30/06/14 | ZAR 3.2900 |
| ACUCAP | 12/06/14 | 20/06/14 | 30/06/14 | ZAR 1.6390 |
| STANPROP | 30/05/14 | 20/06/14 | 11/07/14 | ZAR 1.1827 |
---
Upcoming AGMs**

| | | | |
| --- | --- | --- | --- |
| Code | Company Name | Date | Status |
| RBA | RBA Holdings Ltd. | 25/06/2014 | Unconfirmed |
| SOH | South Ocean Holdings Ltd. | 25/06/2014 | Unconfirmed |
| BSR | Basil Read Holdings Ltd. | 26/06/2014 | Confirmed |
| ISA | ISA Holdings Ltd. | 26/06/2014 | Unconfirmed |
| ESR | Esor Ltd. | 27/06/2014 | Confirmed |
---
Stock Exchange News Service
Click here for more SENS news
---