Tuesday, 24 April 2012 - 20:00
Charts
Retirement Annuities as an Estate Planning Tool
Whilst most people see Retirement Annuities (RA's) as a vehicle to fund provision of capital for their old age, this isn't always the case as I was recently shown an example by one of my colleagues whereby changes in the rules relating to RA's have given certain individuals an opportunity to plan their estates a lot more effectively.
Previously, members of an RA were compelled to retire from that fund before the age of 70. This rule has now fallen away and it is now possible to join an RA after the age of 70 with no mandatory retirement age; you may ask yourself "Why on earth would anyone in retirement want to purchase an RA?" But the following example will illustrate its effectiveness as a retirement planning tool for certain individuals:
"Mr A is 80 years old and has more than enough income and capital to fund his lifestyle. He has R 3 000 000 invested in a Money Market account at a bank which he decides to invest into an RA. For ease of calculation, we will assume that none of the R 3 000 000 is allowed as a deduction in the tax year of contribution. We will also assume that the underlying portfolio in the RA is a Money Market Fund earning the same rate as what he would have earned outside the RA. Mr A dies and the growth of the RA at this point is R 300 000 (which is the same as if he had left it in the Money Market account).

"If he hadn't used the RA, Mr A would have had to pay R 120 000 in income tax (40% on the R 300 000 income from the Money Market account) leaving a net payout of R 3 180 000. The Money Market Fund would also be an asset in Mr A's Estate, and if we assume that his estate duty rebate has been used on other assets, estate duty of R 636 000 would be payable. Executors fees of R 126 882 would also be payable on this asset leaving a net (after income tax, estate duty, and executors fees) R 2 417 118.

"By investing into the RA the interest earned is not taxed, leaving a total value of R 3 300 000 (all growth in an RA is currently tax free). The RA is not an asset or a deemed asset in the estate and is dealt with as a taxable lump sum death benefit received from a Retirement Fund. All contributions made to a Retirement Fund, not previously allowed as a deduction, are allowed as a deduction when calculating the taxable portion of the death benefit. If we assume that Mr A has already used his R 315 000 tax free retirement benefit, then total tax of R 54 000 will need to be paid, leaving a net benefit after tax of R 3 246 000."
One must bear in mind that by locking up capital in an RA, accessibility will be greatly reduced (only 1/3rd is available as a lump sum) so this is a tool which should only be used by individuals with a large amount of free capital which is not going to be used or required during their lifetime. Naturally this type of strategy doesn't make sense for most investors, but for those that it does, the potential benefits should not be ignored.
To get Seed's reports emailed to you directly every week, sign up for our newsletter by clicking here.
Kind regards,
Barry Hugo
info@seedinvestments.co.za
www.seedinvestments.co.za
021 9144 966
Tue, 24 Apr 2012
Top News
---

South Sudan accused Sudan on Tuesday of mounting bombing raids on the newly independent country's oil-producing border region and President Salva Kiir said the latest hostilities amounted to a declaration of a war by his northern neighbour.

North Korea has almost completed preparations for a third nuclear test, a senior source with close ties to Pyongyang and Beijing told Reuters, which will draw further international condemnation following a failed rocket launch if it goes ahead.
World Markets (Spot Prices)
| | | | | |
| --- | --- | --- | --- | --- |
| Name | Time | RP | Move | % Move |
| JSE Overall | 17:00 | 33820.87 | 117.66 | 0.35% |
| JSE Top 40 | 17:00 | 29823.88 | 137.76 | 0.46% |
| JSE Gold | 17:00 | 2176.07 | -2.11 | -0.10% |
| JSE Financial | 17:00 | 24709.94 | -11.13 | -0.05% |
| JSE Industrial | 17:00 | 38383.14 | 255.26 | 0.67% |
| JSE Indust 25 | 17:00 | 32307.26 | 273.39 | 0.85% |
| JSE Resource | 17:00 | 48893.62 | 76.33 | 0.16% |
| DJ Futures | 19:56 | 12960.00 | 77.00 | 0.60% |
| DJ Ind | 19:45 | 13001.79 | 74.62 | 0.58% |
| SP 500 | 20:00 | 1370.12 | 3.18 | 0.23% |
| Nasdaq | 20:00 | 2955.08 | -15.37 | -0.52% |
| FTSE 100 | 17:35 | 5709.49 | 43.92 | 0.78% |
| DAX | 18:06 | 6590.41 | 67.41 | 1.03% |
| CAC40 | 18:06 | 3169.32 | 70.95 | 2.29% |
| Nikkei | 08:32 | 9468.04 | -74.13 | -0.78% |
| Shanghai | 09:26 | 2388.83 | .25 | 0.01% |
| Hang-Seng | 10:26 | 20677.16 | 52.77 | 0.26% |
| All Ords | 08:42 | 4433.90 | 3.60 | 0.08% |
| NZSE 50 | 08:32 | 3519.86 | 6.41 | 0.18% |

| | | | | |
| --- | --- | --- | --- | --- |
| Name | Time | RP | Move | % Move |
| Gold | 19:59 | 1641.80 | 3.76 | 0.23% |
| Gold/Rand | 20:00 | 12824.92 | -18.10 | -0.14% |
| Gold/R kg | 20:00 | 412321 | 1801 | 0.44% |
| Silver | 19:58 | 30.7660 | -.0140 | -0.05% |
| Platinum | 19:59 | 1541.20 | -11.30 | -0.73% |
| Palladium | 19:59 | 663.75 | .55 | 0.08% |
| R157 | 17:06 | 6.48 | -.04 | -0.61% |
| R204 | 17:06 | 7.30 | -.06 | -0.82% |
| Brent Crude | 19:56 | 118.00 | -.20 | -0.17% |
| Rand / Dollar | 19:59 | 7.8115 | -0.0286 | -0.36% |
| Rand / Pound | 19:55 | 12.5640 | -0.0559 | -0.44% |
| Rand / Euro | 19:55 | 10.3026 | -0.0161 | -0.16% |
| Rand / NZD | 19:58 | 6.3359 | -0.0418 | -0.66% |
| Rand / AUD | 19:55 | 8.0338 | -0.0595 | -0.74% |
| Yen / Dollar | 19:59 | 81.1700 | 0.0470 | 0.06% |
| Euro / Dollar | 19:55 | 0.7575 | -0.0023 | -0.30% |
| Dollar / Euro | 19:59 | 1.3193 | 0.0037 | 0.28% |
| Pound / Dollar | 19:55 | 0.6195 | -0.0004 | -0.06% |
Click here for the Sharenet Spot Price page
The JSE Today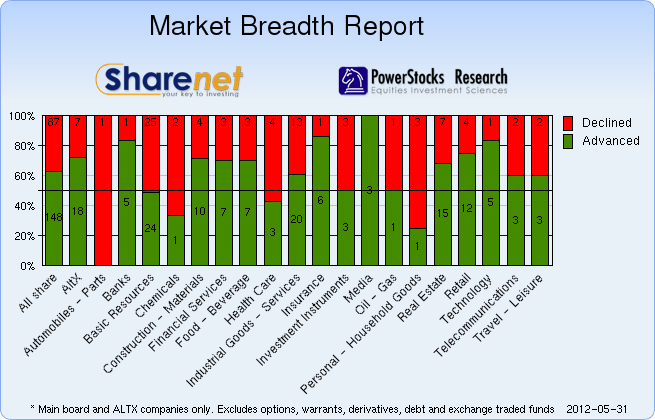 Trading Statistics
| Date | Adv. | Decl. | Unch. | Actives | Volume | Value | Trades | Orders |
| --- | --- | --- | --- | --- | --- | --- | --- | --- |
| 24/04/2012 | 171 | 133 | 82 | 386 | 220,159,159 | R10,394,423,085 | 80692 | 2346008 |
| 23/04/2012 | 88 | 243 | 71 | 402 | 204,113,275 | R11,320,174,796 | 82413 | 2858692 |
| 20/04/2012 | 195 | 119 | 93 | 407 | 269,085,600 | R14,135,784,647 | 101126 | 2688673 |
| 19/04/2012 | 168 | 151 | 76 | 395 | 229,816,222 | R13,336,662,825 | 96441 | 2527578 |
| 18/04/2012 | 203 | 118 | 80 | 401 | 199,632,859 | R12,760,927,679 | 82566 | 1477805 |
* Includes all listed instruments on the JSE
---
---
---
Index Summary
| | | | |
| --- | --- | --- | --- |
| Index Name | RP | Move | % Move |
| Top 40 | 29,823.88 | 137.76 | 0.46% |
| Industrial | 38,383.14 | 255.26 | 0.67% |
| Mid Cap | 48,707.79 | -49.41 | -0.10% |
| Small Cap | 35,920.57 | -245.12 | -0.68% |
| Resource 20 | 48,893.62 | 76.33 | 0.16% |
| Industrial 25 | 32,307.26 | 273.39 | 0.85% |
| Financial 15 | 9,283.06 | -1.63 | -0.02% |
| Financial & Ind. 30 | 35,568.99 | 225.14 | 0.64% |
| All Share | 33,820.87 | 117.66 | 0.35% |
| Oil & Gas | 27,485.00 | -18.92 | -0.07% |
| Mining | 31,412.90 | 51.99 | 0.17% |
| Gold Mining | 2,176.07 | -2.11 | -0.10% |
| Platinum Mining | 56.18 | .50 | 0.90% |
| GENERAL MINING | 8,127.71 | 5.87 | 0.07% |
| Oil & Gas Producers | 14,778.18 | -10.17 | -0.07% |
| Basic Materials | 26,954.57 | 65.07 | 0.24% |
| Chemicals | 15,196.58 | -5.19 | -0.03% |
| Forestry & Paper | 14,048.12 | -18.03 | -0.13% |
| Industrial Metals | 30,570.00 | 625.97 | 2.09% |
| Industrials | 32,842.65 | 26.42 | 0.08% |
| General Industrials | 89,002.60 | 594.91 | 0.67% |
| Consumer Goods | 33,144.01 | 207.73 | 0.63% |
| Automobiles & Parts | 6,046.10 | .00 | 0.00% |
| Household Goods | 183.37 | 2 | 0.90% |
| Health Care | 42,722.82 | 72.47 | 0.17% |
| Beverages | 111.71 | .72 | 0.65% |

| | | | |
| --- | --- | --- | --- |
| Index Name | RP | Move | % Move |
| Food Producers | 59,993.93 | -80.18 | -0.13% |
| Personal Goods | 471.82 | 8.29 | 1.79% |
| Consumer Services | 67,330.95 | 901.05 | 1.36% |
| General Retailers | 54,818.68 | 437.30 | 0.80% |
| Travel & Leisure | 3,817.79 | -13.84 | -0.36% |
| Media | 102.23 | 2.46 | 2.47% |
| Support Services | 2,397.17 | -.56 | -0.02% |
| Telecommunications | 67,090.47 | 211.67 | 0.32% |
| Financials | 24,709.94 | -11.13 | -0.05% |
| Banks | 47,081.69 | 103.38 | 0.22% |
| Non-life Insurance | 43,283.11 | -428.78 | -0.98% |
| Life Insurance | 19,257.08 | -38.59 | -0.20% |
| General Financial | 2,338.45 | 14.75 | 0.63% |
| Technology | 28,361.18 | 13.83 | 0.05% |
| SHARIAH TOP40 | 3,011.46 | 14 | 0.47% |
| FTSE/JSE SHARIAH ALL | 3,133.12 | 12 | 0.39% |
| COAL MINING | 27,279.82 | 271 | 1.00% |
| FTSE JSE Fledgling | 5,422.90 | 14 | 0.25% |
| FTSE/JSE Alt X | 1,252.30 | -18 | -1.46% |
| SA LISTED PROPERTY | 414.29 | | -0.22% |
| CAPPED PROPERTY | 336.05 | | -0.06% |
| RESOURCE | 26,940.59 | 35 | 0.13% |
| DIVIDEND PLUS | 196.61 | 0 | 0.13% |
| FTSE/JSE RAFI 40 | 7,012.89 | 20 | 0.28% |
| Capped Top 40 | 15,739.09 | 76 | 0.48% |
| Capped All Share | 17,108.14 | 60 | 0.35% |
| JSE TABACO | 5,072.83 | -113 | -2.17% |
Click here for the Sharenet Index Summary page
---
Latest Consensus Changes**

| | | | |
| --- | --- | --- | --- |
| Code | Company Name | Status | Updated |
| NED | NEDBANK GROUP LTD | HOLD | 20 Apr |
| SBK | STANDARD BANK GROUP LIMIT... | SELL | 20 Apr |
| AIP | ADCOCK INGRAM HLGS LD | HOLD | 20 Apr |
| IPF | INVESTEC PROPERTY FUND LT... | HOLD | 20 Apr |
| LHC | LIFE HEALTHCARE GRP HLDG ... | BUY | 20 Apr |

Results Expected**

| | | |
| --- | --- | --- |
| Expected | Company Name | Fin. Date |
| 25 Apr 2012 | ALTECH | February 2012 (Final) |
| 25 Apr 2012 | CMH | February 2012 (Final) |
| 25 Apr 2012 | CMH PREF | February 2012 (Final) |
| 25 Apr 2012 | DELRAND | March 2012 (Q) |
| 25 Apr 2012 | MAS | November 2011 (Q) |
---
Recent Dividends**

| | | | | |
| --- | --- | --- | --- | --- |
| Share Name | Dec-Date | LDT | Pay-Date | Amount |
| PREMIUM | 12-04-19 | 12-05-11 | 12-05-21 | R 0.6000 |
| OCTODEC | 12-04-19 | 12-05-11 | 12-05-21 | R 0.7120 |
| PHUMELELA | 12-04-19 | 12-05-18 | 12-05-28 | R 0.2500 |
| PIKWIK | 12-04-18 | 12-06-01 | 12-06-11 | R 0.5257 |
| PICKNPAY | 12-04-18 | 12-06-01 | 12-06-11 | R 1.0835 |

Ex Div**

| | | | | |
| --- | --- | --- | --- | --- |
| Share Name | Dec-Date | LDT | Pay-Date | Amount |
| LIB-HOLD | 12-04-02 | 12-04-19 | 12-04-30 | R 2.2100 |
| TRUWTHS | 12-04-03 | 12-04-19 | 12-04-30 | R 1.6900 |
| SANLAM | 12-03-08 | 12-04-19 | 12-05-09 | R 1.3000 |
| SHOPRIT | 12-04-02 | 12-04-19 | 12-04-30 | R 1.0900 |
| A-V-I | 12-04-02 | 12-04-19 | 12-04-30 | R 0.8300 |
---
Upcoming AGMs**

| | | | |
| --- | --- | --- | --- |
| Code | Company Name | Date | Status |
| ABSP | Absa Bank Ltd. | 24/04/2012 | Confirmed |
| JSE | JSE Ltd. | 25/04/2012 | Confirmed |
| ZSA | Zurich Insurance Company South Africa Lt... | 25/04/2012 | Confirmed |
| IDEP | Ideco Group Ltd. | 26/04/2012 | Confirmed |
| IDE | Ideco Group Ltd. | 26/04/2012 | Confirmed |
---
Stock Exchange News Service
Click here for more SENS news
---