Tuesday, 10 January 2012 - 20:00
Charts
S.Africa's rand breaks losing streak, bonds rise
JOHANNESBURG (Reuters) - South Africa's rand firmed for the first day in five on Tuesday as risk sentiment improved with positive signals out of the Unites States, which in turn helped bond prices higher.
The rand broke the 8.10/12 resistance area to trade at 8.0625, making 1.1 percent worth of gains against the dollar on the day. It closed at 8.15 in New York on Monday.
Analysts see little chance for the rand to break the big 8 rand level without a convincing rally from the euro.
"Euro/dollar has struggled to rally much beyond 1.2800 and this has limited any further dollar/rand downside, as has traders buying on dips below 8.1000. I don't think USD/ZAR is going to break below 8.0000 anytime soon," said Christopher Shiells of Informa Global Markets.
The firmer rand helped to drag bond yields, which trade inversely to the price, to a week low.
The yield on the three-year bond closed at 6.80 percent from 6.885 percent on Monday and the fourteen year yield ended at 8.575 percent from 8.67 percent previously.
Treasury held its first fixed income auction for the year which saw healthy demand even though some players were said to be holding back.
"Most local clients we spoke to all wanted to adopt a wait and see strategy for the auction. It cleared a tad higher than I would have expected being the first auction but results were fair," said Steve Arnold, a bond trader at Investec.
"Rand strength dragged yields lower for most of the afternoon and I guess that players who missed (the auction) today jumped in as well," Arnold added.
South Africa also sold a $1.5 billion 12 year eurobond, taking advantage of low U.S. yields to diversify its sources of funding and pay down more expensive domestic debt. [ID:nL6E8CA0LJ
The bond attracted bids totalling $3 billion and saw demand from mainly European and American investors.
Analysts say state-owned agencies are likely to follow suit now that the sovereign has set a benchmark.
Tue, 10 Jan 2012
Top News
South African stocks rose for a third straight trading day on Tuesday, pushing the benchmark index to its highest closing level in a month as a rebound in metal prices bolstered miners.

---

Syrian President Bashar al-Assad vowed on Tuesday to strike "terrorists" with an iron fist and derided Arab League efforts to halt violence in a 10-month-old revolt against his rule.

With Mitt Romney poised to stride toward the Republican presidential nomination by capturing New Hampshire on Tuesday, all eyes were on whether he could win big enough to convince his party he is the best candidate to defeat Democrat Barack Obama.
Company Results
Revenue improved to R268.1 million (R236.9 million) and gross profit rose to R42.4 million (R36.2 million). Profit for the year grew to R10 million (R7.8 million), while headline earnings per share strengthened to 23.80cps (19.36cps). Dividends *First quarter -- A dividend of 4 cents (2010: 4 cents) per share was declared on 22 December 2010 and paid to all shareholders recorded in the share register of the company at the close of business on Friday, 21 January 2011; *Second quart. . .
World Markets (Spot Prices)
| | | | | |
| --- | --- | --- | --- | --- |
| Name | Time | RP | Move | % Move |
| JSE Overall | 17:00 | 33020.16 | 245.33 | 0.75% |
| JSE Top 40 | 17:00 | 29481.51 | 249.59 | 0.85% |
| JSE Gold | 17:00 | 2939.01 | -3.63 | -0.12% |
| JSE Financial | 17:00 | 22741.56 | 64.83 | 0.29% |
| JSE Industrial | 17:00 | 34967.45 | 64.09 | 0.18% |
| JSE Indust 25 | 17:00 | 29327.08 | 44.61 | 0.15% |
| JSE Resource | 17:00 | 54113.16 | 933.59 | 1.76% |
| DJ Futures | 19:56 | 12395.00 | 58.00 | 0.47% |
| DJ Ind | 19:45 | 12456.49 | 63.80 | 0.51% |
| SP 500 | 20:00 | 1290.86 | 10.16 | 0.79% |
| Nasdaq | 20:00 | 2697.87 | 21.31 | 0.80% |
| FTSE 100 | 18:35 | 5696.70 | 84.44 | 1.50% |
| DAX | 19:06 | 6162.98 | 145.75 | 2.42% |
| CAC40 | 19:06 | 3210.79 | 83.10 | 2.66% |
| Nikkei | 08:26 | 8422.26 | 31.91 | 0.38% |
| Shanghai | 09:26 | 2285.74 | 59.85 | 2.69% |
| Hang-Seng | 10:26 | 19004.28 | 138.56 | 0.73% |
| All Ords | 07:41 | 4206.60 | 45.10 | 1.08% |
| NZSE 50 | 06:46 | 3228.01 | -19.27 | -0.59% |

| | | | | |
| --- | --- | --- | --- | --- |
| Name | Time | RP | Move | % Move |
| Gold | 19:59 | 1632.90 | 21.72 | 1.35% |
| Gold/Rand | 20:00 | 13234.98 | 97.16 | 0.74% |
| Gold/R kg | 20:00 | 425505 | 2260 | 0.53% |
| Silver | 19:59 | 29.9000 | .9350 | 3.23% |
| Platinum | 19:59 | 1457.00 | 33.00 | 2.32% |
| Palladium | 19:59 | 632.75 | 17.25 | 2.80% |
| R157 | 17:06 | 6.80 | -.09 | -1.31% |
| R204 | 17:06 | 7.79 | -.09 | -1.14% |
| Brent Crude | 19:56 | 113.11 | 1.28 | 1.14% |
| Rand / Dollar | 19:59 | 8.1052 | -0.0482 | -0.59% |
| Rand / Pound | 19:55 | 12.5120 | -0.0658 | -0.52% |
| Rand / Euro | 19:55 | 10.3534 | -0.0619 | -0.59% |
| Rand / NZD | 19:58 | 6.4327 | 0.0132 | 0.21% |
| Rand / AUD | 19:55 | 8.3643 | 0.0103 | 0.12% |
| Yen / Dollar | 19:59 | 76.8300 | -0.0370 | -0.05% |
| Euro / Dollar | 19:55 | 0.7827 | -0.0002 | -0.03% |
| Dollar / Euro | 19:59 | 1.2778 | 0.0008 | 0.06% |
| Pound / Dollar | 19:55 | 0.6460 | -0.0006 | -0.09% |
Click here for the Sharenet Spot Price page
The JSE Today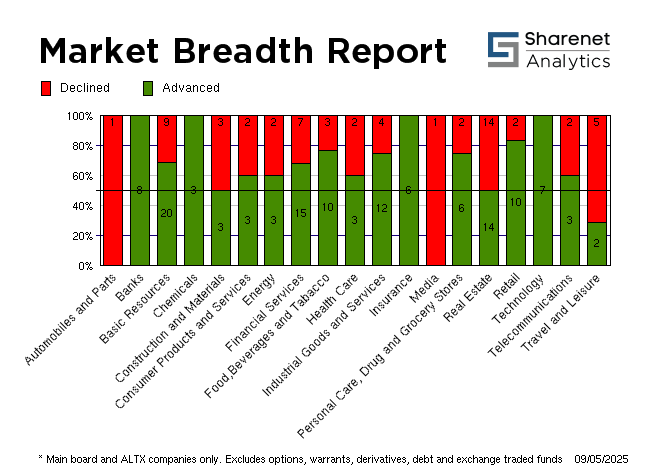 Trading Statistics
| Date | Adv. | Decl. | Unch. | Actives | Volume | Value | Trades | Orders |
| --- | --- | --- | --- | --- | --- | --- | --- | --- |
| 10/01/2012 | 220 | 121 | 87 | 428 | 356,633,454 | R11,774,989,569 | 87556 | 2190850 |
| 09/01/2012 | 152 | 174 | 70 | 396 | 195,075,638 | R9,705,960,100 | 72740 | 2409723 |
| 06/01/2012 | 194 | 121 | 77 | 392 | 194,249,028 | R10,753,317,294 | 70749 | 2353067 |
| 05/01/2012 | 126 | 198 | 90 | 414 | 197,170,721 | R10,877,416,250 | 78329 | 2424371 |
| 04/01/2012 | 228 | 134 | 67 | 429 | 183,466,147 | R8,612,717,301 | 89291 | 2320803 |
---
---
---
Index Summary
| | | | |
| --- | --- | --- | --- |
| Index Name | RP | Move | % Move |
| Top 40 | 29,481.51 | 249.59 | 0.85% |
| Industrial | 34,967.45 | 64.09 | 0.18% |
| Mid Cap | 44,644.93 | 80.89 | 0.18% |
| Small Cap | 33,408.48 | 137.24 | 0.41% |
| Resource 20 | 54,113.16 | 933.59 | 1.76% |
| Industrial 25 | 29,327.08 | 44.61 | 0.15% |
| Financial 15 | 8,568.74 | 27.19 | 0.32% |
| Financial & Ind. 30 | 32,530.18 | 66.92 | 0.21% |
| All Share | 33,020.16 | 245.33 | 0.75% |
| Oil & Gas | 29,883.88 | 332.96 | 1.13% |
| Mining | 34,907.54 | 612.55 | 1.79% |
| Gold Mining | 2,939.01 | -3.63 | -0.12% |
| Platinum Mining | 62.61 | .43 | 0.69% |
| GENERAL MINING | 8,657.40 | 215.39 | 2.55% |
| Oil & Gas Producers | 16,068.01 | 179.03 | 1.13% |
| Basic Materials | 29,520.58 | 482.66 | 1.66% |
| Chemicals | 14,041.35 | -20.68 | -0.15% |
| Forestry & Paper | 12,090.70 | 150.47 | 1.26% |
| Industrial Metals | 30,766.69 | -51.87 | -0.17% |
| Industrials | 29,347.52 | 36.70 | 0.13% |
| General Industrials | 83,087.47 | 138.23 | 0.17% |
| Consumer Goods | 30,067.00 | 15.09 | 0.05% |
| Automobiles & Parts | 4,642.14 | .00 | 0.00% |
| Household Goods | 157.08 | 2 | 1.22% |
| Health Care | 36,482.35 | 68.46 | 0.19% |
| Beverages | 99.78 | -.77 | -0.77% |

| | | | |
| --- | --- | --- | --- |
| Index Name | RP | Move | % Move |
| Food Producers | 55,211.07 | -140.14 | -0.25% |
| Personal Goods | 433.46 | 5.69 | 1.33% |
| Consumer Services | 59,375.63 | 295.67 | 0.50% |
| General Retailers | 50,124.04 | 53.44 | 0.11% |
| Travel & Leisure | 3,690.68 | 1.77 | 0.05% |
| Media | 80.70 | .66 | 0.82% |
| Support Services | 2,262.08 | 41.32 | 1.86% |
| Telecommunications | 66,525.79 | 41.55 | 0.06% |
| Financials | 22,741.56 | 64.83 | 0.29% |
| Banks | 42,184.42 | 133.49 | 0.32% |
| Non-life Insurance | 34,494.33 | -94.58 | -0.27% |
| Life Insurance | 18,219.63 | 75.42 | 0.42% |
| General Financial | 2,125.12 | 4.44 | 0.21% |
| Technology | 25,897.38 | 131.91 | 0.51% |
| SHARIAH TOP40 | 3,163.37 | 42 | 1.35% |
| FTSE/JSE SHARIAH ALL | 3,232.93 | 39 | 1.23% |
| COAL MINING | 23,879.63 | 101 | 0.43% |
| FTSE JSE Fledgling | 4,894.24 | 21 | 0.42% |
| FTSE/JSE Alt X | 1,216.26 | -33 | -2.61% |
| SA LISTED PROPERTY | 396.28 | | -0.21% |
| CAPPED PROPERTY | 321.72 | | 0.05% |
| RESOURCE | 29,840.68 | 495 | 1.69% |
| DIVIDEND PLUS | 181.45 | 1 | 0.39% |
| FTSE/JSE RAFI 40 | 6,867.73 | 55 | 0.80% |
| Capped Top 40 | 15,500.78 | 116 | 0.75% |
| Capped All Share | 16,683.91 | 119 | 0.72% |
| JSE TABACO | 4,858.16 | -5 | -0.11% |
Click here for the Sharenet Index Summary page
---
Latest Consensus Changes**

| | | | |
| --- | --- | --- | --- |
| Code | Company Name | Status | Updated |
| SAB | SABMILLER PLC | HOLD | 06 Jan |
| MTN | MTN GROUP LIMITED | BUY | 06 Jan |
| OML | OLD MUTUAL PLC | BUY | 06 Jan |
| CFR | COMPAGNIE FIN RICHEMONT | HOLD | 05 Jan |
| REM | REMGRO LIMITED | BUY | 04 Jan |

Results Expected**

| | | |
| --- | --- | --- |
| Expected | Company Name | Fin. Date |
| 13 Jan 2012 | MAS | November 2011 (Q) |
| 13 Jan 2012 | TELEMASTR | September 2011 (Final) |
| 18 Jan 2012 | FORBES | November 2011 (Q) |
| 19 Jan 2012 | ELLIES | October 2011 (Interim) |
| 19 Jan 2012 | FIURANIUM | December 2011 (Q) |
---
Recent Dividends**

| | | | | |
| --- | --- | --- | --- | --- |
| Share Name | Dec-Date | LDT | Pay-Date | Amount |
| AFPREFINV | 12-01-06 | 12-01-20 | 12-01-30 | R 0.2518 |
| REUNERT5.5 | 12-01-06 | 12-01-20 | 12-01-30 | R 0.0550 |
| TELEMASTR | 11-12-21 | 12-01-13 | 12-01-23 | R 0.0100 |
| NAMPAK 6%P | 11-12-08 | 12-01-20 | 12-01-30 | R 0.0600 |
| NAMPAK 6.5 | 11-12-08 | 12-01-20 | 12-01-30 | R 0.0650 |

Ex Div**

| | | | | |
| --- | --- | --- | --- | --- |
| Share Name | Dec-Date | LDT | Pay-Date | Amount |
| TIGBRANDS | 11-11-23 | 12-01-06 | 12-01-16 | R 5.1000 |
| OCEANA | 11-11-10 | 12-01-06 | 12-01-16 | R 1.8300 |
| ADCOCK | 11-11-22 | 12-01-06 | 12-01-16 | R 1.0600 |
| BARWORLD | 11-11-14 | 12-01-06 | 12-01-16 | R 1.0500 |
| PPC | 11-11-08 | 12-01-06 | 12-01-16 | R 0.9500 |
---
Upcoming AGMs**

| | | | |
| --- | --- | --- | --- |
| Code | Company Name | Date | Status |
| BCX | Business Connexion Group Ltd | 13/01/2012 | Unconfirmed |
| BCA | Business Connexion Group Ltd | 13/01/2012 | Unconfirmed |
| CLS | Clicks Group Ltd | 17/01/2012 | Confirmed |
---
Stock Exchange News Service
Click here for more SENS news
---