Friday, 25 August 2017 - 20:00
Charts
Todays Sharenet VIEWS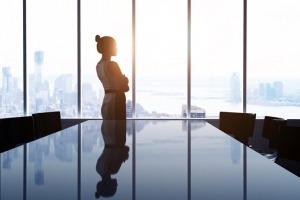 Nicole Cameron

Meet Rachel Murove, an actuarial scientist who left the traditional field to pursue a career in banking.
---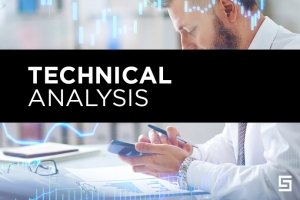 Moxima Gama

APN is consolidating within its major bear trend.
---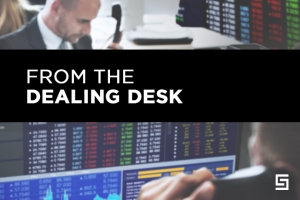 Daniel Nel

Steinhoff will be listing its African retail assets in the STAR vehicle in September according to a JSE SENS announcement on the 23rd of August.
Top News
South Africa's cabinet will make a final decision on how to recapitalise state airline South African Airways (SAA) by end September, Finance Minister Malusi Gigaba said on Friday.

---

Violent protests erupted in India's Haryana state on Friday, killing at least 29 people, after a court convicted a self-styled "godman" of raping two women, angering thousands of his supporters who said he was innocent, the state chief minister said.

---

A suicide bomber blew himself up at the entrance to a Shi'ite Muslim mosque in Kabul as other attackers stormed the building, killing at least 13 people including worshippers gathering for Friday prayers, officials said.

---
Company Results
Sales revenue for the year increased to R6.865 billion (2016: R6.097 billion), operating profit jumped to R614 million (2016: R383.3 million), but loss for the year widened to R635.9 million (2016: loss of R508.3 million), while headline loss per share rose to 181.9 cents per share (2016: loss of 140.9 cents per share). Dividend Given the continuing difficult conditions in the mining industry, and taking into consideration the cash requirements to fund the development of the group's. . .
World Markets (Spot Prices)
| | | | | |
| --- | --- | --- | --- | --- |
| Name | Time | RP | Move | % Move |
| JSE Overall | 17:00 | 56655.88 | 66.89 | 0.12% |
| JSE Top 40 | 17:00 | 50175.33 | 73.85 | 0.15% |
| JSE Financial | 17:00 | 43046.81 | 4.57 | 0.01% |
| JSE Industrial | 17:00 | 84746.47 | -46.47 | -0.05% |
| JSE Indust 25 | 17:00 | 76855.95 | -62.37 | -0.08% |
| JSE Resource | 17:00 | 35105.01 | 219.46 | 0.63% |
| JSE Gold | 17:00 | 1330.95 | -1.60 | -0.12% |
| USD / ZAR | 19:59 | 13.0255 | -0.1633 | -1.24% |
| GBP / ZAR | 19:55 | 16.7438 | -0.1264 | -0.75% |
| EUR / ZAR | 19:55 | 15.4730 | -0.1035 | -0.66% |
| NZD / ZAR | 19:59 | 9.4307 | -0.0784 | -0.82% |
| AUD / ZAR | 19:55 | 10.3343 | -0.0948 | -0.91% |
| USD / JPY | 19:59 | 109.1930 | -0.3490 | -0.32% |
| EUR / USD | 19:59 | 1.1882 | 0.0083 | 0.70% |
| GBP / USD | 19:59 | 1.2878 | 0.0077 | 0.60% |
| BTC / USD | 19:59 | 4423.33 | 108.22 | 2.51% |
| BCH / USD | 19:59 | 631.07 | 10.46 | 1.69% |
| BTC / ZAR | 19:59 | 63851.00 | 3651.00 | 6.06% |
| ETH / USD | 19:59 | 335.17 | 10.25 | 3.16% |

| | | | | |
| --- | --- | --- | --- | --- |
| Name | Time | RP | Move | % Move |
| LTC / USD | 19:59 | 51.82 | 1.73 | 3.45% |
| DJ Futures | 19:48 | 21833.00 | 47.00 | 0.22% |
| DJ Ind | 19:54 | 21850.16 | 66.76 | 0.31% |
| SP 500 | 19:31 | 2447.55 | 8.58 | 0.35% |
| Nasdaq | 19:54 | 6272.00 | 0.67 | 0.01% |
| FTSE 100 | 17:42 | 7401.46 | -5.60 | -0.08% |
| DAX | 18:08 | 12167.94 | -12.89 | -0.11% |
| CAC40 | 18:08 | 5104.33 | -8.80 | -0.17% |
| Nikkei | 08:32 | 19452.61 | 98.84 | 0.51% |
| Shanghai | 09:28 | 3331.52 | 60.01 | 1.83% |
| Hang-Seng | 10:32 | 27848.16 | 329.56 | 1.20% |
| ASX All | 08:36 | 5803.40 | 1.70 | 0.03% |
| NZSE 50 | 09:08 | 7857.81 | -10.60 | -0.13% |
| Gold $ | 19:59 | 1292.29 | 6.52 | 0.51% |
| Gold R | 19:59 | 16835.56 | -123.45 | -0.73% |
| Gold R/kg | 19:58 | 541256 | -3976 | -0.73% |
| Brent Crude | 19:48 | 52.16 | -0.41 | -0.78% |
| Silver $ | 19:59 | 17.0580 | 0.1290 | 0.76% |
| Platinum $ | 19:59 | 976.15 | -1.30 | -0.13% |
| Palladium $ | 19:59 | 929.28 | -2.72 | -0.29% |
| R186 | 17:27 | 8.58 | 0.00 | 0.00% |
| R204 | 16:52 | 7.00 | 0.01 | 0.14% |
| R207 | 17:35 | 7.31 | -0.03 | -0.34% |
Click here for the Sharenet Spot Price page
The JSE Today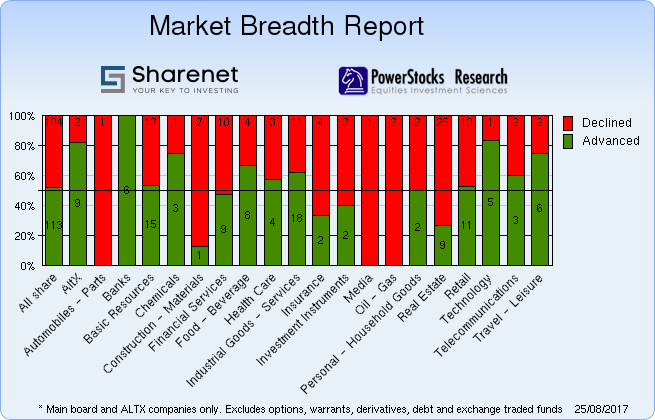 Trading Statistics
| Date | Adv. | Decl. | Unch. | Actives | Volume | Value | Trades | Orders |
| --- | --- | --- | --- | --- | --- | --- | --- | --- |
| 25/08/2017 | 158 | 177 | 77 | 412 | 298,122,976 | R17,914,556,838 | 248928 | 2542944 |
| 24/08/2017 | 206 | 147 | 48 | 401 | 424,198,831 | R28,402,698,070 | 326042 | 2562834 |
| 23/08/2017 | 144 | 194 | 51 | 389 | 309,753,923 | R20,042,639,205 | 249024 | 2522094 |
| 22/08/2017 | 233 | 124 | 60 | 417 | 277,492,638 | R19,121,095,913 | 243726 | 2443480 |
| 21/08/2017 | 188 | 136 | 65 | 389 | 203,864,089 | R15,568,794,873 | 200343 | 2189593 |
* Includes all listed instruments on the JSE
---
---
---
Index Summary
| | | | |
| --- | --- | --- | --- |
| Index Name | RP | Move | % Move |
| Top 40 | 50,175.33 | 73.85 | 0.15% |
| Industrial | 84,746.47 | -46.47 | -0.05% |
| Mid Cap | 76,451.15 | 165.55 | 0.22% |
| Small Cap | 58,871.32 | -82.89 | -0.14% |
| Resource 20 | 35,105.01 | 219.46 | 0.63% |
| Industrial 25 | 76,855.95 | -62.37 | -0.08% |
| Financial 15 | 15,890.66 | 40.88 | 0.26% |
| Financial & Ind. 30 | 79,876.82 | 12.08 | 0.02% |
| All Share | 56,655.88 | 66.89 | 0.12% |
| Oil & Gas | 7,195.69 | .00 | 0.00% |
| Mining | 25,909.98 | 300.39 | 1.17% |
| Gold Mining | 1,330.95 | -1.60 | -0.12% |
| Platinum Mining | 20.22 | .27 | 1.35% |
| GENERAL MINING | 7,797.32 | 106.18 | 1.38% |
| Oil & Gas Producers | 38,689.88 | .00 | 0.00% |
| Basic Materials | 24,768.64 | 170.50 | 0.69% |
| Chemicals | 20,091.28 | 4.49 | 0.02% |
| Forestry & Paper | 63,048.17 | -512.20 | -0.81% |
| Industrial Metals | 11,314.91 | 108.92 | 0.97% |
| Industrials | 48,610.66 | 67.19 | 0.14% |
| General Industrials | 183.75 | .99 | 0.54% |
| Consumer Goods | 77,722.05 | 192.80 | 0.25% |
| Automobiles & Parts | 4,162.07 | -135.87 | -3.16% |
| Household Goods | 420.69 | 12 | 2.87% |
| Health Care | 7,525.29 | 83.06 | 1.12% |
| Beverages | 228.28 | 1.04 | 0.46% |

| | | | |
| --- | --- | --- | --- |
| Index Name | RP | Move | % Move |
| Food Producers | 9,850.58 | 5.32 | 0.05% |
| Personal Goods | 1,163.86 | .40 | 0.03% |
| Consumer Services | 22,501.10 | -97.18 | -0.43% |
| General Retailers | 6,953.93 | -65.31 | -0.93% |
| Travel & Leisure | 5,006.47 | 19.85 | 0.40% |
| Media | 654.32 | -1.58 | -0.24% |
| Support Services | 1,943.52 | -54.59 | -2.73% |
| Telecommunications | 7,306.23 | -9.58 | -0.13% |
| Financials | 43,046.81 | 4.57 | 0.01% |
| Banks | 8,207.99 | 74.08 | 0.91% |
| Non-life Insurance | 68,228.11 | -359.47 | -0.52% |
| Life Insurance | 38,924.30 | 92.48 | 0.24% |
| General Financial | 3,965.91 | -10.67 | -0.27% |
| Technology | 48,641.51 | 830.41 | 1.74% |
| SHARIAH TOP40 | 3,132.65 | 16 | 0.52% |
| FTSE/JSE SHARIAH ALL | 3,524.59 | 15 | 0.44% |
| COAL MINING | 15,776.91 | 191 | 1.22% |
| FTSE JSE Fledgling | 7,490.03 | 21 | 0.28% |
| FTSE/JSE TOP 40 USD | 4,124.68 | 627 | 17.94% |
| FTSE/JSE Alt X | 1,181.92 | 8 | 0.70% |
| SA LISTED PROPERTY | 644.50 | -7.09 | -1.09% |
| CAPPED PROPERTY | 518.92 | | -1.23% |
| RESOURCE | 19,762.85 | 136 | 0.69% |
| DIVIDEND PLUS | 223.31 | 1 | 0.29% |
| FTSE/JSE RAFI 40 | 10,499.07 | 24 | 0.23% |
| Capped Top 40 | 26,234.17 | 54 | 0.21% |
| Capped All Share | 28,567.94 | 43 | 0.15% |
| JSE TABACO | 10,385.65 | -98 | -0.94% |
Click here for the Sharenet Index Summary page
---
Latest Consensus Changes**

| | | | |
| --- | --- | --- | --- |
| Code | Company Name | Status | Updated |
| GRF | GROUP FIVE LIMITED | SELL | 23/08/2017 |
| SHP | SHOPRITE HOLDINGS LIMITED | HOLD | 23/08/2017 |
| S32 | SOUTH32 LIMITED | HOLD | 22/08/2017 |
| ARI | AFRICAN RAINBOW MINERALS | BUY | 22/08/2017 |
| AGL | ANGLO AMERICAN PLC | BUY | 22/08/2017 |

Results Expected**

| | | |
| --- | --- | --- |
| Expected | Company Name | Fin. Date |
| 28/08/2017 | ADAPTIT | June 2017 (Final) |
| 28/08/2017 | BIDVEST | June 2017 (Final) |
| 29/08/2017 | ADVANCED | June 2017 (Final) |
| 29/08/2017 | CASHBIL | June 2017 (Final) |
| 29/08/2017 | MUSTEK | June 2017 (Final) |
---
Recent Dividends**

| | | | | |
| --- | --- | --- | --- | --- |
| Share Name | Dec-Date | LDT | Pay-Date | Amount |
| WOOLIES | 24/08/17 | 12/09/17 | 18/09/17 | ZAR 1.8000 |
| SOUTH32 | 24/08/17 | 12/09/17 | 12/10/17 | USD 0.0640 |
| MASSMART | 24/08/17 | 12/09/17 | 18/09/17 | ZAR 0.7600 |
| BIDCORP | 24/08/17 | 19/09/17 | 26/09/17 | ZAR 2.5000 |
| ONELOGIX | 24/08/17 | 03/10/17 | 09/10/17 | ZAR 0.0500 |

Ex Div**

| | | | | |
| --- | --- | --- | --- | --- |
| Share Name | Dec-Date | LDT | Pay-Date | Amount |
| FIRSTRANDB-P | 27/07/17 | 22/08/17 | 28/08/17 | ZAR 3.9358 |
| MTN GROUP | 03/08/17 | 22/08/17 | 28/08/17 | ZAR 2.5000 |
| NEDBANK-P | 02/08/17 | 22/08/17 | 28/08/17 | ZAR 0.4339 |
| SABVEST-N | 31/07/17 | 22/08/17 | 28/08/17 | ZAR 0.2600 |
| SABVEST | 31/07/17 | 22/08/17 | 28/08/17 | ZAR 0.2600 |
---
Upcoming AGMs**

| | | | |
| --- | --- | --- | --- |
| Code | Company Name | Date | Status |
| NPN | Naspers Ltd. | 25/08/2017 | Confirmed |
| NPS | Naspers Ltd. | 25/08/2017 | Confirmed |
| PPC | PPC Ltd. | 28/08/2017 | Confirmed |
| EQU | Equites Property Fund Ltd. | 28/08/2017 | Confirmed |
| L4L | Long4Life Ltd. | 28/08/2017 | Confirmed |
---
Stock Exchange News Service
Click here for more SENS news
---