Friday, 17 February 2017 - 20:00
Charts
Todays Sharenet VIEWS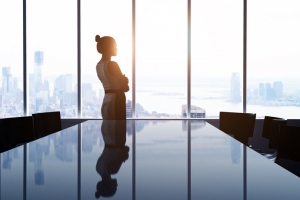 Nicole Cameron

Meet Anja Du Plessis, Client Manager at Incompass Financial Solutions, provider of currency transfer payments to the financial services sector in South Africa.
---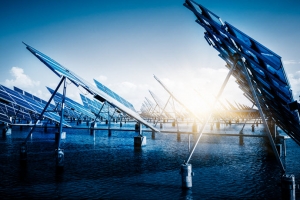 Capital International and Sharenet

The global shift in energy usage remains away from legacy carbon-based products to more renewables. In a recent strategy statement, BP argued that energy consumption will only grow at an average of 1.3% per annum for the next 20 years, rather than the 2.2% rate of the previous 20 years.
---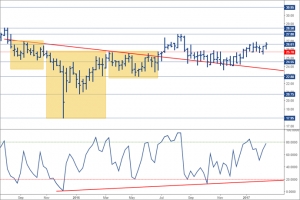 Moxima Gama

The third stage of a return move a common reversal after a breakout has commenced, and GRT has breached our buying level again above 2,570cps.
---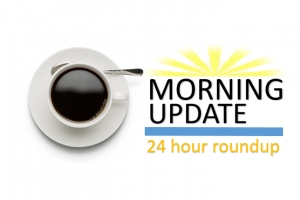 Ian Stiglingh & Cheyne Anderson

A lack of any significant risk events saw the reflation trade momentum dissipate yesterday. Wall Street closed mostly flat while a decline in the mining sector pushed UK markets lower. The Rand has broken the R/$13 level and for the umpteenth time that strong momentum seems to have slowed down, yet every time the currency makes up more ground.
Top News
South Africa's rand retreated on Friday as the dollar gained, following a rally that had lifted the South African currency to a 17-month high. Stocks followed global markets down.

---

U.S. Secretary of State Rex Tillerson, trying to reassure allies that Washington was not tilting towards Moscow over the Syrian conflict, told them on Friday that the United States backed U.N. efforts to broker a political solution to the war, officials and diplomats said.

---

President Donald Trump's choice for national security adviser, retired Vice Admiral Robert Harward, has turned down the offer, a senior White House official said on Thursday.

---
World Markets (Spot Prices)
| | | | | |
| --- | --- | --- | --- | --- |
| Name | Time | RP | Move | % Move |
| JSE Overall | 17:00 | 52223.54 | -362.83 | -0.69% |
| JSE Top 40 | 17:00 | 45074.63 | -410.83 | -0.90% |
| JSE Gold | 17:00 | 1508.57 | -4.05 | -0.27% |
| JSE Financial | 17:00 | 41719.95 | -324.99 | -0.77% |
| JSE Industrial | 17:00 | 74766.56 | -471.22 | -0.63% |
| JSE Indust 25 | 17:00 | 66273.80 | -456.92 | -0.68% |
| JSE Resource | 17:00 | 33522.71 | -297.95 | -0.88% |
| DJ Futures | 19:42 | 20540.00 | -66.00 | -0.32% |
| DJ Ind | 19:58 | 20555.58 | -64.19 | -0.31% |
| SP 500 | 19:58 | 2342.91 | -4.31 | -0.18% |
| Nasdaq | 19:58 | 5818.13 | 3.23 | 0.06% |
| FTSE 100 | 18:42 | 7299.96 | 22.04 | 0.30% |
| DAX | 19:08 | 11757.02 | -.22 | -0.00% |
| CAC40 | 19:08 | 4867.58 | -31.88 | -0.65% |
| Nikkei | 08:28 | 19234.62 | -112.91 | -0.58% |
| Shanghai | 09:28 | 3202.08 | -27.54 | -0.85% |
| Hang-Seng | 10:28 | 24033.74 | -73.96 | -0.31% |
| All Ords | 07:36 | 5851.00 | -12.00 | -0.20% |
| NZSE 50 | 09:02 | 7093.53 | -6.45 | -0.09% |

| | | | | |
| --- | --- | --- | --- | --- |
| Name | Time | RP | Move | % Move |
| Gold $ | 19:59 | 1238.57 | -.21 | -0.02% |
| Gold R | 19:59 | 16216.67 | 98.83 | 0.61% |
| Gold R/kg | 19:58 | 521249 | 3061 | 0.59% |
| Silver $ | 19:59 | 18.0440 | -0.0050 | -0.03% |
| Platinum $ | 19:59 | 1002.40 | -7.89 | -0.78% |
| Palladium $ | 19:59 | 778.75 | -11.75 | -1.49% |
| R186 | 17:27 | 8.69 | 0.06 | 0.70% |
| R204 | 17:07 | 7.60 | 0.02 | 0.26% |
| R207 | 17:07 | 7.80 | 0.04 | 0.52% |
| Brent Crude | 19:58 | 55.54 | -0.21 | -0.38% |
| USD / ZAR | 19:59 | 13.0888 | 0.0847 | 0.65% |
| GBP / ZAR | 19:55 | 16.2430 | 0.0185 | 0.11% |
| EUR/ ZAR | 19:55 | 13.8921 | 0.0074 | 0.05% |
| NZD/ ZAR | 19:59 | 9.4106 | 0.0220 | 0.23% |
| AUD / ZAR | 19:55 | 10.0275 | 0.0165 | 0.16% |
| USD / JPY | 19:59 | 112.8430 | -0.4230 | -0.37% |
| EUR / USD | 19:59 | 1.0614 | -0.0055 | -0.52% |
| GBP / USD | 19:59 | 1.2443 | -0.0043 | -0.34% |
Click here for the Sharenet Spot Price page
The JSE Today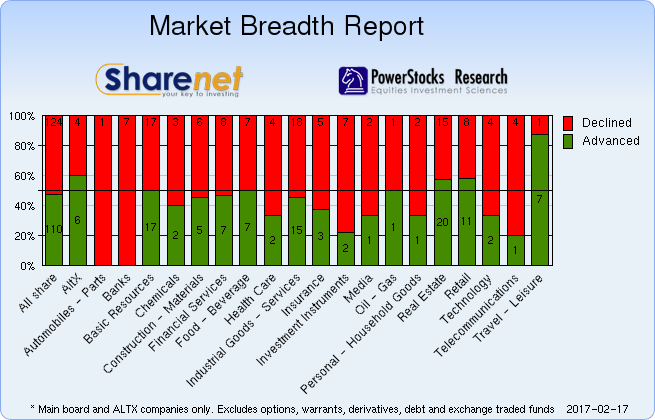 Trading Statistics
| Date | Adv. | Decl. | Unch. | Actives | Volume | Value | Trades | Orders |
| --- | --- | --- | --- | --- | --- | --- | --- | --- |
| 17/02/2017 | 147 | 180 | 67 | 394 | 252,343,521 | R15,847,163,717 | 251299 | 2562101 |
| 16/02/2017 | 170 | 164 | 68 | 402 | 258,146,667 | R16,074,491,467 | 234892 | 1568722 |
| 15/02/2017 | 165 | 173 | 63 | 401 | 301,425,618 | R21,931,753,909 | 293510 | 492518 |
| 14/02/2017 | 143 | 215 | 69 | 427 | 335,323,946 | R21,497,119,254 | 325031 | 2797061 |
| 13/02/2017 | 224 | 114 | 55 | 393 | 265,540,746 | R15,537,463,732 | 224941 | 376722 |
* Includes all listed instruments on the JSE
---
---
---
Index Summary
| | | | |
| --- | --- | --- | --- |
| Index Name | RP | Move | % Move |
| Top 40 | 45,074.63 | -410.83 | -0.90% |
| Industrial | 74,766.56 | -471.22 | -0.63% |
| Mid Cap | 80,102.16 | 185.86 | 0.23% |
| Small Cap | 65,387.74 | 18.31 | 0.03% |
| Resource 20 | 33,522.71 | -297.95 | -0.88% |
| Industrial 25 | 66,273.80 | -456.92 | -0.68% |
| Financial 15 | 15,158.54 | -162.06 | -1.06% |
| Financial & Ind. 30 | 70,082.71 | -622.97 | -0.88% |
| All Share | 52,223.54 | -362.83 | -0.69% |
| Oil & Gas | 7,195.69 | .00 | 0.00% |
| Mining | 25,404.46 | -259.64 | -1.01% |
| Gold Mining | 1,508.57 | -4.05 | -0.27% |
| Platinum Mining | 23.47 | .28 | 1.21% |
| GENERAL MINING | 7,334.59 | -102.65 | -1.38% |
| Oil & Gas Producers | 38,689.88 | .00 | 0.00% |
| Basic Materials | 23,921.50 | -179.31 | -0.74% |
| Chemicals | 19,543.47 | -71.33 | -0.36% |
| Forestry & Paper | 54,258.77 | -16.13 | -0.03% |
| Industrial Metals | 12,710.54 | 185.93 | 1.48% |
| Industrials | 49,157.95 | -190.22 | -0.39% |
| General Industrials | 184.37 | -.90 | -0.49% |
| Consumer Goods | 72,535.20 | -661.03 | -0.90% |
| Automobiles & Parts | 5,484.52 | -63.40 | -1.14% |
| Household Goods | 458.43 | -6 | -1.37% |
| Health Care | 8,250.08 | -99.90 | -1.20% |
| Beverages | 239.83 | .37 | 0.15% |

| | | | |
| --- | --- | --- | --- |
| Index Name | RP | Move | % Move |
| Food Producers | 10,273.21 | -121.76 | -1.17% |
| Personal Goods | 975.09 | -13.39 | -1.35% |
| Consumer Services | 17,716.72 | -70.36 | -0.40% |
| General Retailers | 7,339.45 | 55.26 | 0.76% |
| Travel & Leisure | 6,390.63 | 37.05 | 0.58% |
| Media | 468.32 | -3.12 | -0.66% |
| Support Services | 2,234.49 | -16.36 | -0.73% |
| Telecommunications | 6,761.41 | -43.88 | -0.64% |
| Financials | 41,719.95 | -324.99 | -0.77% |
| Banks | 7,589.43 | -96.60 | -1.26% |
| Non-life Insurance | 64,022.83 | -1112.77 | -1.71% |
| Life Insurance | 37,340.66 | -460.19 | -1.22% |
| General Financial | 3,989.60 | -26.95 | -0.67% |
| Technology | 59,568.92 | 95.67 | 0.16% |
| SHARIAH TOP40 | 3,056.84 | -30 | -0.97% |
| FTSE/JSE SHARIAH ALL | 3,487.89 | -26 | -0.74% |
| COAL MINING | 13,505.19 | -21 | -0.16% |
| FTSE JSE Fledgling | 8,292.53 | 20 | 0.24% |
| FTSE/JSE TOP 40 USD | 3,699.72 | 202 | 5.79% |
| FTSE/JSE Alt X | 1,391.92 | 9 | 0.67% |
| SA LISTED PROPERTY | 656.03 | .27 | 0.04% |
| CAPPED PROPERTY | 527.26 | | 0.09% |
| RESOURCE | 19,086.93 | -143 | -0.74% |
| DIVIDEND PLUS | 215.69 | -1 | -0.30% |
| FTSE/JSE RAFI 40 | 9,875.24 | -91 | -0.91% |
| Capped Top 40 | 24,172.25 | -225 | -0.92% |
| Capped All Share | 26,764.74 | -186 | -0.69% |
| JSE TABACO | 10,332.36 | 69 | 0.68% |
Click here for the Sharenet Index Summary page
---
Latest Consensus Changes**

| | | | |
| --- | --- | --- | --- |
| Code | Company Name | Status | Updated |
| EMI | EMIRA PROPERTY FUND | HOLD | 16/02/2017 |
| SNH | STEINHOFF INT HLDGS N.V | BUY | 16/02/2017 |
| KAP | KAP INDUSTRIAL HLDGS | HOLD | 16/02/2017 |
| MND | MONDI LIMITED | BUY | 15/02/2017 |
| BVT | THE BIDVEST GROUP LIMITED | HOLD | 15/02/2017 |

Results Expected**

| | | |
| --- | --- | --- |
| Expected | Company Name | Fin. Date |
| 20/02/2017 | AEG CONV | December 2016 (Interim) |
| 20/02/2017 | AVENG | December 2016 (Interim) |
| 20/02/2017 | GSPG001 | December 2016 (Interim) |
| 20/02/2017 | GSPG002 | December 2016 (Interim) |
| 20/02/2017 | LONFIN | December 2016 (Interim) |
---
Recent Dividends**

| | | | | |
| --- | --- | --- | --- | --- |
| Share Name | Dec-Date | LDT | Pay-Date | Amount |
| TRUWTHS | 16/02/17 | 07/03/17 | 13/03/17 | ZAR 2.7000 |
| GEMPROPB | 16/02/17 | 07/03/17 | 13/03/17 | ZAR 0.1784 |
| GFIELDS | 16/02/17 | 07/03/17 | 13/03/17 | ZAR 0.6000 |
| DSY B PREF | 16/02/17 | 07/03/17 | 13/03/17 | ZAR 5.2932 |
| GEMPROPA | 16/02/17 | 07/03/17 | 13/03/17 | ZAR 0.2485 |

Ex Div**

| | | | | |
| --- | --- | --- | --- | --- |
| Share Name | Dec-Date | LDT | Pay-Date | Amount |
| IMPL CONV | 10/02/17 | 14/02/17 | 21/02/17 | ZAR 250.0000 |
| TOWER | 31/01/17 | 14/02/17 | 20/02/17 | ZAR 0.3840 |
---
Upcoming AGMs**

| | | | |
| --- | --- | --- | --- |
| Code | Company Name | Date | Status |
| CUL | Cullinan Holdings Ltd. | 17/02/2017 | Confirmed |
| CULP | Cullinan Holdings Ltd. | 17/02/2017 | Confirmed |
| CUP2 | Cullinan Holdings Ltd. | 17/02/2017 | Confirmed |
| CUP3 | Cullinan Holdings Ltd. | 17/02/2017 | Confirmed |
| TBS | Tiger Brands Ltd. | 21/02/2017 | Confirmed |
---
Stock Exchange News Service
Click here for more SENS news
---