Wednesday, 25 May 2016 - 20:00
Charts
Seed Weekly - Fear and Greed
Fear and greed are unfortunately the two emotions which drive most investor's behaviour. My job as a Financial Advisor is to try and dilute this unhealthy situation by adding a good measure of rational thinking. Unfortunately the more fear or greed we experience, the more rational our arguments will appear to ourselves.
One of the most common mistakes that people make is greed. This happens when we look at the Sunday papers and we see last year's best performing fund. The average investor's immediate reaction is "I need a bit of that action; I need to get into that fund as quickly as possible". Obviously, in a years' time that fund is not going to be the best performing unit trust and now you want to "get out of that fund as quickly as possible and move to the next year's best performing fund". I have often used the statement that "only using past performance to select funds is like driving whilst only looking in your rear view mirror, it is going to cause an accident".
I am constantly amazed at how otherwise rational people (Engineers and Accountants especially), can forget three or even five years of good performance and will suddenly start panicking and want to move everything into cash as soon as the market has moved sideways for a year or two. (My previous cash is king article expands on this).
Financial planning is exactly what it says, you need to have a plan and you need to stick to it, chopping and changing the whole time will only lead to heartache. "Panic sellers" will always wait too long for their greed to override their fear and can never time their market re-entrance. They will always lose out on the biggest upswings after the bottom.
If your fund has a 3 year benchmark, then measure it over three years. It is pointless selecting funds with a five year time horizon in mind and then changing those funds because of one year's underperformance. If nothing has changed with the underlying Manager, mandate, process etc. and you are wanting to switch managers because of short term underperformance, you seriously need to relook at your fund selection process.
The importance of having a financial plan which incorporates your needs, goals, time frames and special circumstances cannot be over-emphasized. Your financial plan is what keeps your decisions within a rational framework and negates the negative impact of fear and greed.
Kind regards,
Barry Hugo
Tel +27 21 914 4966
Fax +27 21 914 4912
Email info@seedinvestments.co.za
Top News
Revenue for the year rose to R15.1 billion (R12.2 billion). EBITDA grew to R5.9 billion (R4.1 billion) whereas operating profit was higher at R4.5 billion (R3.1 billion). Profit attributable to equity holders decreased to R1.0 billion (R3.6 billion). In addition, headline earnings per share

---

Ukrainian military pilot Nadiya Savchenko arrived home to scenes of jubilation on Wednesday after her release by Russia in a prisoner swap and she promptly offered to fight again for Kiev in its conflict with pro-Russian separatists.

The Afghan Taliban named an Islamic legal scholar who was one of former leader Mullah Akhtar Mansour's deputies to succeed him on Wednesday, after confirming Mansour's death in a U.S. drone strike at the weekend.
World Markets (Spot Prices)
| | | | | |
| --- | --- | --- | --- | --- |
| Name | Time | RP | Move | % Move |
| JSE Overall | 17:00 | 53721.88 | 671.12 | 1.27% |
| JSE Top 40 | 17:00 | 47727.26 | 693.49 | 1.47% |
| JSE Gold | 17:00 | 1920.18 | -94.01 | -4.67% |
| JSE Financial | 17:00 | 42001.04 | 692.84 | 1.68% |
| JSE Industrial | 17:00 | 80520.92 | 838.10 | 1.05% |
| JSE Indust 25 | 17:00 | 72866.83 | 768.75 | 1.07% |
| JSE Resource | 17:00 | 31717.76 | 499.76 | 1.60% |
| DJ Futures | 19:42 | 17842.00 | 150.00 | 0.85% |
| DJ Ind | 20:00 | 17866.71 | 160.66 | 0.91% |
| SP 500 | 20:00 | 2092.71 | 16.65 | 0.80% |
| Nasdaq | 20:00 | 4901.10 | 40.04 | 0.82% |
| FTSE 100 | 17:15 | 6256.13 | 36.87 | 0.59% |
| DAX | 18:08 | 10205.21 | 147.90 | 1.47% |
| CAC40 | 18:08 | 4481.64 | 50.12 | 1.13% |
| Nikkei | 08:30 | 16757.35 | 258.59 | 1.57% |
| Shanghai | 09:28 | 2815.09 | -6.58 | -0.23% |
| Hang-Seng | 10:36 | 20368.05 | 537.62 | 2.71% |
| All Ords | 08:36 | 5436.80 | 74.90 | 1.40% |
| NZSE 50 | 09:08 | 6908.04 | 35.38 | 0.51% |

| | | | | |
| --- | --- | --- | --- | --- |
| Name | Time | RP | Move | % Move |
| Gold $ | 19:59 | 1224.25 | -2.34 | -0.19% |
| Gold R | 20:00 | 19175.80 | -27.56 | -0.14% |
| Gold R/kg | 20:00 | 616502 | -7607 | -1.22% |
| Silver $ | 19:59 | 16.3040 | 0.1330 | 0.82% |
| Platinum $ | 19:59 | 992.17 | -3.30 | -0.33% |
| Palladium $ | 19:58 | 528.58 | -1.92 | -0.36% |
| R186 | 16:59 | 9.43 | -0.01 | -0.11% |
| R204 | 16:59 | 8.44 | -0.02 | -0.24% |
| R207 | 16:59 | 8.75 | -0.03 | -0.29% |
| Brent Crude | 19:42 | 49.33 | 0.98 | 2.03% |
| USD / ZAR | 19:59 | 15.6633 | 0.0068 | 0.04% |
| GBP / ZAR | 19:55 | 23.0040 | 0.1331 | 0.58% |
| EUR/ ZAR | 19:55 | 17.4909 | 0.0410 | 0.23% |
| NZD/ ZAR | 19:58 | 10.5905 | 0.0404 | 0.38% |
| AUD / ZAR | 19:55 | 11.2745 | 0.0176 | 0.16% |
| USD / JPY | 19:59 | 110.2080 | 0.2340 | 0.21% |
| EUR / USD | 19:59 | 1.1161 | 0.0021 | 0.18% |
| GBP / USD | 19:59 | 1.4703 | 0.0082 | 0.56% |
Click here for the Sharenet Spot Price page
The JSE Today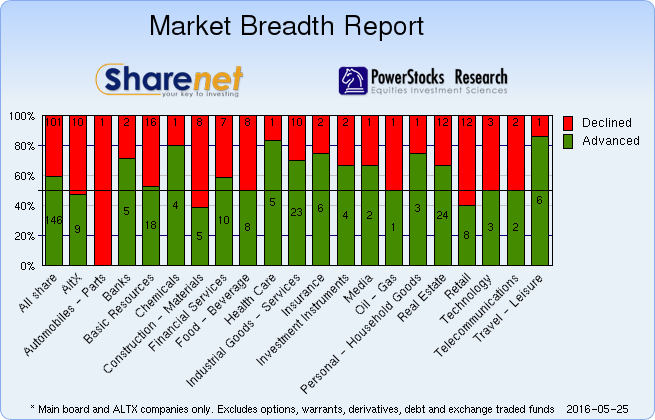 Trading Statistics
| Date | Adv. | Decl. | Unch. | Actives | Volume | Value | Trades | Orders |
| --- | --- | --- | --- | --- | --- | --- | --- | --- |
| 25/05/2016 | 231 | 151 | 44 | 426 | 299,424,365 | R22,594,405,037 | 301505 | 2205347 |
| 24/05/2016 | 180 | 167 | 57 | 404 | 278,196,928 | R21,556,094,545 | 308660 | 1371694 |
| 23/05/2016 | 145 | 201 | 60 | 406 | 210,762,622 | R14,894,081,217 | 223796 | 2199992 |
| 20/05/2016 | 244 | 119 | 54 | 417 | 246,946,041 | R19,868,447,780 | 286442 | 2506347 |
| 19/05/2016 | 120 | 213 | 52 | 385 | 253,061,414 | R19,290,977,499 | 263694 | 2410418 |
* Includes all listed instruments on the JSE
---
---
---
Index Summary
| | | | |
| --- | --- | --- | --- |
| Index Name | RP | Move | % Move |
| Top 40 | 47,727.26 | 693.49 | 1.47% |
| Industrial | 80,520.92 | 838.10 | 1.05% |
| Mid Cap | 73,121.92 | 45.37 | 0.06% |
| Small Cap | 59,919.50 | 333.28 | 0.56% |
| Resource 20 | 31,717.76 | 499.76 | 1.60% |
| Industrial 25 | 72,866.83 | 768.75 | 1.07% |
| Financial 15 | 15,360.03 | 321.98 | 2.14% |
| Financial & Ind. 30 | 75,639.56 | 1002.43 | 1.34% |
| All Share | 53,721.88 | 671.12 | 1.27% |
| Oil & Gas | 7,195.69 | .00 | 0.00% |
| Mining | 21,965.49 | 224.71 | 1.03% |
| Gold Mining | 1,920.18 | -94.01 | -4.67% |
| Platinum Mining | 24.75 | .23 | 0.94% |
| GENERAL MINING | 5,701.41 | 158.36 | 2.86% |
| Oil & Gas Producers | 38,689.88 | .00 | 0.00% |
| Basic Materials | 22,343.78 | 325.91 | 1.48% |
| Chemicals | 23,967.19 | 747.26 | 3.22% |
| Forestry & Paper | 54,019.22 | 544.73 | 1.02% |
| Industrial Metals | 6,301.32 | 50.50 | 0.81% |
| Industrials | 41,798.72 | 827.91 | 2.02% |
| General Industrials | 155.52 | 3.20 | 2.10% |
| Consumer Goods | 81,897.94 | 882.13 | 1.09% |
| Automobiles & Parts | 4,959.16 | -54.35 | -1.08% |
| Household Goods | 632.61 | 10 | 1.58% |
| Health Care | 9,407.01 | 105.98 | 1.14% |
| Beverages | 334.45 | 3.10 | 0.94% |

| | | | |
| --- | --- | --- | --- |
| Index Name | RP | Move | % Move |
| Food Producers | 8,844.22 | 3.52 | 0.04% |
| Personal Goods | 913.77 | 12.99 | 1.44% |
| Consumer Services | 18,249.22 | 137.79 | 0.76% |
| General Retailers | 7,644.16 | 38.10 | 0.50% |
| Travel & Leisure | 5,603.35 | 246.60 | 4.60% |
| Media | 479.87 | 4.46 | 0.94% |
| Support Services | 2,128.88 | -8.46 | -0.40% |
| Telecommunications | 7,198.33 | 61.05 | 0.86% |
| Financials | 42,001.04 | 692.84 | 1.68% |
| Banks | 6,343.61 | 117.53 | 1.89% |
| Non-life Insurance | 58,956.30 | 510.44 | 0.87% |
| Life Insurance | 39,402.17 | 858.63 | 2.23% |
| General Financial | 4,700.63 | 87.14 | 1.89% |
| Technology | 50,674.22 | 599.74 | 1.20% |
| SHARIAH TOP40 | 3,132.30 | 55 | 1.79% |
| FTSE/JSE SHARIAH ALL | 3,412.28 | 45 | 1.34% |
| COAL MINING | 8,511.70 | 191 | 2.29% |
| FTSE JSE Fledgling | 7,000.89 | -46 | -0.66% |
| FTSE/JSE Alt X | 1,503.67 | 17 | 1.15% |
| SA LISTED PROPERTY | 647.63 | 3.68 | 0.57% |
| CAPPED PROPERTY | 577.10 | | 0.87% |
| RESOURCE | 17,828.06 | 260 | 1.48% |
| DIVIDEND PLUS | 201.67 | 3 | 1.49% |
| FTSE/JSE RAFI 40 | 9,519.99 | 150 | 1.60% |
| Capped Top 40 | 25,296.32 | 386 | 1.55% |
| Capped All Share | 27,323.27 | 347 | 1.29% |
| JSE TABACO | 12,303.02 | 145 | 1.19% |
Click here for the Sharenet Index Summary page
---
Latest Consensus Changes**

| | | | |
| --- | --- | --- | --- |
| Code | Company Name | Status | Updated |
| PFG | PIONEER FOODS GROUP LTD | HOLD | 24/05/2016 |
| FSR | FIRSTRAND LIMITED | HOLD | 24/05/2016 |
| VOD | VODACOM GROUP LIMITED | HOLD | 24/05/2016 |
| MND | MONDI LIMITED | BUY | 23/05/2016 |
| RMH | RMB HOLDINGS LIMITED | BUY | 23/05/2016 |

Results Expected**

| | | |
| --- | --- | --- |
| Expected | Company Name | Fin. Date |
| 26/05/2016 | ACSION | February 2016 (Final) |
| 26/05/2016 | JUBILEE | June 2015 (Final) |
| 26/05/2016 | MICROMEGA | March 2016 (Final) |
| 26/05/2016 | MIXTEL | March 2016 (Final) |
| 26/05/2016 | QUANTUM | March 2016 (Interim) |
---
Recent Dividends**

| | | | | |
| --- | --- | --- | --- | --- |
| Share Name | Dec-Date | LDT | Pay-Date | Amount |
| REUNERT | 24/05/16 | 09/06/16 | 20/06/16 | ZAR 1.1300 |
| TRADEH | 24/05/16 | 17/06/16 | 27/06/16 | ZAR 0.0650 |
| ADCORP | 24/05/16 | 30/08/16 | 05/09/16 | ZAR 0.7500 |
| TIGBRANDS | 24/05/16 | 24/06/16 | 04/07/16 | ZAR 3.6300 |
| VERIMARK | 23/05/16 | 09/06/16 | 20/06/16 | ZAR 0.0370 |

Ex Div**

| | | | | |
| --- | --- | --- | --- | --- |
| Share Name | Dec-Date | LDT | Pay-Date | Amount |
| TRENCOR | 25/04/16 | 20/05/16 | 30/05/16 | ZAR 2.2000 |
| OCTODEC | 03/05/16 | 20/05/16 | 30/05/16 | ZAR 0.9840 |
| EQUITES | 05/05/16 | 20/05/16 | 30/05/16 | ZAR 0.5118 |
| REDEFINE | 05/05/16 | 20/05/16 | 30/05/16 | ZAR 0.4170 |
| DRDLD | 29/04/16 | 20/05/16 | 30/05/16 | ZAR 0.3800 |
---
Upcoming AGMs**

| | | | |
| --- | --- | --- | --- |
| Code | Company Name | Date | Status |
| ACL | ArcelorMittal South Africa Ltd. | 25/05/2016 | Confirmed |
| MLAP | ArcelorMittal South Africa Ltd. | 25/05/2016 | Confirmed |
| MTN | MTN Group Ltd. | 25/05/2016 | Confirmed |
| ERN | Erin Energy Corporation | 25/05/2016 | Confirmed |
| AFX | African Oxygen Ltd. | 26/05/2016 | Confirmed |
---
Stock Exchange News Service
Click here for more SENS news
---