Thursday, 22 October 2015 - 20:00
Charts
Seed Weekly - CPI in Investment Benchmarking
It is easy to determine that investing is important, but with all the choices available, it becomes a more arduous task deciding how or with who to invest. A simplistic way of solving this problem is to look for a product that "performs very well" thereby protecting and growing your wealth. Trying to determine what performs well requires comparisons and such comparisons require an appropriate benchmark. Typically, a good investment benchmark should be unambiguous (specific with a stipulated way of measurement that is quantifiable) and investable (thus replicable or trackable). The fact that a good benchmark is investable would naturally exclude the Consumer Price Index (CPI) as benchmark. Why is it then that we commonly come across CPI benchmarks? What is the case for CPI benchmarks?
CPI Inflation is an important concept that investors need to be cognisant of. CPI is a monthly data set of price changes in goods and services purchased by consumers. Due to inflation, R100 in your pocket 25 years ago, is now worth roughly R16 because of the erosion effect of inflation on purchasing power. Put differently, for you to be able to buy the same amount of goods that you bought with R100 twenty-five years ago, you would need to have R601 in your pocket today, a compounded growth rate of roughly 7.2% per annum. It is in light of this that your investment at the very least, should maintain the purchasing power of its assets. Therefore, it becomes important to track investment performance against a CPI target, making that a break-even level of performance.
The chart above depicts the performance of the average equity manager as represented by the sector average of the ASISA SA Equity General category relative to the All Share Index and SA CPI. As can be seen, the average equity manager moves in line with the index as expected with periods of outperformance and underperformance. It makes sense to use the index in this case to benchmark the performance of the equity manager, where you would expect skill to be the determining factor for outperformance. However, there are also periods where the average manager and the index do not do as well as inflation. As an investor, it is important to know that whilst your investment may be beating its respective benchmark, is it also maintaining the purchasing power of the assets.
Consider a 5 year investment period from 2007 to 2012. The markets were depressed during the global financial crisis. The average equity manager closely tracked the performance of the FTSE/JSE All Share Index, whilst the Multi-Asset High Equity category which is expected to offer better capital protection did slightly better. However, it can be noted that over the same period, an investment at the rate of inflation would have done much better. This suggests that an investment can do better than its benchmark whilst the purchasing power of its assets is actually being eroded, which is why it's important to look at CPI. In addition, it is important to focus on long term investing, because with sufficient time, good investments tend to recover and eventually outperform the CPI target as per historical numbers.
Using CPI as a target allows an investor to determine whether their investments are at a minimum, maintaining their purchasing power. Equally, this target emphasizes investment diversification of its assets as with the multi-asset portfolios which offer better capital protection. Diversification contributes towards inflationary risk protection. Therefore, incorporating an inflation target objective is deemed appropriate when defining investment objectives holistically.
While past performance is not an indication of future returns, our rigorous investment process combined with investment experience allows us to make prudent investment decisions in order to protect against the negative impacts of inflation.
Kind Regards,
Tawanda Mushore
Tel +27 21 914 4966
Fax +27 21 914 4912
Email info@seedinvestments.co.za
Seed is hiring: Visit the Seed Analytics LinkedIn profile to view vacancies.
Top News
Local markets On Thursday, the JSE All Share finished 0.56% higher, led by 1.72% gains in gold miners and 1.32% advances in resource shares.

---

A masked man killed a teacher and a boy and wounded two others in a Swedish school on Thursday, stabbing them as he walked from classroom to classroom before being fatally wounded by police marksmen, officers said.

U.S. Secretary of State John Kerry on Thursday voiced cautious hope there may be a way to defuse Israeli-Palestinian violence that has killed nearly 60 people this month.
World Markets (Spot Prices)
| | | | | |
| --- | --- | --- | --- | --- |
| Name | Time | RP | Move | % Move |
| JSE Overall | 17:00 | 53293.97 | 296.00 | 0.56% |
| JSE Top 40 | 17:00 | 47814.72 | 220.13 | 0.46% |
| JSE Gold | 17:00 | 1055.47 | 17.84 | 1.72% |
| JSE Financial | 17:00 | 44835.44 | 193.60 | 0.43% |
| JSE Industrial | 17:00 | 79366.47 | 374.64 | 0.47% |
| JSE Indust 25 | 17:00 | 71428.40 | 251.43 | 0.35% |
| JSE Resource | 17:00 | 34856.04 | 454.94 | 1.32% |
| DJ Futures | 19:42 | 17389.00 | 333.00 | 1.95% |
| DJ Ind | 19:58 | 17448.77 | 280.16 | 1.63% |
| SP 500 | 19:58 | 2049.87 | 30.93 | 1.53% |
| Nasdaq | 19:58 | 4907.52 | 67.40 | 1.39% |
| FTSE 100 | 16:39 | 6376.42 | 28.00 | 0.44% |
| DAX | 18:08 | 10491.97 | 253.87 | 2.48% |
| CAC40 | 18:08 | 4802.18 | 107.08 | 2.28% |
| Nikkei | 08:28 | 18435.87 | -118.41 | -0.64% |
| Shanghai | 09:28 | 3368.74 | 48.06 | 1.45% |
| Hang-Seng | 10:28 | 22845.37 | -143.85 | -0.63% |
| All Ords | 07:38 | 5299.60 | 13.10 | 0.25% |
| NZSE 50 | 07:28 | 5923.60 | 5.34 | 0.09% |

| | | | | |
| --- | --- | --- | --- | --- |
| Name | Time | RP | Move | % Move |
| Gold $ | 20:00 | 1165.70 | -1.02 | -0.09% |
| Gold R | 19:59 | 15630.95 | 15630.95 | 0.00% |
| Gold R/kg | 19:58 | 502621 | -3825 | -0.76% |
| Silver $ | 20:00 | 15.8410 | .1470 | 0.94% |
| Platinum $ | 19:59 | 1010.41 | 7.61 | 0.76% |
| Palladium $ | 20:00 | 684.56 | 12.56 | 1.87% |
| R186 | 15:07 | 8.39 | -.02 | -0.24% |
| R204 | 15:07 | 7.44 | -.05 | -0.73% |
| R207 | 15:07 | 7.72 | -.05 | -0.64% |
| Brent Crude | 16:42 | 48.64 | -.07 | -0.14% |
| USD / ZAR | 20:00 | 13.4077 | -0.0935 | -0.69% |
| GBP / ZAR | 19:55 | 20.6022 | -0.1864 | -0.90% |
| EUR/ ZAR | 19:55 | 14.9089 | -0.4051 | -2.65% |
| NZD/ ZAR | 19:59 | 9.0784 | 9.0784 | 0.00% |
| AUD / ZAR | 19:55 | 9.6545 | -0.0894 | -0.92% |
| USD / JPY | 20:00 | 120.6010 | 0.6660 | 0.56% |
| EUR / USD | 19:59 | 1.1122 | -0.0217 | -1.91% |
| GBP / USD | 20:00 | 1.5392 | -0.0023 | -0.15% |
Click here for the Sharenet Spot Price page
The JSE Today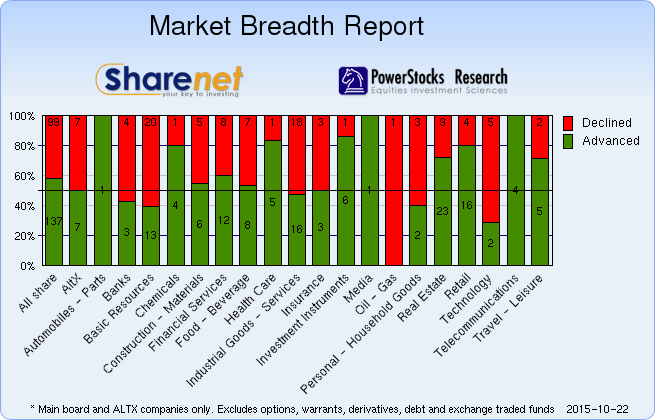 Trading Statistics
| Date | Adv. | Decl. | Unch. | Actives | Volume | Value | Trades | Orders |
| --- | --- | --- | --- | --- | --- | --- | --- | --- |
| 22/10/2015 | 205 | 145 | 52 | 402 | 256,625,947 | R16,661,057,196 | 222125 | 1970996 |
| 21/10/2015 | 149 | 182 | 68 | 399 | 237,499,614 | R16,313,691,266 | 212983 | 1846121 |
| 20/10/2015 | 143 | 195 | 51 | 389 | 263,649,514 | R16,644,161,842 | 214095 | 1549819 |
| 19/10/2015 | 194 | 145 | 52 | 391 | 281,456,395 | R19,793,612,526 | 230719 | 1728271 |
| 16/10/2015 | 165 | 166 | 74 | 405 | 276,359,763 | R17,887,088,542 | 198388 | 1851831 |
* Includes all listed instruments on the JSE
---
---
---
Index Summary
| | | | |
| --- | --- | --- | --- |
| Index Name | RP | Move | % Move |
| Top 40 | 47,814.72 | 220.13 | 0.46% |
| Industrial | 79,366.47 | 374.64 | 0.47% |
| Mid Cap | 68,374.56 | 860.36 | 1.27% |
| Small Cap | 58,756.58 | 197.09 | 0.34% |
| Resource 20 | 34,856.04 | 454.94 | 1.32% |
| Industrial 25 | 71,428.40 | 251.43 | 0.35% |
| Financial 15 | 16,713.91 | 56.66 | 0.34% |
| Financial & Ind. 30 | 75,512.63 | 232.59 | 0.31% |
| All Share | 53,293.97 | 296.00 | 0.56% |
| Oil & Gas | 9,320.53 | .00 | 0.00% |
| Mining | 20,760.33 | 265.80 | 1.30% |
| Gold Mining | 1,055.47 | 17.84 | 1.72% |
| Platinum Mining | 20.21 | .34 | 1.71% |
| GENERAL MINING | 6,172.90 | 75.79 | 1.24% |
| Oil & Gas Producers | 50,114.77 | .00 | 0.00% |
| Basic Materials | 20,787.63 | 166.34 | 0.81% |
| Chemicals | 21,345.35 | 9.20 | 0.04% |
| Forestry & Paper | 49,725.55 | -76.50 | -0.15% |
| Industrial Metals | 5,081.08 | -222.55 | -4.20% |
| Industrials | 45,112.21 | -42.51 | -0.09% |
| General Industrials | 164.77 | -.59 | -0.36% |
| Consumer Goods | 76,968.98 | -245.29 | -0.32% |
| Automobiles & Parts | 6,363.13 | 45.29 | 0.72% |
| Household Goods | 578.53 | 2 | 0.31% |
| Health Care | 9,541.64 | 85.89 | 0.91% |
| Beverages | 275.81 | -4.67 | -1.67% |

| | | | |
| --- | --- | --- | --- |
| Index Name | RP | Move | % Move |
| Food Producers | 9,228.17 | 137.90 | 1.52% |
| Personal Goods | 1,137.49 | 10.89 | 0.97% |
| Consumer Services | 17,123.20 | 267.03 | 1.58% |
| General Retailers | 8,149.76 | 179.48 | 2.25% |
| Travel & Leisure | 5,928.40 | 80.05 | 1.37% |
| Media | 431.96 | 5.46 | 1.28% |
| Support Services | 2,872.05 | -28.95 | -1.00% |
| Telecommunications | 9,487.35 | 194.52 | 2.09% |
| Financials | 44,835.44 | 193.60 | 0.43% |
| Banks | 7,456.63 | 39.07 | 0.53% |
| Non-life Insurance | 56,774.15 | -906.04 | -1.57% |
| Life Insurance | 41,305.35 | -77.56 | -0.19% |
| General Financial | 4,775.87 | 29.31 | 0.62% |
| Technology | 59,858.27 | -549.45 | -0.91% |
| SHARIAH TOP40 | 3,301.40 | 34 | 1.05% |
| FTSE/JSE SHARIAH ALL | 3,519.54 | 35 | 1.02% |
| COAL MINING | 7,392.90 | -178 | -2.35% |
| FTSE JSE Fledgling | 6,667.33 | -15 | -0.22% |
| FTSE/JSE Alt X | 1,557.99 | 13 | 0.87% |
| SA LISTED PROPERTY | 657.48 | | 0.77% |
| CAPPED PROPERTY | 590.36 | | 0.76% |
| RESOURCE | 18,853.77 | 241 | 1.30% |
| DIVIDEND PLUS | 204.22 | 2 | 0.74% |
| FTSE/JSE RAFI 40 | 9,363.01 | 37 | 0.40% |
| Capped Top 40 | 25,407.97 | 121 | 0.48% |
| Capped All Share | 27,029.14 | 150 | 0.56% |
| JSE TABACO | 10,104.91 | -32 | -0.32% |
Click here for the Sharenet Index Summary page
---
Latest Consensus Changes**

| | | | |
| --- | --- | --- | --- |
| Code | Company Name | Status | Updated |
| SGL | SIBANYE GOLD LIMITED | HOLD | 19/10/2015 |
| MND | MONDI LIMITED | BUY | 19/10/2015 |
| BVT | THE BIDVEST GROUP LIMITED | HOLD | 19/10/2015 |
| SPP | THE SPAR GROUP LTD | BUY | 19/10/2015 |
| ANG | ANGLOGOLD ASHANTI LIMITED | BUY | 19/10/2015 |

Results Expected**

| | | |
| --- | --- | --- |
| Expected | Company Name | Fin. Date |
| 23/10/2015 | AQUARIUS | September 2015 (Q) |
| 23/10/2015 | AQUARIUSCVT | September 2015 (Q) |
| 27/10/2015 | FAMBRANDS | August 2015 (Interim) |
| 27/10/2015 | OANDO | June 2015 (Interim) |
| 27/10/2015 | SVF | June 2015 (Final) |
---
Recent Dividends**

| | | | | |
| --- | --- | --- | --- | --- |
| Share Name | Dec-Date | LDT | Pay-Date | Amount |
| ADCORP | 21/10/15 | 27/11/15 | 07/12/15 | ZAR 0.6000 |
| VALUE | 21/10/15 | 08/01/16 | 18/01/16 | ZAR 0.0500 |
| DATATEC | 21/10/15 | 20/11/15 | 30/11/15 | ZAR 1.0500 |
| CMH | 21/10/15 | 04/12/15 | 14/12/15 | ZAR 0.4650 |
| EQUITES | 15/10/15 | 30/10/15 | 09/11/15 | ZAR 0.1639 |

Ex Div**

| | | | | |
| --- | --- | --- | --- | --- |
| Share Name | Dec-Date | LDT | Pay-Date | Amount |
| ILPREF2 | 30/09/15 | 16/10/15 | 26/10/15 | ZAR 13.2937 |
| ILRPREF1 | 30/09/15 | 16/10/15 | 26/10/15 | ZAR 13.2937 |
| CAPITEC | 29/09/15 | 16/10/15 | 26/10/15 | ZAR 3.7500 |
| ELBGROUP | 23/09/15 | 16/10/15 | 26/10/15 | ZAR 0.6700 |
| RCL | 01/09/15 | 16/10/15 | 26/10/15 | ZAR 0.2200 |
---
Upcoming AGMs**

| | | | |
| --- | --- | --- | --- |
| Code | Company Name | Date | Status |
| SVB | SilverBridge Holdings Ltd. | 27/10/2015 | Confirmed |
| AEGCB | Aveng Ltd. | 27/10/2015 | Confirmed |
| AEG | Aveng Ltd. | 27/10/2015 | Confirmed |
| DST | Distell Group Ltd. | 28/10/2015 | Confirmed |
| HCI | Hosken Consolidated Investments Ltd. | 29/10/2015 | Confirmed |
---
Stock Exchange News Service
Click here for more SENS news
---