Tuesday, 14 July 2015 - 20:00
Charts
Seed Weekly - The Seed Flexible Fund
We recently celebrated the Seed Flexible Fund's five year track record and this week I will be shedding some light on its ins and outs. The fund is a multi-managed unit trust that targets a return of 5% pa after inflation over rolling 5 year periods. The Fund sits in the ASISA South Africa Multi Asset High Equity category alongside most balanced unit trusts.
Process and Asset Allocation
The investment objective is to provide investors with long term capital growth over a full investment period (5 years). Third party specialist managers are appointed to manage segregate mandates, including strategies that are not otherwise available to retail investors. The Fund is managed as a Regulation 28 compliant Fund and is suitable for investors in retirement products. The net equity weighting (including international equity) will never exceed 75% of the total market value of the fund. The Fund's asset allocation is determined using Seed's proprietary developed Tactical Asset Allocation (TAA) process, where those asset classes that offer the best risk/return prospects are over weighted versus a Strategic Asset Allocation (SAA) and vice versa. We do not take an "all or nothing approach" and therefore expect more consistent risk adjusted returns than strategies that aren't always diversified across asset classes. Below is a graph depicting our current weights (as at 30 June 2015) in each of the asset classes (the blue bars) vs our historic highs and lows (green and red lines.)

With local equity being on the expensive side, it makes sense that our allocation here is close to the historic minimum. On the local property side we are overweight (vs the benchmark) while being underweight local bonds and cash. We are almost fully invested in offshore (including Africa) assets. Fund Metrics
Below is a risk reward plot showing the Fund vs its peers and some larger funds in the range. What is notable is how the Fund differs to its peers. It is clear that for similar returns (the y-axis), investors in the Seed Flexible Fund have experienced less risk. Some other advantages, which has been extensively covered in previous articles, includes our size (being relatively small (R792m) vs many peers (10 funds in excess of R10bn, with the largest one over R100bn)) as well as the fact that we make use of a multi-manager process.
Source: Morningstar Direct
The Fund's performance has been excellent in the recent past (3 and 1 year) mainly due to equities and property generating returns well in excess of their long term averages. These asset classes comprise 70% of the Fund's allocation and therefore have had a large impact on performance.
While past performance is no indication of future returns, we pride ourselves in taking utmost care by utilising qualitative and quantitative research, combined with investment experience, to make prudent investment decisions.
Kind regards,
Renier Hugo
Tel 021 914 4966
Fax 021 914 4912
Email info@seedinvestments.co.za
Seed is hiring: Click through to our LinkedIn profiles to see vacancies at Seed Investment Consultants and Seed Analytics
Top News
Coffee giant Starbucks will open stores in sub-Saharan Africa for the first time next year after agreeing a deal with Taste Holdings on Tuesday, sending the South African company's shares soaring 20 percent.

---

Iran and six major world powers reached a nuclear deal on Tuesday, capping more than a decade of negotiations with an agreement that could transform the Middle East.

U.S. President Barack Obama heralded a nuclear deal with Iran on Tuesday as an opportunity for a new direction in the Middle East and warned Congress he would veto any legislation that prevented its successful implementation.
---
On behalf of the Government Employees Pension Fund (˘GEPF÷) represented and acting through the Public Investment Corporation Ltd. (÷PIC÷), which hereby announces that it has appointed Deutsche Bank AG, London Branch as sole bookrunner to sell 25 million ordinary shares in Vodacom Group Ltd., representing approximately 1.7% of the companyĂs issued share capital. This placement is in relation to a hedging activity in respect of certain risk mitigation arrangements entered into by Merrill L. . .
Company Results
Total income increased to GBP726 138 (GBP78 976), while total comprehensive income came in at GBP457 991 (loss of GBP83 150). In addition, headline earnings per share per share was GBP1.35 (loss of GBP0.84pps). Outlook Atleaf will continue to pursue further asset acquisitions over the balance of the year. The Board is also pleased that there is now a solid asset base of income producing assets, from which to grow the Company.. . .
World Markets (Spot Prices)
| | | | | |
| --- | --- | --- | --- | --- |
| Name | Time | RP | Move | % Move |
| JSE Overall | 17:00 | 52109.52 | -365.30 | -0.70% |
| JSE Top 40 | 17:00 | 46571.30 | -336.60 | -0.72% |
| JSE Gold | 17:00 | 983.57 | 11.80 | 1.21% |
| JSE Financial | 17:00 | 44984.33 | -592.38 | -1.30% |
| JSE Industrial | 17:00 | 75249.12 | -386.92 | -0.51% |
| JSE Indust 25 | 17:00 | 67160.20 | -366.09 | -0.54% |
| JSE Resource | 17:00 | 37957.46 | -212.33 | -0.56% |
| DJ Futures | 10/07 | 17669.00 | -11.00 | 0.00% |
| DJ Ind | 19:58 | 18040.01 | 62.33 | 0.35% |
| SP 500 | 19:58 | 2107.46 | 7.86 | 0.37% |
| Nasdaq | 19:58 | 5107.22 | 35.71 | 0.70% |
| FTSE 100 | 17:35 | 6753.75 | 15.80 | 0.23% |
| DAX | 18:08 | 11516.90 | 32.52 | 0.28% |
| CAC40 | 18:08 | 5032.47 | 34.37 | 0.69% |
| Nikkei | 08:28 | 20385.33 | 295.56 | 1.47% |
| Shanghai | 09:28 | 3924.49 | -45.90 | -1.16% |
| Hang-Seng | 10:28 | 25120.91 | -103.10 | -0.41% |
| All Ords | 08:37 | 5561.90 | 101.50 | 1.86% |
| NZSE 50 | 07:48 | 5750.88 | 44.18 | 0.77% |

| | | | | |
| --- | --- | --- | --- | --- |
| Name | Time | RP | Move | % Move |
| Gold $ | 19:59 | 1154.15 | -3.40 | -0.29% |
| Gold R | 19:59 | 14234.76 | -167.44 | -1.16% |
| Gold R/kg | 19:58 | 457784 | -3717 | -0.81% |
| Silver $ | 19:59 | 15.3490 | -.1510 | -0.97% |
| Platinum $ | 19:59 | 1025.50 | -6.50 | -0.63% |
| Palladium $ | 19:59 | 653.50 | -2.50 | -0.38% |
| R186 | 16:50 | 8.15 | -.06 | -0.73% |
| R204 | 16:50 | 7.41 | -.06 | -0.87% |
| R207 | 16:50 | 7.62 | -.06 | -0.78% |
| Brent Crude | 19:42 | 58.46 | -.27 | -0.46% |
| USD / ZAR | 19:59 | 12.3329 | -0.1069 | -0.86% |
| GBP / ZAR | 19:55 | 19.2396 | -0.0072 | -0.04% |
| EUR/ ZAR | 19:55 | 13.5770 | -0.1170 | -0.85% |
| NZD/ ZAR | 19:59 | 8.2743 | -0.0507 | -0.61% |
| AUD / ZAR | 19:55 | 9.1891 | -0.0273 | -0.30% |
| USD / JPY | 19:59 | 123.3150 | -0.1270 | -0.10% |
| EUR / USD | 19:59 | 1.1006 | 0.0001 | 0.00% |
| GBP / USD | 19:59 | 1.5633 | 0.0145 | 0.93% |
Click here for the Sharenet Spot Price page
The JSE Today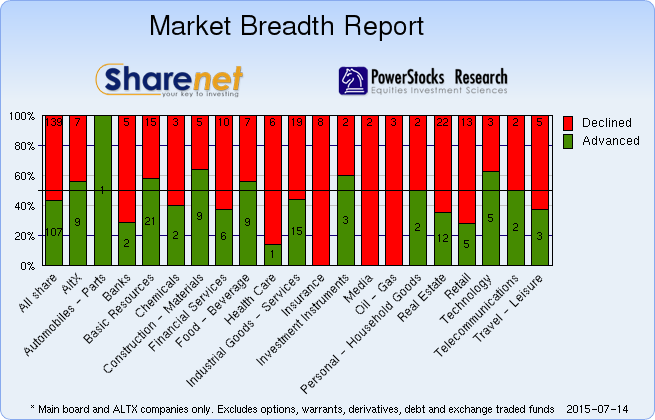 Trading Statistics
| Date | Adv. | Decl. | Unch. | Actives | Volume | Value | Trades | Orders |
| --- | --- | --- | --- | --- | --- | --- | --- | --- |
| 14/07/2015 | 141 | 210 | 51 | 402 | 182,247,199 | R12,842,299,118 | 183669 | 1417080 |
| 13/07/2015 | 210 | 161 | 41 | 412 | 236,252,045 | R17,519,233,538 | 223709 | 1530687 |
| 10/07/2015 | 224 | 126 | 68 | 418 | 266,573,708 | R16,247,613,109 | 221965 | 55001 |
| 09/07/2015 | 244 | 111 | 57 | 412 | 240,704,056 | R18,726,177,404 | 262489 | 84203 |
| 08/07/2015 | 173 | 178 | 69 | 420 | 267,360,775 | R21,752,448,959 | 280661 | 325202 |
* Includes all listed instruments on the JSE
---
---
---
Index Summary
| | | | |
| --- | --- | --- | --- |
| Index Name | RP | Move | % Move |
| Top 40 | 46,571.30 | -336.60 | -0.72% |
| Industrial | 75,249.12 | -386.92 | -0.51% |
| Mid Cap | 68,206.28 | -527.62 | -0.77% |
| Small Cap | 59,053.64 | 104.72 | 0.18% |
| Resource 20 | 37,957.46 | -212.33 | -0.56% |
| Industrial 25 | 67,160.20 | -366.09 | -0.54% |
| Financial 15 | 17,132.45 | -227.60 | -1.31% |
| Financial & Ind. 30 | 72,484.10 | -518.47 | -0.71% |
| All Share | 52,109.52 | -365.30 | -0.70% |
| Oil & Gas | 11,343.79 | -42.33 | -0.37% |
| Mining | 22,720.81 | -109.20 | -0.48% |
| Gold Mining | 983.57 | 11.80 | 1.21% |
| Platinum Mining | 23.56 | .38 | 1.64% |
| GENERAL MINING | 6,849.11 | -63.43 | -0.92% |
| Oil & Gas Producers | 60,993.45 | -227.59 | -0.37% |
| Basic Materials | 22,061.22 | -133.70 | -0.60% |
| Chemicals | 22,110.44 | -144.71 | -0.65% |
| Forestry & Paper | 45,989.72 | -690.31 | -1.48% |
| Industrial Metals | 7,313.71 | 261.33 | 3.71% |
| Industrials | 44,381.50 | -434.98 | -0.97% |
| General Industrials | 158.76 | -1.81 | -1.13% |
| Consumer Goods | 67,220.15 | -240.08 | -0.36% |
| Automobiles & Parts | 7,730.86 | 101.90 | 1.34% |
| Household Goods | 533.31 | -7 | -1.31% |
| Health Care | 9,868.27 | -77.89 | -0.78% |
| Beverages | 227.91 | -1.16 | -0.51% |

| | | | |
| --- | --- | --- | --- |
| Index Name | RP | Move | % Move |
| Food Producers | 8,656.81 | 4.74 | 0.05% |
| Personal Goods | 1,023.73 | .90 | 0.09% |
| Consumer Services | 16,524.29 | -129.88 | -0.78% |
| General Retailers | 82,019.56 | -1301.91 | -1.56% |
| Travel & Leisure | 6,134.15 | -1.27 | -0.02% |
| Media | 405.55 | -2.14 | -0.52% |
| Support Services | 3,299.11 | 17.70 | 0.54% |
| Telecommunications | 10,610.78 | 46.11 | 0.44% |
| Financials | 44,984.33 | -592.38 | -1.30% |
| Banks | 79,120.66 | -681.65 | -0.85% |
| Non-life Insurance | 57,399.45 | -25.52 | -0.04% |
| Life Insurance | 42,499.30 | -808.67 | -1.87% |
| General Financial | 4,630.45 | -73.20 | -1.56% |
| Technology | 63,900.27 | -82.78 | -0.13% |
| SHARIAH TOP40 | 3,503.20 | -23 | -0.64% |
| FTSE/JSE SHARIAH ALL | 3,707.10 | -18 | -0.47% |
| COAL MINING | 10,238.56 | 277 | 2.78% |
| FTSE JSE Fledgling | 6,762.23 | 35 | 0.52% |
| FTSE/JSE Alt X | 1,331.01 | 5 | 0.35% |
| SA LISTED PROPERTY | 633.01 | | -1.05% |
| CAPPED PROPERTY | 554.30 | | -1.23% |
| RESOURCE | 20,635.53 | -99 | -0.48% |
| DIVIDEND PLUS | 218.43 | -1 | -0.66% |
| FTSE/JSE RAFI 40 | 9,565.31 | -74 | -0.77% |
| Capped Top 40 | 24,840.45 | -181 | -0.72% |
| Capped All Share | 26,430.90 | -185 | -0.70% |
| JSE TABACO | 8,928.80 | -38 | -0.43% |
Click here for the Sharenet Index Summary page
---
Latest Consensus Changes**

| | | | |
| --- | --- | --- | --- |
| Code | Company Name | Status | Updated |
| REM | REMGRO LIMITED | BUY | 09/07/2015 |
| MMI | MMI HOLDINGS LTD | HOLD | 09/07/2015 |
| SAB | SABMILLER PLC | HOLD | 08/07/2015 |
| OCT | OCTODEC INVESTMENTS LIMIT... | BUY | 08/07/2015 |
| MSM | MASSMART HOLDINGS LTD | HOLD | 08/07/2015 |

Results Expected**

| | | |
| --- | --- | --- |
| Expected | Company Name | Fin. Date |
| 15/07/2015 | ROCKWELL | May 2015 (Q) |
| 15/07/2015 | SIBANYE | June 2015 (Interim) |
| 20/07/2015 | AMPLATS | June 2015 (Interim) |
| 20/07/2015 | ANGLOPLATCCP | June 2015 (Interim) |
| 20/07/2015 | SACOVEN | March 2015 (Final) |
---
Recent Dividends**

| | | | | |
| --- | --- | --- | --- | --- |
| Share Name | Dec-Date | LDT | Pay-Date | Amount |
| AMECOR | 30/06/15 | 17/07/15 | 27/07/15 | ZAR 0.0800 |
| ARGENT | 30/06/15 | 25/09/15 | 05/10/15 | ZAR 0.0900 |
| ILPREF2 | 30/06/15 | 17/07/15 | 27/07/15 | ZAR 13.8847 |
| ILRPREF1 | 30/06/15 | 17/07/15 | 27/07/15 | ZAR 12.8930 |
| NICTUS | 30/06/15 | 17/07/15 | 27/07/15 | ZAR 0.0300 |

Ex Div**

| | | | | |
| --- | --- | --- | --- | --- |
| Share Name | Dec-Date | LDT | Pay-Date | Amount |
| AEG CONV | 26/06/15 | 10/07/15 | 24/07/15 | ZAR 362.5000 |
| TFG | 28/05/15 | 10/07/15 | 20/07/15 | ZAR 3.2500 |
| LEWIS | 27/05/15 | 10/07/15 | 20/07/15 | ZAR 3.0200 |
| OMNIA | 23/06/15 | 10/07/15 | 20/07/15 | ZAR 3.0000 |
| TELKOM | 08/06/15 | 10/07/15 | 20/07/15 | ZAR 2.1500 |
---
Upcoming AGMs**

| | | | |
| --- | --- | --- | --- |
| Code | Company Name | Date | Status |
| ILV | Illovo Sugar Ltd. | 15/07/2015 | Confirmed |
| GAM | Global Asset Management Ltd. | 15/07/2015 | Confirmed |
| SMM | Sable Metals and Minerals Ltd. | 16/07/2015 | Confirmed |
| VOD | Vodacom Group Ltd. | 16/07/2015 | Confirmed |
| AEL | Allied Electronics Corporation Ltd. | 20/07/2015 | Confirmed |
---
Stock Exchange News Service
Click here for more SENS news
---