Wednesday, 26 February 2014 - 20:00
Charts
Seed Weekly - Making Retirement Annuities Work
We've all heard the line 'remember the tax benefits of investing in a Retirement Annuity (RA)' somewhere before. This is true but doesn't quite explain how you are supposed to approach your investment in an RA. The most obvious benefit is that you can contribute 15% of your income, after contributions to pension and provident funds have been deducted, to your RA and deduct this from your gross taxable income. This is a great tool to reduce you tax burden. Another benefit to investing through RA's is that no Capital Gains Taxes (CGT) are levied on switches made between funds, a massive benefit if you have a long time before retirement. The downside of RA's is that only 1/3rd can be taken as a lump sum at retirement while the balance needs to be invested into either an investment linked living annuity (ILLA) or a guaranteed annuity from which an income has to be drawn. This income from the annuity is taxed according to the income tax table.
In a previous article I mentioned that income from discretionary investments are in most cases taxed at a lower rate than annuities but are only more tax efficient after retirement. Investors are therefore left with the headache of choosing how to make best use of the various vehicles available to them to reach certain financial goals.
The reason why discretionary assets tend to last longer when you start drawing an income after retirement is because the tax benefit remains within the investment. This is not always the case when building up a retirement annuity, the tax deductible benefit is more often than not consumed instead of being invested. Consuming the tax benefit of your RA will lead to reduced benefits available, compared to what could have been achieved had a similar investment been made of a discretionary nature. To show the massive impact this would have on your assets consider an example of a 45 year old person who has 20 years to go to retirement, has R 6 000 a month to invest and earns R 750 000 per year. If he/she doesn't contribute to a pension/provident fund R 112 500 can be contributed to a RA per annum and then deducted from taxable income. According to some basic calculations R 6 000 a month into an RA results in a tax saving of R 28 759 per annum. If this tax saving is not invested the below graph shows a possible future value of the investment in real terms:
The value estimated through Seed's retirement calculation tool is +- R 2 500 000.
Now if the extra R 28 759 is invested annually into the existing RA the below graph shows the benefit that can be attained:
The difference estimated is a massive R 1 million, or 40% more for the investor that reinvested the tax benefit received.
The charts above should be used as a reference to show the possible downside of consuming the tax benefit of your RA. It should also serve as a reminder to 'top up your RA' and be disciplined in your approach to building assets. The best way to stay on track is to get a long term advisor who can help you navigate through the pitfalls and opportunities on your journey to financial freedom.
Kind regards,
Stefan Keeve
www.seedinvestments.co.za
info@seedinvestments.co.za
021 914 4966
Wed, 26 Feb 2014
Top News
South Africa's rand was weaker against the dollar on Wednesday after Finance Minister Pravin Gordhan presented the 2014 budget to parliament and as emerging market currencies came under pressure.

---

President Vladimir Putin put 150,000 Russian combat troops on high alert for war games near Ukraine on Wednesday, the Kremlin's boldest gesture yet after days of sabre rattling since its ally Viktor Yanukovich was toppled as president in Kiev.

A former chief editor of a major Hong Kong newspaper known for its critical reporting was stabbed and seriously wounded on Wednesday in an attack that has fuelled concerns about what many see as an erosion of media freedoms.
World Markets (Spot Prices)
| | | | | |
| --- | --- | --- | --- | --- |
| Name | Time | RP | Move | % Move |
| JSE Overall | 17:00 | 47017.19 | 60.44 | 0.13% |
| JSE Top 40 | 17:00 | 42535.95 | 93.40 | 0.22% |
| JSE Gold | 17:00 | 1473.66 | -46.50 | -3.06% |
| JSE Financial | 17:00 | 32873.26 | -49.38 | -0.15% |
| JSE Industrial | 17:00 | 61187.70 | 181.66 | 0.30% |
| JSE Indust 25 | 17:00 | 54134.66 | 214.16 | 0.40% |
| JSE Resource | 17:00 | 56125.01 | 20.36 | 0.04% |
| DJ Futures | 19:52 | 16215.00 | 23.00 | 0.14% |
| DJ Ind | 19:58 | 16233.61 | 53.95 | 0.33% |
| SP 500 | 19:58 | 1851.16 | 6.04 | 0.33% |
| Nasdaq | 19:58 | 4314.73 | 27.14 | 0.63% |
| FTSE 100 | 18:35 | 6799.15 | -31.35 | -0.46% |
| DAX | 19:08 | 9661.73 | -37.62 | -0.39% |
| CAC40 | 19:08 | 4396.91 | -17.64 | -0.40% |
| Nikkei | 08:54 | 14970.97 | -80.63 | -0.54% |
| Shanghai | 09:28 | 2041.25 | 7.03 | 0.35% |
| Hang-Seng | 10:28 | 22437.44 | 120.24 | 0.54% |
| All Ords | 07:39 | 5447.00 | 3.00 | 0.06% |
| NZSE 50 | 06:50 | 4973.20 | 5.69 | 0.11% |

| | | | | |
| --- | --- | --- | --- | --- |
| Name | Time | RP | Move | % Move |
| Gold $ | 19:59 | 1328.90 | -11.50 | -0.86% |
| Gold R | 19:59 | 14400.83 | 15.44 | 0.11% |
| Gold R/kg | 19:58 | 463026 | 1310 | 0.28% |
| Silver $ | 19:59 | 21.3100 | -.5480 | -2.51% |
| Platinum $ | 19:59 | 1426.50 | -7.50 | -0.52% |
| Palladium $ | 19:59 | 729.75 | -2.25 | -0.31% |
| R157 | 17:43 | 7.12 | .02 | 0.21% |
| R186 | 17:43 | 8.55 | .04 | 0.41% |
| R204 | 16:59 | 8.02 | .01 | 0.12% |
| R207 | 16:59 | 8.23 | .02 | 0.24% |
| Brent Crude | 19:58 | 109.61 | -1.03 | -0.93% |
| Rand / Dollar | 19:59 | 10.8360 | 0.1056 | 0.98% |
| Rand / Pound | 19:55 | 18.0076 | 0.1427 | 0.80% |
| Rand / Euro | 19:55 | 14.8198 | 0.0711 | 0.48% |
| Rand / NZD | 19:59 | 8.9881 | 0.0528 | 0.59% |
| Rand / AUD | 19:55 | 9.7148 | 0.0374 | 0.39% |
| Yen / Dollar | 19:59 | 102.5570 | 0.3530 | 0.35% |
| Euro / Dollar | 19:59 | 0.7315 | 0.0039 | 0.54% |
| Dollar / Euro | 19:59 | 1.3671 | -0.0074 | -0.54% |
| Pound / Dollar | 19:55 | 0.6008 | 0.0015 | 0.25% |
Click here for the Sharenet Spot Price page
The JSE Today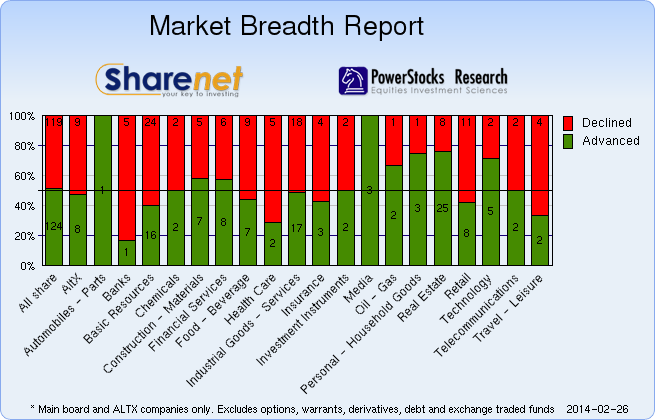 Trading Statistics
| Date | Adv. | Decl. | Unch. | Actives | Volume | Value | Trades | Orders |
| --- | --- | --- | --- | --- | --- | --- | --- | --- |
| 26/02/2014 | 175 | 174 | 67 | 416 | 224,903,423 | R14,593,310,831 | 180947 | 217855 |
| 25/02/2014 | 144 | 247 | 58 | 449 | 255,565,439 | R14,408,782,400 | 140257 | 950278 |
| 24/02/2014 | 184 | 173 | 66 | 423 | 217,925,007 | R12,425,140,604 | 140713 | 165215 |
| 21/02/2014 | 207 | 129 | 71 | 407 | 227,660,761 | R15,020,233,693 | 141070 | 1219858 |
| 20/02/2014 | 125 | 243 | 64 | 432 | 225,529,856 | R17,702,592,902 | 181316 | 106501 |
* Includes all listed instruments on the JSE
---
---
---
Index Summary
| | | | |
| --- | --- | --- | --- |
| Index Name | RP | Move | % Move |
| Top 40 | 42,535.95 | 93.40 | 0.22% |
| Industrial | 61,187.70 | 181.66 | 0.30% |
| Mid Cap | 57,699.17 | -243.91 | -0.42% |
| Small Cap | 50,737.95 | -81.59 | -0.16% |
| Resource 20 | 56,125.01 | 20.36 | 0.04% |
| Industrial 25 | 54,134.66 | 214.16 | 0.40% |
| Financial 15 | 12,605.90 | -25.32 | -0.20% |
| Financial & Ind. 30 | 57,197.89 | 158.36 | 0.28% |
| All Share | 47,017.19 | 60.44 | 0.13% |
| Oil & Gas | 41,620.25 | 708.31 | 1.73% |
| Mining | 33,888.96 | -130.49 | -0.38% |
| Gold Mining | 1,473.66 | -46.50 | -3.06% |
| Platinum Mining | 48.09 | -1.33 | -2.69% |
| GENERAL MINING | 9,868.39 | 24.55 | 0.25% |
| Oil & Gas Producers | 22,378.44 | 380.85 | 1.73% |
| Basic Materials | 30,005.78 | -109.02 | -0.36% |
| Chemicals | 24,258.61 | -152.12 | -0.62% |
| Forestry & Paper | 31,182.88 | 167.83 | 0.54% |
| Industrial Metals | 23,932.33 | -536.40 | -2.19% |
| Industrials | 41,341.10 | -51.03 | -0.12% |
| General Industrials | 127.71 | .66 | 0.52% |
| Consumer Goods | 56,934.98 | 382.78 | 0.68% |
| Automobiles & Parts | 10,088.16 | 45.29 | 0.45% |
| Household Goods | 342.71 | 4 | 1.04% |
| Health Care | 73,567.96 | 1595.17 | 2.22% |
| Beverages | 177.79 | 2.67 | 1.52% |

| | | | |
| --- | --- | --- | --- |
| Index Name | RP | Move | % Move |
| Food Producers | 63,185.39 | -883.00 | -1.38% |
| Personal Goods | 1,065.18 | .20 | 0.02% |
| Consumer Services | 11,523.47 | -31.37 | -0.27% |
| General Retailers | 54,177.85 | -130.38 | -0.24% |
| Travel & Leisure | 5,373.00 | -6.80 | -0.13% |
| Media | 280.94 | .11 | 0.04% |
| Support Services | 2,650.74 | -102.95 | -3.74% |
| Telecommunications | 9,378.47 | -20.45 | -0.22% |
| Financials | 32,873.26 | -49.38 | -0.15% |
| Banks | 55,433.00 | -819.43 | -1.46% |
| Non-life Insurance | 43,183.58 | 1202.10 | 2.86% |
| Life Insurance | 31,870.70 | 163.91 | 0.52% |
| General Financial | 3,233.59 | 2.66 | 0.08% |
| Technology | 42,298.61 | 42.44 | 0.10% |
| SHARIAH TOP40 | 4,075.30 | 11 | 0.26% |
| FTSE/JSE SHARIAH ALL | 4,163.37 | 5 | 0.11% |
| COAL MINING | 18,204.13 | -324 | -1.75% |
| FTSE JSE Fledgling | 6,486.89 | -1 | -0.01% |
| FTSE/JSE Alt X | 1,167.34 | -9 | -0.75% |
| SA LISTED PROPERTY | 469.49 | | 0.77% |
| CAPPED PROPERTY | 417.77 | | 0.50% |
| RESOURCE | 30,675.91 | -5 | -0.02% |
| DIVIDEND PLUS | 204.67 | -0 | -0.22% |
| FTSE/JSE RAFI 40 | 9,307.97 | 3 | 0.04% |
| Capped Top 40 | 22,458.55 | 47 | 0.21% |
| Capped All Share | 23,789.28 | 30 | 0.13% |
| JSE TABACO | 7,327.94 | 88 | 1.21% |
Click here for the Sharenet Index Summary page
---
Latest Consensus Changes**

| | | | |
| --- | --- | --- | --- |
| Code | Company Name | Status | Updated |
| BTI | BRITISH AM. TOBACCO PLC | BUY | 24/02/2014 |
| NHM | NORTHAM PLATINUM LIMITED | HOLD | 24/02/2014 |
| TRU | TRUWORTHS INTERNATIONAL L... | BUY | 24/02/2014 |
| GRF | GROUP FIVE LIMITED | HOLD | 24/02/2014 |
| NED | NEDBANK GROUP LTD | BUY | 24/02/2014 |

Results Expected**

| | | |
| --- | --- | --- |
| Expected | Company Name | Fin. Date |
| 27/02/2014 | BATS | December 2013 (Final) |
| 27/02/2014 | BIDVEST | December 2013 (Interim) |
| 27/02/2014 | GRINDROD | December 2013 (Final) |
| 27/02/2014 | GRINDROD PREF | December 2013 (Final) |
| 27/02/2014 | GROWPNT | December 2013 (Interim) |
---
Recent Dividends**

| | | | | |
| --- | --- | --- | --- | --- |
| Share Name | Dec-Date | LDT | Pay-Date | Amount |
| SHOPRIT | 25/02/14 | 13/03/14 | 24/03/14 | ZAR 1.3200 |
| AECI | 25/02/14 | 04/04/14 | 14/04/14 | ZAR 2.1000 |
| SPANJAARD | 25/02/14 | 16/05/14 | 26/05/14 | ZAR 0.1200 |
| CAPCO | 25/02/14 | 16/05/14 | 19/06/14 | GBP 0.0100 |
| NEDBANK | 24/02/14 | 28/03/14 | 07/04/14 | ZAR 5.0500 |

Ex Div**

| | | | | |
| --- | --- | --- | --- | --- |
| Share Name | Dec-Date | LDT | Pay-Date | Amount |
| RESILIENT | 05/02/14 | 21/02/14 | 03/03/14 | ZAR 1.5959 |
| ASCEN A | 03/02/14 | 21/02/14 | 03/03/14 | ZAR 0.1995 |
| ASCEN B | 03/02/14 | 21/02/14 | 03/03/14 | ZAR 0.1036 |
| SHOPRIT 6% | 07/02/14 | 21/02/14 | 03/03/14 | ZAR 0.0600 |
| SHOPRIT 5% | 07/02/14 | 21/02/14 | 03/03/14 | ZAR 0.0500 |
---
Upcoming AGMs**

| | | | |
| --- | --- | --- | --- |
| Code | Company Name | Date | Status |
| CULP | Cullinan Holdings Ltd. | 26/02/2014 | Confirmed |
| CUP3 | Cullinan Holdings Ltd. | 26/02/2014 | Confirmed |
| CUP2 | Cullinan Holdings Ltd. | 26/02/2014 | Confirmed |
| CUL | Cullinan Holdings Ltd. | 26/02/2014 | Confirmed |
| CSG | CSG Holdings Ltd. | 26/02/2014 | Confirmed |
---
Stock Exchange News Service
Click here for more SENS news
---