Tuesday, 05 November 2013 - 20:00
Charts
Seed Weekly - The Cash Safety Trap
The move from defined benefit funds to defined contribution funds and the subsequent transfer of pre and post retirement investment risk to the retiree, has created some very interesting scenarios for retirement funds members both approaching retirement and in their post retirement phase.
I have seen a number of "life stage" retirement portfolios which change the investment risk as a member nears retirement. Whilst the rationale is sound to a degree, those members who are planning to use investment linked living annuities rather than purchasing a guaranteed annuity need to be very careful of moving their entire investment amount to cash a couple of years before retirement. The reason why this happens is that it is assumed that people nearing retirement should not be exposed to capital volatility. Whilst this may be true for people purchasing a guaranteed annuity from an insurance company, this rationale ignores the fact that members transferring to a living annuity often have a thirty year plus time horizon for their investment. A recent presentation by Prescient graphically illustrated this example.
In this example we had a fund member (Mr Cash) who transferred all of his assets into cash three years before retiring in June 2008. Anybody who has had any exposure to equity markets will realize that our poor member's retirement date was just before the biggest market crash in many years. The graph above also shows an example of a member (Mr Balanced) who stayed in a generic balanced fund (which can have exposure of up to 75% in equities) this is totally contrary to conventional wisdom on retirement funds. Our two members left their investment portfolios as is when transferring to a living annuity.
At retirement date Mr Balanced, who had invested in the generic balanced fund, had approximately R 600 000 more capital than Mr Cash and was feeling very smug. A month or so later he was feeling suicidal and Mr Cash felt that he had made the correct decision. Unfortunately, what normally would happen now is that Mr Balanced would say he cannot afford to stay in the balanced fund because "we are going to have a double dip" and he is going to lose all the money that he had saved for his retirement, he wants to switch into cash to be like Mr Cash (safe and steady). If he listened to his financial advisor (we will assume that he wasn't feeling suicidal as well) and stayed in his balanced portfolio, three years later he would be substantially better off than Mr Cash.
The problem with long term cash investments, is that whilst you do not see much capital volatility, you are almost guaranteed to lose money in real terms in the long run. The graph illustrates that using absolute return or more flexible balanced funds will reduce this volatility but illustrates the point graphically that if you are going to be using an investment linked living annuity you can't afford to be in cash type portfolios either before retirement or after retirement.
Kind regards,
Barry Hugo
www.seedinvestments.co.za
info@seedinvestments.co.za
021 914 4966
Tue, 05 Nov 2013
Top News
South African stocks scaled record closing peaks for the second straight session on Tuesday, with platinum producers such as Impala Platinum leading the uphill charge on a weaker rand.

---

A gunman opened fire in a crowded New Jersey mall late on Monday before killing himself, officials said, sparking a mass evacuation of the complex by police who did not realize he was dead for several hours.

D emocratic Republic of Congo's M23 rebel group on Tuesday called an end to a 20-month revolt after the army captured its last hilltop strongholds, raising hopes for peace in a region where millions have died in nearly two decades of violence.
World Markets (Spot Prices)
| | | | | |
| --- | --- | --- | --- | --- |
| Name | Time | RP | Move | % Move |
| JSE Overall | 17:00 | 45750.23 | 78.79 | 0.17% |
| JSE Top 40 | 17:00 | 40929.70 | 66.36 | 0.16% |
| JSE Gold | 17:00 | 1285.14 | -12.84 | -0.99% |
| JSE Financial | 17:00 | 33326.89 | -282.75 | -0.84% |
| JSE Industrial | 17:00 | 59774.59 | -253.22 | -0.42% |
| JSE Indust 25 | 17:00 | 52400.49 | -249.59 | -0.47% |
| JSE Resource | 17:00 | 52625.89 | 1114.66 | 2.16% |
| DJ Futures | 19:48 | 15575.00 | 2.00 | 0.01% |
| DJ Ind | 20:00 | 15629.87 | -9.25 | -0.06% |
| SP 500 | 20:00 | 1765.48 | -2.45 | -0.14% |
| Nasdaq | 20:00 | 3939.29 | 2.70 | 0.07% |
| FTSE 100 | 18:35 | 6746.84 | -16.78 | -0.25% |
| DAX | 19:10 | 9009.11 | -28.12 | -0.31% |
| CAC40 | 19:10 | 4253.34 | -35.25 | -0.82% |
| Nikkei | 08:32 | 14225.37 | 23.80 | 0.17% |
| Shanghai | 09:30 | 2157.24 | 7.61 | 0.35% |
| Hang-Seng | 10:28 | 23038.95 | -150.67 | -0.65% |
| All Ords | 07:53 | 5425.70 | 41.50 | 0.77% |
| NZSE 50 | 06:48 | 4938.70 | 28.02 | 0.57% |

| | | | | |
| --- | --- | --- | --- | --- |
| Name | Time | RP | Move | % Move |
| Gold $ | 19:59 | 1310.10 | -3.55 | -0.27% |
| Gold R | 20:00 | 13377.17 | 6.84 | 0.05% |
| Gold R/kg | 20:00 | 430076 | 220 | 0.05% |
| Silver $ | 19:59 | 21.6300 | .0120 | 0.06% |
| Platinum $ | 19:59 | 1446.50 | -.30 | -0.02% |
| Palladium $ | 19:59 | 747.00 | 1.00 | 0.13% |
| R157 | 17:22 | 6.06 | .04 | 0.67% |
| R186 | 17:44 | 8.15 | .06 | 0.80% |
| R204 | 17:22 | 7.00 | .04 | 0.50% |
| R207 | 17:22 | 7.32 | .05 | 0.69% |
| Brent Crude | 20:00 | 105.72 | -.19 | -0.18% |
| Rand / Dollar | 19:59 | 10.2108 | 0.0819 | 0.81% |
| Rand / Pound | 19:55 | 16.3526 | 0.1986 | 1.23% |
| Rand / Euro | 19:55 | 13.7580 | 0.0574 | 0.42% |
| Rand / NZD | 28/10 | 8.1530 | 0.0228 | 0.00% |
| Rand / AUD | 19:55 | 9.6887 | 0.0482 | 0.50% |
| Yen / Dollar | 19:59 | 98.5730 | -0.0880 | -0.09% |
| Euro / Dollar | 19:55 | 0.7423 | 0.0025 | 0.34% |
| Dollar / Euro | 19:59 | 1.3468 | -0.0043 | -0.32% |
| Pound / Dollar | 19:55 | 0.6232 | -0.0030 | -0.48% |
Click here for the Sharenet Spot Price page
The JSE Today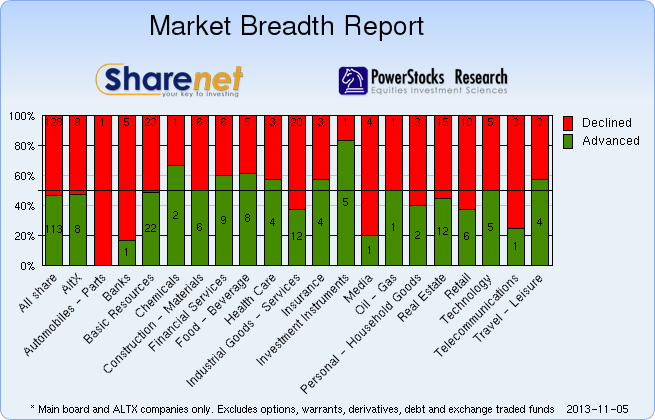 Trading Statistics
| Date | Adv. | Decl. | Unch. | Actives | Volume | Value | Trades | Orders |
| --- | --- | --- | --- | --- | --- | --- | --- | --- |
| 05/11/2013 | 186 | 180 | 71 | 437 | 201,069,220 | R12,145,463,021 | 124421 | 1457498 |
| 04/11/2013 | 198 | 159 | 84 | 441 | 187,888,846 | R9,154,293,312 | 106294 | 1168942 |
| 01/11/2013 | 184 | 169 | 74 | 427 | 180,590,567 | R12,090,747,361 | 128596 | 751820 |
| 31/10/2013 | 177 | 183 | 59 | 419 | 213,783,848 | R12,316,981,503 | 139751 | 1362821 |
| 30/10/2013 | 215 | 136 | 75 | 426 | 181,768,755 | R9,941,080,332 | 112988 | 1165822 |
* Includes all listed instruments on the JSE
---
---
---
Index Summary
| | | | |
| --- | --- | --- | --- |
| Index Name | RP | Move | % Move |
| Top 40 | 40,929.70 | 66.36 | 0.16% |
| Industrial | 59,774.59 | -253.22 | -0.42% |
| Mid Cap | 60,040.27 | 108.34 | 0.18% |
| Small Cap | 50,781.13 | 223.16 | 0.44% |
| Resource 20 | 52,625.89 | 1114.66 | 2.16% |
| Industrial 25 | 52,400.49 | -249.59 | -0.47% |
| Financial 15 | 12,585.89 | -150.30 | -1.18% |
| Financial & Ind. 30 | 55,539.47 | -391.35 | -0.70% |
| All Share | 45,750.23 | 78.79 | 0.17% |
| Oil & Gas | 38,019.66 | 31.03 | 0.08% |
| Mining | 31,969.30 | 807.20 | 2.59% |
| Gold Mining | 1,285.14 | -12.84 | -0.99% |
| Platinum Mining | 51.00 | 2.23 | 4.57% |
| GENERAL MINING | 9,249.14 | 250.90 | 2.79% |
| Oil & Gas Producers | 20,442.47 | 16.69 | 0.08% |
| Basic Materials | 28,373.78 | 644.14 | 2.32% |
| Chemicals | 23,813.40 | 205.99 | 0.87% |
| Forestry & Paper | 29,749.31 | -46.89 | -0.16% |
| Industrial Metals | 23,607.81 | 246.53 | 1.06% |
| Industrials | 43,927.06 | -85.40 | -0.19% |
| General Industrials | 131.49 | -.49 | -0.37% |
| Consumer Goods | 56,112.24 | -213.44 | -0.38% |
| Automobiles & Parts | 8,869.88 | -74.73 | -0.84% |
| Household Goods | 259.31 | -3 | -1.22% |
| Health Care | 76,825.05 | 303.36 | 0.40% |
| Beverages | 180.75 | -.41 | -0.23% |

| | | | |
| --- | --- | --- | --- |
| Index Name | RP | Move | % Move |
| Food Producers | 71,306.51 | 113.82 | 0.16% |
| Personal Goods | 1,036.42 | -9.88 | -0.94% |
| Consumer Services | 10,314.03 | -97.82 | -0.94% |
| General Retailers | 65,724.56 | -457.96 | -0.69% |
| Travel & Leisure | 5,738.77 | 11.01 | 0.19% |
| Media | 201.14 | -3.01 | -1.47% |
| Support Services | 2,670.06 | -24.45 | -0.91% |
| Telecommunications | 9,388.22 | -51.64 | -0.55% |
| Financials | 33,326.89 | -282.75 | -0.84% |
| Banks | 56,953.97 | -851.21 | -1.47% |
| Non-life Insurance | 48,760.18 | 12.76 | 0.03% |
| Life Insurance | 32,154.39 | -295.12 | -0.91% |
| General Financial | 3,160.81 | -11.25 | -0.35% |
| Technology | 45,551.85 | -137.20 | -0.30% |
| SHARIAH TOP40 | 3,885.95 | 52 | 1.36% |
| FTSE/JSE SHARIAH ALL | 4,003.25 | 47 | 1.19% |
| COAL MINING | 19,731.37 | 353 | 1.82% |
| FTSE JSE Fledgling | 6,275.36 | -12 | -0.19% |
| FTSE/JSE Alt X | 1,070.44 | -8 | -0.73% |
| SA LISTED PROPERTY | 507.51 | | 0.09% |
| CAPPED PROPERTY | 431.68 | | -0.25% |
| RESOURCE | 28,775.64 | 605 | 2.15% |
| DIVIDEND PLUS | 218.27 | -1 | -0.48% |
| FTSE/JSE RAFI 40 | 9,041.41 | 36 | 0.39% |
| Capped Top 40 | 21,621.35 | 19 | 0.09% |
| Capped All Share | 23,159.28 | 33 | 0.14% |
| JSE TABACO | 7,173.83 | 72 | 1.01% |
Click here for the Sharenet Index Summary page
---
Latest Consensus Changes**

| | | | |
| --- | --- | --- | --- |
| Code | Company Name | Status | Updated |
| REI | REINET INVESTMENTS SCA | HOLD | 03/11/2013 |
| ABL | AFRICAN BANK INVESTMENTS ... | BUY | 01/11/2013 |
| RMH | RMB HOLDINGS LIMITED | HOLD | 31/10/2013 |
| SAB | SABMILLER PLC | HOLD | 31/10/2013 |
| RBP | ROYAL BAFOKENG PLATINUM L... | HOLD | 31/10/2013 |

Results Expected**

| | | |
| --- | --- | --- |
| Expected | Company Name | Fin. Date |
| 06/11/2013 | AFDAWN | August 2013 (Interim) |
| 06/11/2013 | MEDCLIN | September 2013 (Interim) |
| 06/11/2013 | PERGRIN | September 2013 (Interim) |
| 06/11/2013 | PERGRINP | September 2013 (Interim) |
| 07/11/2013 | BSI STEEL | September 2013 (Interim) |
---
Recent Dividends**

| | | | | |
| --- | --- | --- | --- | --- |
| Share Name | Dec-Date | LDT | Pay-Date | Amount |
| TRUSTCO | 04/11/13 | 22/11/13 | 09/12/13 | ZAR 0.0200 |
| IVT PREF | 01/11/13 | 22/11/13 | 02/12/13 | ZAR 3.3967 |
| AFRIMAT | 31/10/13 | 29/11/13 | 09/12/13 | ZAR 0.1100 |
| REDEFINE | 31/10/13 | 15/11/13 | 25/11/13 | ZAR 0.3500 |
| SPANJAARD | 31/10/13 | 15/11/13 | 25/11/13 | ZAR 0.1500 |

Ex Div**

| | | | | |
| --- | --- | --- | --- | --- |
| Share Name | Dec-Date | LDT | Pay-Date | Amount |
| PSG | 14/10/13 | 01/11/13 | 11/11/13 | ZAR 0.4300 |
---
Upcoming AGMs**

| | | | |
| --- | --- | --- | --- |
| Code | Company Name | Date | Status |
| GRF | Group Five Ltd. | 05/11/2013 | Confirmed |
| FVT | Fairvest Property Holdings Ltd. | 05/11/2013 | Unconfirmed |
| FVTP | Fairvest Property Holdings Ltd. | 05/11/2013 | Unconfirmed |
| MUR | Murray - Roberts Holdings Ltd. | 06/11/2013 | Confirmed |
| NHM | Northam Platinum Ltd. | 06/11/2013 | Confirmed |
---
Stock Exchange News Service
Click here for more SENS news
---