Tuesday, 16 July 2013 - 20:00
Charts
The High Risk of Low Risk Investments
I recently did an investment feedback presentation for a retirement fund that was attended by the wife of an ex client of mine, and seeing her got me thinking about investment risk.
Her husband (my ex client) is an academic and he invested R 100 000 of his hard earned savings with me in December 2001. Because the investment was of a long term nature we invested the money in a portfolio with a balanced mandate targeting inflation plus 5. More than a year later, in March 2003, his investment value had dropped to R 88 500. He was understandably not impressed with what had happened and gave me a long analysis on how if he had invested R 100 000 in a money market fund it would have been worth R 115 076 and that he was wasting his time with these "high risk low return" investments.
He decided to disinvest from the balanced fund and invest in a money market fund. I tried to explain to him that his comparison was not accurate because he had neglected to take the tax effect of his interest earnings into account. He informed me that even after 30% tax he still would have had R 110 334 which was way better than my "shocking investment". It is never easy to lose clients but, because I had a number of other clients at the institution where he worked, this one was extremely difficult.
After seeing his wife, I decided to have a relook at where this ex client would now be after implementing his "low risk high return" policy. After taking 30% tax into account at the end of March 2013, my ex client would have had a princely sum of R 150 708 (green line below) in his money market fund. If he had stayed in the balanced fund I suggested, he would now have an investment of R 469 845 (blue line below).
We went through a similar scenario from April 2007 to January 2009 where investors in balanced funds saw long periods of negative returns. Investors who disinvested during this period would have ended up generating a return in line with the purple line above.
Investors need to realize that the return profiles of balanced funds are not linear and investors can sometimes go for long periods without seeing positive returns. Both investors, and advisors, tend to forget this in periods that we have had in the good years, like we experienced from March 2003 to September 2007 and from February 2009 to March this year. Over the last few months we have seen negative returns creeping back into the markets.
If you have a 5 year plus time horizon, now is not the time to panic and switch to money market funds. With balanced funds there is a chance of losing money in real terms i.e. after tax and inflation, over the short term, but in money market funds you are guaranteed to lose money in real terms over the long term (especially when the effects of tax are taken into account).
Should you have any investment related queries, or are approaching retirement and would like to discuss your financial plan, we have qualified Wealth Managers who are able to guide you through this process.
Kind regards,
Barry Hugo
www.seedinvestments.co.za
info@seedinvestments.co.za
021 914 4966
Tue, 16 Jul 2013
Top News
G20 summits don't always set the pulse racing but this week's gathering of finance ministers and central bankers in Moscow has a better chance than most of grabbing the attention of financial markets.

---

Egypt's army-backed leaders swore in a new interim cabinet on Tuesday after a night of street violence, with not a single minister representing either of the main Islamist groups that have won five straight elections since 2011.

The dramatic capture of the boss of the Zetas drug cartel provides fresh evidence that Mexican authorities are starting to win their protracted fight against a gang that has done more than any other to stain the country's name with its brutality.
World Markets (Spot Prices)
| | | | | |
| --- | --- | --- | --- | --- |
| Name | Time | RP | Move | % Move |
| JSE Overall | 17:00 | 40385.34 | -354.80 | -0.87% |
| JSE Top 40 | 17:00 | 35855.07 | -351.68 | -0.97% |
| JSE Gold | 17:00 | 1177.26 | -4.82 | -0.41% |
| JSE Financial | 17:00 | 30126.72 | -300.54 | -0.99% |
| JSE Industrial | 17:00 | 53772.72 | -706.77 | -1.30% |
| JSE Indust 25 | 17:00 | 46998.22 | -668.26 | -1.40% |
| JSE Resource | 17:00 | 43925.52 | 44.11 | 0.10% |
| DJ Futures | 19:42 | 15355.00 | -61.00 | -0.40% |
| DJ Ind | 19:58 | 15433.58 | -50.68 | -0.33% |
| SP 500 | 19:58 | 1673.90 | -8.60 | -0.51% |
| Nasdaq | 19:58 | 3595.66 | -12.16 | -0.34% |
| FTSE 100 | 17:35 | 6556.35 | -29.76 | -0.45% |
| DAX | 18:08 | 8201.05 | -33.76 | -0.41% |
| CAC40 | 18:08 | 3851.03 | -27.55 | -0.71% |
| Nikkei | 08:52 | 14599.12 | 92.87 | 0.64% |
| Shanghai | 09:28 | 2065.72 | 6.33 | 0.31% |
| Hang-Seng | 10:28 | 21312.38 | 9.07 | 0.04% |
| All Ords | 08:45 | 4968.60 | 3.00 | 0.06% |
| NZSE 50 | 07:54 | 4576.55 | -29.69 | -0.64% |

| | | | | |
| --- | --- | --- | --- | --- |
| Name | Time | RP | Move | % Move |
| Gold $ | 19:59 | 1291.95 | 8.93 | 0.70% |
| Gold R | 19:59 | 12768.08 | 105.77 | 0.84% |
| Gold R/kg | 19:58 | 410403 | 2718 | 0.67% |
| Silver $ | 19:59 | 19.9800 | .0740 | 0.37% |
| Platinum $ | 19:59 | 1422.50 | 2.00 | 0.14% |
| Palladium $ | 19:59 | 731.80 | .80 | 0.11% |
| R157 | 17:44 | 5.99 | -.04 | -0.75% |
| R186 | 17:44 | 7.89 | -.03 | -0.32% |
| R204 | 17:44 | 6.96 | -.04 | -0.50% |
| R207 | 17:44 | 7.21 | -.03 | -0.41% |
| Brent Crude | 19:58 | 109.26 | .21 | 0.19% |
| Rand / Dollar | 19:59 | 9.8828 | 0.0115 | 0.12% |
| Rand / Pound | 19:55 | 14.9181 | 0.0291 | 0.20% |
| Rand / Euro | 19:55 | 12.9909 | 0.0802 | 0.62% |
| Rand / NZD | 19:59 | 7.7965 | 0.0797 | 1.03% |
| Rand / AUD | 19:55 | 9.1335 | 0.1324 | 1.47% |
| Yen / Dollar | 19:59 | 99.1400 | -0.7640 | -0.76% |
| Euro / Dollar | 19:59 | 0.7607 | -0.0046 | -0.60% |
| Dollar / Euro | 19:59 | 1.3146 | 0.0081 | 0.62% |
| Pound / Dollar | 19:55 | 0.6608 | -0.0012 | -0.18% |
Click here for the Sharenet Spot Price page
The JSE Today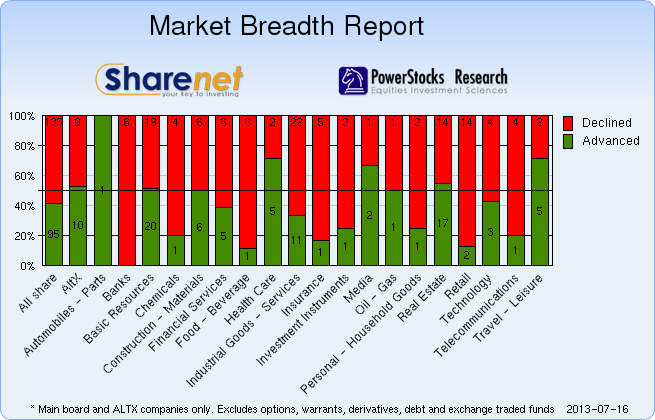 Trading Statistics
| Date | Adv. | Decl. | Unch. | Actives | Volume | Value | Trades | Orders |
| --- | --- | --- | --- | --- | --- | --- | --- | --- |
| 16/07/2013 | 138 | 195 | 70 | 403 | 164,451,627 | R11,618,361,089 | 139036 | 1785625 |
| 15/07/2013 | 182 | 152 | 67 | 401 | 144,990,066 | R9,918,889,570 | 119919 | 1480435 |
| 12/07/2013 | 220 | 128 | 71 | 419 | 162,481,644 | R12,312,623,847 | 154686 | 1534516 |
| 11/07/2013 | 242 | 108 | 50 | 400 | 172,854,388 | R12,398,360,162 | 150517 | 1854409 |
| 10/07/2013 | 145 | 182 | 71 | 398 | 163,726,739 | R10,161,025,821 | 130474 | 1877323 |
* Includes all listed instruments on the JSE
---
---
---
Index Summary
| | | | |
| --- | --- | --- | --- |
| Index Name | RP | Move | % Move |
| Top 40 | 35,855.00 | -350.00 | -0.97% |
| Industrial | 53,772.00 | -706.00 | -1.30% |
| Mid Cap | 55,455.00 | -227.00 | -0.41% |
| Small Cap | 44,671.00 | -117.00 | -0.26% |
| Resource 20 | 43,925.00 | 44.00 | 0.10% |
| Industrial 25 | 46,998.00 | -667.00 | -1.40% |
| Financial 15 | 11,234.00 | -153.00 | -1.35% |
| Financial & Ind. 30 | 49,666.00 | -715.00 | -1.42% |
| All Share | 40,385.00 | -354.00 | -0.87% |
| Oil & Gas | 33,145.00 | -557.00 | -1.65% |
| Mining | 26,415.00 | 138.00 | 0.53% |
| Gold Mining | 1,177.00 | -4.00 | -0.40% |
| Platinum Mining | 38.00 | .00 | 0.03% |
| GENERAL MINING | 7,613.00 | 57.00 | 0.76% |
| Oil & Gas Producers | 17,821.00 | -299.00 | -1.65% |
| Basic Materials | 23,492.00 | 101.00 | 0.43% |
| Chemicals | 21,904.00 | 93.00 | 0.43% |
| Forestry & Paper | 22,848.00 | -24.00 | -0.11% |
| Industrial Metals | 23,751.00 | -299.00 | -1.24% |
| Industrials | 41,552.00 | -331.00 | -0.79% |
| General Industrials | 124.00 | .00 | -0.26% |
| Consumer Goods | 50,123.00 | -858.00 | -1.68% |
| Automobiles & Parts | 7,975.00 | 93.00 | 1.19% |
| Household Goods | 175.00 | 0 | -0.52% |
| Health Care | 68,366.00 | -626.00 | -0.91% |
| Beverages | 163.00 | -2.00 | -1.44% |

| | | | |
| --- | --- | --- | --- |
| Index Name | RP | Move | % Move |
| Food Producers | 69,959.00 | -639.00 | -0.91% |
| Personal Goods | 909.00 | -19.00 | -2.08% |
| Consumer Services | 91,439.00 | -1135.00 | -1.23% |
| General Retailers | 58,525.00 | -1686.00 | -2.80% |
| Travel & Leisure | 5,402.00 | 19.00 | 0.35% |
| Media | 173.00 | .00 | 0.51% |
| Support Services | 2,403.00 | .00 | 0.02% |
| Telecommunications | 87,362.00 | -1212.00 | -1.37% |
| Financials | 30,126.00 | -300.00 | -0.99% |
| Banks | 48,554.00 | -992.00 | -2.00% |
| Non-life Insurance | 50,046.00 | -1227.00 | -2.39% |
| Life Insurance | 28,978.00 | -395.00 | -1.35% |
| General Financial | 2,800.00 | -9.00 | -0.34% |
| Technology | 40,928.00 | 301.00 | 0.74% |
| SHARIAH TOP40 | 3,294.00 | -11 | -0.34% |
| FTSE/JSE SHARIAH ALL | 3,442.00 | -12 | -0.37% |
| COAL MINING | 19,203.00 | -114 | -0.59% |
| FTSE JSE Fledgling | 5,506.00 | 7 | 0.14% |
| FTSE/JSE Alt X | 995.00 | -1 | -0.20% |
| SA LISTED PROPERTY | 516.00 | | 1.25% |
| CAPPED PROPERTY | 426.00 | | 0.94% |
| RESOURCE | 24,001.00 | 30 | 0.13% |
| DIVIDEND PLUS | 202.00 | -1 | -0.70% |
| FTSE/JSE RAFI 40 | 7,881.00 | -68 | -0.87% |
| Capped Top 40 | 18,956.00 | -197 | -1.03% |
| Capped All Share | 20,455.00 | -185 | -0.90% |
| JSE TABACO | 6,661.00 | -65 | -0.97% |
Click here for the Sharenet Index Summary page
---
Latest Consensus Changes**

| | | | |
| --- | --- | --- | --- |
| Code | Company Name | Status | Updated |
| CLH | CITY LODGE HOTELS LIMITED | BUY | 15/07/2013 |
| APN | ASPEN PHARMACARE HLDGS | SELL | 15/07/2013 |
| TSH | TSOGO SUN HOLDINGS LIMITE... | HOLD | 15/07/2013 |
| SUI | SUN INTERNATIONAL LTD | HOLD | 15/07/2013 |
| EMI | EMIRA PROPERTY FUND | BUY | 11/07/2013 |

Results Expected**

| | | |
| --- | --- | --- |
| Expected | Company Name | Fin. Date |
| 22/07/2013 | AMPLATS | June 2013 (Interim) |
| 22/07/2013 | ANGLOPLATCCP | June 2013 (Interim) |
| 22/07/2013 | KIBO | March 2013 (Interim) |
| 23/07/2013 | ELLIES | April 2013 (Final) |
| 23/07/2013 | KUMBA | June 2013 (Interim) |
---
Recent Dividends**

| | | | | |
| --- | --- | --- | --- | --- |
| Share Name | Dec-Date | LDT | Pay-Date | Amount |
| FOORDCMPS | 09/07/2013 | 26/07/2013 | 05/08/2013 | R 0.3000 |
| TELEMASTR | 02/07/2013 | 19/07/2013 | 29/07/2013 | R 0.0050 |
| HUDACO | 28/06/2013 | 08/08/2013 | 19/08/2013 | R 1.5500 |
| ARGENT | 26/06/2013 | 27/09/2013 | 07/10/2013 | R 0.0700 |
| NASPERS-N | 25/06/2013 | 13/09/2013 | 23/09/2013 | R 3.8500 |

Ex Div**

| | | | | |
| --- | --- | --- | --- | --- |
| Share Name | Dec-Date | LDT | Pay-Date | Amount |
| LEWIS | 22/05/2013 | 12/07/2013 | 22/07/2013 | R 3.0200 |
| OMNIA | 25/06/2013 | 12/07/2013 | 22/07/2013 | R 2.7000 |
---
Upcoming AGMs**

| | | | |
| --- | --- | --- | --- |
| Code | Company Name | Date | Status |
| ALT | Allied Technologies Ltd. | 16/07/2013 | Confirmed |
| ADAP | Adrenna Property Group Ltd. | 16/07/2013 | Unconfirmed |
| ANA | Adrenna Property Group Ltd. | 16/07/2013 | Unconfirmed |
| ILV | Illovo Sugar Ltd. | 17/07/2013 | Confirmed |
| VOD | Vodacom Group Ltd. | 18/07/2013 | Confirmed |
---
Stock Exchange News Service
Click here for more SENS news
---