Tuesday, 12 February 2013 - 20:00
Charts
Retirement Annuities are useless?
"Retirement Annuity season" is upon us and many of you would have had calls from your financial advisor reminding you to top up your R/A contributions to the present maximum allowed amount of 15% of your annual non retirement funding income. Retirement Annuities have a bad reputation with a lot of clients and one of the things I hear most often as a Financial Advisor is that policies in general, but Retirement Annuities especially, are useless. People will tell you stories of their own, a family member or a friend who had invested in Retirement Annuities for years, but now has insufficient capital with which to retire. This is especially the case with those who are either self employed or work for smaller companies that do not have retirement funds.
Without exception, in every case that I have analysed there is only one reason why a person's Retirement Annuities are insufficient to provide for them in retirement. They simply did not contribute enough for long enough.
Firstly, some people can't retire on their Retirement Annuities because the contributions were hopelessly too small. I have had people complaining that they have contributed to their Retirement Annuity fund for thirty years and now there is insufficient capital for them to retire on. Whilst they may have contributed for thirty years, they were only investing say R150pm. This may have been reasonable 30 years back, but today on a salary of R50 000 it's not even close to the 15% generally contributed to company provided funds.
Another person was contributing R5 000pm of his R20 000 salary (way in excess of the usual 15%), but he had only been doing so in the last 5 years prior to retirement. Obviously he also has insufficient retirement capital.
The third category of complaint is probably the most common. This is where people cancel their Retirement Annuity contracts quite soon after starting them. Like any contract there are always penalties for early cancellation (try getting out of a 5 year rental agreement, 6months into the rental). The important thing here is to make sure that any new Retirement Annuity taken out is within your normal budget. Also in order to minimise the impact of these high initial fees, clients should rather use R/A's which are costed on an as and when basis.
If you are aiming for an inflation protected income after retirement of 75% of your final salary, you need to save 15% of your monthly income from age 25 until age 60. Where the underlying portfolio of the Retirement Annuity achieves a return of inflation plus 4% then you will achieve your goal.
Looking at periods in excess of 10 years, most Retirement Annuities manage to achieve the desired return of inflation plus 4%.
Retirement Annuities definitely have their place and they should be part of everybody's retirement planning. They should however be purchased within the framework of affordability on the one hand but with reasonable expectations on the other hand.

Kind regards
Barry Hugo
www.seedinvestments.co.za
info@seedinvestments.co.za
021 914 4966
Tue, 12 Feb 2013
Top News
South African stocks drifted lower on Tuesday, weighed down by retailers due to growing worries about the health of a credit-led consumer spending spree after a major bank reported a spike in written-off debts.

---

North Korea conducted its third nuclear test on Tuesday in defiance of U.N. resolutions, drawing condemnation from around the world, including from its only major ally, China, which summoned the North Korean ambassador to protest.

Syrian opposition fighters captured a military airport near the northern city of Aleppo on Tuesday in another military setback for President Bashar al-Assad's forces which have come under intensifying attack across the country.
World Markets (Spot Prices)
| | | | | |
| --- | --- | --- | --- | --- |
| Name | Time | RP | Move | % Move |
| JSE Overall | 17:00 | 40700.45 | -131.00 | -0.32% |
| JSE Top 40 | 17:00 | 36286.98 | -123.00 | -0.34% |
| JSE Gold | 17:00 | 2213.49 | 15.00 | 0.70% |
| JSE Financial | 17:00 | 30234.97 | -73.00 | -0.24% |
| JSE Industrial | 17:00 | 48775.27 | -188.00 | -0.39% |
| JSE Indust 25 | 17:00 | 42175.79 | -168.00 | -0.40% |
| JSE Resource | 17:00 | 53498.88 | -146.00 | -0.27% |
| DJ Futures | 18:56 | 13960.00 | 36.00 | 0.26% |
| DJ Ind | 19:58 | 14016.94 | 45.70 | 0.33% |
| SP 500 | 19:58 | 1520.38 | 3.37 | 0.22% |
| Nasdaq | 19:58 | 3193.14 | 1.14 | 0.04% |
| FTSE 100 | 18:35 | 6338.38 | 61.32 | 0.98% |
| DAX | 19:10 | 7660.19 | 26.45 | 0.35% |
| CAC40 | 19:10 | 3686.58 | 36.00 | 0.99% |
| Nikkei | 08:32 | 11369.12 | 215.96 | 1.94% |
| Shanghai | 08/02 | 2432.40 | 13.87 | 0.57% |
| Hang-Seng | 08/02 | 23215.16 | 38.16 | 0.16% |
| All Ords | 07:47 | 4981.50 | 1.20 | 0.02% |
| NZSE 50 | 06:52 | 4218.12 | -2.38 | -0.06% |

| | | | | |
| --- | --- | --- | --- | --- |
| Name | Time | RP | Move | % Move |
| Gold $ | 19:57 | 1650.40 | 2.64 | 0.16% |
| Gold R | 19:58 | 14652.65 | -23.36 | -0.16% |
| Gold R/kg | 19:58 | 471234 | -1912 | -0.40% |
| Silver $ | 19:58 | 31.0200 | .1160 | 0.38% |
| Platinum $ | 19:57 | 1711.50 | 27.00 | 1.60% |
| Palladium $ | 19:58 | 768.00 | 12.50 | 1.65% |
| R157 | 16:44 | 5.34 | .04 | 0.66% |
| R204 | 16:43 | 6.05 | .04 | 0.75% |
| R207 | 16:43 | 6.32 | .03 | 0.40% |
| Brent Crude | 19:58 | 118.26 | .13 | 0.11% |
| Rand / Dollar | 19:58 | 8.8805 | -0.0256 | -0.29% |
| Rand / Pound | 19:55 | 13.8769 | -0.0309 | -0.22% |
| Rand / Euro | 19:55 | 11.9565 | 0.0207 | 0.17% |
| Rand / NZD | 19:58 | 7.4846 | 0.0355 | 0.48% |
| Rand / AUD | 19:55 | 9.1663 | 0.0238 | 0.26% |
| Yen / Dollar | 19:58 | 93.2550 | -0.9880 | -1.05% |
| Euro / Dollar | 19:58 | 0.7430 | -0.0032 | -0.43% |
| Dollar / Euro | 19:58 | 1.3456 | 0.0058 | 0.43% |
| Pound / Dollar | 19:55 | 0.6384 | -0.0003 | -0.05% |
Click here for the Sharenet Spot Price page
The JSE Today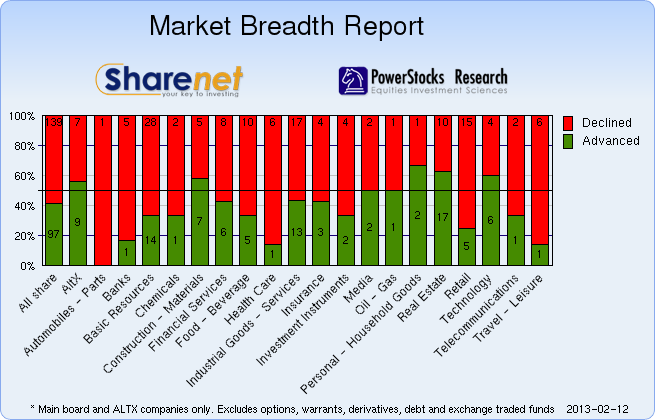 Trading Statistics
| Date | Adv. | Decl. | Unch. | Actives | Volume | Value | Trades | Orders |
| --- | --- | --- | --- | --- | --- | --- | --- | --- |
| 12/02/2013 | 148 | 195 | 70 | 413 | 218,924,438 | R10,834,808,893 | 115465 | 1527072 |
| 11/02/2013 | 173 | 168 | 89 | 430 | 172,464,333 | R9,113,562,803 | 114609 | 1268847 |
| 08/02/2013 | 236 | 125 | 79 | 440 | 187,092,286 | R10,819,397,056 | 127085 | 1580245 |
| 07/02/2013 | 223 | 131 | 64 | 418 | 183,164,142 | R11,104,464,388 | 123772 | 918333 |
| 06/02/2013 | 196 | 173 | 72 | 441 | 198,561,860 | R12,737,576,375 | 154100 | 1858253 |
* Includes all listed instruments on the JSE
---
---
---
Index Summary
| | | | |
| --- | --- | --- | --- |
| Index Name | RP | Move | % Move |
| Top 40 | 36,286.00 | -123.00 | -0.34% |
| Industrial | 48,775.00 | -188.00 | -0.39% |
| Mid Cap | 55,139.00 | -99.00 | -0.18% |
| Small Cap | 42,495.00 | -248.00 | -0.58% |
| Resource 20 | 53,498.00 | -146.00 | -0.27% |
| Industrial 25 | 42,175.00 | -168.00 | -0.40% |
| Financial 15 | 11,385.00 | -30.00 | -0.26% |
| Financial & Ind. 30 | 45,947.00 | -163.00 | -0.35% |
| All Share | 40,700.00 | -131.00 | -0.32% |
| Oil & Gas | 30,496.00 | 104.00 | 0.34% |
| Mining | 34,232.00 | -131.00 | -0.38% |
| Gold Mining | 2,213.00 | 15.00 | 0.70% |
| Platinum Mining | 58.00 | .00 | 0.48% |
| GENERAL MINING | 9,110.00 | -48.00 | -0.53% |
| Oil & Gas Producers | 16,397.00 | 56.00 | 0.35% |
| Basic Materials | 29,552.00 | -94.00 | -0.32% |
| Chemicals | 17,832.00 | 112.00 | 0.63% |
| Forestry & Paper | 19,746.00 | 290.00 | 1.49% |
| Industrial Metals | 30,033.00 | -327.00 | -1.08% |
| Industrials | 38,814.00 | -7.00 | -0.02% |
| General Industrials | 112.00 | .00 | 0.45% |
| Consumer Goods | 44,538.00 | -10.00 | -0.02% |
| Automobiles & Parts | 7,696.00 | -36.00 | -0.47% |
| Household Goods | 188.00 | 0 | 0.11% |
| Health Care | 55,482.00 | -606.00 | -1.08% |
| Beverages | 152.00 | .00 | 0.18% |

| | | | |
| --- | --- | --- | --- |
| Index Name | RP | Move | % Move |
| Food Producers | 68,645.00 | -1273.00 | -1.82% |
| Personal Goods | 715.00 | 5.00 | 0.78% |
| Consumer Services | 82,827.00 | -982.00 | -1.17% |
| General Retailers | 64,694.00 | -1082.00 | -1.65% |
| Travel & Leisure | 5,142.00 | -107.00 | -2.04% |
| Media | 131.00 | .00 | 0.32% |
| Support Services | 2,323.00 | -15.00 | -0.66% |
| Telecommunications | 84,459.00 | -506.00 | -0.60% |
| Financials | 30,234.00 | -73.00 | -0.24% |
| Banks | 53,925.00 | -195.00 | -0.36% |
| Non-life Insurance | 47,318.00 | 102.00 | 0.22% |
| Life Insurance | 26,577.00 | -97.00 | -0.37% |
| General Financial | 2,852.00 | -15.00 | -0.55% |
| Technology | 33,786.00 | 286.00 | 0.86% |
| SHARIAH TOP40 | 3,548.00 | -10 | -0.28% |
| FTSE/JSE SHARIAH ALL | 3,659.00 | -10 | -0.28% |
| COAL MINING | 22,585.00 | -71 | -0.32% |
| FTSE JSE Fledgling | 5,974.00 | 0 | -0.01% |
| FTSE/JSE Alt X | 846.00 | 3 | 0.40% |
| SA LISTED PROPERTY | 507.00 | | 0.12% |
| CAPPED PROPERTY | 412.00 | | 0.35% |
| RESOURCE | 29,438.00 | -80 | -0.27% |
| DIVIDEND PLUS | 218.00 | 0 | -0.32% |
| FTSE/JSE RAFI 40 | 8,312.00 | -21 | -0.25% |
| Capped Top 40 | 19,123.00 | -63 | -0.33% |
| Capped All Share | 20,585.00 | -66 | -0.32% |
| JSE TABACO | 5,929.00 | 17 | 0.29% |
Click here for the Sharenet Index Summary page
---
Latest Consensus Changes**

| | | | |
| --- | --- | --- | --- |
| Code | Company Name | Status | Updated |
| IPL | IMPERIAL HOLDINGS LTD | HOLD | 21/01/2013 |
| BIL | BHP BILLITON PLC | HOLD | 21/01/2013 |
| TRU | TRUWORTHS INTERNATIONAL L... | SELL | 21/01/2013 |
| AMS | ANGLO AMERICAN PLATINUM C... | HOLD | 21/01/2013 |
| ANG | ANGLOGOLD ASHANTI LIMITED | HOLD | 21/01/2013 |

Results Expected**

| | | |
| --- | --- | --- |
| Expected | Company Name | Fin. Date |
| 13/02/2013 | ADAPTIT | December 2012 (Interim) |
| 13/02/2013 | CITYLDG | December 2012 (Interim) |
| 13/02/2013 | FORTRESSA | December 2012 (Interim) |
| 13/02/2013 | FORTRESSB | December 2012 (Interim) |
| 13/02/2013 | GROUP 5 | December 2012 (Interim) |
---
Recent Dividends**

| | | | | |
| --- | --- | --- | --- | --- |
| Share Name | Dec-Date | LDT | Pay-Date | Amount |
| ASCEN A | 08/02/2013 | 22/02/2013 | 04/03/2013 | R 0.0317 |
| ASCEN B | 08/02/2013 | 22/02/2013 | 04/03/2013 | R 0.0143 |
| RESILIENT | 06/02/2013 | 22/02/2013 | 04/03/2013 | R 1.3493 |
| ZURICH SA | 06/02/2013 | 22/02/2013 | 04/03/2013 | R 2.0000 |
| SBR003 | 05/02/2013 | 25/04/2013 | 06/05/2013 | R 1.3500 |

Ex Div**

| | | | | |
| --- | --- | --- | --- | --- |
| Share Name | Dec-Date | LDT | Pay-Date | Amount |
---
Upcoming AGMs**

| | | | |
| --- | --- | --- | --- |
| Code | Company Name | Date | Status |
| TBS | Tiger Brands Ltd. | 12/02/2013 | Confirmed |
| SPP | The SPAR Group Ltd. | 12/02/2013 | Confirmed |
| RLP | Reunert Ltd. | 12/02/2013 | Confirmed |
| RLO | Reunert Ltd. | 12/02/2013 | Confirmed |
| RLZP | Reunert Ltd. | 12/02/2013 | Confirmed |
---
Stock Exchange News Service
Click here for more SENS news
---