Monday, 28 May 2012 - 20:00
Charts
Top News
South Africa's rand climbed 1.5 percent against the dollar and bonds edged down on Monday on renewed hope for a solution to Greece's problems, but the currency later gave up some gains in thin trade as U.S. markets were closed.

---

Egypt headed for a divisive duel between a Muslim Brother and an ex-military man in a run-off for a president to replace ousted leader Hosni Mubarak, after election results on Monday that one losing candidate called "dishonest".

Peace envoy Kofi Annan condemned the killing of at least 108 people in the Syrian town of Houla as "an appalling crime" on Monday and urged President Bashar al-Assad to prove he wants a peaceful resolution to the crisis racking his country.
World Markets (Spot Prices)
| | | | | |
| --- | --- | --- | --- | --- |
| Name | Time | RP | Move | % Move |
| JSE Overall | 17:00 | 33104.06 | 111.81 | 0.34% |
| JSE Top 40 | 17:00 | 29189.72 | 115.53 | 0.40% |
| JSE Gold | 17:00 | 2494.30 | -6.67 | -0.27% |
| JSE Financial | 17:00 | 24702.23 | -60.80 | -0.25% |
| JSE Industrial | 17:00 | 37589.19 | 22.32 | 0.06% |
| JSE Indust 25 | 17:00 | 31672.72 | 10.38 | 0.03% |
| JSE Resource | 17:00 | 47066.11 | 559.19 | 1.20% |
| DJ Futures | 17:50 | 12470.00 | 41.00 | 0.33% |
| DJ Ind | 25/05 | 12454.83 | -74.92 | -0.60% |
| SP 500 | 25/05 | 1317.82 | -2.86 | -0.22% |
| Nasdaq | 25/05 | 2837.53 | -1.85 | -0.07% |
| FTSE 100 | 17:35 | 5356.34 | 4.81 | 0.09% |
| DAX | 18:06 | 6323.19 | -16.75 | -0.26% |
| CAC40 | 18:06 | 3042.97 | -4.97 | -0.16% |
| Nikkei | 08:06 | 8593.15 | 12.76 | 0.15% |
| Shanghai | 10:06 | 2361.37 | 27.81 | 1.19% |
| Hang-Seng | 10:52 | 18800.99 | 87.58 | 0.47% |
| All Ords | 08:50 | 4120.20 | 39.00 | 0.96% |
| NZSE 50 | 07:46 | 3462.26 | -23.97 | -0.69% |

| | | | | |
| --- | --- | --- | --- | --- |
| Name | Time | RP | Move | % Move |
| Gold $ | 19:56 | 1573.50 | -.40 | -0.03% |
| Gold R | 19:57 | 13132.34 | -15.71 | -0.12% |
| Gold R/kg | 19:46 | 422075 | 487 | 0.12% |
| Silver $ | 19:58 | 28.3600 | -.2000 | -0.70% |
| Platinum $ | 19:53 | 1432.05 | 5.05 | 0.35% |
| Palladium $ | 19:53 | 602.32 | 16.92 | 2.89% |
| R157 | 17:02 | 6.36 | .02 | 0.24% |
| R204 | 17:02 | 7.25 | .01 | 0.07% |
| Brent Crude | 19:46 | 108.07 | .17 | 0.16% |
| Rand / Dollar | 19:58 | 8.3470 | -0.0068 | -0.08% |
| Rand / Pound | 19:55 | 13.0593 | -0.0147 | -0.11% |
| Rand / Euro | 19:55 | 10.4642 | -0.0417 | -0.40% |
| Rand / NZD | 19:57 | 6.3528 | 0.0131 | 0.21% |
| Rand / AUD | 19:55 | 8.2263 | 0.0248 | 0.30% |
| Yen / Dollar | 19:58 | 79.4810 | -0.1900 | -0.24% |
| Euro / Dollar | 19:55 | 0.7976 | 0.0022 | 0.28% |
| Dollar / Euro | 19:58 | 1.2534 | -0.0037 | -0.30% |
| Pound / Dollar | 19:55 | 0.6376 | 0.0002 | 0.03% |
Click here for the Sharenet Spot Price page
The JSE Today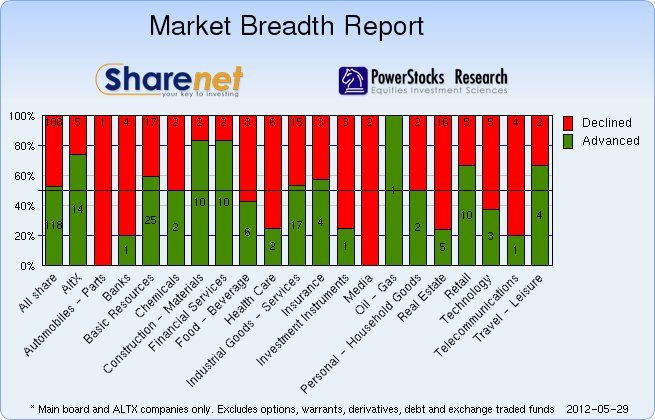 Trading Statistics
| Date | Adv. | Decl. | Unch. | Actives | Volume | Value | Trades | Orders |
| --- | --- | --- | --- | --- | --- | --- | --- | --- |
| 28/05/2012 | 183 | 150 | 74 | 407 | 185,085,324 | R7,772,964,063 | 69520 | 2749589 |
| 25/05/2012 | 150 | 186 | 83 | 419 | 274,577,227 | R12,224,310,975 | 113195 | 3245483 |
| 24/05/2012 | 199 | 155 | 65 | 419 | 307,468,436 | R14,957,022,107 | 118438 | 3093003 |
| 23/05/2012 | 72 | 232 | 57 | 361 | 245,081,235 | R11,454,138,769 | 107672 | 3611339 |
| 22/05/2012 | 236 | 104 | 70 | 410 | 217,172,667 | R10,898,723,240 | 93462 | 3133067 |
* Includes all listed instruments on the JSE
---
---
---
Index Summary
| | | | |
| --- | --- | --- | --- |
| Index Name | RP | Move | % Move |
| Top 40 | 29,189.72 | 115.53 | 0.40% |
| Industrial | 37,589.19 | 22.32 | 0.06% |
| Mid Cap | 47,638.77 | 46.26 | 0.10% |
| Small Cap | 35,372.04 | -40.42 | -0.11% |
| Resource 20 | 47,066.11 | 559.19 | 1.20% |
| Industrial 25 | 31,672.72 | 10.38 | 0.03% |
| Financial 15 | 9,301.07 | -17.74 | -0.19% |
| Financial & Ind. 30 | 35,084.45 | -17.30 | -0.05% |
| All Share | 33,104.06 | 111.81 | 0.34% |
| Oil & Gas | 27,163.38 | 406.37 | 1.52% |
| Mining | 30,183.80 | 320.63 | 1.07% |
| Gold Mining | 2,494.30 | -6.67 | -0.27% |
| Platinum Mining | 51.52 | 1.20 | 2.38% |
| GENERAL MINING | 7,556.22 | 92.06 | 1.23% |
| Oil & Gas Producers | 14,605.25 | 218.50 | 1.52% |
| Basic Materials | 25,882.76 | 276.66 | 1.08% |
| Chemicals | 14,528.13 | -40.42 | -0.28% |
| Forestry & Paper | 13,481.46 | 167.94 | 1.26% |
| Industrial Metals | 29,033.47 | 433.26 | 1.51% |
| Industrials | 32,298.08 | 130.43 | 0.41% |
| General Industrials | 88.58 | .22 | 0.25% |
| Consumer Goods | 32,567.88 | 60.65 | 0.19% |
| Automobiles & Parts | 5,638.50 | -22.65 | -0.40% |
| Household Goods | 174.70 | -0 | -0.22% |
| Health Care | 42,756.87 | -2.23 | -0.01% |
| Beverages | 106.87 | .00 | 0.00% |

| | | | |
| --- | --- | --- | --- |
| Index Name | RP | Move | % Move |
| Food Producers | 57,539.31 | -581.15 | -1.00% |
| Personal Goods | 487.40 | 4.60 | 0.95% |
| Consumer Services | 65,374.08 | -213.34 | -0.33% |
| General Retailers | 53,546.23 | 310.54 | 0.58% |
| Travel & Leisure | 3,817.78 | -.86 | -0.02% |
| Media | 98.64 | -1.58 | -1.58% |
| Support Services | 2,391.21 | -5.59 | -0.23% |
| Telecommunications | 65,948.59 | -290.93 | -0.44% |
| Financials | 24,702.23 | -60.80 | -0.25% |
| Banks | 47,479.91 | -131.89 | -0.28% |
| Non-life Insurance | 42,749.70 | -127.61 | -0.30% |
| Life Insurance | 19,281.02 | -26.45 | -0.14% |
| General Financial | 2,263.91 | 16.82 | 0.75% |
| Technology | 28,045.86 | -73.55 | -0.26% |
| SHARIAH TOP40 | 2,937.35 | 25 | 0.85% |
| FTSE/JSE SHARIAH ALL | 3,056.56 | 23 | 0.76% |
| COAL MINING | 24,736.60 | 101 | 0.41% |
| FTSE JSE Fledgling | 5,300.66 | -9 | -0.17% |
| FTSE/JSE Alt X | 1,128.49 | -14 | -1.22% |
| SA LISTED PROPERTY | 416.34 | | -0.85% |
| CAPPED PROPERTY | 337.60 | | -1.01% |
| RESOURCE | 25,997.43 | 294 | 1.14% |
| DIVIDEND PLUS | 190.06 | 1 | 0.34% |
| FTSE/JSE RAFI 40 | 6,863.13 | 30 | 0.44% |
| Capped Top 40 | 15,431.31 | 56 | 0.37% |
| Capped All Share | 16,749.63 | 56 | 0.33% |
| JSE TABACO | 5,111.30 | 13 | 0.25% |
Click here for the Sharenet Index Summary page
---
Latest Consensus Changes**

| | | | |
| --- | --- | --- | --- |
| Code | Company Name | Status | Updated |
| SLM | SANLAM LIMITED | HOLD | 18 May |
| INL | INVESTEC LIMITED | BUY | 18 May |
| HPA | HOSPITALITY PROP FUND A | BUY | 18 May |
| VPF | VUNANI PROP INV FUND LTD | BUY | 18 May |
| REB | REBOSIS PROPERTY FUND LTD | BUY | 18 May |

Results Expected**

| | | |
| --- | --- | --- |
| Expected | Company Name | Fin. Date |
| 29 May 2012 | CROOKES | March 2012 (Final) |
| 29 May 2012 | NAMPAK | March 2012 (Interim) |
| 29 May 2012 | NAMPAK 6%P | March 2012 (Interim) |
| 29 May 2012 | NAMPAK 6.5 | March 2012 (Interim) |
| 29 May 2012 | NAMPAK-P | March 2012 (Interim) |
---
Recent Dividends**

| | | | | |
| --- | --- | --- | --- | --- |
| Share Name | Dec-Date | LDT | Pay-Date | Amount |
| ISA | 12-05-25 | 12-07-13 | 12-07-23 | R 0.0700 |
| ODERSON | 12-05-24 | 12-06-15 | 12-06-25 | R 0.0160 |
| SABMILLER | 12-05-24 | 12-08-02 | 12-08-17 | R 0.6950 |
| MRPRICE | 12-05-23 | 12-06-15 | 12-06-25 | R 2.2040 |
| TASTE | 12-05-23 | 12-06-29 | 12-07-09 | R 0.0464 |

Ex Div**

| | | | | |
| --- | --- | --- | --- | --- |
| Share Name | Dec-Date | LDT | Pay-Date | Amount |
| ANGLD | 12-05-10 | 12-05-25 | 12-06-08 | R 1.0000 |
| OASIS | 12-05-09 | 12-05-25 | 12-06-04 | R 0.4399 |
| FPT | 12-05-10 | 12-05-25 | 12-06-04 | R 0.2800 |
| ARROWA | 12-05-09 | 12-05-25 | 12-06-04 | R 0.1500 |
| BEIGEPREF2 | 12-05-11 | 12-05-25 | 12-06-04 | R 0.1294 |
---
Upcoming AGMs**

| | | | |
| --- | --- | --- | --- |
| Code | Company Name | Date | Status |
| AFEP | AECI Ltd. | 28/05/2012 | Confirmed |
| AFE | AECI Ltd. | 28/05/2012 | Confirmed |
| MTN | MTN Group Ltd. | 29/05/2012 | Confirmed |
| GNDP | Grindrod Ltd. | 30/05/2012 | Confirmed |
| GND | Grindrod Ltd. | 30/05/2012 | Confirmed |
---
Stock Exchange News Service
Click here for more SENS news
---