Tuesday, 15 May 2012 - 20:00
Charts
Long Term View: Regular Review
At Seed we have an investment process that is both simple and robust. By not overly complicating the process we attempt to consistently make investment decisions that will more often than not result in investment returns in excess of the targeted benchmark. We want to get the odds in our favour as often as possible and focus on the process rather than the outcome.
Before making any investment we ask ourselves three important questions:
1. Are we making this investment with a long term (i.e. at least 3 – 5 years) mindset?
2. Is there intrinsic value in this investment?
3. Is there a risk of permanent capital destruction in this investment?
An investment will only make its way into our portfolios if the answer is 'Yes' to the first two questions and 'No' to the third question.
Our portfolios are generally managed within strategic and tactical asset allocation frameworks, i.e. each portfolio has a stated benchmark and then mandated weighting limits for each asset class (e.g. benchmark local equity weighting of 50% with a maximum of 70% and a minimum of 30% in local equity, etc). We then make tactical decisions away from our benchmark (underweight or overweight) based on our research.
During a recent report back we were asked what our time horizon is for making these tactical asset allocation decisions. Referring back to the three questions we ask when making any decision it was quite simple to point out that we make all investments on a 3 – 5 year horizon. A key aspect that we had to point out was that while we make our decisions with a 3 – 5 year outlook, very few of our investments go unchanged over this period. On a monthly basis we update the valuations of each asset class, i.e. determine whether there is still intrinsic value in the investment, to determine whether we need to change the asset allocation of the underlying portfolios.
When valuing an asset class our assumption is that fair value will be reached in a straight line over 3 – 5 years. Markets naturally don't move in a smoothed fashion and it is interesting to note how much the expected return from each of the asset classes can change over periods less than 12 months based on market movements. We take advantage of these opportunities to increase and decrease the weightings to the various asset classes.
The chart below is an extract of our equity valuation tool. The horizontal axis is the ALSI's starting PE with the vertical axis the subsequent 5 year annual return. It is apparent that lower starting PE ratios equate to higher expected returns and vice versa. The red spot corresponds to the ALSI's level in December 2010, and the yellow spot is at 30 September 2011. In the space of 9 months the market moved from being in overvalued territory to a level that was showing good signs of value.


By updating our valuation chart on a monthly basis we were able to take advantage of the opportunity presented in early October by increasing the allocation to local equities across all of our portfolios and in the Seed Flexible Fund in particular.
We trust that this gives some insight into the process followed at Seed. As has been discussed we also take a long term view, but ensure that we perform regular reviews.
Take care,
Mike Browne
info@seedinvestments.co.za
www.seedinvestments.co.za
021 9144 966
Tue, 15 May 2012
Top News
South Africa's rand extended losses to hit the year's weakest level against the dollar on Tuesday as risk sentiment soured further, though bonds held steady on support from good German growth numbers and a better than expected domestic auction.

---

New French President Francois Hollande called for a European pact for growth to balance out German-driven austerity measures in his inaugural address on Tuesday, hours before taking his challenge to Chancellor Angela Merkel in Berlin.

A splintered Syrian opposition voted on Tuesday to keep a secular academic exile seen as a consensus builder as its top figure to further a quest for recognition from wary big powers in its struggle to unseat President Bashar al-Assad.
World Markets (Spot Prices)
| | | | | |
| --- | --- | --- | --- | --- |
| Name | Time | RP | Move | % Move |
| JSE Overall | 17:00 | 33486.08 | -47.48 | -0.14% |
| JSE Top 40 | 17:00 | 29548.07 | -28.99 | -0.10% |
| JSE Gold | 17:00 | 2222.23 | -57.96 | -2.54% |
| JSE Financial | 17:00 | 25007.79 | -98.63 | -0.39% |
| JSE Industrial | 17:00 | 38060.90 | 141.42 | 0.37% |
| JSE Indust 25 | 17:00 | 32098.77 | 165.61 | 0.52% |
| JSE Resource | 17:00 | 47583.10 | -345.94 | -0.72% |
| DJ Futures | 20:00 | 12675.00 | 14.00 | 0.11% |
| DJ Ind | 19:45 | 12681.73 | -13.62 | -0.11% |
| SP 500 | 20:00 | 1336.44 | -1.91 | -0.14% |
| Nasdaq | 20:00 | 2911.18 | 8.60 | 0.30% |
| FTSE 100 | 17:35 | 5437.62 | -27.90 | -0.51% |
| DAX | 18:06 | 6401.06 | -50.91 | -0.79% |
| CAC40 | 18:06 | 3039.27 | -18.72 | -0.61% |
| Nikkei | 08:26 | 8900.74 | -73.10 | -0.81% |
| Shanghai | 09:26 | 2374.84 | -5.88 | -0.25% |
| Hang-Seng | 10:26 | 19894.31 | 159.27 | 0.81% |
| All Ords | 08:42 | 4316.30 | -35.60 | -0.82% |
| NZSE 50 | 07:46 | 3534.92 | -20.44 | -0.57% |

| | | | | |
| --- | --- | --- | --- | --- |
| Name | Time | RP | Move | % Move |
| Gold | 19:59 | 1554.10 | -2.42 | -0.16% |
| Gold/Rand | 20:00 | 12881.78 | 70.19 | 0.55% |
| Gold/R kg | 20:00 | 414149 | 3122 | 0.76% |
| Silver | 19:59 | 27.9460 | -.2040 | -0.72% |
| Platinum | 19:59 | 1438.50 | 5.00 | 0.35% |
| Palladium | 19:59 | 596.00 | 8.30 | 1.41% |
| R157 | 17:06 | 6.49 | -.01 | -0.15% |
| R204 | 17:06 | 7.38 | -.01 | -0.14% |
| Brent Crude | 19:56 | 111.85 | .60 | 0.54% |
| Rand / Dollar | 19:59 | 8.2889 | 0.0883 | 1.08% |
| Rand / Pound | 19:55 | 13.2364 | 0.0622 | 0.47% |
| Rand / Euro | 19:55 | 10.5604 | 0.0393 | 0.37% |
| Rand / NZD | 19:58 | 6.3934 | 0.0195 | 0.31% |
| Rand / AUD | 19:55 | 8.2560 | 0.0812 | 0.99% |
| Yen / Dollar | 19:58 | 80.2640 | 0.4420 | 0.55% |
| Euro / Dollar | 19:55 | 0.7846 | 0.0052 | 0.67% |
| Dollar / Euro | 19:59 | 1.2739 | -0.0086 | -0.67% |
| Pound / Dollar | 19:55 | 0.6245 | 0.0035 | 0.56% |
Click here for the Sharenet Spot Price page
The JSE Today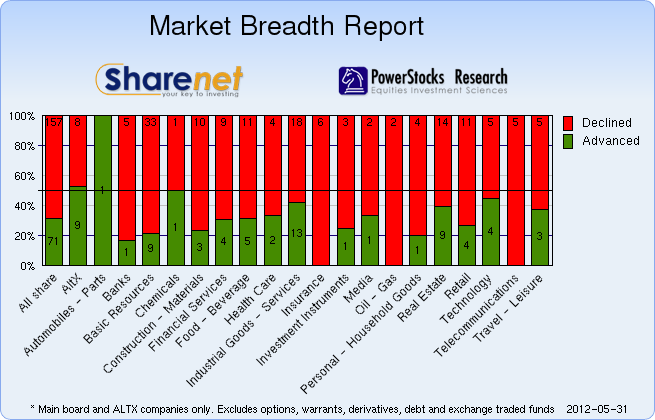 Trading Statistics
| Date | Adv. | Decl. | Unch. | Actives | Volume | Value | Trades | Orders |
| --- | --- | --- | --- | --- | --- | --- | --- | --- |
| 15/05/2012 | 130 | 191 | 80 | 401 | 315,570,504 | R21,722,076,112 | 104651 | 3535890 |
| 14/05/2012 | 91 | 261 | 53 | 405 | 196,689,890 | R11,540,231,698 | 91794 | 3462836 |
| 11/05/2012 | 187 | 150 | 77 | 414 | 221,124,619 | R11,934,872,759 | 93887 | 2824782 |
| 10/05/2012 | 220 | 118 | 65 | 403 | 246,225,049 | R13,449,576,348 | 120021 | 3010267 |
| 09/05/2012 | 139 | 201 | 89 | 429 | 262,503,829 | R13,794,513,512 | 113334 | 3012661 |
* Includes all listed instruments on the JSE
---
---
---
Index Summary
| | | | |
| --- | --- | --- | --- |
| Index Name | RP | Move | % Move |
| Top 40 | 29,548.07 | -28.99 | -0.10% |
| Industrial | 38,060.90 | 141.42 | 0.37% |
| Mid Cap | 48,005.12 | -165.59 | -0.34% |
| Small Cap | 35,727.37 | -132.41 | -0.37% |
| Resource 20 | 47,583.10 | -345.94 | -0.72% |
| Industrial 25 | 32,098.77 | 165.61 | 0.52% |
| Financial 15 | 9,427.08 | -45.49 | -0.48% |
| Financial & Ind. 30 | 35,593.08 | 87.02 | 0.25% |
| All Share | 33,486.08 | -47.48 | -0.14% |
| Oil & Gas | 27,391.16 | 356.42 | 1.32% |
| Mining | 30,476.99 | -338.49 | -1.10% |
| Gold Mining | 2,222.23 | -57.96 | -2.54% |
| Platinum Mining | 53.29 | -.59 | -1.10% |
| GENERAL MINING | 7,839.65 | -62.52 | -0.79% |
| Oil & Gas Producers | 14,727.72 | 191.64 | 1.32% |
| Basic Materials | 26,126.08 | -257.20 | -0.97% |
| Chemicals | 14,849.42 | -38.84 | -0.26% |
| Forestry & Paper | 13,440.23 | 29.14 | 0.22% |
| Industrial Metals | 29,274.47 | 113.56 | 0.39% |
| Industrials | 32,388.01 | -223.08 | -0.68% |
| General Industrials | 88.78 | -.09 | -0.10% |
| Consumer Goods | 33,305.76 | 197.19 | 0.60% |
| Automobiles & Parts | 5,638.50 | .00 | 0.00% |
| Household Goods | 180.02 | -1 | -0.62% |
| Health Care | 42,594.72 | 49.70 | 0.12% |
| Beverages | 112.26 | .50 | 0.45% |

| | | | |
| --- | --- | --- | --- |
| Index Name | RP | Move | % Move |
| Food Producers | 60,573.55 | -189.55 | -0.31% |
| Personal Goods | 470.82 | 5.40 | 1.16% |
| Consumer Services | 65,520.14 | 338.77 | 0.52% |
| General Retailers | 53,895.62 | -240.24 | -0.44% |
| Travel & Leisure | 3,763.97 | 20.03 | 0.53% |
| Media | 99.85 | 1.81 | 1.85% |
| Support Services | 2,409.05 | 1.18 | 0.05% |
| Telecommunications | 67,130.48 | 473.30 | 0.71% |
| Financials | 25,007.79 | -98.63 | -0.39% |
| Banks | 48,183.56 | -309.96 | -0.64% |
| Non-life Insurance | 42,647.61 | -68.91 | -0.16% |
| Life Insurance | 19,591.84 | -60.49 | -0.31% |
| General Financial | 2,273.00 | -24.08 | -1.05% |
| Technology | 28,781.43 | 43.09 | 0.15% |
| SHARIAH TOP40 | 2,954.10 | -8 | -0.27% |
| FTSE/JSE SHARIAH ALL | 3,075.77 | -9 | -0.30% |
| COAL MINING | 24,809.58 | 9 | 0.04% |
| FTSE JSE Fledgling | 5,413.64 | 10 | 0.18% |
| FTSE/JSE Alt X | 1,215.06 | 47 | 4.02% |
| SA LISTED PROPERTY | 419.21 | | 0.26% |
| CAPPED PROPERTY | 339.69 | | 0.20% |
| RESOURCE | 26,244.65 | -194 | -0.73% |
| DIVIDEND PLUS | 192.99 | -2 | -0.82% |
| FTSE/JSE RAFI 40 | 6,957.29 | -13 | -0.18% |
| Capped Top 40 | 15,606.86 | -10 | -0.06% |
| Capped All Share | 16,940.63 | -23 | -0.14% |
| JSE TABACO | 5,265.28 | 74 | 1.43% |
Click here for the Sharenet Index Summary page
---
Latest Consensus Changes**

| | | | |
| --- | --- | --- | --- |
| Code | Company Name | Status | Updated |
| ANG | ANGLOGOLD ASHANTI LIMITED | BUY | 11 May |
| HAR | HARMONY GOLD MINING COMPA... | BUY | 11 May |
| ACL | ARCELORMITTAL SA LTD | HOLD | 11 May |
| HSP | HOLDSPORT LIMITED | BUY | 10 May |
| NED | NEDBANK GROUP LTD | HOLD | 10 May |

Results Expected**

| | | |
| --- | --- | --- |
| Expected | Company Name | Fin. Date |
| 16 May 2012 | CAFCA | March 2012 (Interim) |
| 16 May 2012 | DATATEC | February 2012 (Final) |
| 16 May 2012 | RICHEMONT | March 2012 (Final) |
| 16 May 2012 | SALLIES-C | December 2011 (Interim) |
| 16 May 2012 | SANTOVA | February 2012 (Final) |
---
Recent Dividends**

| | | | | |
| --- | --- | --- | --- | --- |
| Share Name | Dec-Date | LDT | Pay-Date | Amount |
| MAZOR | 12-05-15 | 12-06-01 | 12-06-11 | R 0.0160 |
| CORONAT | 12-05-15 | 12-06-01 | 12-06-11 | R 0.9500 |
| STEFSTOCK | 12-05-15 | 12-06-29 | 12-07-09 | R 0.1200 |
| CAR | 12-05-15 | 12-06-08 | 12-06-18 | R 0.0800 |
| NETCARE | 12-05-14 | 12-07-13 | 12-07-23 | R 0.2200 |

Ex Div**

| | | | | |
| --- | --- | --- | --- | --- |
| Share Name | Dec-Date | LDT | Pay-Date | Amount |
| OCTODEC | 12-04-19 | 12-05-11 | 12-05-21 | R 0.7120 |
| PREMIUM | 12-04-19 | 12-05-11 | 12-05-21 | R 0.6000 |
| REBOSIS | 12-04-25 | 12-05-11 | 12-05-21 | R 0.4300 |
| DCENTRIX | 12-04-17 | 12-05-11 | 12-05-21 | R 0.1953 |
| PBT | 12-04-25 | 12-05-11 | 12-05-21 | R 0.0345 |
---
Upcoming AGMs**

| | | | |
| --- | --- | --- | --- |
| Code | Company Name | Date | Status |
| CNL | Control Instruments Group Ltd. | 15/05/2012 | Confirmed |
| GDO | Gold One International Ltd. | 16/05/2012 | Unconfirmed |
| BRN | Brimstone Investment Corporation Ltd. | 16/05/2012 | Confirmed |
| BRT | Brimstone Investment Corporation Ltd. | 16/05/2012 | Confirmed |
| RES | Resilient Property Income Fund Ltd. | 16/05/2012 | Confirmed |
---
Stock Exchange News Service
Click here for more SENS news
---