Tuesday, 31 January 2017 - 20:00
Charts
Todays Sharenet VIEWS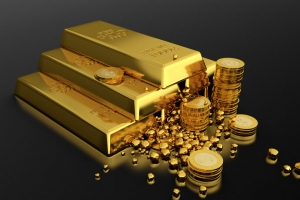 Cheyne Anderson
While global markets are generally expected to grow in 2017, it is also expected to be somewhat of a volatile year. During times of uncertainty, gold is always in the spotlight as a potential investment, and in 2016 it proved to be one of the best performing asset classes, rising 10% in USD terms.
Top News
South African poultry producer RCL Foods on Tuesday flagged a drop of as much as 54 percent in first-half profits as imports and high feed prices put pressure on its operations and led to job cuts at one of its plants.

---

U.S. President Donald Trump fired top federal government lawyer Sally Yates on Monday after she took the extraordinarily rare step of defying the White House and refused to defend new travel restrictions targeting seven Muslim-majority nations.

---

The U.S.-led coalition against Islamic State has boosted support for its Syrian allies since President Donald Trump took office, supplying armoured vehicles for the first time as they prepare to launch a new phase in their campaign for Raqqa, a spokesman for the militia said on Tuesday.

---
---
According to Business Day Harmony Gold Mining's share price jumped as much as 9.6 percent on Monday following its expected return to profit. Harmony's return to profitability was primarily due to an increase in the average gold spot price received, the recognition of a gain on the Hidden Valley acquisition and the gains recognised on the gold and currency hedges. CEO Peter Steenkamp added that Harmony improved safety performance, and increased production. Harmony has set itself a target. . .
World Markets (Spot Prices)
| | | | | |
| --- | --- | --- | --- | --- |
| Name | Time | RP | Move | % Move |
| JSE Overall | 17:00 | 52788.12 | 127.18 | 0.24% |
| JSE Top 40 | 17:00 | 45928.70 | 76.92 | 0.17% |
| JSE Gold | 17:00 | 1504.14 | 14.90 | 1.00% |
| JSE Financial | 17:00 | 40978.60 | 214.41 | 0.53% |
| JSE Industrial | 17:00 | 75269.57 | 11.75 | 0.02% |
| JSE Indust 25 | 17:00 | 67029.86 | -41.07 | -0.06% |
| JSE Resource | 17:00 | 35449.68 | 151.70 | 0.43% |
| DJ Futures | 19:58 | 19758.00 | -131.00 | -0.66% |
| DJ Ind | 19:58 | 19836.49 | -257.29 | -1.28% |
| SP 500 | 19:58 | 2272.31 | -8.59 | -0.38% |
| Nasdaq | 19:58 | 5586.48 | -74.30 | -1.31% |
| FTSE 100 | 18:42 | 7099.15 | -19.33 | -0.27% |
| DAX | 19:08 | 11535.31 | -146.58 | -1.25% |
| CAC40 | 19:08 | 4748.90 | -35.74 | -0.75% |
| Nikkei | 08:28 | 19041.34 | -426.06 | -2.19% |
| Shanghai | 26/01 | 3159.17 | 9.62 | 0.31% |
| Hang-Seng | 27/01 | 23360.78 | -13.39 | -0.06% |
| All Ords | 07:42 | 5675.00 | -39.30 | -0.69% |
| NZSE 50 | 09:08 | 7050.75 | -34.81 | -0.49% |

| | | | | |
| --- | --- | --- | --- | --- |
| Name | Time | RP | Move | % Move |
| Gold $ | 19:59 | 1210.41 | 15.11 | 1.26% |
| Gold R | 19:58 | 16340.94 | 162.65 | 1.01% |
| Gold R/kg | 19:57 | 525613 | 5481 | 1.05% |
| Silver $ | 19:59 | 17.4640 | 0.3850 | 2.25% |
| Platinum $ | 19:59 | 991.47 | 4.31 | 0.44% |
| Palladium $ | 19:59 | 752.40 | 14.40 | 1.95% |
| R186 | 17:35 | 8.82 | -0.11 | -1.23% |
| R204 | 17:09 | 7.90 | -0.03 | -0.38% |
| R207 | 17:25 | 7.96 | -0.11 | -1.36% |
| Brent Crude | 19:58 | 55.90 | 0.42 | 0.76% |
| USD / ZAR | 19:59 | 13.5025 | -0.0350 | -0.26% |
| GBP / ZAR | 19:55 | 16.9417 | 0.0830 | 0.49% |
| EUR/ ZAR | 19:55 | 14.5614 | 0.0901 | 0.62% |
| NZD/ ZAR | 19:58 | 9.8923 | 0.0330 | 0.33% |
| AUD / ZAR | 19:55 | 10.2252 | 0.0056 | 0.05% |
| USD / JPY | 19:59 | 112.9990 | -0.7160 | -0.63% |
| EUR / USD | 19:59 | 1.0783 | 0.0084 | 0.78% |
| GBP / USD | 19:59 | 1.2569 | 0.0079 | 0.63% |
Click here for the Sharenet Spot Price page
The JSE Today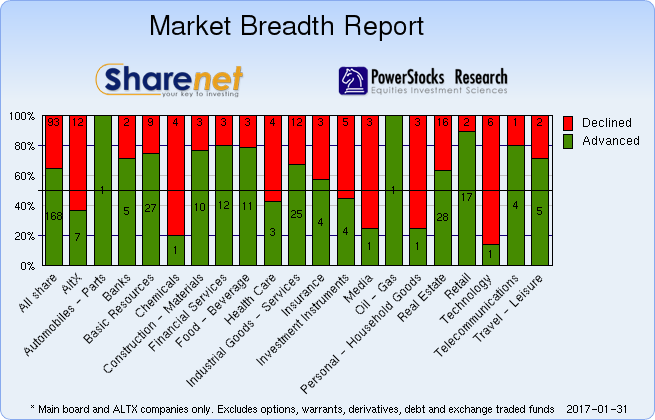 Trading Statistics
| Date | Adv. | Decl. | Unch. | Actives | Volume | Value | Trades | Orders |
| --- | --- | --- | --- | --- | --- | --- | --- | --- |
| 31/01/2017 | 235 | 139 | 63 | 437 | 256,617,394 | R18,376,341,259 | 318929 | 1596039 |
| 30/01/2017 | 136 | 215 | 56 | 407 | 238,714,411 | R17,852,337,083 | 260671 | 2898363 |
| 27/01/2017 | 134 | 218 | 63 | 415 | 257,878,221 | R19,045,145,715 | 280236 | 2868745 |
| 26/01/2017 | 212 | 140 | 58 | 410 | 262,382,986 | R20,696,655,328 | 288585 | 2948252 |
| 25/01/2017 | 177 | 182 | 59 | 418 | 264,769,001 | R23,485,442,050 | 324546 | 2940707 |
* Includes all listed instruments on the JSE
---
---
---
Index Summary
| | | | |
| --- | --- | --- | --- |
| Index Name | RP | Move | % Move |
| Top 40 | 45,928.70 | 76.92 | 0.17% |
| Industrial | 75,269.57 | 11.75 | 0.02% |
| Mid Cap | 78,387.52 | 312.10 | 0.40% |
| Small Cap | 63,034.80 | 517.85 | 0.83% |
| Resource 20 | 35,449.68 | 151.70 | 0.43% |
| Industrial 25 | 67,029.86 | -41.07 | -0.06% |
| Financial 15 | 14,929.05 | 96.89 | 0.65% |
| Financial & Ind. 30 | 70,528.08 | 69.93 | 0.10% |
| All Share | 52,788.12 | 127.18 | 0.24% |
| Oil & Gas | 7,195.69 | .00 | 0.00% |
| Mining | 26,917.80 | 179.63 | 0.67% |
| Gold Mining | 1,504.14 | 14.90 | 1.00% |
| Platinum Mining | 24.27 | .41 | 1.72% |
| GENERAL MINING | 7,883.54 | 43.23 | 0.55% |
| Oil & Gas Producers | 38,689.88 | .00 | 0.00% |
| Basic Materials | 25,151.91 | 111.71 | 0.45% |
| Chemicals | 20,707.22 | -110.74 | -0.53% |
| Forestry & Paper | 54,459.46 | 149.11 | 0.27% |
| Industrial Metals | 12,725.42 | 173.58 | 1.38% |
| Industrials | 47,024.12 | 128.42 | 0.27% |
| General Industrials | 178.52 | .08 | 0.04% |
| Consumer Goods | 74,737.68 | 219.95 | 0.30% |
| Automobiles & Parts | 4,981.81 | 113.22 | 2.33% |
| Household Goods | 444.71 | -7 | -1.65% |
| Health Care | 8,421.01 | -69.06 | -0.81% |
| Beverages | 247.36 | 5.04 | 2.08% |

| | | | |
| --- | --- | --- | --- |
| Index Name | RP | Move | % Move |
| Food Producers | 10,076.86 | 54.55 | 0.54% |
| Personal Goods | 1,048.70 | 14.68 | 1.42% |
| Consumer Services | 17,597.27 | -52.37 | -0.30% |
| General Retailers | 7,191.92 | 70.27 | 0.99% |
| Travel & Leisure | 6,135.91 | 25.21 | 0.41% |
| Media | 465.23 | -4.04 | -0.86% |
| Support Services | 2,002.28 | 11.63 | 0.58% |
| Telecommunications | 7,029.84 | 68.60 | 0.99% |
| Financials | 40,978.60 | 214.41 | 0.53% |
| Banks | 7,407.42 | 74.51 | 1.02% |
| Non-life Insurance | 63,470.41 | 148.02 | 0.23% |
| Life Insurance | 36,639.43 | 193.39 | 0.53% |
| General Financial | 3,959.78 | 20.84 | 0.53% |
| Technology | 56,131.01 | -776.14 | -1.36% |
| SHARIAH TOP40 | 3,161.59 | 4 | 0.13% |
| FTSE/JSE SHARIAH ALL | 3,564.80 | 8 | 0.23% |
| COAL MINING | 13,440.72 | -143 | -1.05% |
| FTSE JSE Fledgling | 8,065.14 | 50 | 0.62% |
| FTSE/JSE TOP 40 USD | 3,662.50 | 165 | 4.72% |
| FTSE/JSE Alt X | 1,387.26 | -2 | -0.14% |
| SA LISTED PROPERTY | 642.13 | 1.75 | 0.27% |
| CAPPED PROPERTY | 519.36 | | 0.03% |
| RESOURCE | 20,068.66 | 89 | 0.45% |
| DIVIDEND PLUS | 212.05 | 1 | 0.41% |
| FTSE/JSE RAFI 40 | 10,103.85 | 51 | 0.51% |
| Capped Top 40 | 24,676.17 | 62 | 0.25% |
| Capped All Share | 27,073.96 | 78 | 0.29% |
| JSE TABACO | 10,473.69 | -127 | -1.20% |
Click here for the Sharenet Index Summary page
---
Latest Consensus Changes**

| | | | |
| --- | --- | --- | --- |
| Code | Company Name | Status | Updated |
| BVT | THE BIDVEST GROUP LIMITED | HOLD | 30/01/2017 |
| BAW | BARLOWORLD LIMITED | HOLD | 30/01/2017 |
| VOD | VODACOM GROUP LIMITED | HOLD | 30/01/2017 |
| NPK | NAMPAK | SELL | 30/01/2017 |
| KAP | KAP INDUSTRIAL HLDGS | BUY | 30/01/2017 |

Results Expected**

| | | |
| --- | --- | --- |
| Expected | Company Name | Fin. Date |
| 02/02/2017 | HARMONY | December 2016 (Interim) |
| 02/02/2017 | HARMONY-P | December 2016 (Interim) |
| 02/02/2017 | HAR_NYSE | December 2016 (Interim) |
| 02/02/2017 | RESILIENT | December 2016 (Interim) |
| 03/02/2017 | INT HOTEL | November 2016 (Q) |
---
Recent Dividends**

| | | | | |
| --- | --- | --- | --- | --- |
| Share Name | Dec-Date | LDT | Pay-Date | Amount |
| ECSP A2 | 24/01/17 | 07/02/17 | 13/02/17 | ZAR 0.7671 |
| ECSP C | 24/01/17 | 07/02/17 | 13/02/17 | ZAR 1.1123 |
| ECSP A | 24/01/17 | 07/02/17 | 13/02/17 | ZAR 0.7671 |
| ECSP C6 | 24/01/17 | 07/02/17 | 13/02/17 | ZAR 1.1123 |
| ECSP C5 | 24/01/17 | 07/02/17 | 13/02/17 | ZAR 1.1123 |

Ex Div**

| | | | | |
| --- | --- | --- | --- | --- |
| Share Name | Dec-Date | LDT | Pay-Date | Amount |
| ILPREF2 | 30/12/16 | 24/01/17 | 30/01/17 | ZAR 14.7583 |
| ILRPREF1 | 30/12/16 | 24/01/17 | 30/01/17 | ZAR 14.7583 |
| PNR FOODS | 21/11/16 | 24/01/17 | 30/01/17 | ZAR 2.6000 |
| CLICKS | 27/10/16 | 24/01/17 | 30/01/17 | ZAR 1.9600 |
| TONGAAT | 14/11/16 | 24/01/17 | 02/02/17 | ZAR 1.0000 |
---
Upcoming AGMs**

| | | | |
| --- | --- | --- | --- |
| Code | Company Name | Date | Status |
| NPKO | Nampak Ltd. | 01/02/2017 | Confirmed |
| NPP2 | Nampak Ltd. | 01/02/2017 | Confirmed |
| NPKP | Nampak Ltd. | 01/02/2017 | Confirmed |
| NPP1 | Nampak Ltd. | 01/02/2017 | Confirmed |
| NPK | Nampak Ltd. | 01/02/2017 | Confirmed |
---
Stock Exchange News Service
Click here for more SENS news
---