Friday, 13 January 2017 - 20:00
Charts
Todays Sharenet VIEWS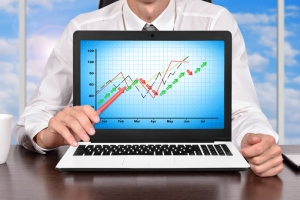 Daniel Nel
Author Daniel Nel's last article "Top 5 Share Picks for 2017" was so popular, we asked him if he had any other gems to share with us. Here are five more stocks to watch this year...
Top News
---

Iraqi special forces stormed the Mosul University complex in the city's northeast on Friday and pushed Islamic State back to reach two further bridges across the Tigris river, the military said.

---

The Obama administration on Thursday repealed a measure granting automatic residency to virtually every Cuban who arrived in the United States, whether or not they had visas, ending a longstanding exception to U.S. immigration policy.

---
---
Harmony advised that all employees have safely returned to surface at the Kusasalethu mine near Carletonville. Employees returned to surface shortly before 12:00pm last night following all-night discussions between management and union leadership. A thorough independent investigation into the circumstances surrounding the illegal sit-in, which lasted nearly 48 hours, will be conducted. Production at the mine will proceed over the weekend.. . .
Company Results
Revenue for the quarter increased to GBP5.3 million (2015: GBP2.8 million). Profit for the year was higher at GBP3.7 million (2015: GBP1.4 million). Furthermore, headline earnings per share were recorded at GBP2.66 pence per share (2015: GBP1.93 pence per share). Outlook The company provides attractive distributions through active asset management of its portfolio and well considered acquisitions. The last quarter has focused on executing the recently announced transactions as well. . .
World Markets (Spot Prices)
| | | | | |
| --- | --- | --- | --- | --- |
| Name | Time | RP | Move | % Move |
| JSE Overall | 17:00 | 52794.81 | 350.45 | 0.67% |
| JSE Top 40 | 17:00 | 46067.20 | 347.00 | 0.76% |
| JSE Gold | 17:00 | 1426.88 | -25.65 | -1.77% |
| JSE Financial | 17:00 | 41730.55 | 72.10 | 0.17% |
| JSE Industrial | 17:00 | 75425.29 | 810.30 | 1.09% |
| JSE Indust 25 | 17:00 | 67267.57 | 786.54 | 1.18% |
| JSE Resource | 17:00 | 34740.57 | 108.07 | 0.31% |
| DJ Futures | 19:52 | 19802.00 | -11.00 | -0.06% |
| DJ Ind | 19:58 | 19872.35 | -18.65 | -0.09% |
| SP 500 | 19:58 | 2274.18 | 3.74 | 0.16% |
| Nasdaq | 19:58 | 5576.68 | 29.19 | 0.53% |
| FTSE 100 | 16:16 | 7325.88 | 33.51 | 0.46% |
| DAX | 19:08 | 11629.18 | 108.14 | 0.94% |
| CAC40 | 19:08 | 4922.49 | 58.52 | 1.20% |
| Nikkei | 08:38 | 19287.28 | 152.58 | 0.80% |
| Shanghai | 09:28 | 3112.76 | -6.53 | -0.21% |
| Hang-Seng | 10:28 | 22937.38 | 108.36 | 0.47% |
| All Ords | 07:36 | 5776.80 | -44.80 | -0.77% |
| NZSE 50 | 09:10 | 7046.97 | -16.62 | -0.24% |

| | | | | |
| --- | --- | --- | --- | --- |
| Name | Time | RP | Move | % Move |
| Gold $ | 19:59 | 1196.34 | 2.05 | 0.17% |
| Gold R | 19:58 | 16112.80 | -15.63 | -0.10% |
| Gold R/kg | 19:57 | 517913 | -616 | -0.12% |
| Silver $ | 19:59 | 16.7300 | -0.0090 | -0.05% |
| Platinum $ | 19:59 | 981.22 | 6.27 | 0.64% |
| Palladium $ | 19:59 | 746.80 | -9.20 | -1.22% |
| R186 | 17:30 | 8.65 | -0.05 | -0.63% |
| R204 | 17:27 | 7.83 | 0.01 | 0.13% |
| R207 | 17:27 | 7.94 | -0.01 | -0.13% |
| Brent Crude | 19:58 | 55.77 | 0.67 | 1.22% |
| USD / ZAR | 19:59 | 13.4683 | -0.0353 | -0.26% |
| GBP / ZAR | 19:55 | 16.4062 | 0.0136 | 0.08% |
| EUR/ ZAR | 19:55 | 14.3247 | -0.0118 | -0.08% |
| NZD/ ZAR | 19:58 | 9.5818 | -0.0170 | -0.18% |
| AUD / ZAR | 19:55 | 10.0875 | -0.0290 | -0.29% |
| USD / JPY | 19:59 | 114.7680 | 0.1000 | 0.09% |
| EUR / USD | 19:59 | 1.0637 | 0.0025 | 0.24% |
| GBP / USD | 19:59 | 1.2203 | 0.0047 | 0.38% |
Click here for the Sharenet Spot Price page
The JSE Today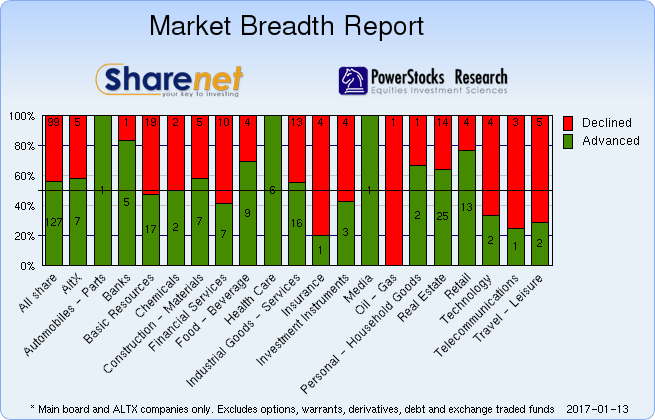 Trading Statistics
| Date | Adv. | Decl. | Unch. | Actives | Volume | Value | Trades | Orders |
| --- | --- | --- | --- | --- | --- | --- | --- | --- |
| 13/01/2017 | 188 | 135 | 68 | 391 | 230,453,620 | R15,493,313,948 | 245180 | 2525401 |
| 12/01/2017 | 185 | 150 | 70 | 405 | 261,672,657 | R20,974,858,322 | 294410 | 2875756 |
| 11/01/2017 | 215 | 121 | 60 | 396 | 279,701,369 | R23,936,925,969 | 284539 | 2777279 |
| 10/01/2017 | 216 | 128 | 70 | 414 | 207,073,209 | R15,903,473,219 | 263441 | 2221085 |
| 09/01/2017 | 137 | 183 | 67 | 387 | 161,837,056 | R10,818,257,706 | 221133 | 1878926 |
* Includes all listed instruments on the JSE
---
---
---
Index Summary
| | | | |
| --- | --- | --- | --- |
| Index Name | RP | Move | % Move |
| Top 40 | 46,067.20 | 347.00 | 0.76% |
| Industrial | 75,425.29 | 810.30 | 1.09% |
| Mid Cap | 78,230.91 | 311.26 | 0.40% |
| Small Cap | 61,797.87 | 274.27 | 0.45% |
| Resource 20 | 34,740.57 | 108.07 | 0.31% |
| Industrial 25 | 67,267.57 | 786.54 | 1.18% |
| Financial 15 | 15,276.11 | 43.56 | 0.29% |
| Financial & Ind. 30 | 71,219.92 | 626.01 | 0.89% |
| All Share | 52,794.81 | 350.45 | 0.67% |
| Oil & Gas | 7,195.69 | .00 | 0.00% |
| Mining | 25,853.05 | -39.35 | -0.15% |
| Gold Mining | 1,426.88 | -25.65 | -1.77% |
| Platinum Mining | 22.69 | .04 | 0.18% |
| GENERAL MINING | 7,618.26 | 5.42 | 0.07% |
| Oil & Gas Producers | 38,689.88 | .00 | 0.00% |
| Basic Materials | 24,580.47 | 66.05 | 0.27% |
| Chemicals | 21,778.56 | 200.40 | 0.93% |
| Forestry & Paper | 54,031.53 | 947.78 | 1.79% |
| Industrial Metals | 11,318.91 | 36.92 | 0.33% |
| Industrials | 47,823.73 | -10.35 | -0.02% |
| General Industrials | 182.95 | -.10 | -0.05% |
| Consumer Goods | 74,173.47 | 573.11 | 0.78% |
| Automobiles & Parts | 5,205.99 | 178.89 | 3.56% |
| Household Goods | 486.23 | 12 | 2.43% |
| Health Care | 8,194.20 | 143.00 | 1.78% |
| Beverages | 242.62 | 5.38 | 2.27% |

| | | | |
| --- | --- | --- | --- |
| Index Name | RP | Move | % Move |
| Food Producers | 9,737.81 | 24.44 | 0.25% |
| Personal Goods | 1,035.32 | 7.69 | 0.75% |
| Consumer Services | 17,678.81 | 260.42 | 1.50% |
| General Retailers | 6,958.35 | 261.31 | 3.90% |
| Travel & Leisure | 6,135.81 | -62.98 | -1.02% |
| Media | 472.28 | 5.44 | 1.17% |
| Support Services | 1,996.27 | 5.22 | 0.26% |
| Telecommunications | 7,226.86 | 76.02 | 1.06% |
| Financials | 41,730.55 | 72.10 | 0.17% |
| Banks | 7,809.57 | 18.18 | 0.23% |
| Non-life Insurance | 62,111.82 | -333.04 | -0.53% |
| Life Insurance | 36,747.19 | -129.41 | -0.35% |
| General Financial | 3,915.90 | 8.73 | 0.22% |
| Technology | 57,498.39 | -224.54 | -0.39% |
| SHARIAH TOP40 | 3,142.07 | 24 | 0.78% |
| FTSE/JSE SHARIAH ALL | 3,531.07 | 20 | 0.57% |
| COAL MINING | 12,080.46 | 76 | 0.63% |
| FTSE JSE Fledgling | 7,915.70 | -9 | -0.12% |
| FTSE/JSE TOP 40 USD | 3,672.86 | 176 | 5.02% |
| FTSE/JSE Alt X | 1,383.19 | 3 | 0.22% |
| SA LISTED PROPERTY | 647.86 | 5.49 | 0.85% |
| CAPPED PROPERTY | 524.55 | | 0.56% |
| RESOURCE | 19,612.71 | 53 | 0.27% |
| DIVIDEND PLUS | 215.11 | 2 | 0.81% |
| FTSE/JSE RAFI 40 | 10,149.09 | 34 | 0.34% |
| Capped Top 40 | 24,728.16 | 179 | 0.73% |
| Capped All Share | 27,060.03 | 174 | 0.65% |
| JSE TABACO | 9,907.36 | -34 | -0.34% |
Click here for the Sharenet Index Summary page
---
Latest Consensus Changes**

| | | | |
| --- | --- | --- | --- |
| Code | Company Name | Status | Updated |
| AMS | ANGLO AMERICAN PLATINUM C... | HOLD | 12/01/2017 |
| SBK | STANDARD BANK GROUP LIMIT... | SELL | 11/01/2017 |
| CFR | COMPAGNIE FIN RICHEMONT | HOLD | 10/01/2017 |
| NED | NEDBANK GROUP LTD | HOLD | 10/01/2017 |
| MTN | MTN GROUP LIMITED | BUY | 10/01/2017 |

Results Expected**

| | | |
| --- | --- | --- |
| Expected | Company Name | Fin. Date |
| 16/01/2017 | ROCKWELL | November 2016 (Q) |
| 23/01/2017 | INT HOTEL | November 2016 (Q) |
---
Recent Dividends**

| | | | | |
| --- | --- | --- | --- | --- |
| Share Name | Dec-Date | LDT | Pay-Date | Amount |
| ILRPREF1 | 30/12/16 | 24/01/17 | 30/01/17 | ZAR 14.7583 |
| ILPREF2 | 30/12/16 | 24/01/17 | 30/01/17 | ZAR 14.7583 |
| AEG CONV | 29/12/16 | 17/01/17 | 24/01/17 | ZAR 362.5000 |
| CULLINAN | 15/12/16 | 17/01/17 | 23/01/17 | ZAR 0.0100 |
| NAMPAK 6%P | 02/12/16 | 31/01/17 | 06/02/17 | ZAR 0.0600 |

Ex Div**

| | | | | |
| --- | --- | --- | --- | --- |
| Share Name | Dec-Date | LDT | Pay-Date | Amount |
| TIGBRANDS | 23/11/16 | 10/01/17 | 16/01/17 | ZAR 7.0200 |
| OCEANA | 17/11/16 | 10/01/17 | 16/01/17 | ZAR 3.5700 |
| REUNERT | 22/11/16 | 10/01/17 | 16/01/17 | ZAR 3.2600 |
| BARWORLD | 21/11/16 | 10/01/17 | 16/01/17 | ZAR 2.3000 |
| ECSP C | 19/12/16 | 10/01/17 | 16/01/17 | ZAR 1.1521 |
---
Upcoming AGMs**

| | | | |
| --- | --- | --- | --- |
| Code | Company Name | Date | Status |
---
Stock Exchange News Service
Click here for more SENS news
---