Tuesday, 12 November 2013 - 20:00
Charts
Seed Weekly - Value Investing the Buffett Way: 1987 ? 1991
This is the third part in a series looking at Berkshire Hathaway's annual reports. In it, Warren Buffett continues to demonstrate his simplistic approach of looking at Berkshire's investment portfolio. Although asserting that the market is less attractive than the previous two decades, Berkshire's managers have produced extraordinary results by doing rather ordinary things - but doing them exceptionally well.
The best business returns are usually achieved by companies that are doing something quite similar today to what they were doing five or ten years ago. Most sell non-sexy products or services in much the same manner as they did ten years ago (albeit in larger quantities, or at higher prices, or both). They may be making the most of an already strong business franchise, or concentrating on a single winning business theme.
Mr Buffett approaches a purchase as if it's a private business. He advises that when investing, one should view oneself as a business analyst (and not solely as a market, macroeconomic, or security analyst). He looks for outstanding businesses at a sensible price rather than mediocre businesses at a bargain price. Buffett concentrates his investments in a few companies that are understood well. He does not have in mind any time or price for sale, instead he's willing to hold a company indefinitely, granted that he expects the business to increase in intrinsic value at a satisfactory rate. He mentions that a stock is not necessarily an intelligent purchase purely because it is unpopular – i.e. being contrarian for the sake of it.
Mr Buffett states that declining share prices benefit investors, and rising prices hurt investors. "The most common cause of low prices is pessimism - sometimes pervasive, sometimes specific to a company or industry. We want to do business in such an environment, not because we like pessimism but because we like the prices it produces. It's optimism that is the enemy of the rational buyer." One should always be well positioned for prospective investments. "If you want to shoot rare, fast-moving elephants, you should always carry a loaded gun." During 1989 Mr Buffett increased his holdings in Coca Cola.
Mr Buffett is not weary of missing out on some company that depends upon an esoteric invention (Xerox), high-technology (Apple), or brilliant merchandising (Wal-Mart). Exotic sounding businesses that hold out the promise of feverish change generally trade at the highest PE ratios. That prospect lets investors fantasise about future profitability rather than facing today's business realities. Mr Buffett notes that, "We will never develop the competence to spot such businesses early. Instead I refer to business situations that Charlie and I can understand and that seem clearly attractive - but in which we nevertheless end up sucking our thumbs rather than buying."
A significant portion of Berkshires earnings were given to charity. During November 1988, Berkshire's shares listed on the New York Stock Exchange. Mr Buffett's wish was to attract long-term owners who, at the time of purchase, had no timetable or price target for sale but plan instead to stay with Berkshire indefinitely. Long term investors have been handsomely rewarded.
Kind regards,
Lourens Rabé
www.seedinvestments.co.za
info@seedinvestments.co.za
021 914 4966
Tue, 12 Nov 2013
Top News
South Africa's rand and government bonds weakened to their lowest in over two months on Tuesday on expectations that the United States would reduce monetary stimulus sooner than expected.

---

A U.S. aircraft carrier set sail for the Philippines on Tuesday to accelerate relief efforts after a typhoon killed an estimated 10,000 people in one coastal city alone, with fears the toll could rise sharply as rescuers reach hundreds of isolated towns and villages.

The Congolese government delegation has quit Ugandan-hosted talks with M23 rebels, saying Kampala's support for insurgents was to blame for the failure to sign a document due to officially end Congo's latest rebellion.
World Markets (Spot Prices)
| | | | | |
| --- | --- | --- | --- | --- |
| Name | Time | RP | Move | % Move |
| JSE Overall | 17:00 | 45448.28 | -39.90 | -0.09% |
| JSE Top 40 | 17:00 | 40727.80 | -30.53 | -0.07% |
| JSE Gold | 17:00 | 1329.60 | 26.28 | 2.02% |
| JSE Financial | 17:00 | 33100.03 | 96.41 | 0.29% |
| JSE Industrial | 16:51 | 59340.91 | 21.27 | 0.04% |
| JSE Indust 25 | 17:00 | 52083.62 | 62.39 | 0.12% |
| JSE Resource | 17:00 | 52325.40 | -351.34 | -0.67% |
| DJ Futures | 19:56 | 15675.00 | -48.00 | -0.31% |
| DJ Ind | 19:56 | 15736.43 | -46.67 | -0.30% |
| SP 500 | 19:56 | 1766.25 | -5.64 | -0.32% |
| Nasdaq | 19:56 | 3911.68 | -8.11 | -0.21% |
| FTSE 100 | 18:35 | 6726.79 | -1.58 | -0.02% |
| DAX | 19:08 | 9076.48 | -31.38 | -0.34% |
| CAC40 | 19:08 | 4263.78 | -26.36 | -0.61% |
| Nikkei | 09:12 | 14588.68 | 318.84 | 2.23% |
| Shanghai | 09:30 | 2126.77 | 17.30 | 0.82% |
| Hang-Seng | 10:30 | 22901.41 | -168.44 | -0.73% |
| All Ords | 07:52 | 5386.80 | 6.00 | 0.11% |
| NZSE 50 | 06:48 | 4915.67 | -6.50 | -0.13% |

| | | | | |
| --- | --- | --- | --- | --- |
| Name | Time | RP | Move | % Move |
| Gold $ | 19:59 | 1275.38 | -6.41 | -0.50% |
| Gold R | 19:58 | 13243.78 | 13243.78 | 0.00% |
| Gold R/kg | 19:56 | 425963 | -1802 | -0.42% |
| Silver $ | 19:59 | 20.8490 | -.4810 | -2.26% |
| Platinum $ | 19:59 | 1431.75 | 4.45 | 0.31% |
| Palladium $ | 19:59 | 739.25 | -12.00 | -1.60% |
| R157 | 16:02 | 6.35 | .14 | 2.17% |
| R186 | 16:02 | 8.30 | -.04 | -0.54% |
| R204 | 16:02 | 7.29 | .05 | 0.76% |
| R207 | 16:02 | 7.56 | .00 | 0.00% |
| Brent Crude | 19:56 | 106.37 | 1.25 | 1.19% |
| Rand / Dollar | 19:59 | 10.3828 | 0.0068 | 0.07% |
| Rand / Pound | 19:55 | 16.4961 | -0.0731 | -0.44% |
| Rand / Euro | 19:55 | 13.9636 | 0.0420 | 0.30% |
| Rand / NZD | 19:58 | 8.5392 | -0.0254 | -0.30% |
| Rand / AUD | 19:55 | 9.6604 | -0.0592 | -0.61% |
| Yen / Dollar | 19:59 | 99.5230 | 0.3650 | 0.37% |
| Euro / Dollar | 19:55 | 0.7434 | -0.0022 | -0.30% |
| Dollar / Euro | 19:59 | 1.3441 | 0.0036 | 0.27% |
| Pound / Dollar | 19:55 | 0.6281 | 0.0029 | 0.46% |
Click here for the Sharenet Spot Price page
The JSE Today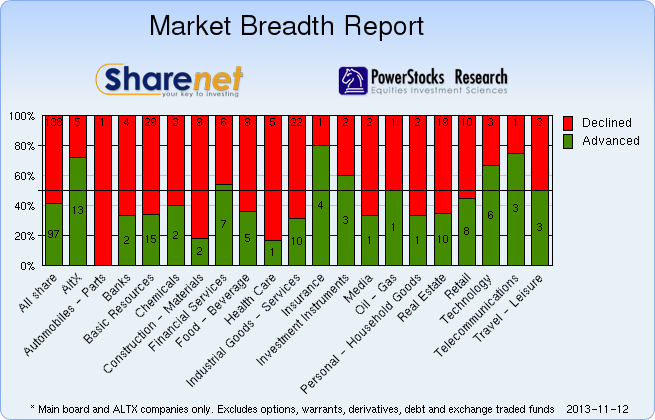 Trading Statistics
| Date | Adv. | Decl. | Unch. | Actives | Volume | Value | Trades | Orders |
| --- | --- | --- | --- | --- | --- | --- | --- | --- |
| 12/11/2013 | 147 | 198 | 80 | 425 | 220,698,116 | R13,657,589,968 | 148093 | 1567563 |
| 11/11/2013 | 164 | 204 | 65 | 433 | 213,483,207 | R12,595,361,367 | 145073 | 1190236 |
| 08/11/2013 | 115 | 251 | 70 | 436 | 245,920,787 | R14,002,162,494 | 153280 | 1582616 |
| 07/11/2013 | 177 | 168 | 82 | 427 | 197,199,964 | R12,887,639,271 | 149523 | 1795078 |
| 06/11/2013 | 228 | 131 | 80 | 439 | 216,720,664 | R13,756,139,369 | 144228 | 1365324 |
* Includes all listed instruments on the JSE
---
---
---
Index Summary
| | | | |
| --- | --- | --- | --- |
| Index Name | RP | Move | % Move |
| Top 40 | 40,727.80 | -30.53 | -0.07% |
| Industrial | 59,340.91 | 21.27 | 0.04% |
| Mid Cap | 59,118.33 | -77.71 | -0.13% |
| Small Cap | 50,037.23 | -134.97 | -0.27% |
| Resource 20 | 52,325.40 | -351.34 | -0.67% |
| Industrial 25 | 52,083.62 | 62.39 | 0.12% |
| Financial 15 | 12,520.60 | 33.07 | 0.26% |
| Financial & Ind. 30 | 55,293.08 | 103.10 | 0.19% |
| All Share | 45,448.28 | -39.90 | -0.09% |
| Oil & Gas | 38,217.17 | 152.87 | 0.40% |
| Mining | 31,716.83 | -279.95 | -0.87% |
| Gold Mining | 1,329.60 | 26.28 | 2.02% |
| Platinum Mining | 52.89 | -.28 | -0.53% |
| GENERAL MINING | 9,085.76 | -114.19 | -1.24% |
| Oil & Gas Producers | 20,548.66 | 82.19 | 0.40% |
| Basic Materials | 28,061.67 | -226.25 | -0.80% |
| Chemicals | 23,508.37 | 87.26 | 0.37% |
| Forestry & Paper | 28,342.01 | -131.26 | -0.46% |
| Industrial Metals | 23,172.06 | 36.35 | 0.16% |
| Industrials | 42,985.40 | -257.52 | -0.60% |
| General Industrials | 128.04 | -.71 | -0.55% |
| Consumer Goods | 56,330.60 | -91.51 | -0.16% |
| Automobiles & Parts | 8,659.29 | -58.88 | -0.68% |
| Household Goods | 271.82 | 7 | 2.54% |
| Health Care | 75,308.45 | 156.05 | 0.21% |
| Beverages | 181.55 | -.43 | -0.24% |

| | | | |
| --- | --- | --- | --- |
| Index Name | RP | Move | % Move |
| Food Producers | 70,200.20 | -320.22 | -0.45% |
| Personal Goods | 1,037.12 | -2.89 | -0.28% |
| Consumer Services | 10,135.76 | 51.49 | 0.51% |
| General Retailers | 61,687.15 | -74.43 | -0.12% |
| Travel & Leisure | 5,672.51 | -20.27 | -0.36% |
| Media | 204.17 | 2.08 | 1.03% |
| Support Services | 2,610.53 | -12.34 | -0.47% |
| Telecommunications | 9,440.33 | 65.22 | 0.70% |
| Financials | 33,100.03 | 96.41 | 0.29% |
| Banks | 55,929.50 | 70.45 | 0.13% |
| Non-life Insurance | 48,492.19 | -125.06 | -0.26% |
| Life Insurance | 32,387.16 | 218.79 | 0.68% |
| General Financial | 3,195.08 | 40.17 | 1.27% |
| Technology | 44,291.85 | 49.18 | 0.11% |
| SHARIAH TOP40 | 3,865.25 | -9 | -0.22% |
| FTSE/JSE SHARIAH ALL | 3,976.93 | -10 | -0.26% |
| COAL MINING | 19,002.95 | -306 | -1.59% |
| FTSE JSE Fledgling | 6,259.68 | 3 | 0.05% |
| FTSE/JSE Alt X | 1,117.71 | 9 | 0.82% |
| SA LISTED PROPERTY | 494.65 | | -0.43% |
| CAPPED PROPERTY | 423.52 | | -0.40% |
| RESOURCE | 28,613.28 | -189 | -0.66% |
| DIVIDEND PLUS | 216.21 | 1 | 0.54% |
| FTSE/JSE RAFI 40 | 9,013.98 | -4 | -0.04% |
| Capped Top 40 | 21,509.26 | -8 | -0.04% |
| Capped All Share | 23,004.97 | -18 | -0.08% |
| JSE TABACO | 7,226.10 | -38 | -0.53% |
Click here for the Sharenet Index Summary page
---
Latest Consensus Changes**

| | | | |
| --- | --- | --- | --- |
| Code | Company Name | Status | Updated |
| TFG | THE FOSCHINI GROUP LTD | HOLD | 11/11/2013 |
| AVI | AVI LTD | HOLD | 09/11/2013 |
| NTC | NETCARE LIMITED | BUY | 09/11/2013 |
| CFR | COMPAGNIE FIN RICHEMONT | HOLD | 08/11/2013 |
| NPN | NASPERS LIMITED | BUY | 08/11/2013 |

Results Expected**

| | | |
| --- | --- | --- |
| Expected | Company Name | Fin. Date |
| 13/11/2013 | AFDAWN | August 2013 (Interim) |
| 13/11/2013 | AMECOR | September 2013 (Interim) |
| 13/11/2013 | ANGLD | September 2013 (Q) |
| 13/11/2013 | ANGLD-A | September 2013 (Q) |
| 13/11/2013 | ANGLD-B | September 2013 (Q) |
---
Recent Dividends**

| | | | | |
| --- | --- | --- | --- | --- |
| Share Name | Dec-Date | LDT | Pay-Date | Amount |
| VODACOM | 11/11/13 | 22/11/13 | 02/12/13 | ZAR 3.9500 |
| ASTRAL | 11/11/13 | 17/01/14 | 27/01/14 | ZAR 2.2200 |
| TONGAAT | 11/11/13 | 24/01/14 | 06/02/14 | ZAR 1.5000 |
| INVICTA | 11/11/13 | 29/11/13 | 09/12/13 | ZAR 1.0200 |
| LEWIS | 11/11/13 | 17/01/14 | 27/01/14 | ZAR 2.1500 |

Ex Div**

| | | | | |
| --- | --- | --- | --- | --- |
| Share Name | Dec-Date | LDT | Pay-Date | Amount |
| REMGRO | 18/09/13 | 08/11/13 | 18/11/13 | ZAR 2.0100 |
| OCTODEC | 23/10/13 | 08/11/13 | 18/11/13 | ZAR 0.7890 |
| PREMIUM | 23/10/13 | 08/11/13 | 18/11/13 | ZAR 0.6620 |
| OASIS | 18/10/13 | 08/11/13 | 18/11/13 | ZAR 0.4308 |
| PINNACLE | 05/09/13 | 08/11/13 | 18/11/13 | ZAR 0.4100 |
---
Upcoming AGMs**

| | | | |
| --- | --- | --- | --- |
| Code | Company Name | Date | Status |
| GRT | Growthpoint Properties Ltd. | 12/11/2013 | Confirmed |
| YRK | York Timber Holdings Ltd. | 12/11/2013 | Confirmed |
| YRKP | York Timber Holdings Ltd. | 12/11/2013 | Confirmed |
| WBO | Wilson Bayly Holmes - Ovcon Ltd. | 13/11/2013 | Confirmed |
| WBOP | Wilson Bayly Holmes - Ovcon Ltd. | 13/11/2013 | Confirmed |
---
Stock Exchange News Service
Click here for more SENS news
---