Tuesday, 15 October 2013 - 20:00
Charts
Seed Weekly - The Pitfalls and Power of PPP
Investing offshore is often an emotive subject, particularly in South Africa where many investors got burnt at the turn of the century. In the early 2000's the rand weakened considerably against most global currencies and investors sent large portions of their hard earned savings into developed market equities at exactly the wrong time. From the end of 2001 until now we have seen both the rand strengthening AND the local market outperforming in local currency terms, i.e. investors who sent money offshore lost out both from a currency AND a stock market perspective. These investors are therefore very sceptical about sending any more money out of the country as they don't want to get burnt again. On the other side of the coin you have those investors that are worried that South Africa is 'going down the tubes' and will take ANY opportunity to get money out of the country.
The reality is, as always, somewhere in between and at Seed we attempt to take an unemotional look at where the opportunities lie. We realise that we will make mistakes, but if we consistently invest where the probabilities are the greatest then our clients will enjoy superior returns over time.
In our view, investors taking money offshore need to answer two explicit questions:
1. Is the rand over or under valued?
2. Are the offshore assets (equities, property, bonds, etc) over or under valued?
This report will look solely at the first question.
Purchasing Power Parity, more commonly known as PPP, is a common method of valuing currencies that is popular among academics and investment practitioners alike. Essentially PPP estimates the fair value of a country's currency based on inflation differentials and the law of arbitrage. While this relationship often doesn't hold over the short term, it has a good predictive power over the longer term.
All models have potential pitfalls where human intervention and logic are important to ensure that sound theoretical reasoning doesn't result in illogical results. One potential pitfall of PPP is that the output is highly dependent on the starting date. One can get wildly different estimations of fair value by using the same model, but different starting dates. When looking at the fair value of the rand vs the US dollar one can calculate PPP anywhere between R 6.90 (1995 start) and R 17.72 (2002 start). Blindly inputting a starting date can therefore produce an output that is far removed from (what we perceive to be) reality.
The model's output is extremely useful, and a powerful predictor of future movements, for investors who apply an element of logic when making their initial assumptions. At Seed we look at PPP from two viewpoints. The first looks at the average PPP for periods between 5 and 20 years (i.e. 180 observations). This method gives a current fair value of R 9.44 / USD. The second method uses the end of 1984 as a starting date, and the result is below. This model's fair value is R 9.47 / USD compared to the current rate (as at 30 September) of 10.03.
When the rand is above or below the dotted line (1 standard deviation) we are fairly confident that it's trading significantly away from fair value and make investment decisions accordingly (send ZAR offshore when it's too strong and bring USD back to South Africa when it's oversold).
We used this model to reduce our foreign currency exposure at the end of 2008, and then again to take it to its maximum at the end of 2010. The rand is currently fairly close to fair value and we therefore aren't making investment decisions solely based on an expectation of currency movements.
Take care,
Mike Browne
www.seedinvestments.co.za
info@seedinvestments.co.za
021 914 4966
Tue, 15 Oct 2013
Top News
Local markets The JSE All Share gained 1.31% on Tuesday, with resources rising 1.89%, financials up 1.41%, industrials 1.02% higher, and gold miners down 0.14%.

---

A senior Iranian negotiator cautioned it was too early to say whether the Islamic Republic and six world powers made progress on Tuesday towards resolving the decade-old standoff over Tehran's disputed nuclear ambitions.

The Social Democrats (SPD) bemoaned a lack of concessions from Angela Merkel, while her conservative allies accused the SPD of trying to dictate policy despite losing last month's election.
World Markets (Spot Prices)
| | | | | |
| --- | --- | --- | --- | --- |
| Name | Time | RP | Move | % Move |
| JSE Overall | 17:00 | 44297.17 | 574.01 | 1.31% |
| JSE Top 40 | 17:00 | 39592.96 | 572.79 | 1.47% |
| JSE Gold | 17:00 | 1184.59 | -1.68 | -0.14% |
| JSE Financial | 17:00 | 32599.87 | 452.65 | 1.41% |
| JSE Industrial | 17:00 | 58199.34 | 586.95 | 1.02% |
| JSE Indust 25 | 17:00 | 50925.35 | 572.13 | 1.14% |
| JSE Resource | 17:00 | 50031.26 | 928.85 | 1.89% |
| DJ Futures | 19:52 | 15170.00 | -55.00 | -0.36% |
| DJ Ind | 19:58 | 15246.68 | -54.58 | -0.36% |
| SP 500 | 19:58 | 1705.95 | -4.19 | -0.25% |
| Nasdaq | 19:58 | 3810.95 | -4.32 | -0.11% |
| FTSE 100 | 17:35 | 6549.11 | 41.46 | 0.64% |
| DAX | 18:08 | 8804.44 | 80.63 | 0.92% |
| CAC40 | 18:08 | 4256.02 | 33.06 | 0.78% |
| Nikkei | 08:44 | 14441.54 | 36.80 | 0.26% |
| Shanghai | 09:30 | 2233.41 | -4.36 | -0.19% |
| Hang-Seng | 10:28 | 23336.52 | 118.20 | 0.51% |
| All Ords | 07:47 | 5259.20 | 52.70 | 1.01% |
| NZSE 50 | 06:50 | 4747.93 | 13.76 | 0.29% |

| | | | | |
| --- | --- | --- | --- | --- |
| Name | Time | RP | Move | % Move |
| Gold $ | 19:59 | 1274.59 | 1.23 | 0.10% |
| Gold R | 19:58 | 12656.78 | -54.44 | -0.43% |
| Gold R/kg | 19:58 | 406916 | -2860 | -0.70% |
| Silver $ | 19:59 | 21.2100 | -.0290 | -0.14% |
| Platinum $ | 19:59 | 1381.00 | 4.00 | 0.29% |
| Palladium $ | 19:59 | 704.60 | -8.00 | -1.12% |
| R157 | 17:41 | 5.88 | -.01 | -0.25% |
| R186 | 17:41 | 7.93 | -.00 | -0.06% |
| R204 | 17:41 | 6.78 | .00 | 0.07% |
| R207 | 17:41 | 7.13 | -.00 | -0.07% |
| Brent Crude | 19:58 | 110.22 | -1.06 | -0.95% |
| Rand / Dollar | 19:59 | 9.9375 | 0.0222 | 0.22% |
| Rand / Pound | 19:55 | 15.8484 | 0.0271 | 0.17% |
| Rand / Euro | 19:55 | 13.4147 | -0.0366 | -0.27% |
| Rand / NZD | 14/10 | 8.2364 | 0.0434 | 0.53% |
| Rand / AUD | 19:55 | 9.4685 | 0.0506 | 0.54% |
| Yen / Dollar | 19:59 | 98.4800 | -0.1730 | -0.18% |
| Euro / Dollar | 19:55 | 0.7407 | 0.0035 | 0.47% |
| Dollar / Euro | 19:59 | 1.3498 | -0.0060 | -0.45% |
| Pound / Dollar | 19:55 | 0.6256 | 0.0001 | 0.02% |
Click here for the Sharenet Spot Price page
The JSE Today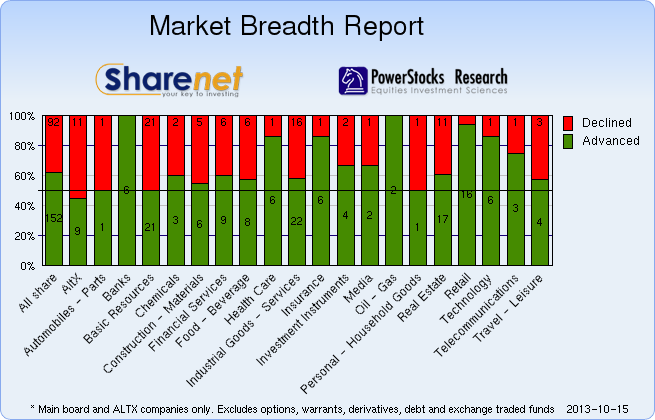 Trading Statistics
| Date | Adv. | Decl. | Unch. | Actives | Volume | Value | Trades | Orders |
| --- | --- | --- | --- | --- | --- | --- | --- | --- |
| 15/10/2013 | 247 | 139 | 55 | 441 | 194,371,679 | R14,389,272,808 | 155182 | 926176 |
| 14/10/2013 | 191 | 158 | 60 | 409 | 178,331,180 | R16,071,548,547 | 113456 | 1403098 |
| 11/10/2013 | 217 | 119 | 78 | 414 | 214,453,690 | R12,794,680,588 | 128610 | 1321378 |
| 10/10/2013 | 240 | 116 | 55 | 411 | 167,665,025 | R12,244,938,259 | 143518 | 1561294 |
| 09/10/2013 | 129 | 250 | 50 | 429 | 188,700,753 | R13,489,839,915 | 146438 | 858179 |
* Includes all listed instruments on the JSE
---
---
---
Index Summary
| | | | |
| --- | --- | --- | --- |
| Index Name | RP | Move | % Move |
| Top 40 | 39,592.96 | 572.79 | 1.47% |
| Industrial | 58,199.34 | 586.95 | 1.02% |
| Mid Cap | 58,513.67 | 299.80 | 0.51% |
| Small Cap | 48,996.16 | 251.06 | 0.52% |
| Resource 20 | 50,031.26 | 928.85 | 1.89% |
| Industrial 25 | 50,925.35 | 572.13 | 1.14% |
| Financial 15 | 12,343.63 | 204.46 | 1.68% |
| Financial & Ind. 30 | 54,126.33 | 699.20 | 1.31% |
| All Share | 44,297.17 | 574.01 | 1.31% |
| Oil & Gas | 37,989.39 | 767.34 | 2.06% |
| Mining | 30,052.09 | 535.67 | 1.81% |
| Gold Mining | 1,184.59 | -1.68 | -0.14% |
| Platinum Mining | 49.35 | 1.18 | 2.45% |
| GENERAL MINING | 8,663.15 | 167.24 | 1.97% |
| Oil & Gas Producers | 20,426.19 | 412.58 | 2.06% |
| Basic Materials | 26,779.90 | 440.82 | 1.67% |
| Chemicals | 23,759.77 | 93.11 | 0.39% |
| Forestry & Paper | 28,191.44 | 271.26 | 0.97% |
| Industrial Metals | 24,435.58 | -57.64 | -0.24% |
| Industrials | 43,427.55 | 174.64 | 0.40% |
| General Industrials | 129.92 | 1.11 | 0.86% |
| Consumer Goods | 52,949.40 | 309.84 | 0.59% |
| Automobiles & Parts | 8,944.61 | 226.44 | 2.60% |
| Household Goods | 260.06 | 6 | 2.52% |
| Health Care | 75,016.57 | 225.61 | 0.30% |
| Beverages | 164.41 | 2.22 | 1.37% |

| | | | |
| --- | --- | --- | --- |
| Index Name | RP | Move | % Move |
| Food Producers | 71,540.73 | 350.00 | 0.49% |
| Personal Goods | 1,001.26 | .00 | 0.00% |
| Consumer Services | 10,355.87 | 232.22 | 2.29% |
| General Retailers | 65,979.90 | 905.06 | 1.39% |
| Travel & Leisure | 5,602.73 | -13.56 | -0.24% |
| Media | 208.44 | 6.69 | 3.32% |
| Support Services | 2,634.35 | 18.90 | 0.72% |
| Telecommunications | 9,467.07 | 119.13 | 1.27% |
| Financials | 32,599.87 | 452.65 | 1.41% |
| Banks | 57,416.40 | 930.34 | 1.65% |
| Non-life Insurance | 50,125.62 | 612.54 | 1.24% |
| Life Insurance | 30,634.52 | 704.25 | 2.35% |
| General Financial | 2,997.77 | 15.36 | 0.52% |
| Technology | 44,870.99 | 548.84 | 1.24% |
| SHARIAH TOP40 | 3,747.13 | 61 | 1.66% |
| FTSE/JSE SHARIAH ALL | 3,869.31 | 54 | 1.42% |
| COAL MINING | 20,655.48 | 267 | 1.31% |
| FTSE JSE Fledgling | 6,011.13 | -26 | -0.43% |
| FTSE/JSE Alt X | 1,036.50 | -3 | -0.25% |
| SA LISTED PROPERTY | 503.10 | | 0.26% |
| CAPPED PROPERTY | 424.13 | | 0.16% |
| RESOURCE | 27,343.25 | 499 | 1.86% |
| DIVIDEND PLUS | 217.52 | 2 | 0.75% |
| FTSE/JSE RAFI 40 | 8,783.02 | 133 | 1.54% |
| Capped Top 40 | 20,978.84 | 306 | 1.48% |
| Capped All Share | 22,442.42 | 290 | 1.31% |
| JSE TABACO | 6,555.24 | -51 | -0.77% |
Click here for the Sharenet Index Summary page
---
Latest Consensus Changes**

| | | | |
| --- | --- | --- | --- |
| Code | Company Name | Status | Updated |
| TKG | TELKOM SA LIMITED | BUY | 14/10/2013 |
| RBP | ROYAL BAFOKENG PLATINUM L... | HOLD | 11/10/2013 |
| BTI | BRITISH AM. TOBACCO PLC | BUY | 11/10/2013 |
| SAB | SABMILLER PLC | HOLD | 11/10/2013 |
| ATL | ATLATSA RESOURCES CORP | HOLD | 10/10/2013 |

Results Expected**

| | | |
| --- | --- | --- |
| Expected | Company Name | Fin. Date |
| 16/10/2013 | AQUARIUS | September 2013 (Q) |
| 16/10/2013 | AQUARIUSCVT | September 2013 (Q) |
| 16/10/2013 | DATATEC | August 2013 (Interim) |
| 16/10/2013 | FORBES | August 2013 (Interim) |
| 16/10/2013 | ODERSON | August 2013 (Interim) |
---
Recent Dividends**

| | | | | |
| --- | --- | --- | --- | --- |
| Share Name | Dec-Date | LDT | Pay-Date | Amount |
| HOLDSPORT | 11/10/13 | 29/11/13 | 09/12/13 | ZAR 0.7500 |
| FPT | 10/10/13 | 25/10/13 | 04/11/13 | ZAR 0.2389 |
| DCENTRIX | 08/10/13 | 25/10/13 | 04/11/13 | ZAR 0.1232 |
| BARWORLD6%P | 07/10/13 | 25/10/13 | 04/11/13 | ZAR 0.0600 |
| NTC PREF | 01/10/13 | 25/10/13 | 04/11/13 | ZAR 3.5159 |

Ex Div**

| | | | | |
| --- | --- | --- | --- | --- |
| Share Name | Dec-Date | LDT | Pay-Date | Amount |
| WBHO | 02/09/13 | 11/10/13 | 21/10/13 | ZAR 2.3300 |
| CAPITEC | 25/09/13 | 11/10/13 | 21/10/13 | ZAR 2.0300 |
| A-V-I | 09/09/13 | 11/10/13 | 21/10/13 | ZAR 1.7000 |
| JDGROUP | 26/08/13 | 11/10/13 | 21/10/13 | ZAR 1.1700 |
| PUTPROP | 20/09/13 | 11/10/13 | 21/10/13 | ZAR 0.1800 |
---
Upcoming AGMs**

| | | | |
| --- | --- | --- | --- |
| Code | Company Name | Date | Status |
| ADW | African Dawn Capital Ltd. | 15/10/2013 | Confirmed |
| DST | Distell Group Ltd. | 16/10/2013 | Confirmed |
| WSL | Wescoal Holdings Ltd. | 16/10/2013 | Confirmed |
| CVH | Capevin Holdings Ltd. | 17/10/2013 | Confirmed |
| AFR | AFGRI Ltd. | 18/10/2013 | Confirmed |
---
Stock Exchange News Service
Click here for more SENS news
---