Wednesday, 21 November 2012 - 20:00
Charts
Value in the Local Market
Long term value investors will appreciate the importance of the starting PE ratio when making an investment. Low PE investments typically outperform high PE investments when looking over a 5 year period. While the relationship is true on an individual stock level, the same also holds when looking at the market as a whole and also different market sectors.
The charts below show how this relationship holds over various periods. We have taken market data over the past 15 years or so, and for each starting PE have looked at the subsequent 5 year return (annualised) that an investor would have received from the relevant index. For example in the first chart (looking at the ALSI – overall market) we can see that when the starting PE was around 20, the subsequent 5 year return was just short of 5% pa, while starting PE's of under 10 have delivered in excess of 30% pa over the following 5 years. The market's current PE is just above 14, and by this measure the ALSI should deliver just over 15% pa over the next 5 years, which is a bit below the long term average.
On average the market looks fairly valued, but when looking a bit closer we can see some major discrepancies between the various sectors. The Resource sector has been hard hit in relation to the Industrials and Financials; particularly this year as the global economy (and especially China) has slowed and locally has been exacerbated by the numerous strikes across the industry costing not only production, but also lives. On the other side, Industrials have been driven by the 'flight to quality' both locally and abroad, where investors have bid up the prices of those companies with stable earning profiles. Locally the retailers have been major beneficiaries and also 'sin' companies like British American Tobacco and SABMiller.
While the performance of the Resource index has been poor, the sector is now showing good value with a PE of just over 10, and a dividend yield in excess of 3%. This is compared to the Industrial index's PE of nearly 20, and dividend yield of 2.5%.
The three charts below show the history of starting PE versus subsequent 5 year return (annualised). The large yellow dots indicate the current PE and expected 5 year return from here for the three sectors.
This method is by no means full proof. There will always be anomalies, but if this approach is consistently applied investors should be able to generate above average returns over rolling 5 year periods. Another caveat is that returns never come in a straight line. Investors must realise that while Industrial companies are expensive, they can continue getting more expensive (i.e. continue to go up). At the same time, while Resource companies are cheap, this doesn't mean they're going to instantly deliver returns to investors, they could even continue to fall over the short term. Investors need to be patient and have a time horizon of at least 5 years for this strategy to work.
Investing is neither an art, nor a science, but by consistently using valuations to assist in the investment process investors will increase their probability of generating satisfying returns.
Take care,
Mike Browne
www.seedinvestments.co.za
info@seedinvestments.co.za
021 914 4966
Wed, 21 Nov 2012
Top News
South African stocks ended slightly higher on Wednesday, tracking similar gains in major overseas markets, with domestic drugs maker Cipla Medpro surging on news of a takeover bid.

---

India secretly hanged the lone survivor of the Pakistan-based militant squad responsible for a rampage through Mumbai that killed 166 people, sparking celebrations days before the fourth anniversary of the assault on the financial capital.

Israel and Hamas agreed on Wednesday to a ceasefire brokered by Egypt on the eighth day of intensive Israeli fire on the Gaza Strip and militant rocket attacks out of the enclave, Israeli, Palestinian and Egyptian sources said.
---
Further to the withdrawal of the cautionary announcement dated 30 August 2012, in which shareholders were advised that the discussions referred to in earlier cautionary announcements had been terminated, shareholders were advised that these discussions recently resumed. Pursuant to these discussions. . .
World Markets (Spot Prices)
| | | | | |
| --- | --- | --- | --- | --- |
| Name | Time | RP | Move | % Move |
| JSE Overall | 17:00 | 37498.02 | 192.00 | 0.51% |
| JSE Top 40 | 17:00 | 33274.88 | 176.00 | 0.53% |
| JSE Gold | 17:00 | 2299.80 | 3.00 | 0.17% |
| JSE Financial | 17:00 | 27959.74 | 86.00 | 0.31% |
| JSE Industrial | 17:00 | 44962.61 | 329.00 | 0.74% |
| JSE Indust 25 | 17:00 | 38782.41 | 290.00 | 0.75% |
| JSE Resource | 17:00 | 49001.46 | 144.00 | 0.30% |
| DJ Futures | 19:48 | 12800.00 | 44.00 | 0.34% |
| DJ Ind | 19:58 | 12836.89 | 48.38 | 0.38% |
| SP 500 | 19:58 | 1390.57 | 2.76 | 0.20% |
| Nasdaq | 19:58 | 2924.77 | 8.09 | 0.28% |
| FTSE 100 | 18:35 | 5752.03 | 3.93 | 0.07% |
| DAX | 19:08 | 7184.71 | 11.72 | 0.16% |
| CAC40 | 19:08 | 3477.36 | 15.30 | 0.44% |
| Nikkei | 08:08 | 9222.52 | 79.88 | 0.87% |
| Shanghai | 09:28 | 2030.32 | 21.40 | 1.07% |
| Hang-Seng | 10:32 | 21524.36 | 296.08 | 1.39% |
| All Ords | 07:39 | 4390.70 | -16.80 | -0.38% |
| NZSE 50 | 06:48 | 3971.23 | -1.74 | -0.04% |

| | | | | |
| --- | --- | --- | --- | --- |
| Name | Time | RP | Move | % Move |
| Gold $ | 19:58 | 1728.94 | 1.89 | 0.11% |
| Gold R | 19:58 | 15494.24 | 235.64 | 1.54% |
| Gold R/kg | 19:58 | 497853 | 5403 | 1.10% |
| Silver $ | 19:58 | 33.2830 | .1410 | 0.43% |
| Platinum $ | 19:58 | 1575.60 | 7.20 | 0.46% |
| Palladium $ | 19:58 | 650.50 | 17.90 | 2.83% |
| R157 | 18:01 | 5.47 | .02 | 0.37% |
| R204 | 18:01 | 6.19 | .03 | 0.41% |
| R207 | 18:01 | 6.46 | .04 | 0.70% |
| Brent Crude | 19:58 | 110.11 | -.53 | -0.48% |
| Rand / Dollar | 19:58 | 8.9574 | 0.1252 | 1.42% |
| Rand / Pound | 19:55 | 14.2493 | 0.2119 | 1.51% |
| Rand / Euro | 19:55 | 11.4897 | 0.1693 | 1.50% |
| Rand / NZD | 19:58 | 7.2818 | 0.0630 | 0.87% |
| Rand / AUD | 19:55 | 9.2795 | 0.1020 | 1.11% |
| Yen / Dollar | 19:58 | 82.4500 | 0.7570 | 0.93% |
| Euro / Dollar | 19:58 | 0.7797 | 0.7797 | 0.00% |
| Dollar / Euro | 19:58 | 1.2824 | 0.0012 | 0.09% |
| Pound / Dollar | 19:55 | 0.6270 | -0.0006 | -0.10% |
Click here for the Sharenet Spot Price page
The JSE Today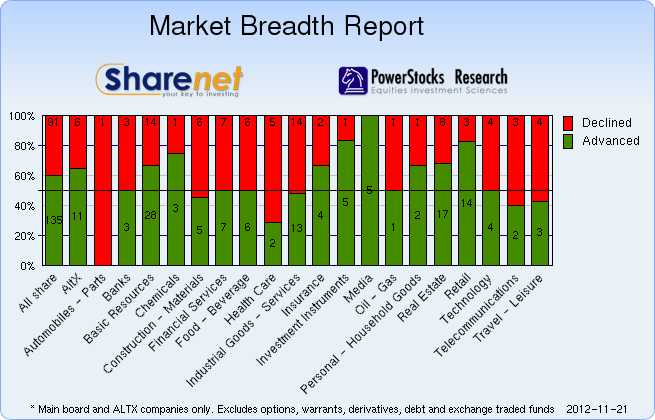 Trading Statistics
| Date | Adv. | Decl. | Unch. | Actives | Volume | Value | Trades | Orders |
| --- | --- | --- | --- | --- | --- | --- | --- | --- |
| 21/11/2012 | 205 | 127 | 61 | 393 | 202,500,700 | R10,120,143,320 | 109076 | 1489515 |
| 20/11/2012 | 195 | 161 | 77 | 433 | 205,594,747 | R10,361,150,260 | 120631 | 1184299 |
| 19/11/2012 | 228 | 123 | 78 | 429 | 181,976,049 | R9,083,137,304 | 98327 | 849349 |
| 16/11/2012 | 167 | 168 | 69 | 404 | 172,790,073 | R10,014,584,845 | 101914 | 1533424 |
| 15/11/2012 | 134 | 199 | 72 | 405 | 196,492,716 | R12,209,171,142 | 124788 | 1446872 |
* Includes all listed instruments on the JSE
---
---
---
Index Summary
| | | | |
| --- | --- | --- | --- |
| Index Name | RP | Move | % Move |
| Top 40 | 33,274.00 | 176.00 | 0.53% |
| Industrial | 44,962.00 | 329.00 | 0.74% |
| Mid Cap | 52,288.00 | 236.00 | 0.45% |
| Small Cap | 38,889.00 | 72.00 | 0.19% |
| Resource 20 | 49,001.00 | 144.00 | 0.30% |
| Industrial 25 | 38,782.00 | 290.00 | 0.75% |
| Financial 15 | 10,416.00 | 31.00 | 0.30% |
| Financial & Ind. 30 | 42,037.00 | 257.00 | 0.62% |
| All Share | 37,498.00 | 192.00 | 0.51% |
| Oil & Gas | 28,907.00 | 227.00 | 0.79% |
| Mining | 31,250.00 | 59.00 | 0.19% |
| Gold Mining | 2,299.00 | 3.00 | 0.17% |
| Platinum Mining | 50.00 | .00 | -0.63% |
| GENERAL MINING | 8,165.00 | 32.00 | 0.40% |
| Oil & Gas Producers | 15,543.00 | 122.00 | 0.79% |
| Basic Materials | 26,856.00 | 75.00 | 0.28% |
| Chemicals | 15,800.00 | -39.00 | -0.25% |
| Forestry & Paper | 16,737.00 | 208.00 | 1.26% |
| Industrial Metals | 26,705.00 | 410.00 | 1.56% |
| Industrials | 35,248.00 | 218.00 | 0.62% |
| General Industrials | 102.00 | 1.00 | 1.85% |
| Consumer Goods | 39,622.00 | 347.00 | 0.88% |
| Automobiles & Parts | 6,668.00 | -237.00 | -3.43% |
| Household Goods | 187.00 | 0 | 0.06% |
| Health Care | 51,356.00 | -276.00 | -0.54% |
| Beverages | 127.00 | 1.00 | 1.44% |

| | | | |
| --- | --- | --- | --- |
| Index Name | RP | Move | % Move |
| Food Producers | 64,893.00 | -141.00 | -0.22% |
| Personal Goods | 650.00 | 8.00 | 1.28% |
| Consumer Services | 80,671.00 | 927.00 | 1.16% |
| General Retailers | 66,550.00 | 860.00 | 1.31% |
| Travel & Leisure | 4,693.00 | 29.00 | 0.64% |
| Media | 119.00 | 1.00 | 1.15% |
| Support Services | 2,402.00 | -9.00 | -0.41% |
| Telecommunications | 81,516.00 | 81.00 | 0.10% |
| Financials | 27,959.00 | 86.00 | 0.31% |
| Banks | 49,527.00 | -82.00 | -0.17% |
| Non-life Insurance | 44,663.00 | -63.00 | -0.14% |
| Life Insurance | 24,129.00 | 153.00 | 0.64% |
| General Financial | 2,579.00 | 11.00 | 0.43% |
| Technology | 33,475.00 | 165.00 | 0.50% |
| SHARIAH TOP40 | 3,287.00 | 14 | 0.43% |
| FTSE/JSE SHARIAH ALL | 3,387.00 | 13 | 0.40% |
| COAL MINING | 20,162.00 | 149 | 0.75% |
| FTSE JSE Fledgling | 5,623.00 | 13 | 0.23% |
| FTSE/JSE Alt X | 1,042.00 | 13 | 1.29% |
| SA LISTED PROPERTY | 484.00 | | 0.42% |
| CAPPED PROPERTY | 394.00 | | 0.68% |
| RESOURCE | 27,027.00 | 76 | 0.28% |
| DIVIDEND PLUS | 205.00 | 2 | 1.01% |
| FTSE/JSE RAFI 40 | 7,601.00 | 41 | 0.55% |
| Capped Top 40 | 17,553.00 | 93 | 0.54% |
| Capped All Share | 18,967.00 | 97 | 0.51% |
| JSE TABACO | 5,842.00 | 79 | 1.39% |
Click here for the Sharenet Index Summary page
---
Latest Consensus Changes**

| | | | |
| --- | --- | --- | --- |
| Code | Company Name | Status | Updated |
| LHC | LIFE HEALTHCARE GRP HLDG ... | HOLD | 19/11/2012 |
| IMP | IMPALA PLATINUM HOLDINGS ... | BUY | 17/11/2012 |
| TON | TONGAAT HULETT LTD | BUY | 16/11/2012 |
| MPC | MR PRICE GROUP LIMITED | SELL | 16/11/2012 |
| ILV | ILLOVO SUGAR LIMITED | HOLD | 16/11/2012 |

Results Expected**

| | | |
| --- | --- | --- |
| Expected | Company Name | Fin. Date |
| 22/11/2012 | PRESCIENT | September 2012 (Interim) |
| 22/11/2012 | ROCKCASTLE | September 2012 (Q) |
| 23/11/2012 | AH-VEST | September 2012 (Interim) |
| 23/11/2012 | ARDOR SA | July 2012 (Final) |
| 23/11/2012 | CONVERGE | August 2012 (Final) |
---
Recent Dividends**

| | | | | |
| --- | --- | --- | --- | --- |
| Share Name | Dec-Date | LDT | Pay-Date | Amount |
| REUNERT | 20/11/2012 | 11/01/2013 | 21/01/2013 | R 2.7500 |
| AME | 20/11/2012 | 07/12/2012 | 18/12/2012 | R 1.0000 |
| TSO SUN | 19/11/2012 | 07/12/2012 | 18/12/2012 | R 0.2400 |
| NETCARE | 19/11/2012 | 25/01/2013 | 04/02/2013 | R 0.3400 |
| HCI | 19/11/2012 | 07/12/2012 | 18/12/2012 | R 0.2400 |

Ex Div**

| | | | | |
| --- | --- | --- | --- | --- |
| Share Name | Dec-Date | LDT | Pay-Date | Amount |
| REDEFINE | 01/11/2012 | 16/11/2012 | 26/11/2012 | R 0.3250 |
| FPT | 01/11/2012 | 16/11/2012 | 26/11/2012 | R 0.2783 |
| SPANJAARD | 24/10/2012 | 16/11/2012 | 26/11/2012 | R 0.1500 |
| AFGRI | 05/09/2012 | 16/11/2012 | 26/11/2012 | R 0.0985 |
| CBH | 11/09/2012 | 16/11/2012 | 26/11/2012 | R 0.0233 |
---
Upcoming AGMs**

| | | | |
| --- | --- | --- | --- |
| Code | Company Name | Date | Status |
| MSMX | Massmart Holdings Ltd. | 21/11/2012 | Confirmed |
| MNY | MoneyWeb Holdings Ltd. | 21/11/2012 | Confirmed |
| MSM | Massmart Holdings Ltd. | 21/11/2012 | Confirmed |
| CBH | Country Bird Holdings Ltd. | 22/11/2012 | Confirmed |
| PMV | Primeserv Group Ltd. | 22/11/2012 | Confirmed |
---
Stock Exchange News Service
Click here for more SENS news
---