Wednesday, 13 July 2016 - 20:00
Charts
Seed Weekly - Reviewing our TAA Decisions
My previous articles focused on how Seed constructs our Funds around predetermined Strategic Asset Allocations (SAA) (click here) and then how we seek to add value through our Tactical Asset Allocation (TAA) process (click here). This week I take this line of discussion to its logical conclusion. Has our decision making added to, or detracted from, performance? Essentially how has our TAA process contributed to returns?
At the risk of repeating myself, our investment process seeks to incrementally add value to our Funds, rather than risking the fortunes of the entire Fund on one or two outsized allocations. We believe that we have a process that, over time, will produce more good decisions than bad, and we therefore seek to make as many independent decisions as possible so that the law of averages works in our favour and we generate consistent outperformance. Unfortunately in the real world we aren't always going to get it right, but it doesn't stop us from constantly striving for this goal.
Importantly, we have set up systems to analyse the decisions that we have made that allows us to focus our attention where required. The chart below is one of the outputs that we review on a monthly basis. It looks quite busy, but essentially tracks whether the allocation to each asset class has added to (above the 0% line – overweight an outperforming asset class or underweight an underperforming asset class), or detracted from (below the 0% line – overweight an underperforming asset class or underweight an outperforming asset class), the Seed Balanced Fund's returns on a monthly basis. The total contribution from our TAA is represented by the black dot. This is the granular level at which we make (and then analyse) our asset allocation decisions. The chart tracks the monthly contributions over the past 4 years.
It is evident that on a monthly basis the return drivers are quite random, with big contributors in one month often being large detractors in the following month. On a monthly basis our TAA process has added value just less than 70% of the time. When extending this analysis to a rolling 12 month view we get a better idea of how our TAA adds to the investment performance. The chart below breaks down our TAA decisions over rolling 12 month periods. Essentially our TAA decisions have added between 1% and 4.4% over any rolling 12 month period over the past 4 years.
An obvious detractor over the last couple years has been from our underweight Global Bond allocation. Since the inception of the Seed Balanced Fund we have maintained an underweight allocation to this asset class as our research indicates that investors should expect poor returns over the long term. In order to mitigate this position to a certain extent we have overweight allocations to Global Property and Global Alternative. When viewing the underweight Global Bond in conjunction with the overweight Global Property and Global Alternative allocation, it is evident that, in general, this has been a good decision over time (only mildly detracting from returns over the past 4 rolling 12 month periods). The chart below isolates this TAA decision.
Without going further into the detail I'll stop this analysis here. Suffice to say that an important part of our investment process is a thorough regular review of the decisions we make. Where they have added to performance we ask whether we should be taking profit or retaining the position. Conversely, where returns have been negatively impacted, we critically assess the investment case again. If the investment case has changed we will not hesitate to cut our losses, but where we are convinced that the investment case has strengthened we are happy to make a higher conviction allocation.
Take care,
Mike Browne
Tel +27 21 914 4966
Fax +27 21 914 4912
Email info@seedinvestments.co.za
Please click here to view our disclaimer. For more information please visit our website.
Wed, 13 Jul 2016
Top News
South Africa's rand backtracked on Wednesday as global demand for risk assets eased and investors held off making major bets ahead of policy decision by the Bank of England.

---

South Korea announced on Wednesday the site where a U.S. THAAD anti-missile defence unit will be deployed against North Korea's missile and nuclear threats, a plan that has angered China and prompted a North Korean warning of retaliation.

China vowed to take all necessary measures to protect its sovereignty over the South China Sea and said it had the right to set up an air defence zone, after rejecting an international tribunal's ruling denying its claims to the energy-rich waters.
World Markets (Spot Prices)
| | | | | |
| --- | --- | --- | --- | --- |
| Name | Time | RP | Move | % Move |
| JSE Overall | 17:00 | 52814.88 | 267.36 | 0.51% |
| JSE Top 40 | 17:00 | 46288.18 | 231.37 | 0.50% |
| JSE Gold | 17:00 | 2728.32 | -5.97 | -0.22% |
| JSE Financial | 17:00 | 40640.12 | -50.62 | -0.12% |
| JSE Industrial | 17:00 | 78567.79 | 632.03 | 0.81% |
| JSE Indust 25 | 17:00 | 70781.23 | 602.27 | 0.86% |
| JSE Resource | 17:00 | 32175.87 | 89.80 | 0.28% |
| DJ Futures | 19:32 | 18275.00 | 7.00 | 0.04% |
| DJ Ind | 20:00 | 18362.85 | 15.18 | 0.08% |
| SP 500 | 20:00 | 2151.42 | -0.72 | -0.03% |
| Nasdaq | 20:00 | 5017.15 | -5.67 | -0.11% |
| FTSE 100 | 16:45 | 6712.17 | 31.48 | 0.47% |
| DAX | 18:08 | 9930.71 | -33.36 | -0.33% |
| CAC40 | 18:08 | 4335.26 | 3.88 | 0.09% |
| Nikkei | 08:32 | 16231.43 | 135.78 | 0.84% |
| Shanghai | 09:30 | 3060.69 | 11.31 | 0.37% |
| Hang-Seng | 10:28 | 21322.37 | 97.63 | 0.46% |
| All Ords | 08:47 | 5470.30 | 37.10 | 0.68% |
| NZSE 50 | 09:02 | 7064.32 | -15.14 | -0.21% |

| | | | | |
| --- | --- | --- | --- | --- |
| Name | Time | RP | Move | % Move |
| Gold $ | 19:59 | 1343.21 | 10.39 | 0.78% |
| Gold R | 20:00 | 19421.20 | 334.04 | 1.75% |
| Gold R/kg | 20:00 | 624392 | 4059 | 0.65% |
| Silver $ | 19:59 | 20.3450 | 0.1970 | 0.98% |
| Platinum $ | 19:59 | 1094.61 | 0.00 | 0.00% |
| Palladium $ | 19:59 | 643.00 | 19.00 | 3.04% |
| R186 | 17:40 | 8.72 | 0.06 | 0.69% |
| R204 | 17:05 | 7.93 | 0.03 | 0.38% |
| R207 | 17:14 | 8.11 | 0.02 | 0.19% |
| Brent Crude | 19:40 | 46.29 | 0.04 | 0.09% |
| USD / ZAR | 19:59 | 14.4588 | 0.1386 | 0.97% |
| GBP / ZAR | 19:55 | 18.9808 | 0.0416 | 0.22% |
| EUR/ ZAR | 19:55 | 16.0547 | 0.2118 | 1.34% |
| NZD/ ZAR | 19:59 | 10.5338 | 0.0873 | 0.84% |
| AUD / ZAR | 19:55 | 11.0070 | 0.0918 | 0.84% |
| USD / JPY | 19:59 | 104.3260 | 0.0000 | 0.00% |
| EUR / USD | 19:59 | 1.1108 | 0.0000 | 0.00% |
| GBP / USD | 19:59 | 1.3161 | -0.0085 | -0.64% |
Click here for the Sharenet Spot Price page
The JSE Today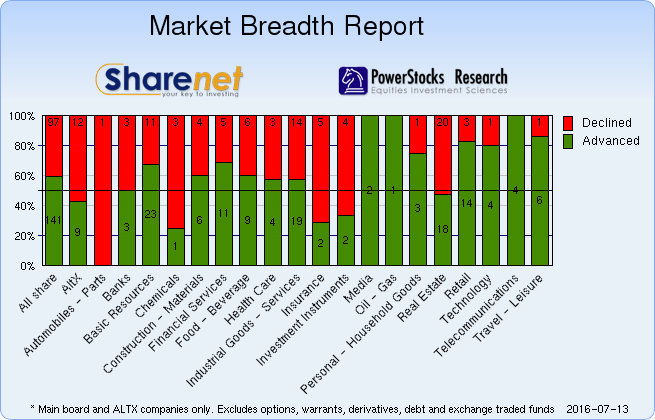 Trading Statistics
| Date | Adv. | Decl. | Unch. | Actives | Volume | Value | Trades | Orders |
| --- | --- | --- | --- | --- | --- | --- | --- | --- |
| 13/07/2016 | 210 | 130 | 52 | 392 | 250,302,998 | R19,742,810,458 | 239323 | 2058659 |
| 12/07/2016 | 211 | 146 | 61 | 418 | 310,584,308 | R22,329,173,091 | 248846 | 2066479 |
| 11/07/2016 | 249 | 96 | 57 | 402 | 218,101,890 | R17,102,931,707 | 195891 | 2152884 |
| 08/07/2016 | 210 | 142 | 63 | 415 | 191,170,852 | R17,178,624,950 | 202235 | 2368176 |
| 07/07/2016 | 177 | 155 | 47 | 379 | 245,083,577 | R20,711,007,370 | 228945 | 2195062 |
* Includes all listed instruments on the JSE
---
---
---
Index Summary
| | | | |
| --- | --- | --- | --- |
| Index Name | RP | Move | % Move |
| Top 40 | 46,288.18 | 231.37 | 0.50% |
| Industrial | 78,567.79 | 632.03 | 0.81% |
| Mid Cap | 77,673.60 | 399.53 | 0.52% |
| Small Cap | 59,725.04 | 390.64 | 0.66% |
| Resource 20 | 32,175.87 | 89.80 | 0.28% |
| Industrial 25 | 70,781.23 | 602.27 | 0.86% |
| Financial 15 | 14,741.38 | 18.48 | 0.13% |
| Financial & Ind. 30 | 72,905.25 | 481.85 | 0.67% |
| All Share | 52,814.88 | 267.36 | 0.51% |
| Oil & Gas | 7,195.69 | .00 | 0.00% |
| Mining | 24,399.91 | 71.24 | 0.29% |
| Gold Mining | 2,728.32 | -5.97 | -0.22% |
| Platinum Mining | 26.34 | .52 | 2.01% |
| GENERAL MINING | 5,827.02 | 13.48 | 0.23% |
| Oil & Gas Producers | 38,689.88 | .00 | 0.00% |
| Basic Materials | 22,913.05 | 65.51 | 0.29% |
| Chemicals | 20,265.43 | -120.79 | -0.59% |
| Forestry & Paper | 47,819.78 | 748.44 | 1.59% |
| Industrial Metals | 9,357.30 | -70.55 | -0.75% |
| Industrials | 45,325.55 | 189.26 | 0.42% |
| General Industrials | 175.63 | .49 | 0.28% |
| Consumer Goods | 74,363.48 | 845.49 | 1.15% |
| Automobiles & Parts | 4,381.73 | -54.34 | -1.22% |
| Household Goods | 585.19 | 2 | 0.33% |
| Health Care | 10,260.93 | -6.47 | -0.06% |
| Beverages | 285.78 | 3.64 | 1.29% |

| | | | |
| --- | --- | --- | --- |
| Index Name | RP | Move | % Move |
| Food Producers | 9,489.07 | 41.18 | 0.44% |
| Personal Goods | 852.74 | 12.88 | 1.53% |
| Consumer Services | 18,380.47 | 126.09 | 0.69% |
| General Retailers | 7,678.89 | 73.11 | 0.96% |
| Travel & Leisure | 6,083.35 | 83.37 | 1.39% |
| Media | 484.00 | 2.03 | 0.42% |
| Support Services | 2,098.11 | -34.06 | -1.60% |
| Telecommunications | 7,797.20 | 47.47 | 0.61% |
| Financials | 40,640.12 | -50.62 | -0.12% |
| Banks | 6,631.00 | -9.72 | -0.15% |
| Non-life Insurance | 56,914.52 | -191.42 | -0.34% |
| Life Insurance | 37,943.99 | 41.17 | 0.11% |
| General Financial | 4,054.24 | 55.95 | 1.40% |
| Technology | 50,227.25 | -72.22 | -0.14% |
| SHARIAH TOP40 | 3,160.23 | 2 | 0.05% |
| FTSE/JSE SHARIAH ALL | 3,531.78 | 6 | 0.18% |
| COAL MINING | 10,415.54 | 321 | 3.18% |
| FTSE JSE Fledgling | 7,259.01 | 12 | 0.17% |
| FTSE/JSE Alt X | 1,478.11 | 20 | 1.34% |
| SA LISTED PROPERTY | 652.09 | -8.66 | -1.31% |
| CAPPED PROPERTY | 546.96 | | -1.03% |
| RESOURCE | 18,282.28 | 52 | 0.29% |
| DIVIDEND PLUS | 202.88 | 1 | 0.36% |
| FTSE/JSE RAFI 40 | 9,659.27 | 38 | 0.40% |
| Capped Top 40 | 24,680.63 | 112 | 0.46% |
| Capped All Share | 26,961.17 | 131 | 0.49% |
| JSE TABACO | 11,786.52 | 139 | 1.19% |
Click here for the Sharenet Index Summary page
---
Latest Consensus Changes**

| | | | |
| --- | --- | --- | --- |
| Code | Company Name | Status | Updated |
| WHL | WOOLWORTHS HOLDINGS LIMIT... | HOLD | 11/07/2016 |
| REI | REINET INVESTMENTS SCA | HOLD | 11/07/2016 |
| OML | OLD MUTUAL PLC | BUY | 11/07/2016 |
| NPN | NASPERS LIMITED | BUY | 11/07/2016 |
| INP | INVESTEC PLC | BUY | 11/07/2016 |

Results Expected**

| | | |
| --- | --- | --- |
| Expected | Company Name | Fin. Date |
| 15/07/2016 | ANGLD | March 2016 (Q) |
| 15/07/2016 | ANGLD-A | March 2016 (Q) |
| 15/07/2016 | ANGLD-B | March 2016 (Q) |
| 15/07/2016 | ANGLD-E | March 2016 (Q) |
| 15/07/2016 | DAWN | March 2016 (Final) |
---
Recent Dividends**

| | | | | |
| --- | --- | --- | --- | --- |
| Share Name | Dec-Date | LDT | Pay-Date | Amount |
| NAMPAK 6.5 | 12/07/16 | 26/07/16 | 01/08/16 | ZAR 0.0650 |
| NAMPAK 6%P | 12/07/16 | 26/07/16 | 01/08/16 | ZAR 0.0600 |
| HUDACO | 01/07/16 | 08/08/16 | 15/08/16 | ZAR 1.7000 |
| ILPREF2 | 30/06/16 | 19/07/16 | 25/07/16 | ZAR 14.5978 |
| NICTUS | 30/06/16 | 19/07/16 | 25/07/16 | ZAR 0.0300 |

Ex Div**

| | | | | |
| --- | --- | --- | --- | --- |
| Share Name | Dec-Date | LDT | Pay-Date | Amount |
---
Upcoming AGMs**

| | | | |
| --- | --- | --- | --- |
| Code | Company Name | Date | Status |
| GAM | Global Asset Management Ltd. | 13/07/2016 | Confirmed |
| ANA | Adrenna Property Group Ltd. | 15/07/2016 | Confirmed |
| ADAP | Adrenna Property Group Ltd. | 15/07/2016 | Confirmed |
| AEL | Allied Electronics Corporation Ltd. | 18/07/2016 | Confirmed |
| AEN | Allied Electronics Corporation Ltd. | 18/07/2016 | Confirmed |
---
Stock Exchange News Service
Click here for more SENS news
---