Wednesday, 22 June 2016 - 20:00
Charts
Seed Weekly - The Look-Back Folly
Looking back and reflecting is essential to the human experience. You can learn much from your preparation for and reaction to past events and mistakes in an effort to better yourself. This is crucial to the investment process, but herein lays both opportunity and danger.
Looking back may lead to naïve extrapolation of past results into future expectations. Although this may sound condescending it is by no means the intent, it happens to the best of us. While price momentum undoubtedly exists and is a valid input in the investment decision making process, it relies on a couple of underlying factors that do not necessarily work in isolation. It is deceptively easy to assume that because a certain company or asset class produced good recent returns it will continue going forward (or vice versa) without due regard for potential pitfalls of this line of thinking.
Many of the various decisions you need to make really come down to one line: "Are you positioned correctly for the future given that you know today?" Although it sounds very simple it is by no means easy to do. Selling out of a position that performed well recently is hard enough, but buying into one that has done poorly in recent times is sometimes even harder.
Keep in mind that no-one is going to be right 100% of the time. When you reach the point where you need to cut your loss and move forward it is imperative to make the choice by thinking ahead instead of looking back. Focusing on your discontent with a particular outcome will not add much value.
When reviewing your portfolio it is important to determine the effectiveness of each strategy in context. A well-constructed portfolio will contain various strategies which will inevitably pay off at different times. Even if a strategy did not perform well compared to the overall portfolio it may have done exceedingly well given the goal (which may include risk reduction), and have good prospects going forward. Looking only at the bottom line of the strategy without context may lead to a sub-optimal overall portfolio and is detrimental to the eventual performance. Reviewing a strategy should have the primary goal of determining if the strategy worked, did what it was supposed to and whether it can be improved, reviewing thus helps to optimise the strategy. Reviewing should not necessarily be the step where the strategy is dropped or included.
Successful investing is hard when you only follow the trend and invest in good news stories. You normally won't be the first there and will most likely lag the early adopters. There is merit in strategies such as these but it relies on being quick to enter and exit and having a high tolerance for error. Spending too much time and energy on looking back may lead a person to follow the herd, leave little room for looking ahead and ensuring you are positioned for the future.
South African investors looking back over the past year will have little to be happy about. Sure the Rand weakness may have pushed up the value of offshore assets in our own currency and there were little pockets of very good performing assets/strategies, but overall the sentiment's been mostly negative. We are unsure of how long this malaise will last and when the outlook will turn positive. What we do know is that positioning going forward will be of utmost importance when volatility is high and the near-term outlook is not very positive, diversification and proper portfolio construction will get you out alive at the other end.
Kind regards,
Stefan Keeve
Tel +27 21 914 4966
Fax +27 21 914 4912
Email info@seedinvestments.co.za
Seed is hiring: Visit Seed Analytics LinkedIn Profile to view vacancies.
Please click here to view our disclaimer. For more information please visit our website.
Wed, 22 Jun 2016
Top News
South African power utility Eskom has raised its wage offer to 7 percent from 5.75 in negotiations with workers, the National Union of Mineworkers (NUM) spokesman said on Wednesday.

---

France's government said on Wednesday that trade unions could hold a protest march in Paris after earlier telling police to ban the demonstration, reversing course under fire from union bosses and dissenters in the ruling Socialist Party.

South African police said on Wednesday that two suspected looters had been shot dead in the capital in violence triggered by the ruling party's choice of a mayoral candidate for local polls.
Company Results
Revenue for the year rose to R171.6 million (R140.4 million) whilst operating profit grew to R124.1 million (R104.9 million). Profit for the year lowered to R81.5 million (R206.8 million). In addition, headline earnings per share decreased to 47cps (54cps). Notice of Annual General Meeting Shareholders are hereby advised that SafariĂs integrated annual report will be dispatched to shareholders on 22 June 2016. Notice is hereby given that the annual general meeting (˘AGM÷) will be hel. . .
World Markets (Spot Prices)
| | | | | |
| --- | --- | --- | --- | --- |
| Name | Time | RP | Move | % Move |
| JSE Overall | 17:00 | 53557.20 | 602.02 | 1.14% |
| JSE Top 40 | 17:00 | 47475.23 | 563.20 | 1.20% |
| JSE Gold | 17:00 | 2032.45 | -14.06 | -0.69% |
| JSE Financial | 17:00 | 42428.16 | 909.43 | 2.19% |
| JSE Industrial | 17:00 | 80911.21 | 723.39 | 0.90% |
| JSE Indust 25 | 17:00 | 73167.47 | 699.73 | 0.97% |
| JSE Resource | 17:00 | 30239.89 | 226.42 | 0.75% |
| DJ Futures | 19:42 | 17686.00 | -49.00 | -0.28% |
| DJ Ind | 19:58 | 17819.80 | -9.93 | -0.06% |
| SP 500 | 19:58 | 2091.23 | 2.33 | 0.11% |
| Nasdaq | 19:58 | 4848.35 | 4.59 | 0.09% |
| FTSE 100 | 16:59 | 6299.12 | 72.57 | 1.17% |
| DAX | 18:08 | 10071.06 | 55.52 | 0.55% |
| CAC40 | 18:08 | 4380.03 | 12.79 | 0.29% |
| Nikkei | 08:30 | 16065.72 | -103.39 | -0.64% |
| Shanghai | 09:28 | 2905.55 | 26.99 | 0.94% |
| Hang-Seng | 10:28 | 20795.12 | 126.68 | 0.61% |
| All Ords | 08:37 | 5349.50 | -3.80 | -0.07% |
| NZSE 50 | 09:02 | 6781.74 | -57.66 | -0.84% |

| | | | | |
| --- | --- | --- | --- | --- |
| Name | Time | RP | Move | % Move |
| Gold $ | 19:59 | 1264.20 | -3.19 | -0.25% |
| Gold R | 19:59 | 18468.03 | -192.49 | -1.03% |
| Gold R/kg | 19:58 | 599959 | -6508 | -1.07% |
| Silver $ | 19:59 | 17.2380 | -0.0210 | -0.12% |
| Platinum $ | 19:59 | 975.85 | 1.80 | 0.18% |
| Palladium $ | 19:59 | 557.25 | 7.25 | 1.32% |
| R186 | 17:44 | 8.90 | -0.08 | -0.89% |
| R204 | 17:35 | 7.95 | -0.10 | -1.24% |
| R207 | 17:23 | 8.22 | -0.12 | -1.38% |
| Brent Crude | 18:42 | 49.84 | -0.81 | -1.60% |
| USD / ZAR | 19:59 | 14.6012 | -0.1170 | -0.79% |
| GBP / ZAR | 19:55 | 21.3617 | -0.2552 | -1.18% |
| EUR/ ZAR | 19:55 | 16.4963 | -0.0745 | -0.45% |
| NZD/ ZAR | 19:59 | 10.4614 | -0.0283 | -0.27% |
| AUD / ZAR | 19:55 | 10.9440 | -0.0577 | -0.52% |
| USD / JPY | 19:59 | 104.4610 | -0.3100 | -0.30% |
| EUR / USD | 19:59 | 1.1298 | 0.0050 | 0.45% |
| GBP / USD | 19:59 | 1.4660 | -0.0010 | -0.07% |
Click here for the Sharenet Spot Price page
The JSE Today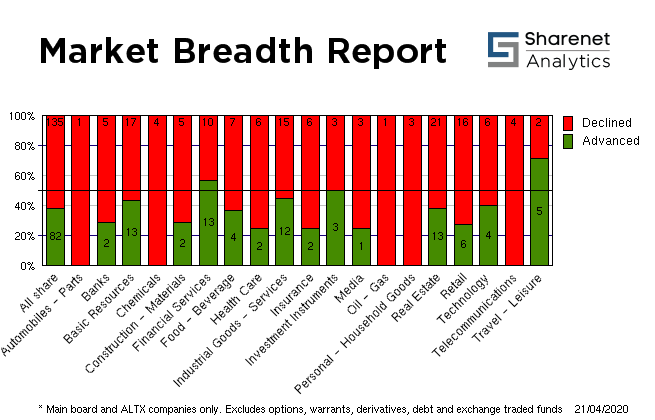 Trading Statistics
| Date | Adv. | Decl. | Unch. | Actives | Volume | Value | Trades | Orders |
| --- | --- | --- | --- | --- | --- | --- | --- | --- |
| 22/06/2016 | 215 | 126 | 60 | 401 | 288,273,705 | R22,536,790,779 | 244139 | 2381055 |
| 21/06/2016 | 181 | 159 | 65 | 405 | 251,602,221 | R17,515,862,958 | 238919 | 1454067 |
| 20/06/2016 | 194 | 155 | 60 | 409 | 265,531,404 | R19,229,412,459 | 238504 | 2432113 |
| 17/06/2016 | 208 | 154 | 69 | 431 | 331,097,328 | R28,552,213,770 | 262332 | 2715526 |
| 15/06/2016 | 199 | 138 | 71 | 408 | 514,150,690 | R52,513,326,629 | 257163 | 2456118 |
* Includes all listed instruments on the JSE
---
---
---
Index Summary
| | | | |
| --- | --- | --- | --- |
| Index Name | RP | Move | % Move |
| Top 40 | 47,475.23 | 563.20 | 1.20% |
| Industrial | 80,911.21 | 723.39 | 0.90% |
| Mid Cap | 73,988.41 | 694.88 | 0.95% |
| Small Cap | 59,287.86 | 82.16 | 0.14% |
| Resource 20 | 30,239.89 | 226.42 | 0.75% |
| Industrial 25 | 73,167.47 | 699.73 | 0.97% |
| Financial 15 | 15,580.63 | 384.81 | 2.53% |
| Financial & Ind. 30 | 75,904.78 | 932.11 | 1.24% |
| All Share | 53,557.20 | 602.02 | 1.14% |
| Oil & Gas | 7,195.69 | .00 | 0.00% |
| Mining | 21,728.17 | 203.17 | 0.94% |
| Gold Mining | 2,032.45 | -14.06 | -0.69% |
| Platinum Mining | 23.01 | -.33 | -1.41% |
| GENERAL MINING | 5,569.39 | 98.96 | 1.81% |
| Oil & Gas Producers | 38,689.88 | .00 | 0.00% |
| Basic Materials | 21,346.04 | 135.74 | 0.64% |
| Chemicals | 20,623.78 | -103.30 | -0.50% |
| Forestry & Paper | 50,739.82 | 401.64 | 0.80% |
| Industrial Metals | 6,310.23 | -108.43 | -1.69% |
| Industrials | 45,759.19 | 503.31 | 1.11% |
| General Industrials | 175.54 | 2.53 | 1.46% |
| Consumer Goods | 78,844.58 | 160.13 | 0.20% |
| Automobiles & Parts | 4,504.01 | 156.25 | 3.59% |
| Household Goods | 616.69 | 14 | 2.25% |
| Health Care | 9,988.32 | 45.26 | 0.46% |
| Beverages | 312.25 | -1.59 | -0.51% |

| | | | |
| --- | --- | --- | --- |
| Index Name | RP | Move | % Move |
| Food Producers | 9,272.96 | 55.43 | 0.60% |
| Personal Goods | 911.17 | 4.69 | 0.52% |
| Consumer Services | 18,485.58 | 364.39 | 2.01% |
| General Retailers | 7,739.98 | 101.02 | 1.32% |
| Travel & Leisure | 5,918.89 | 11.88 | 0.20% |
| Media | 485.67 | 10.43 | 2.19% |
| Support Services | 2,128.43 | 71.33 | 3.47% |
| Telecommunications | 8,068.24 | 41.59 | 0.52% |
| Financials | 42,428.16 | 909.43 | 2.19% |
| Banks | 6,650.29 | 186.05 | 2.88% |
| Non-life Insurance | 60,360.02 | 2674.73 | 4.64% |
| Life Insurance | 39,969.95 | 1181.39 | 3.05% |
| General Financial | 4,569.20 | 86.84 | 1.94% |
| Technology | 48,957.55 | 185.43 | 0.38% |
| SHARIAH TOP40 | 3,104.30 | 40 | 1.32% |
| FTSE/JSE SHARIAH ALL | 3,394.74 | 35 | 1.04% |
| COAL MINING | 8,440.90 | 32 | 0.38% |
| FTSE JSE Fledgling | 7,069.28 | -16 | -0.23% |
| FTSE/JSE Alt X | 1,537.50 | 8 | 0.55% |
| SA LISTED PROPERTY | 647.53 | 6.75 | 1.05% |
| CAPPED PROPERTY | 573.13 | | 1.13% |
| RESOURCE | 17,031.97 | 108 | 0.64% |
| DIVIDEND PLUS | 204.22 | 3 | 1.63% |
| FTSE/JSE RAFI 40 | 9,603.94 | 126 | 1.33% |
| Capped Top 40 | 25,249.14 | 310 | 1.24% |
| Capped All Share | 27,287.84 | 310 | 1.15% |
| JSE TABACO | 11,771.19 | 14 | 0.12% |
Click here for the Sharenet Index Summary page
---
Latest Consensus Changes**

| | | | |
| --- | --- | --- | --- |
| Code | Company Name | Status | Updated |
| SBK | STANDARD BANK GROUP LIMIT... | HOLD | 20/06/2016 |
| FSR | FIRSTRAND LIMITED | HOLD | 20/06/2016 |
| BAW | BARLOWORLD LIMITED | BUY | 20/06/2016 |
| BGA | BARCLAYS AFRICA GRP LTD | HOLD | 20/06/2016 |
| ANG | ANGLOGOLD ASHANTI LIMITED | BUY | 20/06/2016 |

Results Expected**

| | | |
| --- | --- | --- |
| Expected | Company Name | Fin. Date |
| 23/06/2016 | BSI STEEL | March 2016 (Final) |
| 23/06/2016 | GIYANI | March 2016 (Q) |
| 23/06/2016 | VISUAL | February 2016 (Final) |
| 24/06/2016 | NASPERS | March 2016 (Final) |
| 24/06/2016 | NASPERS-N | March 2016 (Final) |
---
Recent Dividends**

| | | | | |
| --- | --- | --- | --- | --- |
| Share Name | Dec-Date | LDT | Pay-Date | Amount |
| ECSP A3 | 17/06/16 | 01/07/16 | 11/07/16 | ZAR 0.7671 |
| ECSP C3 | 17/06/16 | 01/07/16 | 11/07/16 | ZAR 1.1123 |
| ECSP A | 17/06/16 | 01/07/16 | 11/07/16 | ZAR 0.7671 |
| ECSP C | 17/06/16 | 01/07/16 | 11/07/16 | ZAR 1.1123 |
| ECSP B12 | 17/06/16 | 01/07/16 | 11/07/16 | ZAR 1.1123 |

Ex Div**

| | | | | |
| --- | --- | --- | --- | --- |
| Share Name | Dec-Date | LDT | Pay-Date | Amount |
| MRPRICE | 23/05/16 | 17/06/16 | 27/06/16 | ZAR 4.1900 |
| VODACOM | 16/05/16 | 17/06/16 | 27/06/16 | ZAR 4.0000 |
| HCI | 25/05/16 | 17/06/16 | 27/06/16 | ZAR 1.5000 |
| TONGAAT | 30/05/16 | 17/06/16 | 30/06/16 | ZAR 0.6000 |
| SAFARI | 31/05/16 | 17/06/16 | 27/06/16 | ZAR 0.3200 |
---
Upcoming AGMs**

| | | | |
| --- | --- | --- | --- |
| Code | Company Name | Date | Status |
| ISA | ISA Holdings Ltd. | 23/06/2016 | Unconfirmed |
| PSG | PSG Group Ltd. | 24/06/2016 | Confirmed |
| PGFP | PSG Group Ltd. | 24/06/2016 | Confirmed |
| ESR | Esor Ltd. | 24/06/2016 | Confirmed |
| ZED | Zeder Investments Ltd. | 24/06/2016 | Confirmed |
---
Stock Exchange News Service
Click here for more SENS news
---