Tuesday, 09 June 2015 - 20:00
Charts
Seed Weekly - Hedge Fund Industry
The local hedge fund industry has been in the spotlight this year. Not for any nefarious reasons, like a fund going bust or being a ponzi scheme, but because there has been some new legislation. Earlier in the year the Financial Service Board ( FSB ) and National Treasury finally published new legislation that will bring the hedge fund industry under the Collective Investment Scheme Act (CISCA). Hedge funds will now be regulated under CISCA and provide the same safe guards that unit trusts provide investors. We are all familiar with the unit trust industry, but how does the hedge fund industry compare?
While local hedge funds have been around since the late 1990's / early 2000's, the public still isn't very familiar with the industry, partially as a result of hedge funds falling outside the regulatory framework for most of this period. While hedge funds are only now getting regulated formally, the fund managers have been regulated by the FSB for a few years now. Hedge funds have the stigma of being high risk, high return and very expensive, but South African hedge funds are generally run much more conservatively and with much better transparency than their global counterparts.
Novare Investments publishes an annual survey on the local hedge fund industry and I would like to share some of the insights from the report. Compared to the unit trust industry the hedge fund industry is still very small. The graph below shows the growth in assets in hedge funds since 2002.
Source: Novare Investments SA Hedge Fund Survey 2014
At the June 2014 there was just over R53.6 billion invested in hedge funds compared to R1.6 trillion in unit trusts. The hedge fund industry manages just over 3% of the total assets in unit trusts. The largest unit trust in South Africa (R108 billion) is twice the size the whole hedge fund industry! The biggest hedge fund is South Africa is just over R5 billion.
There are around 60 active hedge fund managers with just over a 100 different funds. Mangers with experience exceeding 10 years manage a third of the assets. The graph below shows the size of the 10 largest funds compared with the industry.
Source: Novare Investments SA Hedge Fund Survey 2014
The 10 largest hedge funds make up 44% of the assets. These funds also received 38% of all flows between June 2013 and June 2014. These are the funds with experienced management teams and proven track records.
With hedge funds now falling under CISCA they will become more accessible to investors and the industry will continue to attract assets. You will be hearing more about these strategies in the future. As retail solutions get launched, hedge fund investing will/should form part of the average investor's plan, and not just high net worth investment plans. Seed advises on a fund of hedge funds which has been able to consistently outperform its benchmark of CPI + 4% over the past 5 years.
Kind regards,
Gerbrandt Kruger
Tel 021-914-4966
Fax 021-914-4912
Email info@seedinvestments.co.za
Seed is hiring: Click through to our LinkedIn page to see vacancies available.
Top News
Local markets The All Share fell 1.05% on Tuesday, with losses led by industrial shares. However, gold mining shares soared 6.08%.

---

Hong Kong issued a "red alert" advisory on Tuesday against non-essential travel to South Korea, where eight new cases of Middle East Respiratory Syndrome (MERS) were reported, bringing the total to 95 with seven fatalities.

A massive fire at a Ukrainian fuel depot killed five people on Tuesday, officials said, including three firemen who went missing after the flames triggered a powerful explosion.
World Markets (Spot Prices)
| | | | | |
| --- | --- | --- | --- | --- |
| Name | Time | RP | Move | % Move |
| JSE Overall | 17:00 | 51080.26 | -543.04 | -1.05% |
| JSE Top 40 | 17:00 | 45395.91 | -546.76 | -1.19% |
| JSE Gold | 17:00 | 1077.82 | 61.76 | 6.08% |
| JSE Financial | 17:00 | 42860.00 | -377.09 | -0.87% |
| JSE Industrial | 17:00 | 72810.81 | -976.40 | -1.32% |
| JSE Indust 25 | 17:00 | 64766.79 | -973.49 | -1.48% |
| JSE Resource | 17:00 | 41103.10 | -74.47 | -0.18% |
| DJ Futures | 19:22 | 14565.26 | -3202.74 | -18.03% |
| DJ Ind | 19:58 | 17791.94 | 25.39 | 0.14% |
| SP 500 | 19:58 | 2082.91 | 3.63 | 0.17% |
| Nasdaq | 19:58 | 5018.91 | -3.09 | -0.06% |
| FTSE 100 | 16:51 | 6753.53 | -36.51 | -0.54% |
| DAX | 18:08 | 11001.29 | -63.63 | -0.58% |
| CAC40 | 18:08 | 4850.22 | -7.44 | -0.15% |
| Nikkei | 08:28 | 20096.30 | -360.89 | -1.76% |
| Shanghai | 09:28 | 5113.53 | -18.35 | -0.36% |
| Hang-Seng | 05/06 | 27577.34 | 287.37 | 1.05% |
| All Ords | 08:36 | 5479.70 | -26.80 | -0.49% |
| NZSE 50 | 07:48 | 5862.11 | -23.70 | -0.40% |

| | | | | |
| --- | --- | --- | --- | --- |
| Name | Time | RP | Move | % Move |
| Gold $ | 18:59 | 1177.40 | 3.47 | 0.30% |
| Gold R | 19:58 | 14643.79 | -0.25 | -0.00% |
| Gold R/kg | 19:58 | 470798 | 437 | 0.09% |
| Silver $ | 18:59 | 15.9930 | .0380 | 0.24% |
| Platinum $ | 18:59 | 1106.80 | 6.80 | 0.62% |
| Palladium $ | 18:59 | 740.84 | -.16 | -0.02% |
| R186 | 17:30 | 8.34 | -.06 | -0.71% |
| R204 | 17:30 | 7.57 | -.03 | -0.39% |
| R207 | 17:08 | 7.83 | -.05 | -0.63% |
| Brent Crude | 19:48 | 64.82 | 1.51 | 2.39% |
| USD / ZAR | 18:59 | 12.4374 | -0.0371 | -0.30% |
| GBP / ZAR | 18:55 | 19.0743 | -0.0384 | -0.20% |
| EUR/ ZAR | 18:55 | 14.0121 | -0.0607 | -0.43% |
| NZD/ ZAR | 18:59 | 8.8762 | -0.0229 | -0.26% |
| AUD / ZAR | 18:55 | 9.5460 | -0.0568 | -0.59% |
| USD / JPY | 18:59 | 124.2840 | -0.2550 | -0.20% |
| EUR / USD | 18:59 | 1.1270 | -0.0011 | -0.10% |
| GBP / USD | 18:59 | 1.5369 | 0.0028 | 0.18% |
Click here for the Sharenet Spot Price page
The JSE Today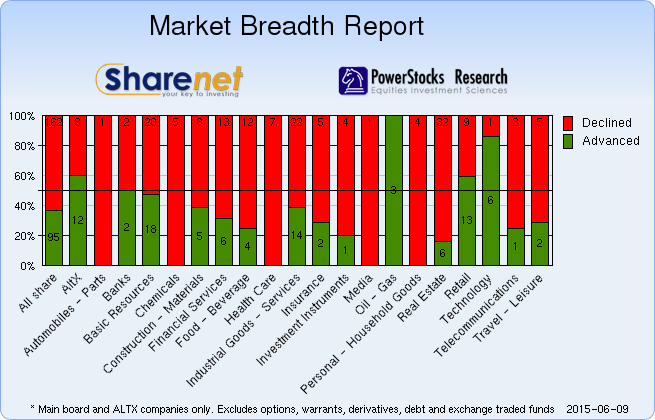 Trading Statistics
| Date | Adv. | Decl. | Unch. | Actives | Volume | Value | Trades | Orders |
| --- | --- | --- | --- | --- | --- | --- | --- | --- |
| 09/06/2015 | 127 | 251 | 46 | 424 | 222,779,010 | R14,300,935,415 | 207321 | 1031988 |
| 08/06/2015 | 148 | 192 | 57 | 397 | 217,004,960 | R15,047,690,883 | 207961 | 165404 |
| 05/06/2015 | 202 | 157 | 72 | 431 | 231,327,818 | R17,442,862,728 | 237442 | 1960331 |
| 04/06/2015 | 109 | 252 | 60 | 421 | 239,211,530 | R20,884,535,951 | 282764 | 667812 |
| 03/06/2015 | 144 | 248 | 57 | 449 | 272,995,927 | R20,369,222,988 | 312334 | 2370230 |
* Includes all listed instruments on the JSE
---
---
---
Index Summary
| | | | |
| --- | --- | --- | --- |
| Index Name | RP | Move | % Move |
| Top 40 | 45,395.91 | -546.76 | -1.19% |
| Industrial | 72,810.81 | -976.40 | -1.32% |
| Mid Cap | 68,870.76 | -239.50 | -0.35% |
| Small Cap | 59,438.11 | -184.72 | -0.31% |
| Resource 20 | 41,103.10 | -74.47 | -0.18% |
| Industrial 25 | 64,766.79 | -973.49 | -1.48% |
| Financial 15 | 16,313.75 | -128.78 | -0.78% |
| Financial & Ind. 30 | 69,548.89 | -971.14 | -1.38% |
| All Share | 51,080.26 | -543.04 | -1.05% |
| Oil & Gas | 78,221.34 | 16423.09 | 26.58% |
| Mining | 24,811.06 | -44.95 | -0.18% |
| Gold Mining | 1,077.82 | 61.76 | 6.08% |
| Platinum Mining | 29.40 | .02 | 0.07% |
| GENERAL MINING | 7,384.48 | -74.41 | -1.00% |
| Oil & Gas Producers | 42,058.17 | 8830.39 | 26.58% |
| Basic Materials | 23,309.77 | -46.96 | -0.20% |
| Chemicals | 21,881.67 | -230.80 | -1.04% |
| Forestry & Paper | 43,912.40 | 494.49 | 1.14% |
| Industrial Metals | 9,087.80 | -29.97 | -0.33% |
| Industrials | 43,846.61 | -260.24 | -0.59% |
| General Industrials | 153.27 | -1.12 | -0.73% |
| Consumer Goods | 64,532.38 | -1192.74 | -1.81% |
| Automobiles & Parts | 7,982.22 | -54.34 | -0.68% |
| Household Goods | 492.13 | -8 | -1.59% |
| Health Care | 9,516.46 | -110.80 | -1.15% |
| Beverages | 217.06 | -3.39 | -1.54% |

| | | | |
| --- | --- | --- | --- |
| Index Name | RP | Move | % Move |
| Food Producers | 8,235.93 | -111.28 | -1.33% |
| Personal Goods | 1,019.04 | -27.26 | -2.61% |
| Consumer Services | 15,941.58 | -231.59 | -1.43% |
| General Retailers | 80,425.09 | -69.40 | -0.09% |
| Travel & Leisure | 5,948.41 | -69.36 | -1.15% |
| Media | 391.82 | -9.32 | -2.32% |
| Support Services | 3,192.59 | -52.76 | -1.63% |
| Telecommunications | 10,315.21 | -114.37 | -1.10% |
| Financials | 42,860.00 | -377.09 | -0.87% |
| Banks | 76,964.54 | -62.42 | -0.08% |
| Non-life Insurance | 53,856.96 | -122.51 | -0.23% |
| Life Insurance | 40,097.40 | -678.32 | -1.66% |
| General Financial | 4,313.62 | -56.42 | -1.29% |
| Technology | 62,128.61 | 132.03 | 0.21% |
| SHARIAH TOP40 | 3,523.65 | -34 | -0.97% |
| FTSE/JSE SHARIAH ALL | 3,750.66 | -31 | -0.83% |
| COAL MINING | 10,833.99 | 343 | 3.27% |
| FTSE JSE Fledgling | 6,845.42 | -65 | -0.95% |
| FTSE/JSE Alt X | 1,321.06 | -14 | -1.05% |
| SA LISTED PROPERTY | 592.78 | | -1.18% |
| CAPPED PROPERTY | 520.71 | | -0.91% |
| RESOURCE | 22,530.58 | -37 | -0.16% |
| DIVIDEND PLUS | 220.33 | -2 | -0.74% |
| FTSE/JSE RAFI 40 | 9,566.09 | -78 | -0.80% |
| Capped Top 40 | 24,221.11 | -287 | -1.17% |
| Capped All Share | 25,908.84 | -275 | -1.05% |
| JSE TABACO | 8,336.91 | -98 | -1.16% |
Click here for the Sharenet Index Summary page
---
Latest Consensus Changes**

| | | | |
| --- | --- | --- | --- |
| Code | Company Name | Status | Updated |
| TRU | TRUWORTHS INTERNATIONAL L... | BUY | 08/06/2015 |
| CLS | CLICKS GROUP LTD | HOLD | 08/06/2015 |
| SLM | SANLAM LIMITED | HOLD | 08/06/2015 |
| PFG | PIONEER FOODS GROUP LTD | SELL | 08/06/2015 |
| SHP | SHOPRITE HOLDINGS LIMITED | HOLD | 08/06/2015 |

Results Expected**

| | | |
| --- | --- | --- |
| Expected | Company Name | Fin. Date |
| 10/06/2015 | ARCMITTAL | March 2015 (Q) |
| 10/06/2015 | CULINAN5.5 | March 2015 (Interim) |
| 10/06/2015 | CULINANPR | March 2015 (Interim) |
| 10/06/2015 | CULLINAN | March 2015 (Interim) |
| 10/06/2015 | CULPREF3 | March 2015 (Interim) |
---
Recent Dividends**

| | | | | |
| --- | --- | --- | --- | --- |
| Share Name | Dec-Date | LDT | Pay-Date | Amount |
| AFORBES | 08/06/15 | 26/06/15 | 06/07/15 | ZAR 0.1200 |
| TELKOM | 08/06/15 | 10/07/15 | 20/07/15 | ZAR 0.3000 |
| TELKOM | 08/06/15 | 10/07/15 | 20/07/15 | ZAR 2.1500 |
| AME | 04/06/15 | 03/07/15 | 13/07/15 | ZAR 2.5000 |
| SAFARI | 03/06/15 | 19/06/15 | 29/06/15 | ZAR 0.3400 |

Ex Div**

| | | | | |
| --- | --- | --- | --- | --- |
| Share Name | Dec-Date | LDT | Pay-Date | Amount |
| ASTRAL | 18/05/15 | 05/06/15 | 15/06/15 | ZAR 5.7500 |
| INVPREFR | 21/05/15 | 05/06/15 | 22/06/15 | ZAR 4.3817 |
| JSE | 05/03/15 | 05/06/15 | 15/06/15 | ZAR 4.0000 |
| INVESTEC-P | 21/05/15 | 05/06/15 | 22/06/15 | ZAR 3.8435 |
| INVLTDPREF | 21/05/15 | 05/06/15 | 22/06/15 | ZAR 3.5870 |
---
Upcoming AGMs**

| | | | |
| --- | --- | --- | --- |
| Code | Company Name | Date | Status |
| TED2 | Trencor Ltd. | 09/06/2015 | Confirmed |
| TRE | Trencor Ltd. | 09/06/2015 | Confirmed |
| TBG | Tiso Blackstar Group SE | 09/06/2015 | Confirmed |
| GGM | Goliath Gold Mining Ltd. | 10/06/2015 | Confirmed |
| EPS | Eastern Platinum Ltd. | 12/06/2015 | Unconfirmed |
---
Stock Exchange News Service
Click here for more SENS news
---