Tuesday, 12 August 2014 - 20:00
Charts
Seed Weekly - Early Withdrawals
Early Withdrawals
In recent years there has been a trend of people staying in their jobs for a much shorter time than previously. This change in behaviour has had an impact on how businesses are run and how employees are remunerated. The remuneration includes employee benefits offered by the company. Fewer employees are offered a pension/provident fund at work and more frequent changes in occupation leads to disruptions in the investment contribution schedule over a person's career. When this is paired with the ever present temptation to cash in a provident fund when changing jobs, investors are faced with a few potential pitfalls.
The first, and most obvious, pitfall is to not invest anything for a prolonged period when joining an employer that doesn't offer provident/pension benefits. This is more of a behavioural issue of procrastination that we are all guilty of at some stage in our life. We should take cognisance of this and avoid it by taking ownership of our finances and make the decision to invest on our own without too many delays. Delaying your decision to invest can have an adverse effect on your eventual investment value as you miss out on compounding growth which, over long periods, becomes material in your investment plan.
A further pitfall is making withdrawals, before retirement, from your pension/provident fund benefits. This is an activity many partake in and is particularly harmful to a person's long term prosperity. A very simple illustration of this point (it speaks more to the younger generation but remains relevant all age groups) is shown in the below graph. The example should serve as a reminder of how material small investment withdrawals can be over longer periods, keep in mind that many 50 year old investors can still easily have a 30 year + horizon awaiting them.
The graph below shows that a withdrawal of R 100 000 from a fictional 35 year old could effectively be worth (in today's currency) an estimated R 400 000 at 65 assuming the capital is invested in a balanced fund and allowing some room for error. This is in real terms, meaning the value of money in the graph doesn't depreciate with inflation over time. If inflation is added to the calculation the R 400 000 is much higher (approximately R 2.2m).
Taking into account the above, and the opportunity cost suffered by individuals who delay the decision to invest, it is time to review what your options are pre-retirement.
The most responsible option available to you would be to either preserve the benefit or to transfer your benefit to your new employer's scheme. Off the bat there is no way to determine whether it is in your best interest to preserve or transfer without more details pertaining to the fees and investment options available.
A very viable option is to preserve the benefit through either a preservation fund or a retirement annuity. The benefits of either will differ depending on your circumstances and it is recommended that you speak to your adviser before making a decision. Investors generally prefer this route to transferring the benefit to a new company as the preserver option in most cases allows for more flexibility in terms of the investment choices available.
Kind regards,
Stefan Keeve
www.seedinvestments.co.za
info@seedinvestments.co.za
021 914 4966
Tue, 12 Aug 2014
Top News
South Africa's rand eased slightly against the dollar on Tuesday with investors looking ahead to domestic economic indicators and geo-political developments abroad in search of direction.

---

A Russian convoy of trucks carrying tonnes of humanitarian aid left on Tuesday for eastern Ukraine, where government forces are closing in on pro-Russian rebels, but Kiev said it would not allow the vehicles to cross onto its territory.

Talks to end a month-long war between Israel and Gaza militants are "difficult", Palestinian delegates said on Tuesday, while Israeli officials said no progress had been made so far and fighting could soon resume.
World Markets (Spot Prices)
| | | | | |
| --- | --- | --- | --- | --- |
| Name | Time | RP | Move | % Move |
| JSE Overall | 17:06 | 51449.01 | -74.26 | -0.14% |
| JSE Top 40 | 17:00 | 46288.21 | -89.28 | -0.19% |
| JSE Gold | 17:00 | 1549.62 | -9.30 | -0.60% |
| JSE Financial | 17:06 | 37820.06 | 160.12 | 0.43% |
| JSE Industrial | 17:00 | 67049.20 | -40.16 | -0.06% |
| JSE Indust 25 | 17:00 | 59235.00 | -46.62 | -0.08% |
| JSE Resource | 17:00 | 59261.81 | -430.91 | -0.72% |
| DJ Futures | 08/08 | 12167.88 | 252.76 | 0.00% |
| DJ Ind | 20:00 | 16546.48 | -23.50 | -0.14% |
| SP 500 | 20:00 | 1932.29 | -4.63 | -0.24% |
| Nasdaq | 20:00 | 4384.05 | -17.28 | -0.39% |
| FTSE 100 | 17:35 | 6632.42 | -.40 | -0.01% |
| DAX | 18:10 | 9069.47 | -111.27 | -1.21% |
| CAC40 | 18:10 | 4162.16 | -35.54 | -0.85% |
| Nikkei | 08:38 | 15161.31 | 30.79 | 0.20% |
| Shanghai | 09:30 | 2221.59 | -3.06 | -0.14% |
| Hang-Seng | 06:28 | 24615.06 | -30.96 | -0.13% |
| All Ords | 08:38 | 5523.10 | 73.70 | 1.35% |
| NZSE 50 | 07:48 | 5055.81 | 6.18 | 0.12% |

| | | | | |
| --- | --- | --- | --- | --- |
| Name | Time | RP | Move | % Move |
| Gold $ | 19:59 | 1309.53 | 1.65 | 0.13% |
| Gold R | 19:59 | 13916.24 | 23.44 | 0.17% |
| Gold R/kg | 20:00 | 447411 | 1060 | 0.24% |
| Silver $ | 19:59 | 19.9490 | -.0500 | -0.25% |
| Platinum $ | 19:59 | 1468.70 | 4.80 | 0.33% |
| Palladium $ | 19:59 | 875.03 | 2.40 | 0.28% |
| R157 | 17:01 | 6.69 | -.02 | -0.30% |
| R186 | 17:01 | 8.34 | .02 | 0.18% |
| R204 | 17:00 | 7.47 | .01 | 0.20% |
| R207 | 17:00 | 7.74 | .03 | 0.39% |
| Brent Crude | 20:00 | 103.18 | -1.50 | -1.43% |
| Rand / Dollar | 19:59 | 10.6269 | 0.0046 | 0.04% |
| Rand / Pound | 19:55 | 17.8424 | 0.0385 | 0.22% |
| Rand / Euro | 19:55 | 14.2078 | -0.0129 | -0.09% |
| Rand / NZD | 19:59 | 8.9663 | -0.0204 | -0.23% |
| Rand / AUD | 19:55 | 9.8584 | 0.0116 | 0.12% |
| Yen / Dollar | 19:59 | 102.2280 | 0.0400 | 0.04% |
| Euro / Dollar | 19:59 | 0.7481 | 0.0009 | 0.12% |
| Dollar / Euro | 19:59 | 1.3368 | -0.0017 | -0.12% |
| Pound / Dollar | 19:55 | 0.5945 | -0.0009 | -0.15% |
Click here for the Sharenet Spot Price page
The JSE Today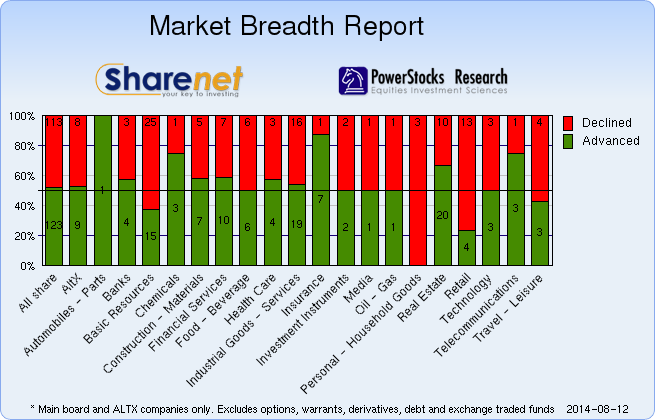 Trading Statistics
| Date | Adv. | Decl. | Unch. | Actives | Volume | Value | Trades | Orders |
| --- | --- | --- | --- | --- | --- | --- | --- | --- |
| 12/08/2014 | 191 | 155 | 55 | 401 | 183,116,500 | R10,281,418,406 | 142831 | 352795 |
| 11/08/2014 | 255 | 104 | 54 | 413 | 170,049,171 | R11,198,119,050 | 144779 | 432121 |
| 08/08/2014 | 147 | 199 | 65 | 411 | 382,917,883 | R13,602,418,402 | 171451 | 1461671 |
| 07/08/2014 | 113 | 223 | 71 | 407 | 411,408,067 | R12,277,977,687 | 201009 | 1409299 |
| 06/08/2014 | 125 | 236 | 75 | 436 | 336,770,787 | R13,986,805,513 | 186043 | 1508048 |
* Includes all listed instruments on the JSE
---
---
---
Index Summary
| | | | |
| --- | --- | --- | --- |
| Index Name | RP | Move | % Move |
| Top 40 | 46,288.21 | -89.28 | -0.19% |
| Industrial | 67,049.20 | -40.16 | -0.06% |
| Mid Cap | 65,692.97 | 85.54 | 0.13% |
| Small Cap | 54,596.49 | 18.46 | 0.03% |
| Resource 20 | 59,261.81 | -430.91 | -0.72% |
| Industrial 25 | 59,235.00 | -46.62 | -0.08% |
| Financial 15 | 14,649.54 | 60.81 | 0.42% |
| Financial & Ind. 30 | 63,130.35 | 30.96 | 0.05% |
| All Share | 51,449.01 | -74.26 | -0.14% |
| Oil & Gas | 46,502.02 | -31.78 | -0.07% |
| Mining | 35,258.34 | -314.81 | -0.88% |
| Gold Mining | 1,549.62 | -9.30 | -0.60% |
| Platinum Mining | 46.97 | -.46 | -0.97% |
| GENERAL MINING | 10,322.33 | -99.71 | -0.96% |
| Oil & Gas Producers | 25,003.28 | -17.09 | -0.07% |
| Basic Materials | 31,000.31 | -278.30 | -0.89% |
| Chemicals | 24,100.30 | -71.63 | -0.30% |
| Forestry & Paper | 31,538.73 | -417.89 | -1.31% |
| Industrial Metals | 19,717.99 | -13.76 | -0.07% |
| Industrials | 46,687.96 | 34.39 | 0.07% |
| General Industrials | 150.23 | -.26 | -0.17% |
| Consumer Goods | 59,390.97 | -122.40 | -0.21% |
| Automobiles & Parts | 8,389.82 | 260.41 | 3.20% |
| Household Goods | 358.92 | -4 | -1.23% |
| Health Care | 86,422.71 | -215.72 | -0.25% |
| Beverages | 194.67 | .78 | 0.40% |

| | | | |
| --- | --- | --- | --- |
| Index Name | RP | Move | % Move |
| Food Producers | 79,035.55 | -168.68 | -0.21% |
| Personal Goods | 1,010.25 | -5.39 | -0.53% |
| Consumer Services | 13,096.82 | 37.77 | 0.29% |
| General Retailers | 67,199.35 | -38.84 | -0.06% |
| Travel & Leisure | 5,726.60 | 13.79 | 0.24% |
| Media | 308.98 | 1.98 | 0.64% |
| Support Services | 2,714.85 | -32.28 | -1.18% |
| Telecommunications | 11,200.71 | 3.71 | 0.03% |
| Financials | 37,820.06 | 160.12 | 0.43% |
| Banks | 68,117.74 | 2.93 | 0.00% |
| Non-life Insurance | 53,915.66 | 2386.32 | 4.63% |
| Life Insurance | 35,251.45 | 149.36 | 0.43% |
| General Financial | 3,605.15 | 50.23 | 1.41% |
| Technology | 44,556.74 | -21.04 | -0.05% |
| SHARIAH TOP40 | 4,379.67 | -30 | -0.67% |
| FTSE/JSE SHARIAH ALL | 4,511.97 | -25 | -0.55% |
| COAL MINING | 19,166.17 | 360 | 1.92% |
| FTSE JSE Fledgling | 6,748.97 | 31 | 0.47% |
| FTSE/JSE Alt X | 1,231.14 | 9 | 0.77% |
| SA LISTED PROPERTY | 526.91 | | 0.61% |
| CAPPED PROPERTY | 460.06 | | 0.48% |
| RESOURCE | 32,327.96 | -239 | -0.73% |
| DIVIDEND PLUS | 225.42 | 1 | 0.26% |
| FTSE/JSE RAFI 40 | 10,159.90 | -21 | -0.21% |
| Capped Top 40 | 24,522.16 | -44 | -0.18% |
| Capped All Share | 26,050.58 | -36 | -0.14% |
| JSE TABACO | 7,869.35 | -40 | -0.51% |
Click here for the Sharenet Index Summary page
---
Latest Consensus Changes**

| | | | |
| --- | --- | --- | --- |
| Code | Company Name | Status | Updated |
| LBH | LIBERTY HOLDINGS LTD ORD | HOLD | 11/08/2014 |
| ASR | ASSORE LTD | SELL | 11/08/2014 |
| MTN | MTN GROUP LIMITED | BUY | 08/08/2014 |
| ACL | ARCELORMITTAL SA LTD | HOLD | 08/08/2014 |
| EXX | EXXARO RESOURCES LIMITED | HOLD | 07/08/2014 |

Results Expected**

| | | |
| --- | --- | --- |
| Expected | Company Name | Fin. Date |
| 13/08/2014 | GROUP 5 | June 2014 (Final) |
| 13/08/2014 | RESGEN | June 2014 (Final) |
| 14/08/2014 | ATLATSA | June 2014 (Interim) |
| 14/08/2014 | HARMONY | June 2014 (Final) |
| 14/08/2014 | HARMONY-P | June 2014 (Final) |
---
Recent Dividends**

| | | | | |
| --- | --- | --- | --- | --- |
| Share Name | Dec-Date | LDT | Pay-Date | Amount |
| ARROWB | 11/08/14 | 29/08/14 | 08/09/14 | ZAR 0.1712 |
| ARROWA | 11/08/14 | 29/08/14 | 08/09/14 | ZAR 0.1712 |
| OCTODEC | 08/08/14 | 22/08/14 | 17/11/14 | ZAR 0.8684 |
| PREMIUM | 08/08/14 | 22/08/14 | 17/11/14 | ZAR 0.8070 |
| LIB-HOLD | 08/08/14 | 29/08/14 | 08/09/14 | ZAR 2.3200 |

Ex Div**

| | | | | |
| --- | --- | --- | --- | --- |
| Share Name | Dec-Date | LDT | Pay-Date | Amount |
| IMPL CONV | 04/08/14 | 08/08/14 | 21/08/14 | ZAR 250.0000 |
| KUMBA | 22/07/14 | 08/08/14 | 18/08/14 | ZAR 15.6100 |
| HUDACO | 27/06/14 | 08/08/14 | 18/08/14 | ZAR 1.5500 |
| TOWER | 24/07/14 | 08/08/14 | 18/08/14 | ZAR 0.4160 |
| NIVEUS | 27/06/14 | 08/08/14 | 18/08/14 | ZAR 0.2800 |
---
Upcoming AGMs**

| | | | |
| --- | --- | --- | --- |
| Code | Company Name | Date | Status |
| SOV | Sovereign Food Investments Ltd. | 12/08/2014 | Confirmed |
| MML | Metmar Ltd. | 12/08/2014 | Confirmed |
| MMLP | Metmar Ltd. | 12/08/2014 | Confirmed |
| ANDP | Andulela Investment Holdings Ltd. | 13/08/2014 | Confirmed |
| AND | Andulela Investment Holdings Ltd. | 13/08/2014 | Confirmed |
---
Stock Exchange News Service
Click here for more SENS news
---